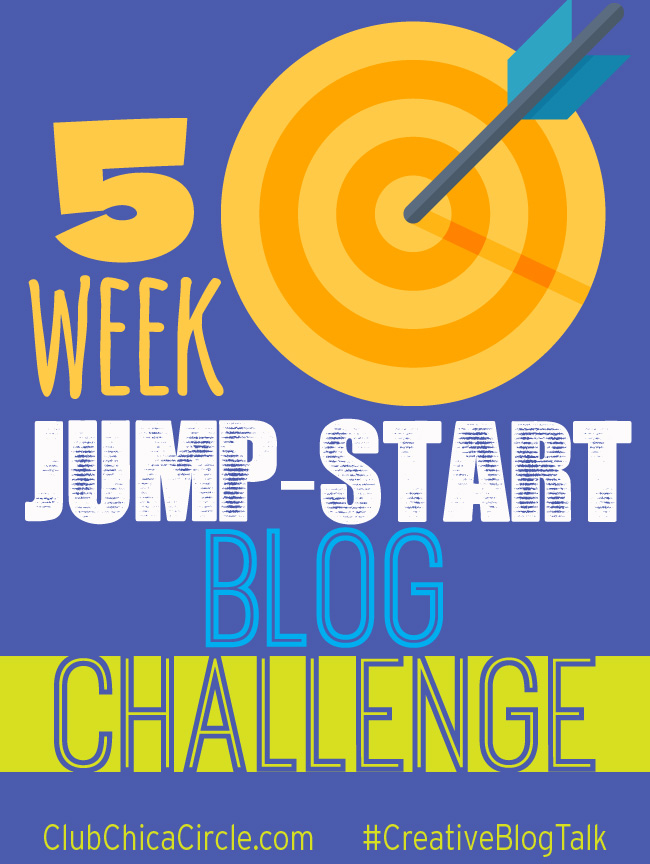 It's Creative Blog Talk time again – where we are taking a brief break from crafting to go behind the scenes to share blogging tips and inspiration. It's also the beginning of a NEW year and the perfect time to take your blog to the next level. Two weeks ago we shared out 52-item checklist (perfect for tackling one item a week) of little changes that can be made that should lead to BIG transformation through the momentum and focus being built. 
How are you doing on your 52-week Blog Checklist? Personally, we've checked off 1 item on the list (trying Elance for a cheesy promo video) and are already getting distracted with other life demands. We know the power of an accountability group and prizes to kick motivation into gear. Will you join us in kick-starting your blog transformation by joining our 5-week challenge? (p.s. prizes, laughs, cheers and progress are reasons enough to join the challenge.)
In case you missed the video- we're sharing it again:
We know you are busy but we also know you strive for blog growth. This challenge is still for YOU in your busy lives no matter where you are in the blog cycle. It will bring you the momentum to build towards a record-setting 2015.
This 5-Week Creative Blog Talk Challenge will be easy and fun (and I did mention *prizes*).
To join (it's FREE):
Submit your name and email at this link.  
Respond to the follow-up invite to join the private Facebook group
Enjoy the support, accountability check-ins and prizes
Frequently Asked Questions:
Question: I am part of too many Facebook groups today- why should I join another one?
Answer:  Think of this more as an accountability and support group for 5-weeks – not another way to get lost online. We selected Facebook as the gathering place as it is the most common space where bloggers are already engaging.
Question: How will you track progress?
Answer:  You will track your own progress against weekly challenges in a Google Docs form and earn points for achieving the weekly goals.
Question: What are the prizes?
Question: How big does my blog have to be to join?
Answer:  No matter how big your blog is and no matter whether you are a blogger pro or blogger novice – this challenge is for

every

blogger ready for growth in 2015! Your weekly progress will be how you measure yourself against your current state.
Question: When will it start?
Answer:  Sign up now! Details will be sent before the challenge kick-off on Monday, January 26th.
Are you ready to grow your blog in 2015? Join today!
While you are getting ready for the challenge kick-off, be sure to visit our past posts: