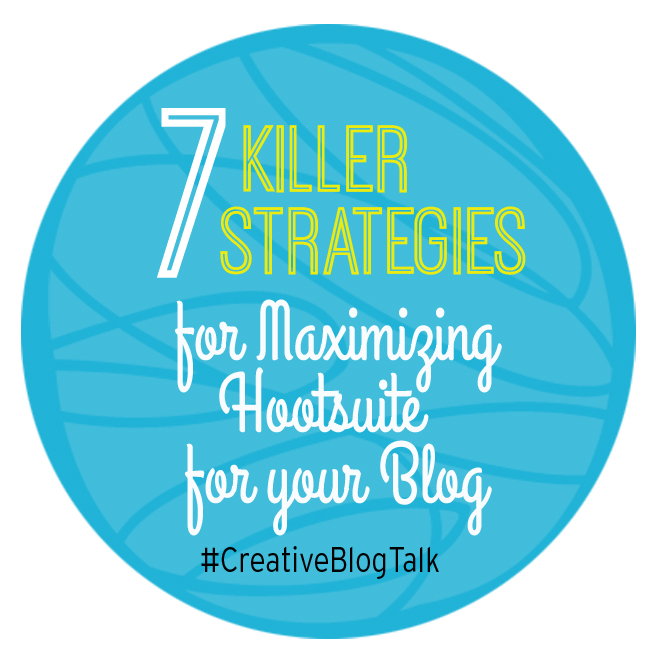 It's Creative Blog Talk time again – where we are taking a brief break in our crafting to sharing some blogging tips. Today we're sharing tips and strategies to use one of my favorite social media efficiency tools – Hootsuite!
Hootsuite is one of the most powerful free tools (yes – FREE for most users) to schedule social media messages and monitor your social media channels. The primary driver to using Hootsuite is to manage your Twitter account – but the power also extends into managing other popular social media channels. It is soooo easy to fall into the social media black hole when trying to schedule, read, and respond to all of the posts across your social media channels – but the tool pulls everything together into dashboards that you create to fit your needs and focus your time.There are other social media tools out there that will accomplish the goals below, but we have benefited so much from using Hootsuite, that we wanted to share some of our strategies.
If you are setting up your account for the first time you will want to add tabs for the different streams that you want to monitor. Here is a how-to video from Hootsuite to get you started:
Once you have your Hootsuite account set up, consider your social media goals and why you would even want to use a tool to manage your social media channels.
Are you interested in streamlining your time spent on social media?
Are you trying to build a community around your blog brand?
Are you managing multiple social media channels?
Are you trying to get visibility to targeted companies or media/PR contacts?
Are you interested in monitoring all of your social media channels at a glance?
The strategies below will serve to tackle any or all of the questions above. Choose the ones that fit with your goals in mind.
1. Focus your social media time -> Schedule your tweets and posts
If you do one thing for yourself out of this list – streamlining your social media time by scheduling your tweets and posts in advance will help keep you sane. It can be fun to live tweet or post during the day, but your friends and family may knock the phone out of your hand with the continued distraction.
Schedule your social media posts using the top Compose Message box in your dashboard. You can connect up to 3 social media profiles in the free Hootsuite version. For example, you can add your blog Twitter account, your Facebook page, and Google+ page.
The example below is showing how to schedule a single tweet. The strategic part is having a dedicated block of time to schedule a batch of tweets in advance vs. throughout the day.
Advanced tweet option:  Save a template (look for the save icon at the bottom of the expanded compose box) if you repeat any tweets more than once (e.g. 'Remember to follow us on Bloglovin').

Decide if you want the tweet to go out at a certain time and date or if you want Hootsuite to autoschedule the tweet. If you use autoschedule, the tool will space out your tweets during popular times based on your geography. We use both approaches depending on the messaging. In my tweet example below – the timing is current so I selected a specific time 15 minutes later than my compose time rather than have it autoscheduled. Note: From Hootsuite I very rarely 'send now' as I like to review how the Tweet is composed before it goes live to the world.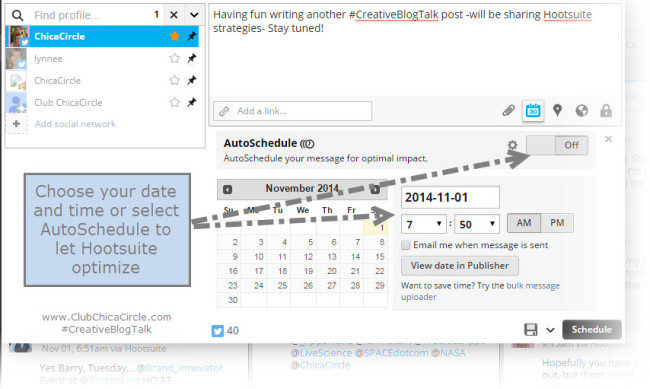 After scheduling the tweet, I go to the Scheduled Tweets stream which I have added to the dashboard so that I can review the wording, spelling, links, hashtags, and appropriate @ users.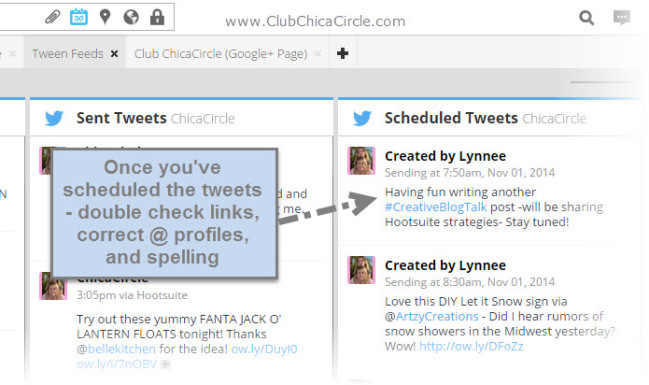 2. Be responsive -> Monitor mentions and messages
Pauline and I have best intentions to respond quickly to messages across our social media channels (some days are better than others). The impact is greater and connection is stronger if you respond quickly (to make the interaction feel more like an active conversation). To help enable this with Twitter messages, adding Mentions and Direct Messages (Inbox) streams to your dashboard will do the trick.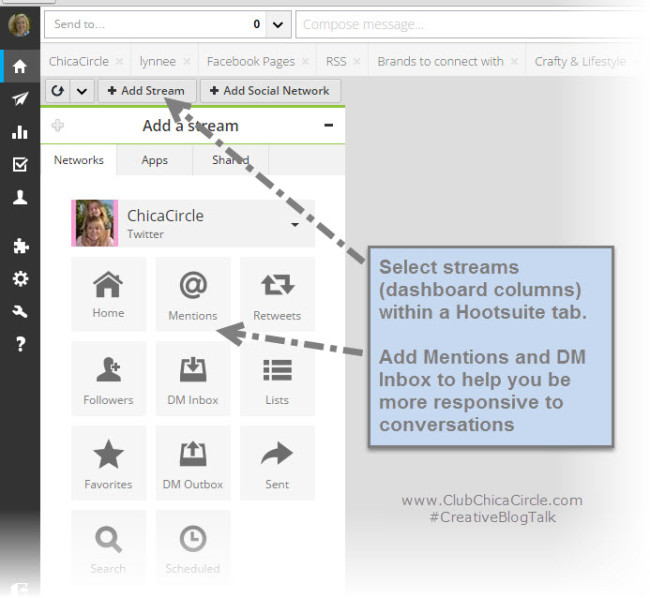 If you are monitoring Facebook activity, you can add a Private Messages stream. You can schedule Facebook posts directly from Hootsuite, but with Facebook algorithm changes we have gone back to scheduling within Facebook directly.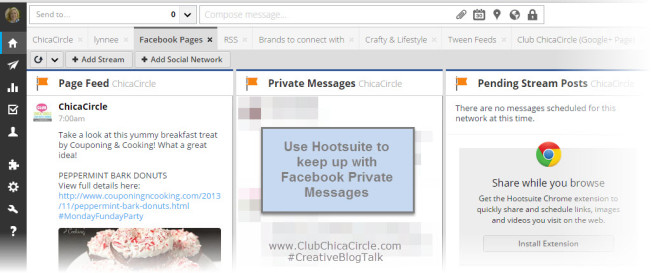 3. Expand your community and find new 'friends' -> Set up interest lists
There is power in being part of a larger community – but you can also be more strategic by following others in similar interest fields. You can add multiple streams (dashboard columns) with keywords that pull in tweets from across Twitter (even if you do not follow a particular profile). For example, you could create a crafty interest stream pulling in tweets for keywords you select (e.g. washi tape OR crafty OR DIY) and also create a separate local stream to find profiles in your area (e.g. #PaloAlto OR Stanford OR CA).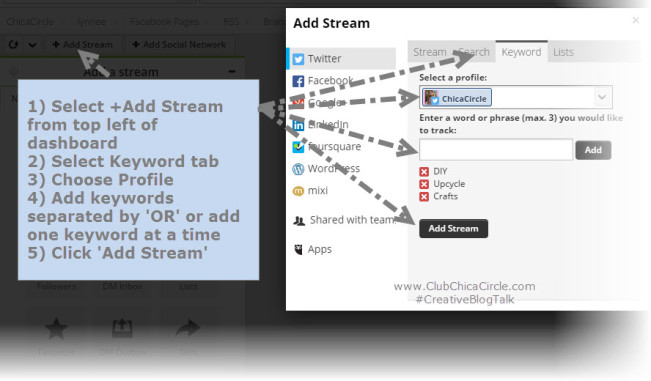 To set up an interest list, select '+Add Stream' from the top left of the dashboard. Select the Keyword tab in the pop-up box and link it the social profile you select. By linking your profile, Hootsuite will know which account to use when you respond to any of the tweets in the stream. Next, choose your keywords and click 'Add Stream' to complete the new stream. It's easy to add and delete streams, so try different keywords until you get the mix of tweets and users you are happy with.
4. Support and strengthen your tribe -> Create a tribe list
The relationship you have with your tribe of social media and blogging friends is one to continue to nurture and strengthen. One way to do that is to create lists with the people you want to pay extra attention to. Within Twitter, create as many different lists for your various community categories. For example, we have a list following specific crafty bloggers and a different list for bloggers covering tween topics. We have selected to make those lists private so no one feels left out.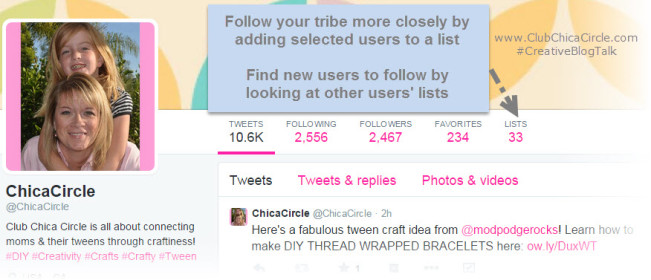 We do have a public list celebrating those who have signed up for our Creative Blog Talk email list and also opted into have us follow their Twitter profiles. You can follow our Creative Blog Talk Stars on Twitter to get great inspiration and also get yourself on the list by signing up here for free.
Once you have your lists of users, you can add streams in Hootsuite for each list. Use your new streams to respond, retweet, and build conversations.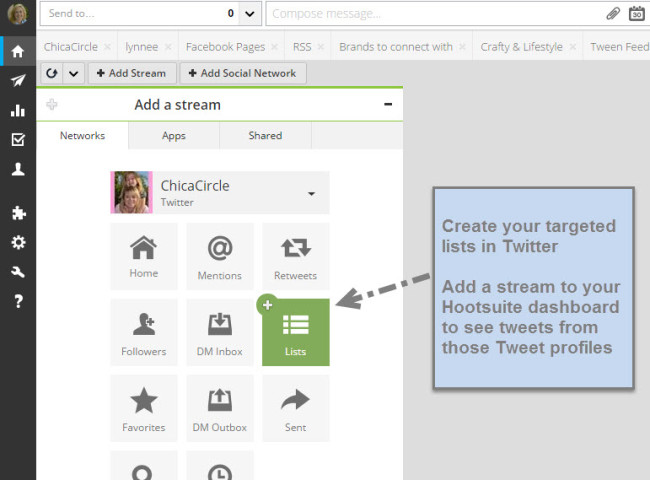 5. Connect with brands and media targets -> Add a company list or keyword search list
Are you trying to get noticed by any particular brands or companies? Are you going to a conference and want to keep up with sponsors before, during and after the conference? Perhaps you are creating a list of PR contacts that may be connected to your favorite companies? Do you want to get a slot on your local morning news program and do your homework for topics they are covering?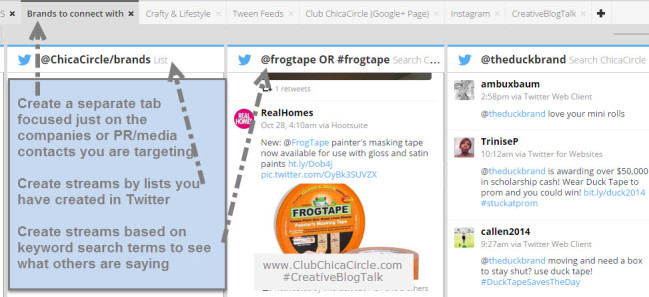 One option to focus your time is to create a Brand/Media list similar to your tribe list from point 4 above. Another option is to use search terms to see what others are saying about a brand (see point 3 above).
6. Have fun and win prizes -> Participate in Twitter parties
Twitter parties are a great way to build excitement around an event or a product. Many have prizes for followers who tweet responses to questions within the allotted time. You can find Twitter parties by searching "Twitter party" in the top right search box of your dashboard. Once you join a party, create a new stream in your dashboard using point 3 above to search all tweets using a specified #hashtag.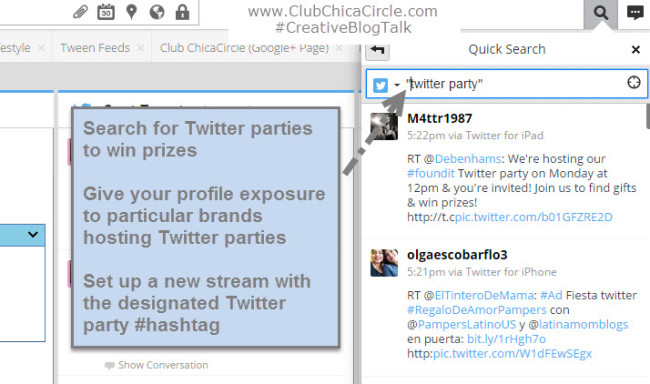 If you want to get a little more strategic – look for Twitter parties for some of your favorite companies or for an upcoming conference. We had a Twitter party before speaking at BlogHer14 this year. I got excited to meet those who actively participated in the Twitter party.
7. Balance messaging by giving more than you are asking-> Monitor feeds and scheduled posts
It is natural to want followers, likes, retweets and pins when using social media to promote new blog posts- but sharing your blog posts through social media needs to be balanced by sharing content from others you would like to support. We follow a general balance of 80% sharing of other people's content and 20% sharing our own. It's good karma and also raises the bar for yourself when celebrating other posts that hit a blog home run.
Hootsuite helps manage the balance of social media posts by allowing you to see sent tweets and scheduled tweets in streams that show the series of posts over time. After looking at the stream, I'll edit the sequencing of scheduled tweets to keep the balance.
Are you ready to kick your Hootsuite dashboard a notch? Share below any tips you have that will benefit the discussion. We would love to hear from you!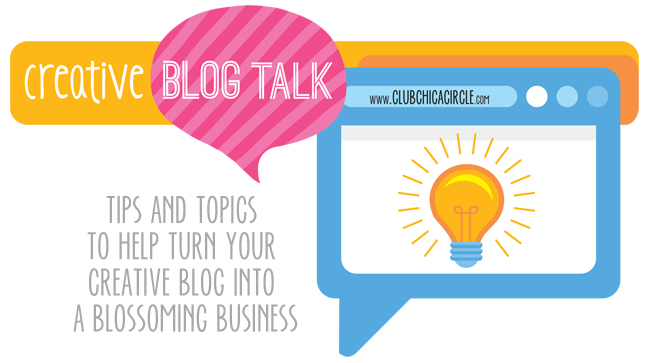 As we continue our Creative Blog Talk Series – we would love to hear from you! What topics would you like to see us talk about? You can comment below or fill out our Creative Blog Talk Series form. We will continue the series here, but also send exclusive content directly to #CreativeBlogTalk subscribers. Sign up here for free.
If you missed any, check out our 50+ Must Haves for Blogging, 5 Tips for Great Content Building, 5 Ways to Focus Your Consistency, 5 Tips to Build Your Awesome Community, 3 Ways to Create, Cultivate and Super Charge Your Blog Brand, Why Your Email List is MORE Important Than Your Pageviews, or How to Build Your Awesome Email List.