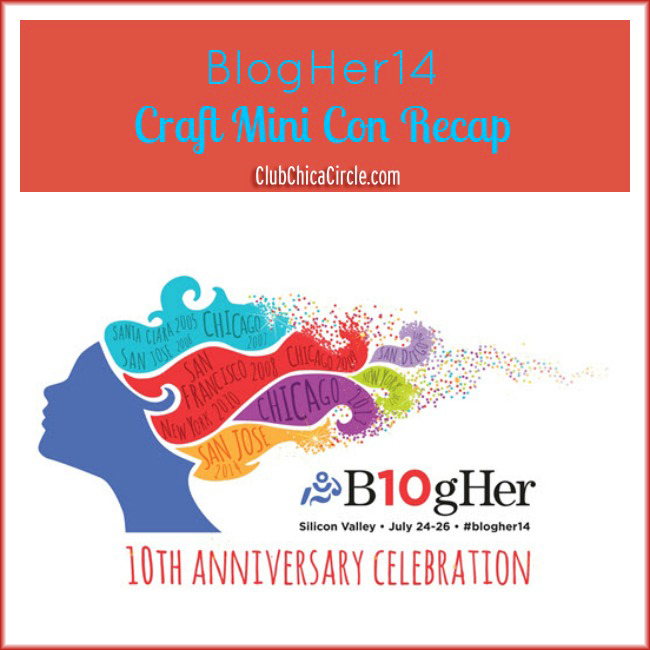 My head is still swirling after last week's #BlogHer14. I had the honor of speaking on the Craft Mini Con panel covering a wide range of blog topics relevant to craft bloggers – especially those hungry for growing their blog quality and reach. We also found some time to fit in some hands-on craft activities.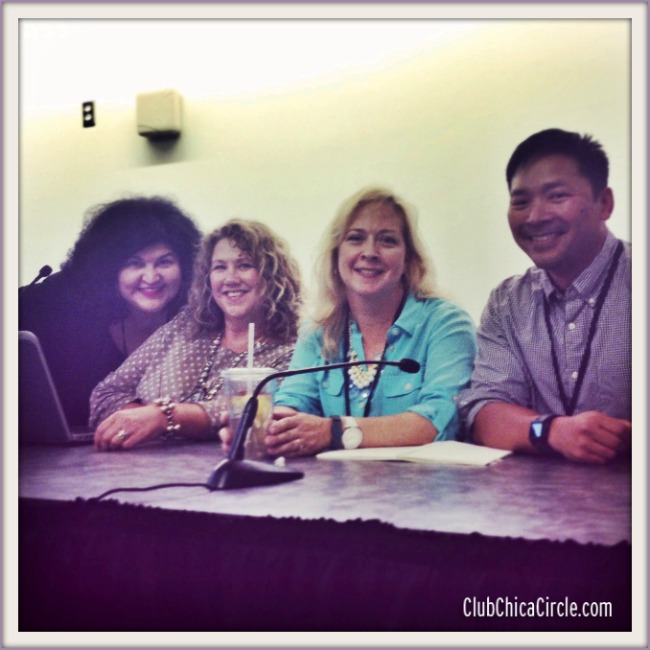 If you weren't able to attend (or if you attended but didn't take notes) – the full recap plus a few extra notes are included below.
Where to Extend Your Blog Brand
A crafty blogger's reach is not limited to the blog. Kathy, the Crafty Chica, shared how her Crafty Chica brand has extended to being a manufacturer's brand spokesperson, having a manufactured product line, creating workshops and web series, and authoring nine books. She has hosted an annual craft cruise and hosts regular events in Arizona and California.
How do you make that valued connection with manufacturers? Kathy found success following and posting on targeted manufacturer Facebook pages. She also links back to the company when using their products in new ways. Bloggers can find their own connections by reviewing manufacturer websites to see if they have designer or brand ambassador programs.
How to Create a No-Fail Craft Tutorial
Tutorials are often the foundation of a powerful craft blog. The challenge is providing the right level of detail and incorporating high-quality visual steps through pictures or videos. Kim from Today's Creative Blog provided the perfect analogy – the tutorial should be as clear and easy to follow as the directions on a box of macaroni and cheese. Start and end with the finished product (beauty shot). The step by step pictures all along the way should stand on their own as a tutorial. Don't worry that the tutorial seems "dumbed down".
How do you protect your tutorials from being copied? First, recognize that even if your idea is new to you – it may not be new to others who have provided similar tutorials. Watermark your images and avoid searching for other similar tutorials that may unknowingly creep content into your own tutorial. (Focus on your own activity vs. comparing against others). If you are building on someone else's tutorial, be sure to give credit back and build enough customization that it is really your own.
Find Your Signature Skill or Style
Timothy from Charles & Hudson and  Built by Kids asked the group to identify their story and signature project? What are you proud of? Build on your own secret sauce and try variations. Make the story and pictures pin worthy and enlist the help of your tribe. Even after you have identified your unique story and talents – always be learning new skills.
The importance of staying true to your own voice is something I need to constantly remind myself to do. It is natural to compare yourself to other bloggers (even your own sister). In the beginning, I personally struggled to keep up with my crafty maven sister Pauline. Pauline creates the majority of the posts for Club Chica Circle and never seems to experience a creative block. (Her challenge is finding enough time to get all of the creative projects out.) I, on the other hand, would stress all week trying to come up with something original and fun to share. It wasn't until I figured out that my strength and excitement is around research posts. I love to research and can't wait to share my crafty topic findings through our blog.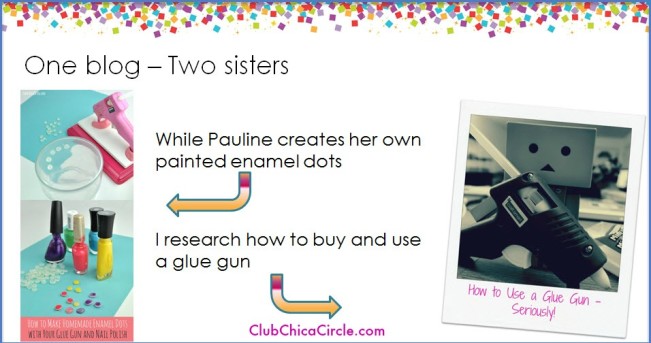 Scaling the Blog for Success
How strong is your blog foundation? Are you ready to grow it to the next level? I have felt the frustration of going to a blogging conference and filling out a looooong list of to-do's to make the blog better – but wondering how to get it all done. Even if you know what needs to get done, it helps to break it down into digestible pieces.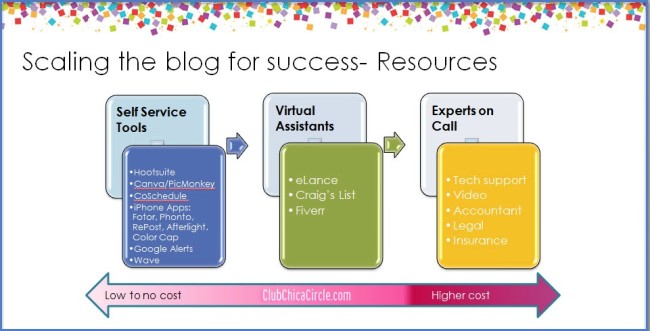 Start with the low to no cost tools that allow you to schedule in bulk or stay on top of the community feedback:
Hootsuite – Manager your twitter feeds. The power is in creating your custom lists and streams that focus your attention on the most important tweets (e.g. mentions, targeted brands, your tribe, 'craft' or 'DIY' search terms)
Wave – Go beyond the spreadsheet when tracking expenses and revenue (refer to my blog accounting series – Getting Beyond the Spreadsheet and Setting Up Your Account)
Grow with virtual assistants that take over some of the administration and allow you to have more time to focus on the original content that is core to a successful blog. Many bloggers can and do everything from start to finish including idea generation, crafty creation, photography and video editing, writing, social sharing, partnership building, email and comment moderation and business services. Even if you can do it all – should you? If you are creating more than 2-3 posts a week, you could benefit by finding help in any of the tasks that could be done more efficiently by someone skilled in a particular area (e.g. video editing) or social sharing (totally enjoyable but could consume all of your time which would be better spent creating new content).
References from other bloggers – the best place to start
Elance – look for help for research and editing
Craig's List – great for building local connections and students or recent grads
Fiverr – small jobs for $5 (try for new logo creation)
Higher cost resources available as needed will help in a pinch. Our wish list of expert resources include:
Legal – Stay on top of the intersection of social media and the law with our friend and blogger, Chrissy Watson – The Outlaw Mom and BloggyLaw.com
Tech Support – Every time I hear that Pauline has lost a complete day to blog-back-end issues – it breaks my heart. An *affordable* genius on-call tech resource is *top* of my wish list.
Growing Blog Reach
Building your tribe to provide support, recommendations and link-sharing is invaluable. Attending conferences like BlogHer is a great way to meet other bloggers in a similar niche or at a similar stage of blog growth.
Even beyond your tribe, blog traffic needs eyeballs for pageviews. Pageviews allow your blog to be more attractive for sponsors. One way to drive traffic is to participate in Link Parties. Linking up your blog posts may not generate significant traffic but the exposure may allow you to get picked for a feature or to get pinned which creates more traffic. Are you looking for link parties? We co-host the Monday Funday party. Kim from Today's Creative Blog co-hosts the Link Party Palooza. If you are interested in not only linking up – but also getting more exposure by guest hosting a link party -> reach out to the Caffeinated Crafters Tuesday Link Party.
Hands-on Craft Activities
We had so many inspired people in the room so we couldn't leave without doing some crafts.
My crafty maven sister Pauline shared her paper flowers which I wore proudly on my badge (along with my This is Bossy button):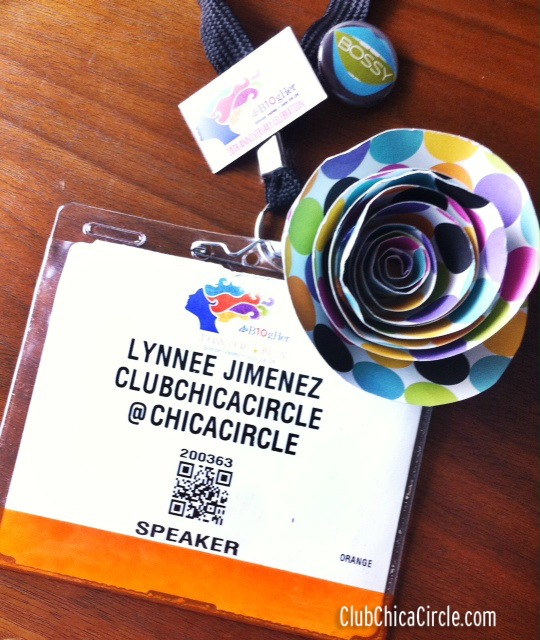 Kathy shared her Crafty Chica Glitter Tattoo Kit:
Be sure to check out my brilliantly creative co-panelists and some of my favorite posts:
If you joined the panel live or virtually above, remember to comment below and add your own tips or comment on what tip resonated the most with you.