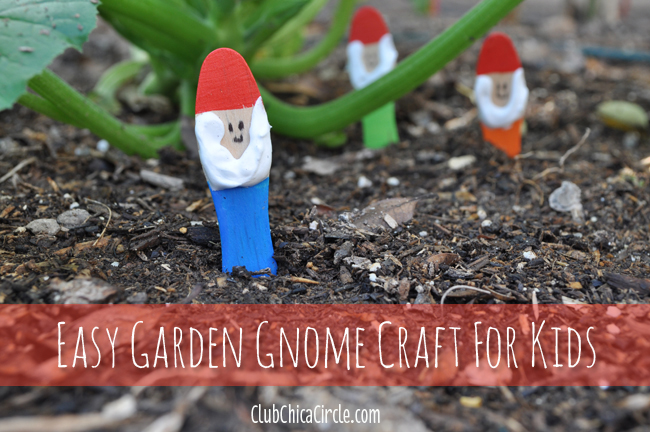 A couple weeks ago, I was so thrilled to join in on the crafty summer fun over at Skip to My Lou! In case you missed it, I wanted to share one of my favorite garden craft ideas for kids with all of you! Summer is still in full swing, and I know our backyard garden is filled with tomatoes, zucchini, and fresh herbs. It's like a little leafy village – from a garden gnome's perspective. Once you start making your own set of garden gnome sticks, I'm telling you it's so easy to make a whole community of them.
The supplies and the steps are super easy, and each one turns out a little different and unique.
To make your own Garden Gnomes you will need:
wood craft sticks (I used the ones shaped like ice cream scoops or paddles)
craft paint in a rainbow of colors (I used Americana Multi-surface paints)
paint brushes
thin black Sharpie marker
Mod Podge dimensional clay in Vanilla white
(I found all of the above supplies at my local Michaels store)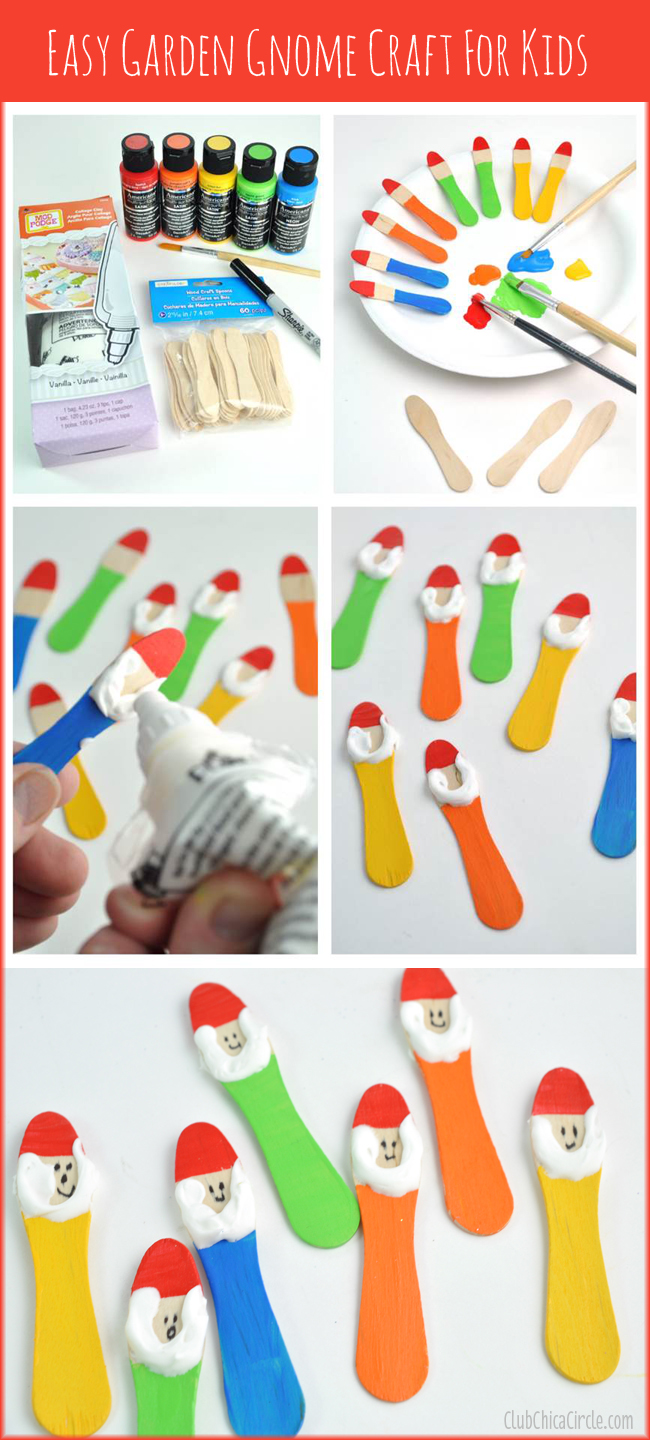 I thought the shape of the craft sticks lent itself really well to a garden gnome. One end is a little pointier, but still rounded. This became the hats on their head. And the bottom portion of the sticks became the body.
Here is how to make your own garden gnomes:
With a paint brush, paint the top tip of your craft sticks with red paint, about 1/2″ down on both the front and back.
Paint the bottom of the craft stick with your color of choice for the body. Leave about 1/2″ – 3/4″ space in between the paint colors for the face.
When all the paint is dry, squeeze a little of the Mod Podge dimensional clay on the "face" to make the beard and let dry. It will set up and harden in about 30-60 minutes.
Then finish off by drawing in your garden gnome faces with a thin permanent marker.
That's it! Each one will be their own, super cute, unique and friendly garden gnome.
They look so cute in planters…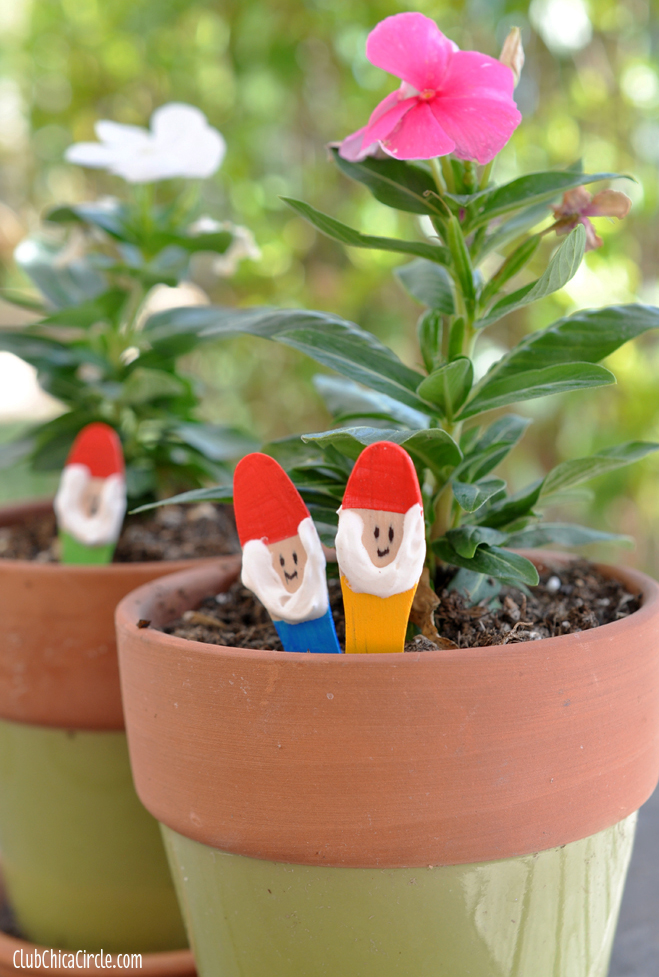 …or in the ground in your garden.
I know our zucchini plant seems to like the company!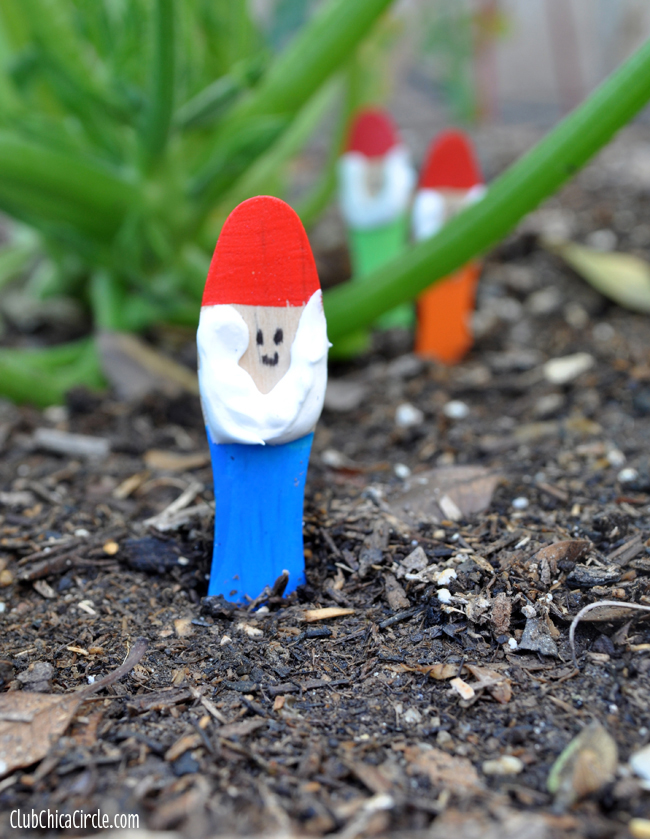 With a little help, this craft is perfect for kids of all ages. After they are made, then you can have so much fun figuring out where to put them. Make a game of it and keep moving them.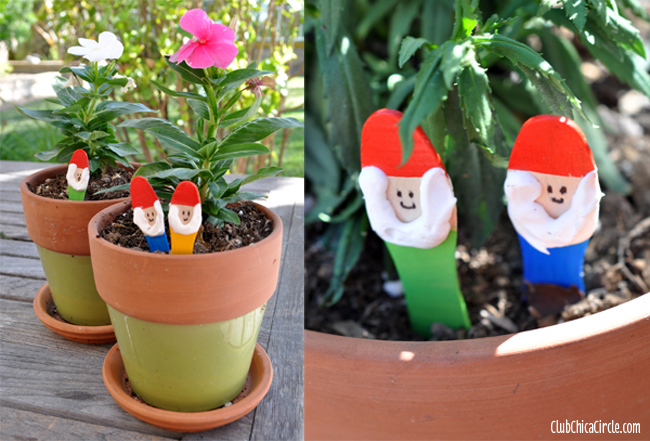 This post was previously published on Skip to My Lou on July 18, 2014 as part of the Fun Crafts for Kids series.