Disclaimer: I am not currently a licensed or practicing accountant (but I do have my CPA certificate and Accounting degree in hand). The overview below is based on usability, pricing and applicability for blogging as a business. Consult with your accountant if you are unsure how to proceed.
First, I am sending apologies to our readers not interested in the business of blogging. If you are here for a craft tutorial check out our virtual Fourth of July party, and make some popcorn snack squares or 1-skillet 20 minute chili for comfort food.
If you are interested in behind-the-curtain insights into the business of blogging, hang on for the ride. It is not always sexy information, but definitely educational.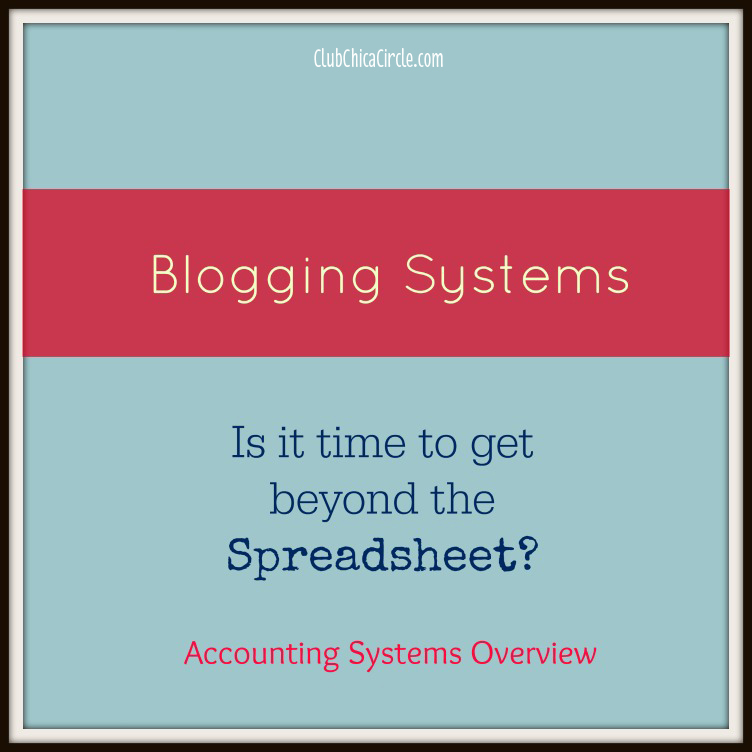 If you are a blogger (or other small business owner) – how do you know if it is time to move beyond the spreadsheet and use an accounting system to track expenses (and hopefully income)?
Don't misunderstand.  I love spreadsheets. I use spreadsheets every single day in my Finance job. Google Docs has allowed me to easily collaborate with Pauline.
But……For the past 4+ years, Pauline and I have relied on spreadsheets (like most bloggers) to track our expenses and income from sponsors and ad placements.  Each year around March, I download all of the bank and PayPal transactions and huddle with Pauline to try to remember what we did throughout the previous year.  Each year, I scramble to make sure our receipts are in order. Each year, I promise to not wait until the last minute and to keep up with the expense categorization. Now we are mid-way through the year and we are 6 months behind in our tracking.
I knew there had to be a better way to stay organized and accountable. After diving into the small business accounting systems below, I am amazed it took me so long to get to this point. The standard features across the systems will BLOW YOU AWAY and convert you to move beyond the spreadsheet – just like they did for me this week.
How do you know if you are ready to move beyond the spreadsheet for a blog accounting system? Check out the infographic below: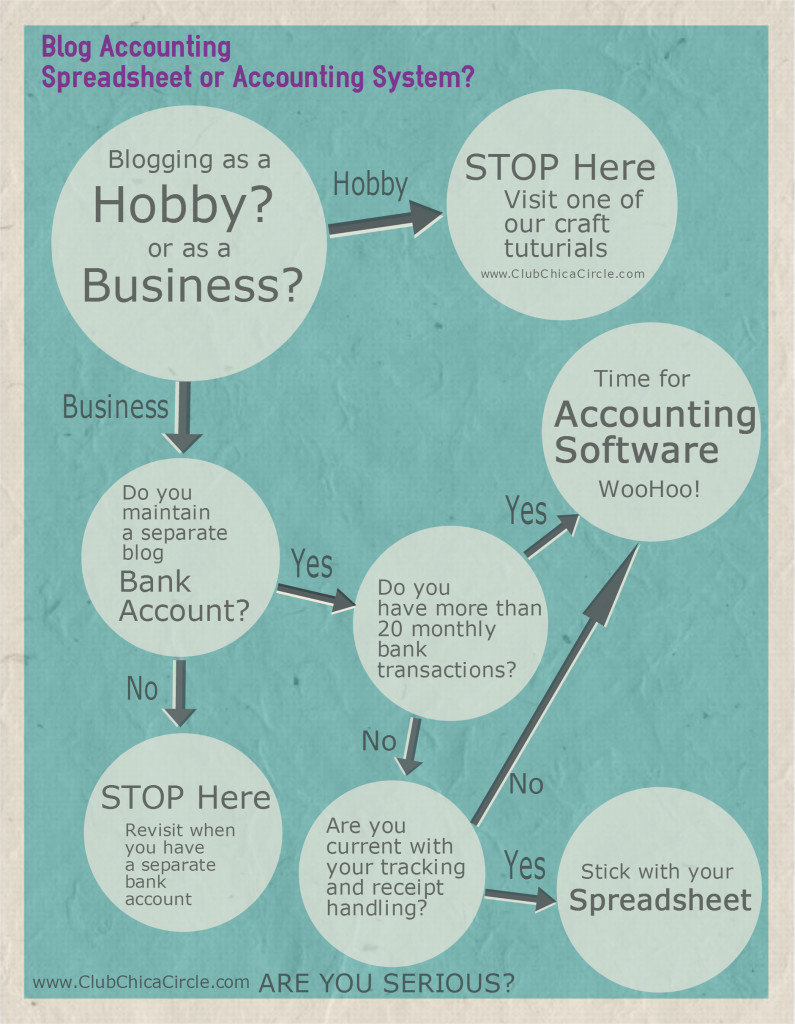 If you are ready to move beyond the spreadsheet and use an accounting system – which system do you select? To start, take a look at some of the most popular small business accounting systems: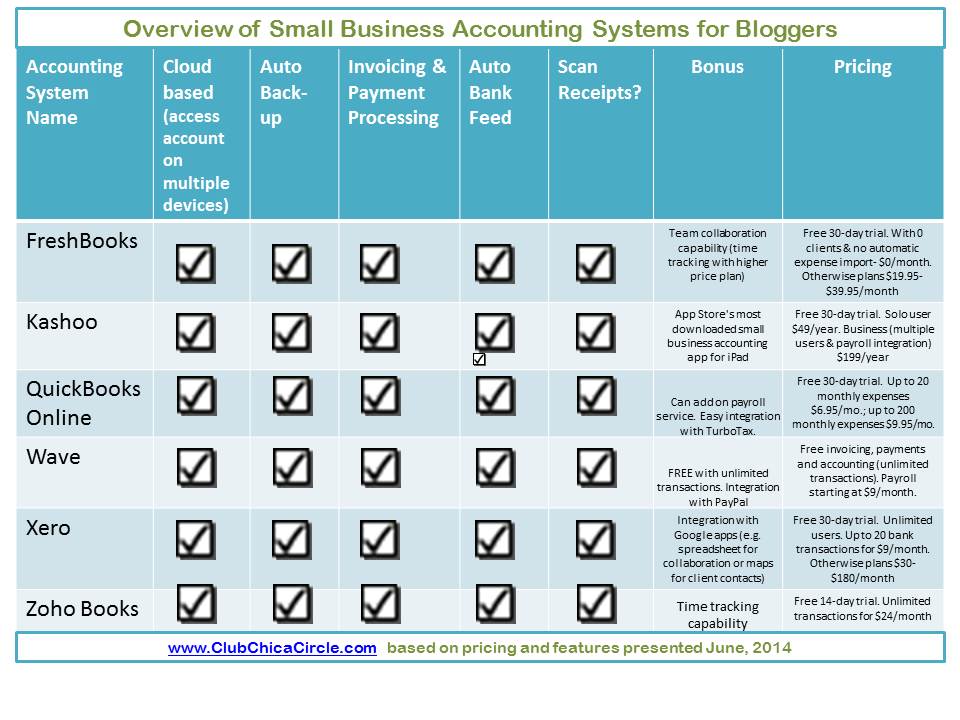 All of the systems highlighted offer the following features which really bring extra power beyond the spreadsheet:
Cloud based – You can access your account and transactions across multiple devices as your account information is securely stored in the cloud.
Automatic Backup – Another feature of having your account stored in the cloud with the provider vs. locally is that you don't run the risk of losing data.
Invoicing and Payment Processing – Bloggers don't have the primary need to invoice, but this does come in handy as some blogger networks require an invoice to be submitted to be compensated for a sponsored post.  The accounting systems will also process credit card payments against the receipts for a transaction fee.
Automatic Bank Feeds – Automatic feeds from banks or PayPal are a HUGE advantage vs. spreadsheet tracking.  Yes, you can export bank records to a spreadsheet – but ongoing updates and feeds from your bank accounts keep everything current.
Scan Receipts – This is a game changer.  I spent last weekend taping down receipts from the SNAP conference in Utah (yes, receipts from this past April). If I were set up on these accounting systems at that time – I could have immediately taken a picture of the receipts from my iPhone as backup to the expenses.  No more tape required.
So which accounting system do you select? All systems below have a free trial period – so try them out to see what you are comfortable with.
FreshBooks –  This is one of the most popular small business accounting systems. It also offers team collaboration where members can input timesheets. The cost moved this lower on my list (packages ranging from $19.95 – $39.95/month)
Kashoo – This system notes that it is one of the most downloaded small business accounting apps for iPad in the App Store. The cost is reasonable for a solo user ($49/year) but jumps up with more than one user ($199/year).
QuickBooks Online – This another one of the most popular accounting systems, but I thought it was interesting that most of the other apps promoted that they were a QuickBooks alternative. The pricing starts at $6.95/month if less than 20 transactions, or $9.95 for up to 200 transactions. One benefit is easier integration with TurboTax.
Wave – This system quickly moved to the top of my list based on the pricing – FREE accounting, invoicing and payments tracking. Payroll can be added starting at $9/month. I started the setup and was totally impressed with the easy setup and beautiful interface (if you can call an accounting system 'beautiful').
Xero – Xero promotes their easy integration with Google apps (e.g. using Google Docs spreadsheets to collaborate on report downloads with others). The pricing starts at $9/month for up to 20 transactions but jumps up to $30-$180/month for over 20 transactions.
Zoho Books – Zoho also includes time tracking functionality. The plan is simple – unlimited transactions but at $24/month.
So my favorite blog accounting system based on pricing, ease of use and ability to grow with us as our blog grows is….Drumroll…..Wave!
Functionality and pricing continues to change – so go beyond the spreadsheet and try out the tools for yourself.
Let us know in the comments if you have any other systems that you would like to recommend.  Also, if you are a blogger and want to see more behind the scenes systems for other areas of the business- let us know!
If you liked this post, and want more, you can subscribe to be on our mailing list here, and make sure to get your free Cupcake Toppers Printables for Every Occasion.
Feeling social? Follow Lynnee's boards on Pinterest and Pauline's Club Chica Circle boards here. You can also find  Lynnee Jimenez on Google+.