So, who's up for some backyard splashy fun for the kids?

Some of my favorite blogging friends and I are throwing a virtual 4th of July party, and you are all invited!
Click on the links on the striped image above to check out all the fabulous tutorials and recipes we have created just for you! We're so excited to party with you!
Yep, I'm talking 4th of July water blob splashy fun!
I keep seeing this fun idea all over Pinterest and I knew I had to test it out on our resident tweens (who were more than willing), and with a 4th of July twist.
We don't have a pool in our backyard, and in the summer it can get pretty hot. This is the perfect crazy fun alternative to a pool. It turned out to be a cross between a ginormous waterbed and a homemade slip-n-slide!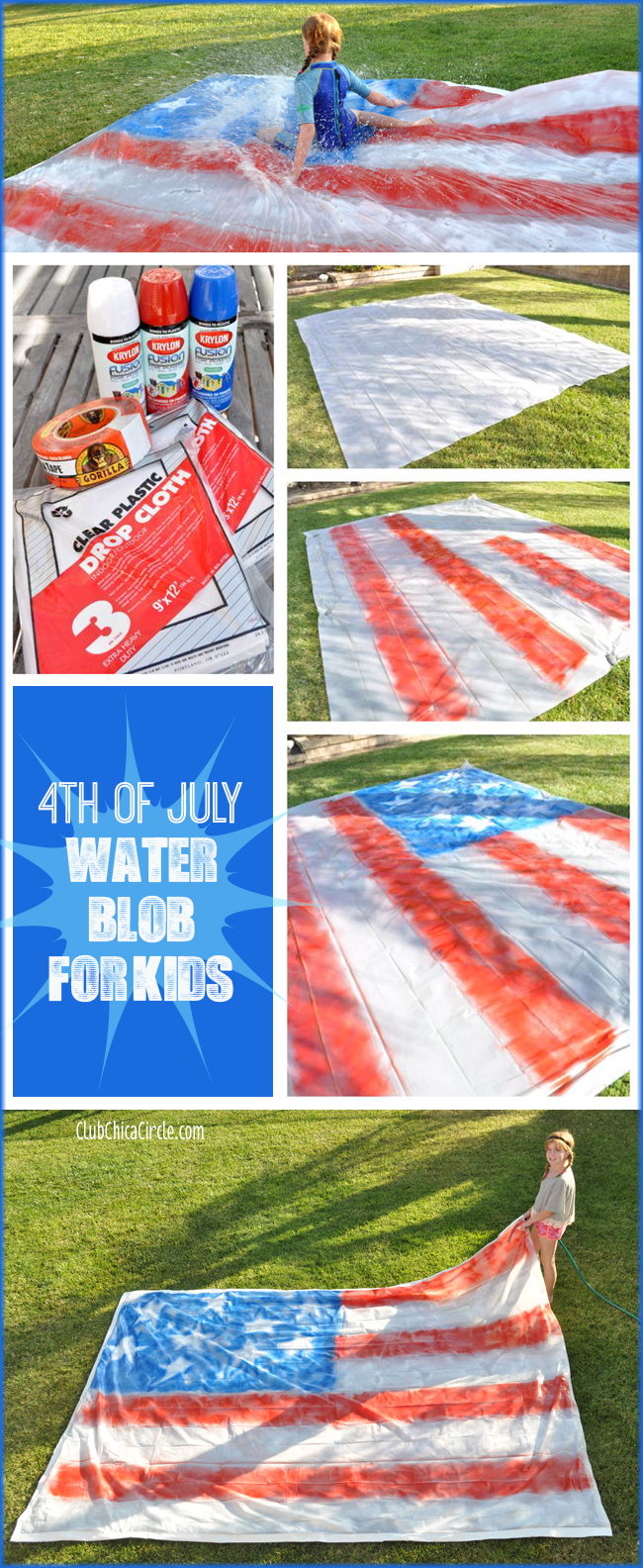 Here is how I made this 4th of July water blob:
Main supplies needed:
Extra heavy duty plastic drop cloths (I used two 9′ x 12′ plastic drop cloths)
Extra sticky duct tape (I used a mix between Gorilla tape and Clear Duck tape)
Optional: I used red, white and blue spray paint to add the 4th of July Flair (Krylon Fusion which is fast-drying and made for painting plastic)
I started by spreading out and laying both drop clops on top of each other on the grass in our backyard.
Then, I sprayed red strips and the outline of stars with the blue paint. I added extra star detail with the white spray paint.
Then, I carefully taped all of the edges together with at least 3 layers of tape, making sure to leave one open hole about 6 inches on one corner.
This is where we filled the "plastic pillow" with water from our hose.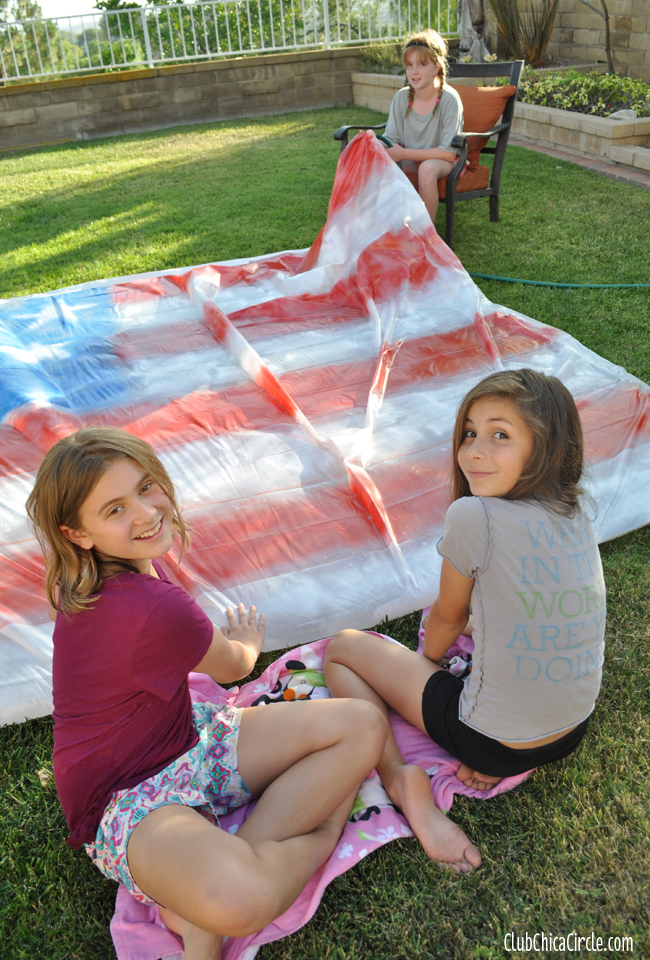 It took awhile to fill the whole thing, but it was worth the wait.
After it was filled with water, we sealed up the hole with more tape.
The girls started playing and rolling around on the blob at first.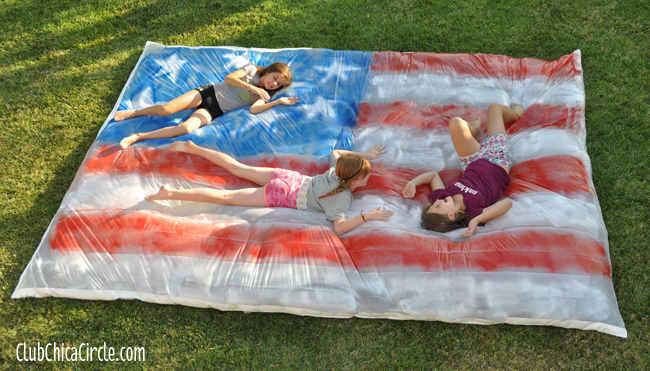 And, to be honest, I wasn't sure how the weight of three 12 year old girls would hold on our water blob.
They started with clothes on, and soon moved to suits or things they didn't mind getting wet in. There were small leaks, and then the first hole which we did patch up with tape, but really the fun was beginning!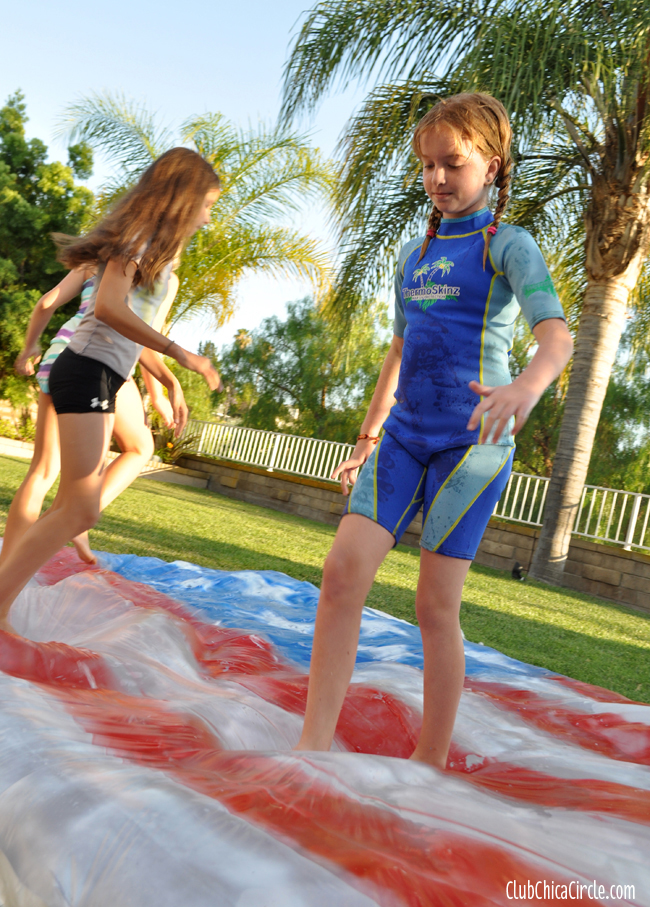 Little holes turned into an opportunity to splash and get wet. And the fun thing is, because the sides were taped so good, the water just kind of stayed on top of the blob.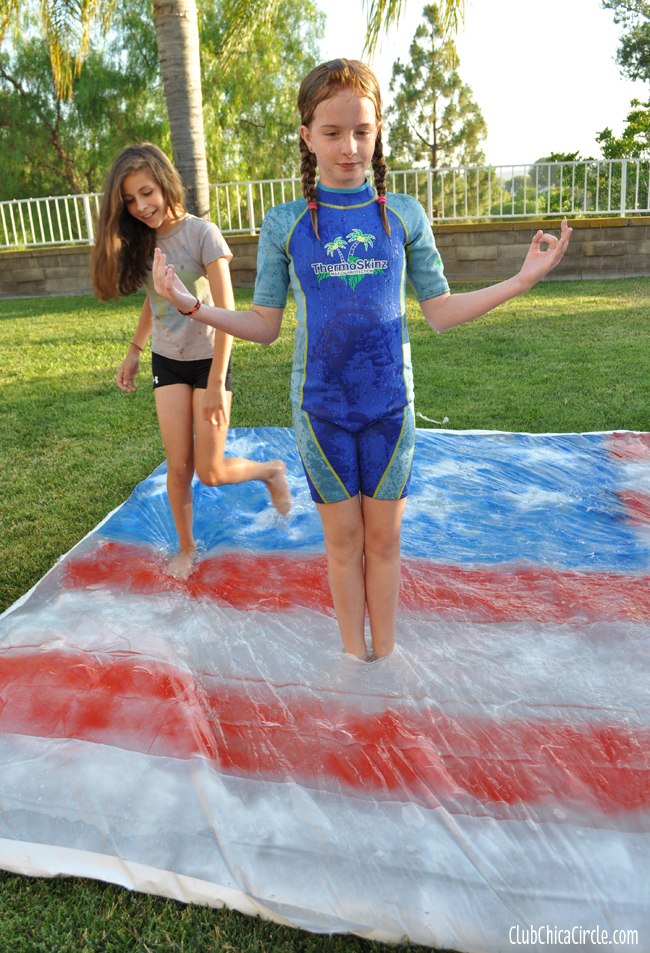 The girls went from hopping around on top of the water blob…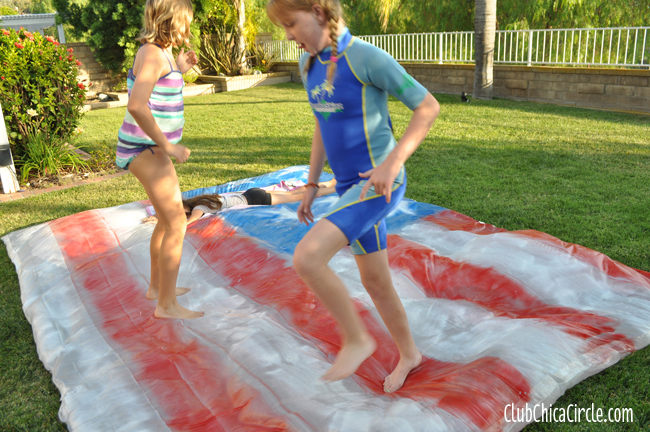 ….to slippin' and slidin'!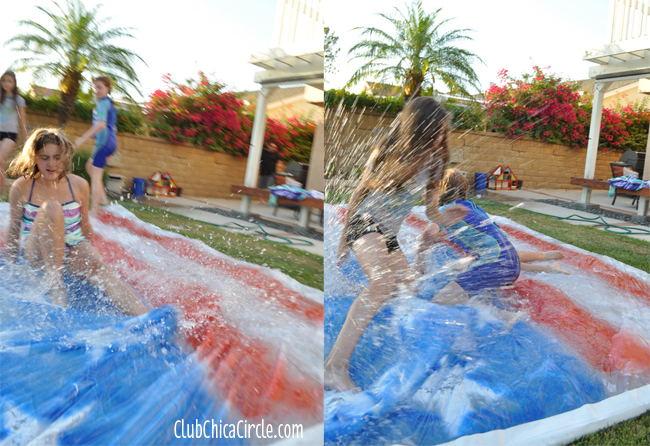 Would I make a water blob again? YES!
But I might try a different technique, maybe double up the layers to see if the water held a little better.
Also, I might not put paint on the top again to decorate it – maybe duck tape. The more water soaked it got, the paint started to come off a little bit and onto the girls' legs.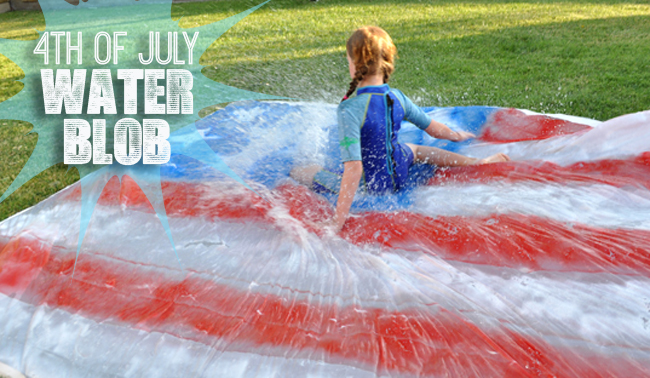 But if you are looking for a fun, super unique, way to entertain the kids for a backyard party, try making your own water blob!
These girls spent over an hour playing on it, giggling and laughing the whole time!
And remember, click on the links on the striped image at the top of the post to see all the other fabulous tutorials and recipes created for this 4th of July virtual party!
Happy Crafting!
SPECIAL NOTE: I completely admire and respect everything that the American flag stands for, and all of the people and veterans that work for and have worked to keep our country safe and free. By painting a representation of the American flag, I, in no means, intend to disrespect anyone or the American flag in any way. I am grateful every day for the life and freedom that my family enjoys, and know that there are so many people that have fought to keep the American dream alive. We celebrate all of you and your families, and send the biggest virtual hugs. Thanks to all you do!
If you liked this post, and want more, you can subscribe to be on our mailing list here, and make sure to get your free Cupcake Toppers Printables for Every Occasion.

Feeling social? Follow ChicaCircle on Facebook or Twitter, and follow me on Pinterest or Instagram.