I still have love affair with this paint. I just can't stop testing it out on a variety of surfaces. I've tried plastic, rocks, and this time its cork.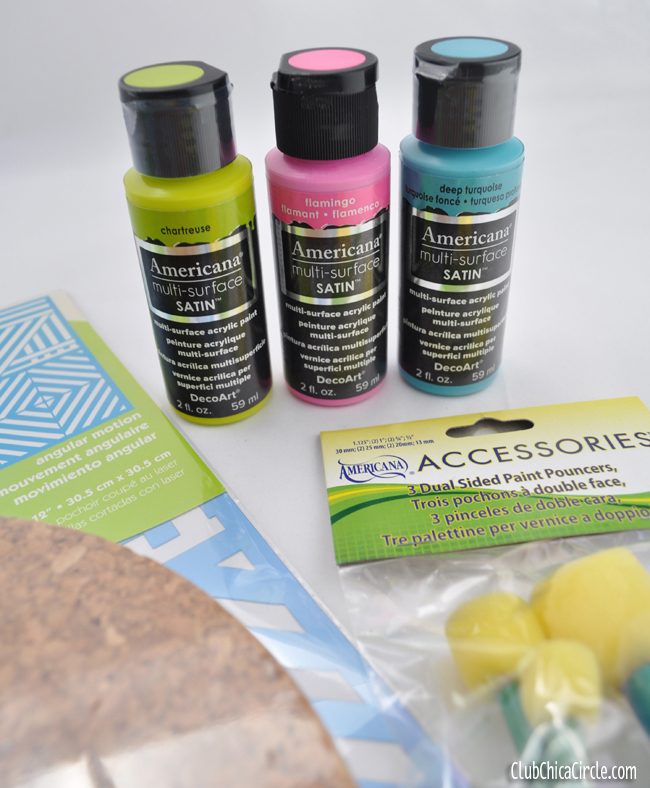 For this easy upcycle craft idea, I started with a 3-pack of cork trivets that I found at IKEA for $2. I knew they would make great mini bulletin boards, but of course they needed some decorative crafty flair first.
Have you ever used stencils? With the right design, you can turn some ordinary into something fabulous really easily.
I used Americana Mixed Media stencils ("Angular Motion") and Paint Pouncer Accessories to create a cool chevron pattern on each cork circle trivet.
Usually I'm crafting for my tween, but this home decor DIY project was all me. I knew I had the perfect space in my home office to hang these fun decorative bulletin boards. I used the new Americana Multi-Surface Satin paints in Chartreuse, Flamingo Pink, and Deep Turquoise.

If you have never used stencils before, here are a couple tips to keep in mind. Painters tape is your friend. Make sure to tape your stencil in place securely to avoid movement. I even taped down the cork trivet to my table so it wouldn't move either. When using a stencil brush or pouncer, it's best to use an up and down motion with a light touch over the stencil. It's not like painting in the lines of the stencil, it's more like filling in the stencil with paint. I also let the paint dry before taking my stencil off to ensure a clean line. And always clean up your stencil after use, and store flat.
After my stenciled cork bulletin boards were dry, I used these adhesive wall hangers to attach to my wall.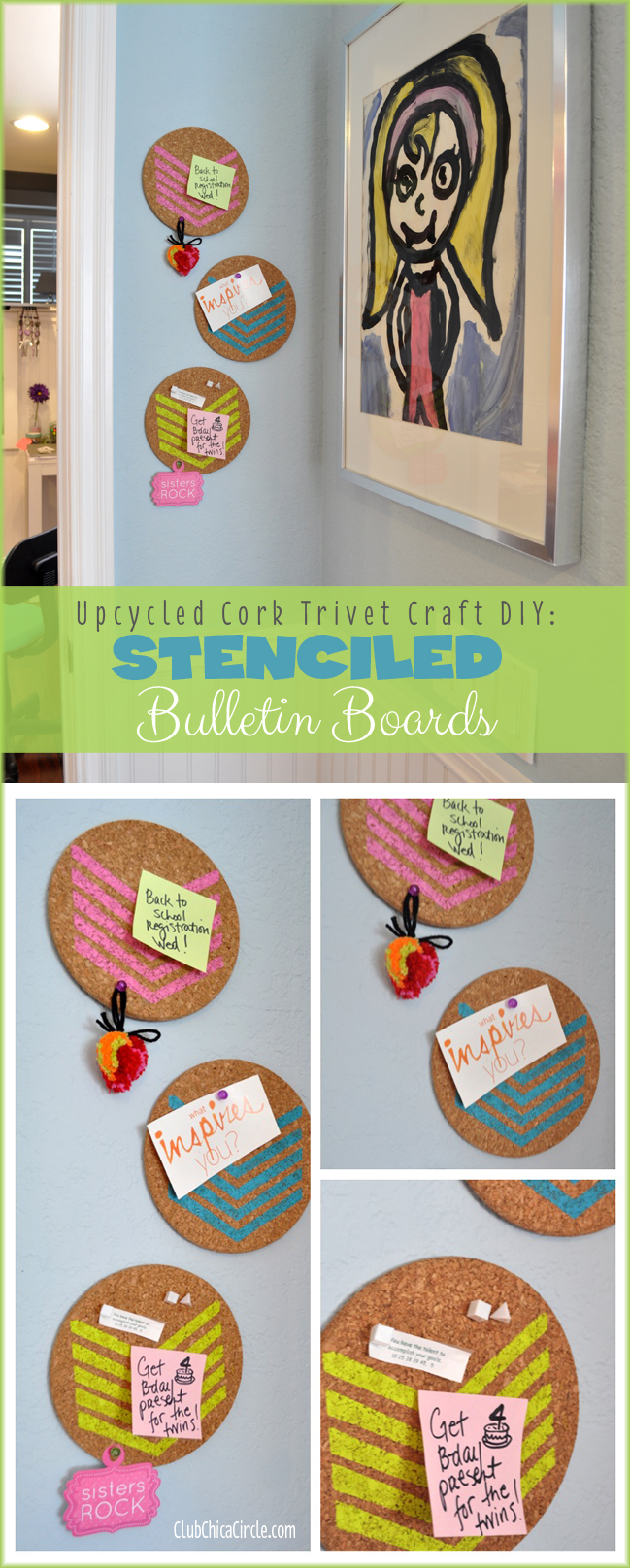 That's it! Simple as that!
My tween has been so excited to start her first year of middle school and getting her first school locker, she has been creating so many locker crafts this past week. This stenciled bulletin board craft was so easy, I even made a magnetic version for my girl for her locker with her initial on it.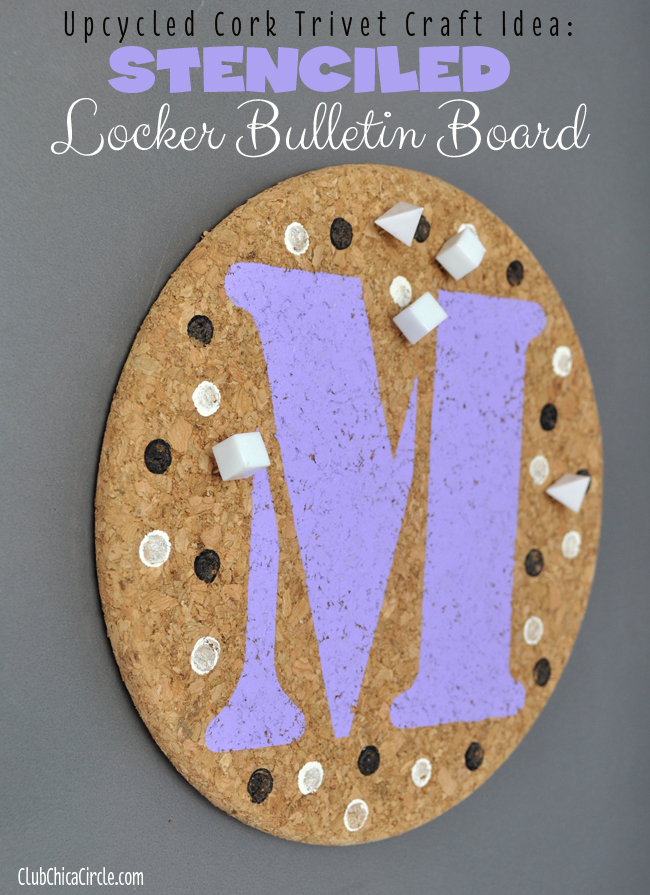 I just attached self-adhesive magnet strips on the back. For the black and white polka-dots, I used the back of a pencil eraser as a stamping tool.
Check out this cool idea for an upcycled trivet craft—love this stenciled mousepad idea from Natalme!
To learn more about DecoArt Multi-Surface paint, go HERE. Americana Multi-Surface Satins are available for purchase at Michaels, A.C. Moore, Hobby Lobby, and other fine craft retailers. Don't forget to use this $3 rebate coupon for purchasing 5 Multi-Surface paints!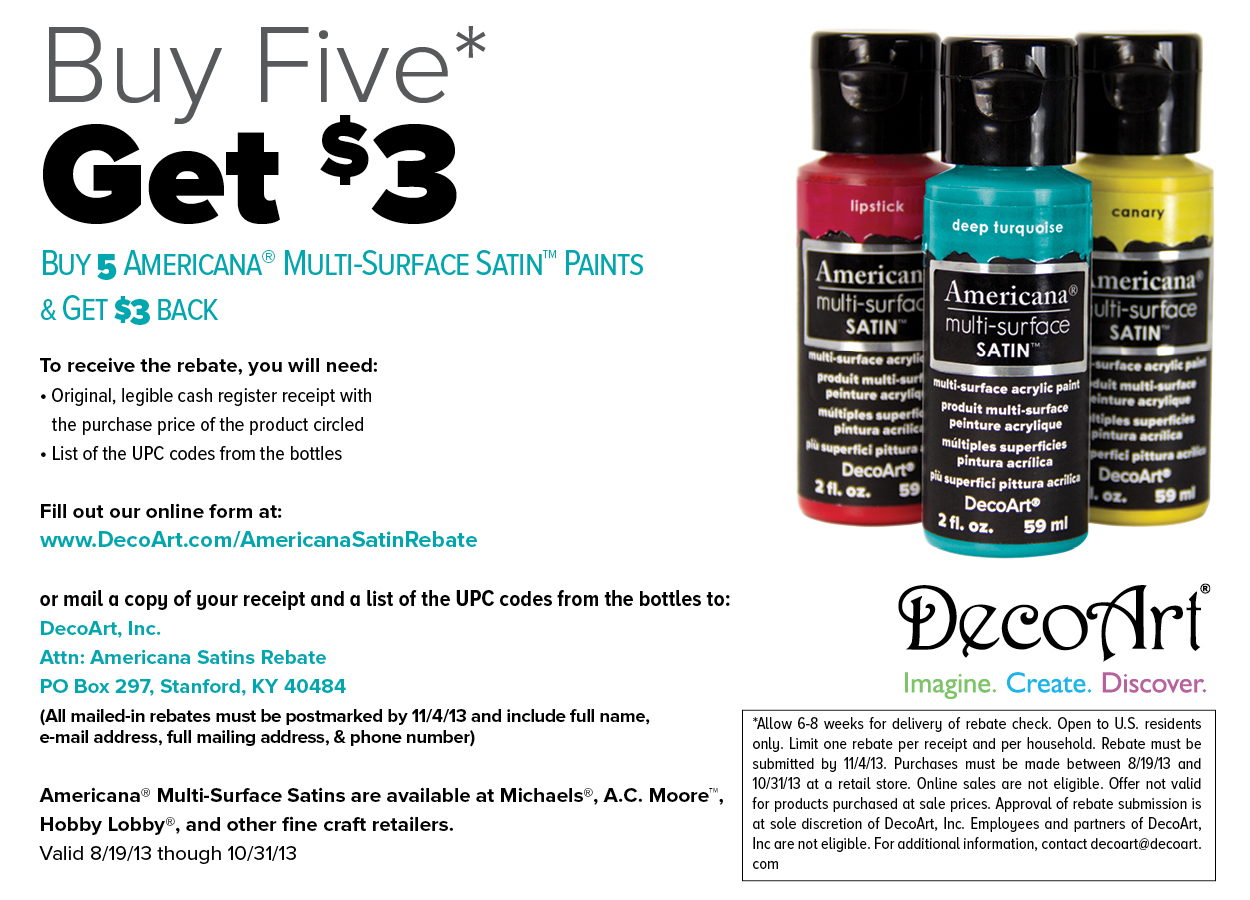 All rebates submitted will be entered to win an iPad Mini. Rebate is open to US residents only.
Happy crafting!
As a member of the DecoArt core blogger team, this post is brought to you in part by DecoArt. All thoughts, crafts, photographs, and ideas are my own.
If you liked this post, and want more, you can subscribe to be on our mailing list here.
Feeling social? Follow ChicaCircle on Facebook or Twitter, and follow me on Pinterest or Instagram.