As a member of the DecoArt core blogger team, this post is brought to you in part by DecoArt. All thoughts, crafts, photographs, and ideas are my own.
Whew! We made it!
Yesterday we celebrated my tween's 5th grade promotion and her last day in elementary school. I brought my box of tissues, and I was just as emotional as I was the first day I dropped her off at kindergarten. It seems like it was just yesterday we were celebrating her kindergarten graduation. Truth be told, time flies!
I wanted to craft something special and personal for her 5th grade promotion or graduation. I love mason jar gifts, and I know my girl loves to solve puzzles. I combined the two of those ideas in today's craft idea for this interactive graduation gift idea.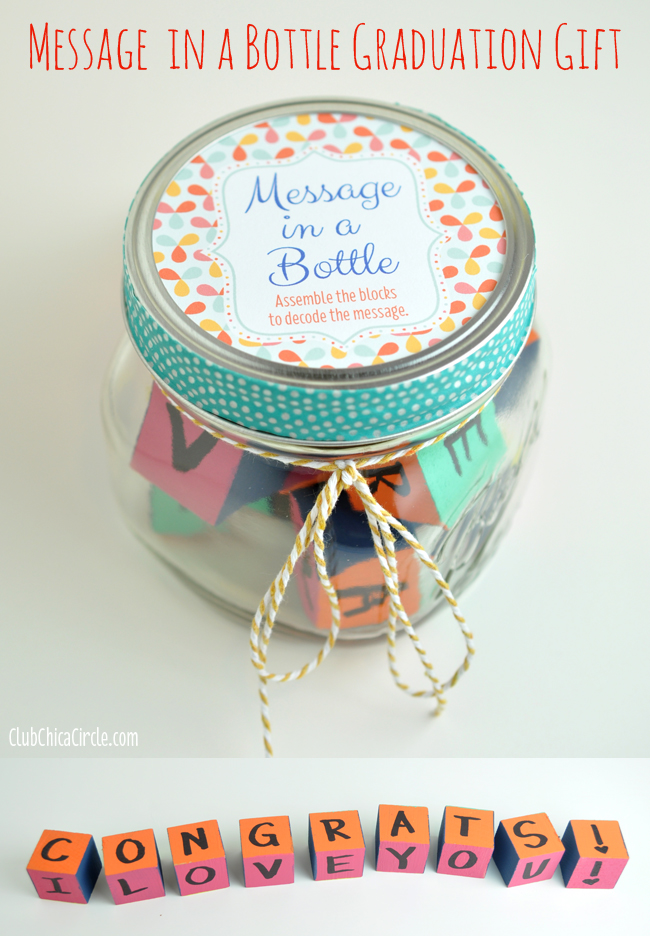 The supplies are simple. I started with unfinished 1″ wood blocks that I found at my local Michaels, wide mouth Ball pint jars from their Collection Elite line (made especially for gift ideas), and Americana Acrylic paints.
I am honored to be a part of the DecoArt core blogger team, and with the large array of paint colors to choose from, it was hard to narrow it down to 5 colors. I went with a bright pastel color palette, with a darker accent color.
The paint colors I used were Boysenberry Pink, Pumpkin, Lemon Yellow, Sea Aqua, and Uniform Blue, and I matched my free mason jar gift printable to these colors.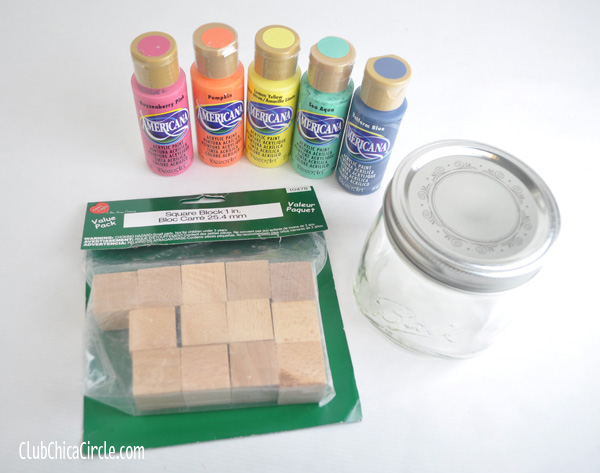 The first step was to paint each side of the wood blocks a different color.

I used sponge brushes and carefully brushed on a coat of paint on each side. The lighter colors I wanted for the message part, so they each got their own side, and on the ends I painted the darker blue color. The hardest part was having patience to let each side dry first before handling the block and painting another color. No worries if you accidentally get too much paint from one side over the edge. Let the paint dry, and you can fix any mix ups with another coat of paint. The Americana acrylic paints are opaque paints, so they should cover any mistakes nicely.
After all of my colorful blocks were painted, I used a black wide chisel tipped Sharpie marker to draw in letters on each side. I had already planned out my messages on paper, so I knew exactly what I wanted to say.

Then it was just a matter of dressing up the mason jar.
I created a colorful free printable to use under the lip of the lid, washi tape around the edges of the jar lid, and baker's twine around the side.
You can grab your free printable here:
Message in a Bottle Mason Jar Label Printable
Simply print on cardstock paper, and cut out the gift circle. Place it on top of the lid, and secure by screwing on the lid. The lip of the lip will hold it in place nicely.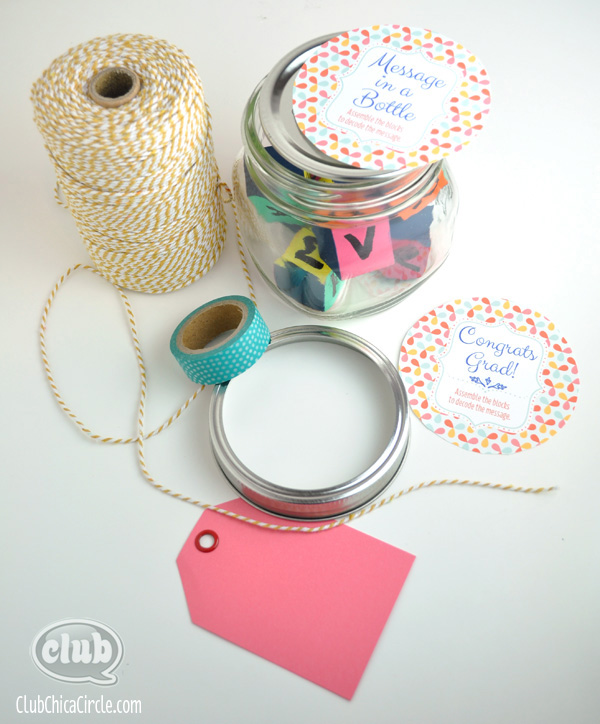 I also added a personal message on a gift tag for my girl to complete the gift.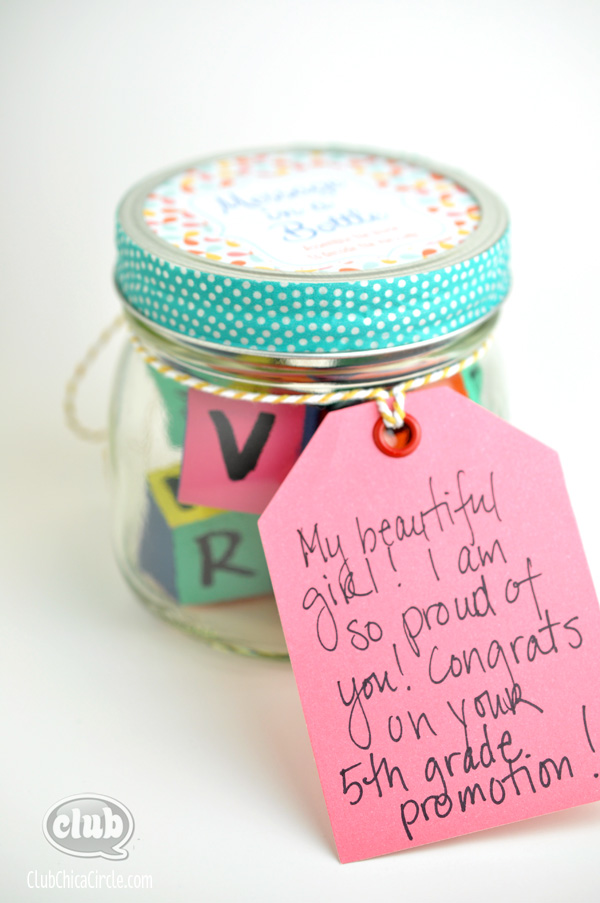 The gift was a hit! I planned it so that once she decoded and figured out one message, the rest of the messages would be in line to read. It also helped that I told her that all of the colors needed to line up too to read all of the messages, because the "M" could look like a "W" depending on the way you looked at it.
You can use this craft idea for a number of occasions. I personalized it for my recent 5th grade grad, but this could be tailored towards a birthday gift, Father's of Mother's Day gift, etc.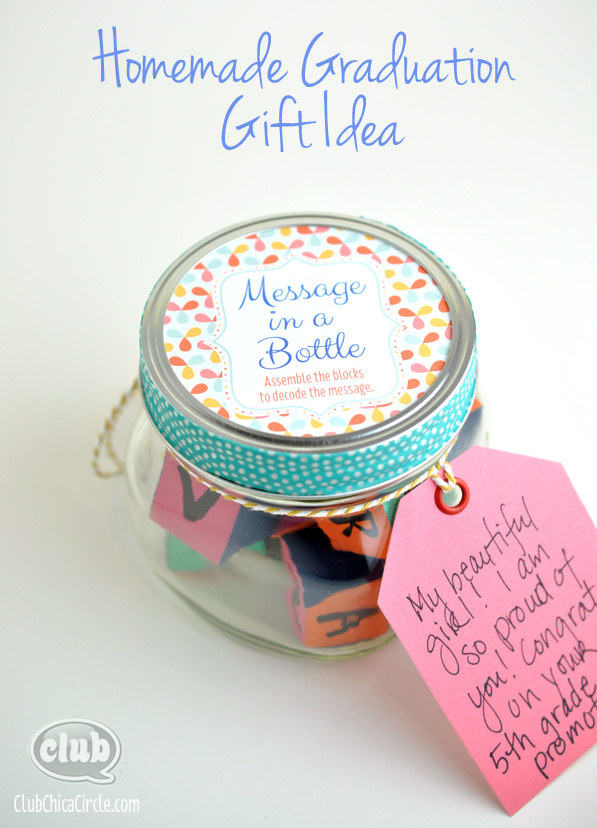 This craft idea is simple enough that tweens can make this themselves for someone special. This would be a fun and unique Father's or Mother's Day present idea, don't you think?
What would your secret messages be if you made this fun interactive crafty gift?Enjoy and happy crafting!
If you liked this post, and want more, you can subscribe to be on our mailing list here.
Feeling social? Follow ChicaCircle on Facebook or Twitter, and follow me on Pinterest or Instagram.