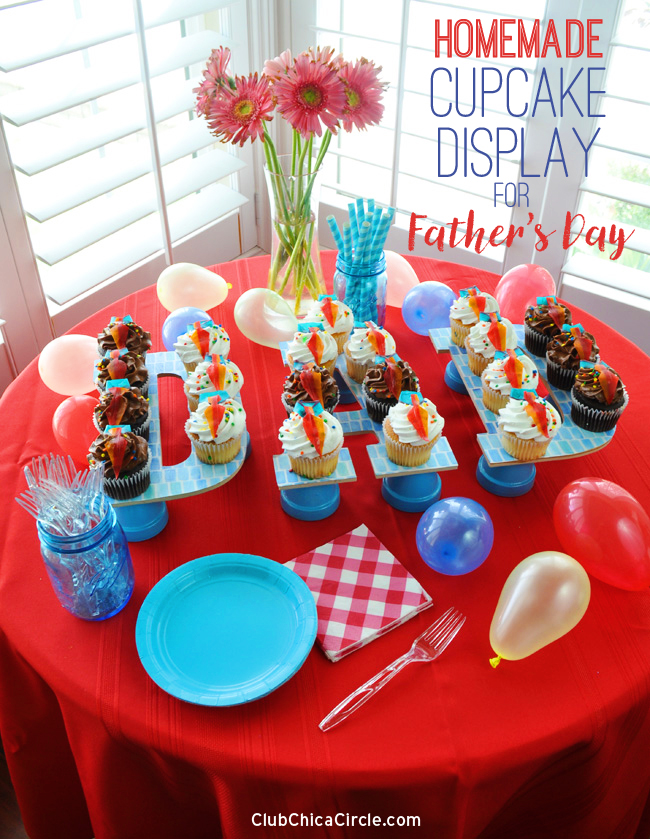 Looking for a fun, crafty and super simple way to make a gorgeous cupcake display for DAD this Father's Day? Whether you have a big family celebration or just a small affair planned, the special father in your world will for surely feel the love and enjoy yummy treats with this cool cupcake display! You can customize with letters your decorate yourself to spell out DAD, or anything else you want. The sturdy letters make it the perfect surface to show off yummy cupcakes or other treats.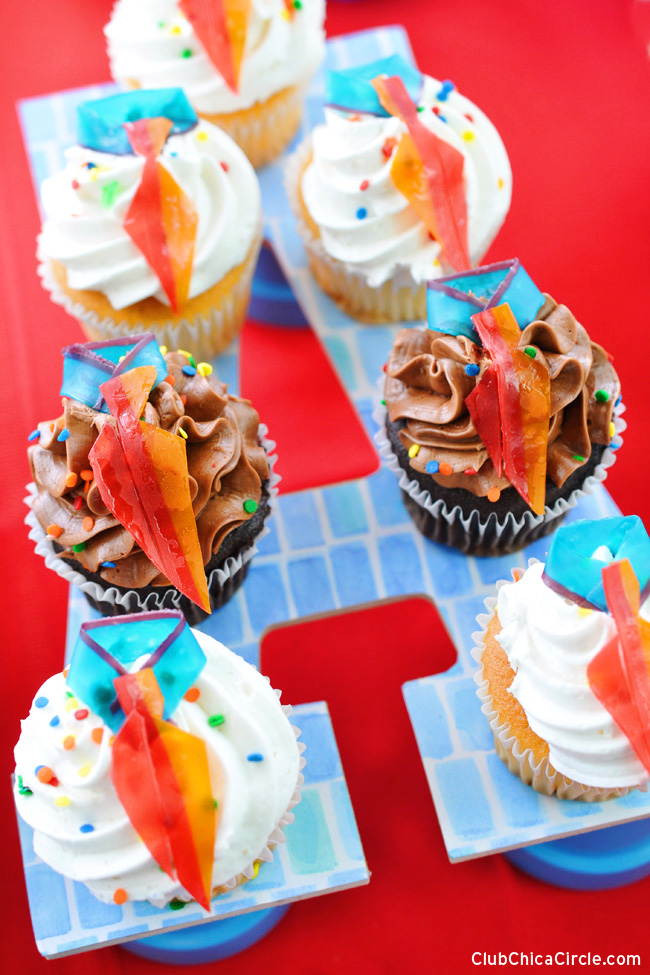 My daughter wanted a fun and easy way to show her dad how "sweet" he is. What better way than with some frosted cupcakes. We didn't need to spend any time in the kitchen because there are always delicious looking and tasting treats in our local grocer's bakery. We did want to make a special crafty cupcake display though to show them off on.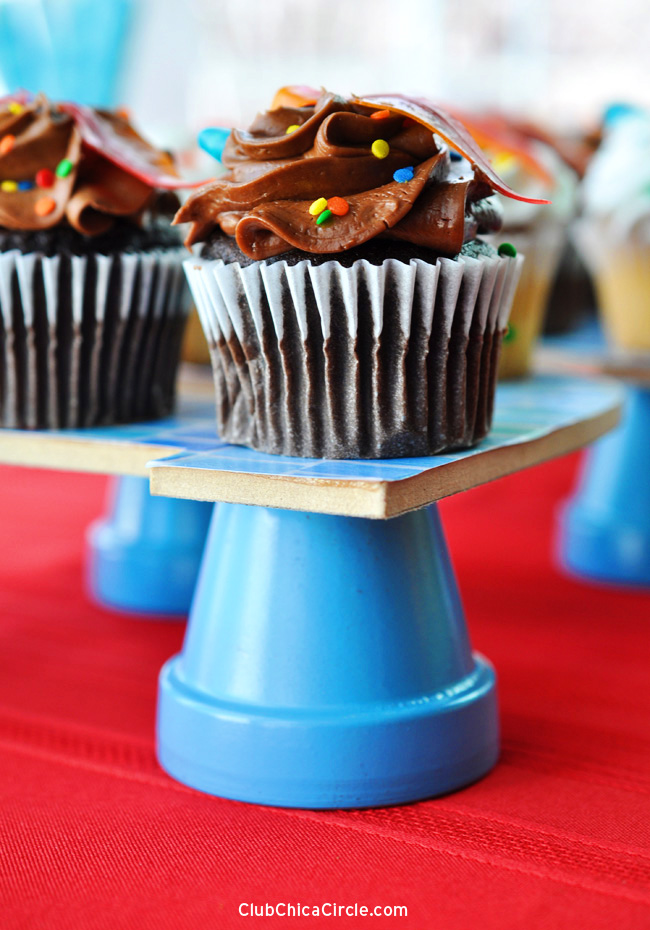 First stop, your local craft store. I went to Michael's and found 10" letters (two "D"s and one "A") , Mod Podge decoupage glue sealer, sponge brushes, patterned scrapbook paper (three 12" x 12" sheets), and 3" terra cotta pots (nine), spray paint (coordinated with the patterned paper).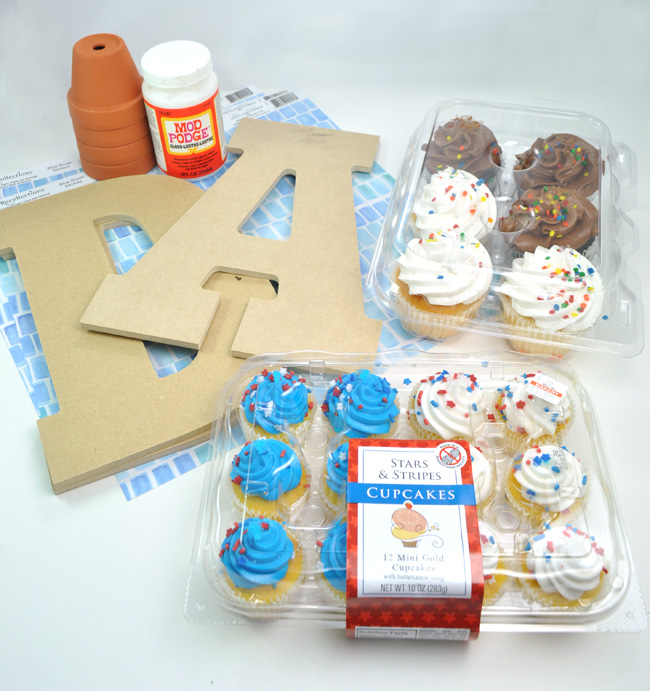 Second stop, your local grocery store. Here I bought a variety pack of chocolate and vanilla cupcakes in my grocer's bakery and Fruit roll-up strips. The cupcakes are so convenient to pick up and yummy as is. I took it a crafty step further and literally "dressed them up" with fruit strip ties.
The plan: to create a fun and personal cupcake party display for DAD. The sturdy letters spell out DAD, the terra cotta pots raise the letters up, and the rest of the craft supplies make it pretty.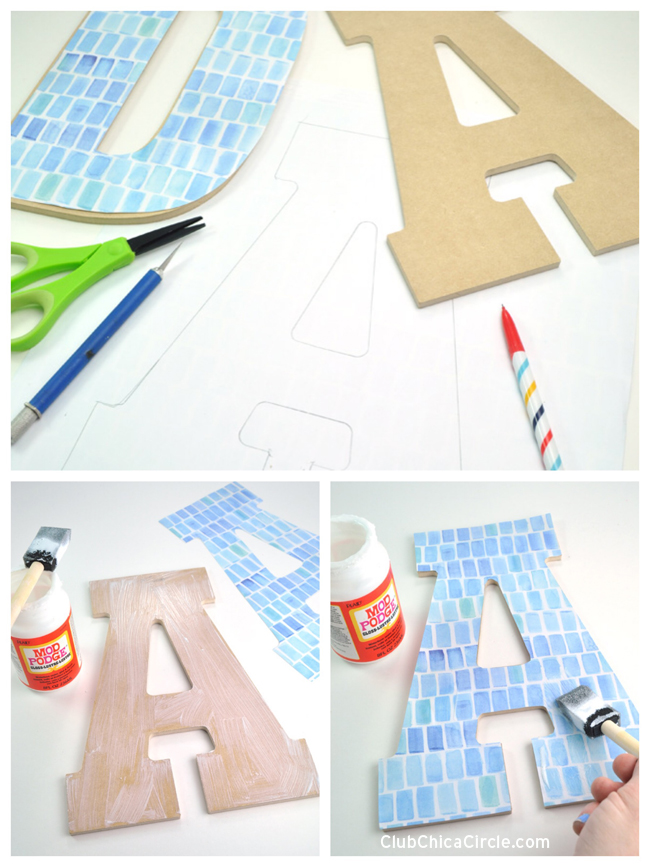 First, here is how I personalized and made the DAD cupcake stand. I traced each letter onto the back of the patterned scrapbook paper, and then carefully cut each letter out.
Then with my Mod Podge, I applied a coat on the top of my letters. Tip: do one letter at a time. I carefully placed my paper letter on top and smoothed out gently with my hands and finished with another coat on top of the paper to seal it. Then I set it aside to dry and repeated for the rest of my letters.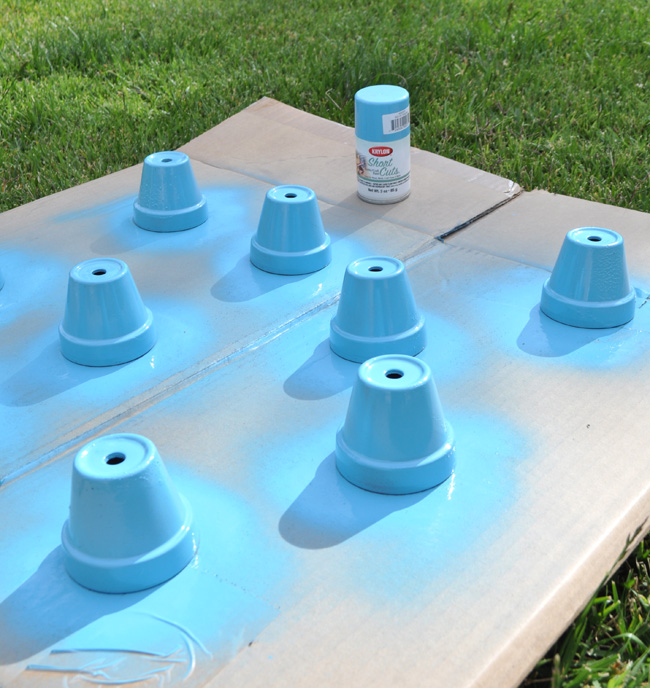 While the decoupaged letters were drying, I spray painted my terra cotta pots (upside-down) a pretty blue color to match the paper and let dry as well.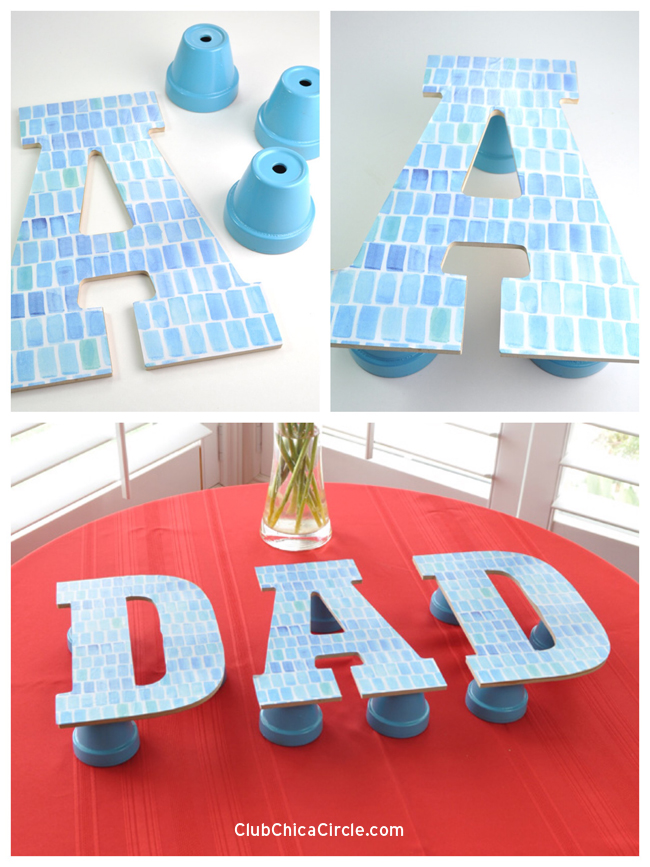 Don't forget about dressing up your cupcakes! I used Fruit by the Foot™ Flavor Mixers fruit rolls to create cute ties to decorate my cupcakes. I love the bright colors they came in, and they were perfect to unroll and make cool fashionable fruity ties.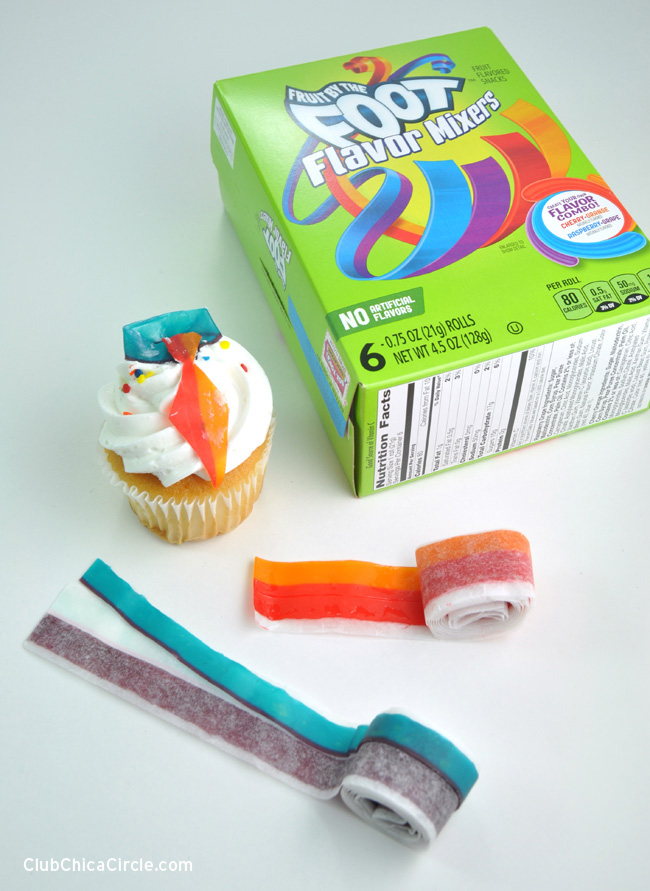 It was super simple to do. First I created the "collars" but cutting a 3" inch segment of the blue half of my fruit roll. Then I folded it into almost a triangle shape with the two ends meeting together at one end. I carefully placed on the top portion of the frosted cupcake so that the back portion of the strip stood up a little to resemble a shirt collar.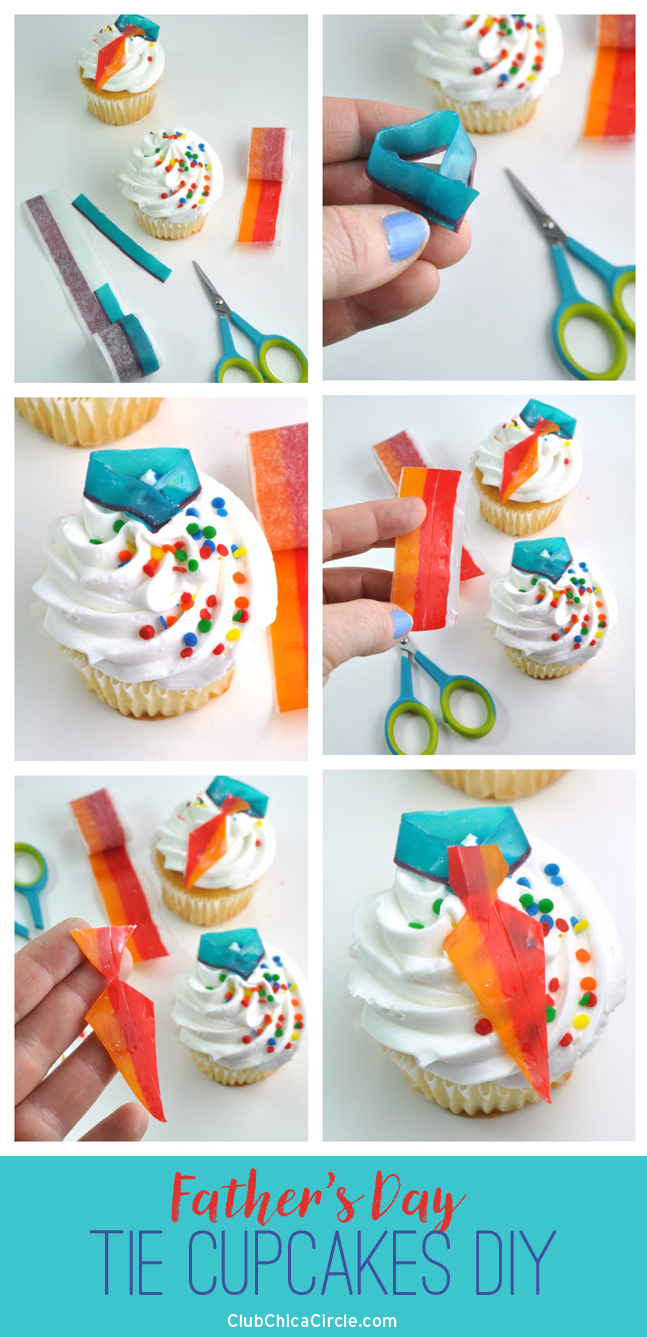 Then I cut a 2-3" length of the red and orange fruit strip and cut a tie shape out of it, with a small triangle at the top and somewhat of a diamond shape at the bottom. This I folded over the triangle edges in and placed on top of my "collar" to complete the tasty ensemble.
So cute!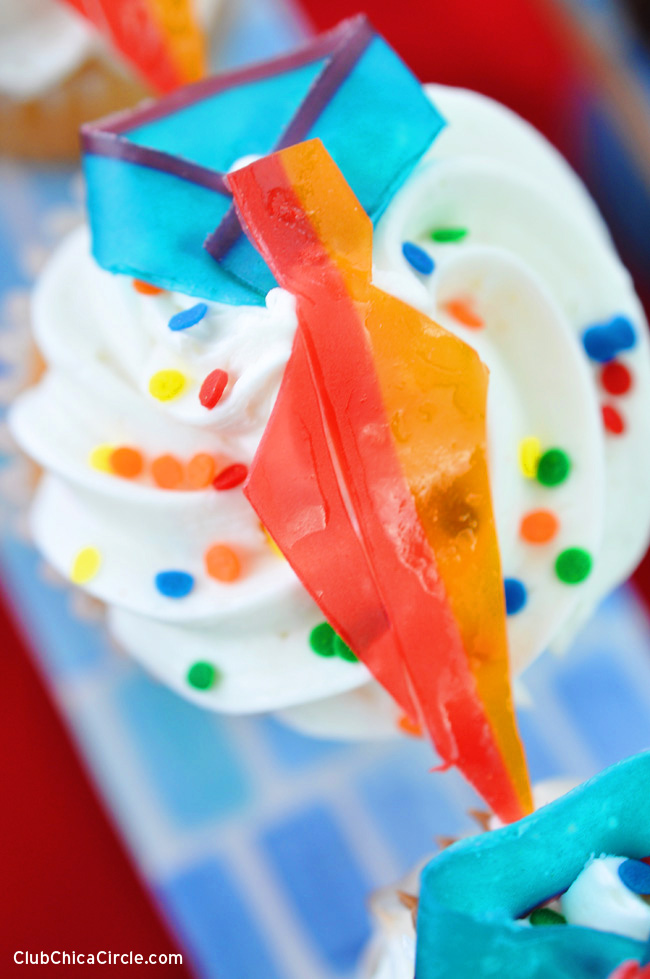 When you are ready to set up your DAD treat table, place your terra cotta pots upside-down and your letters on top for support. I used three pots per letter.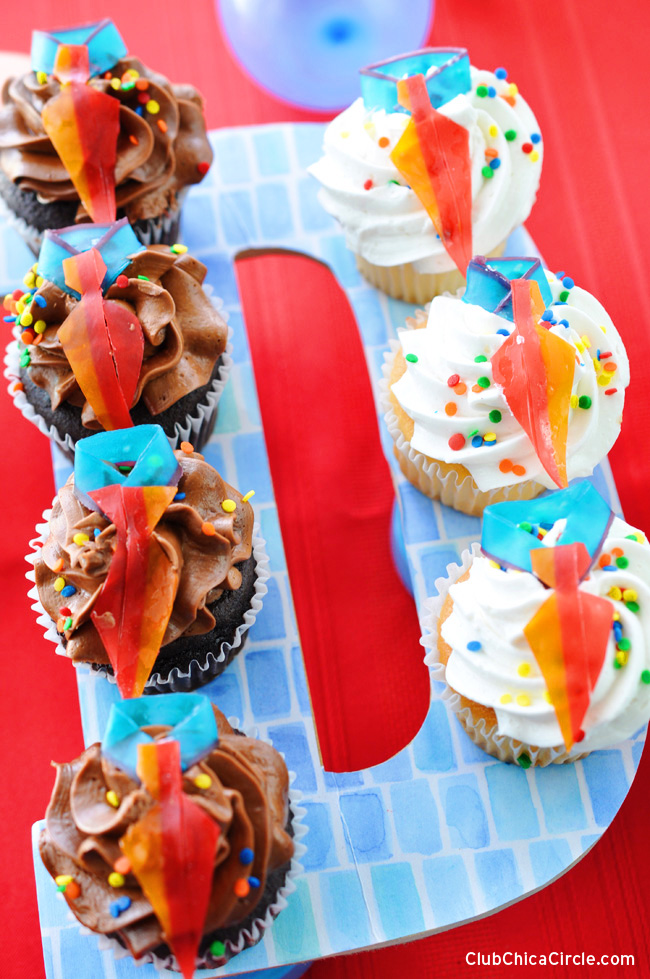 Then arrange your cool cupcakes on top and decorate your table accordingly. You could add some flowers, balloons, confetti, plates and napkins to make a real Father's Day party display.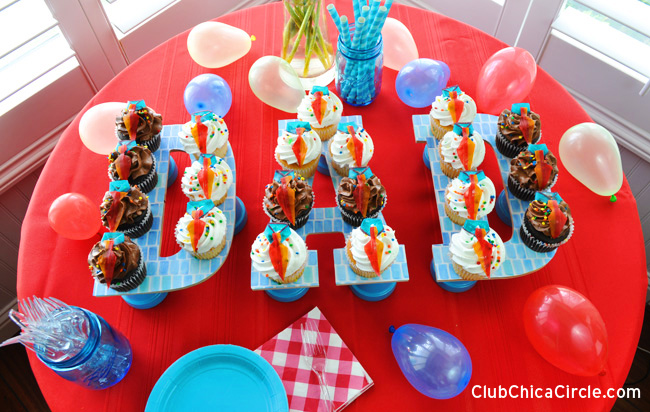 Lovely—what a lovely way to show off some homemade party pizazz and make DAD feel special this Father's Day.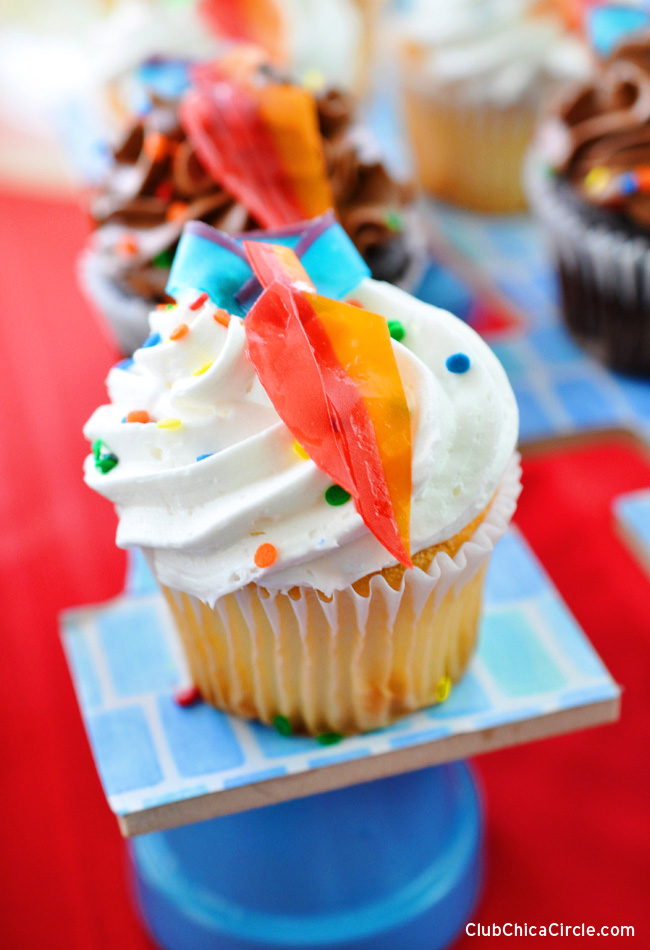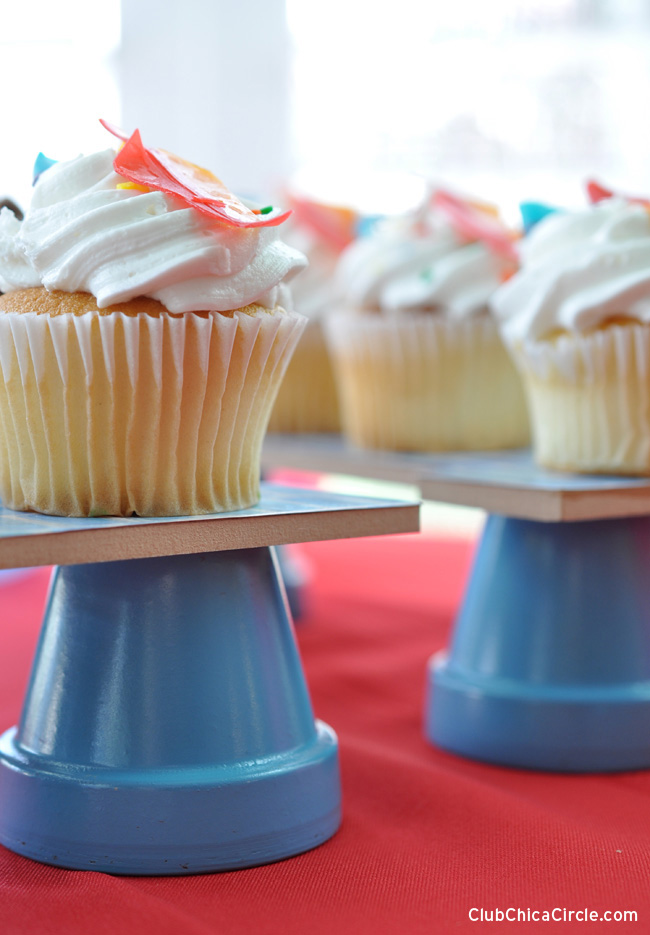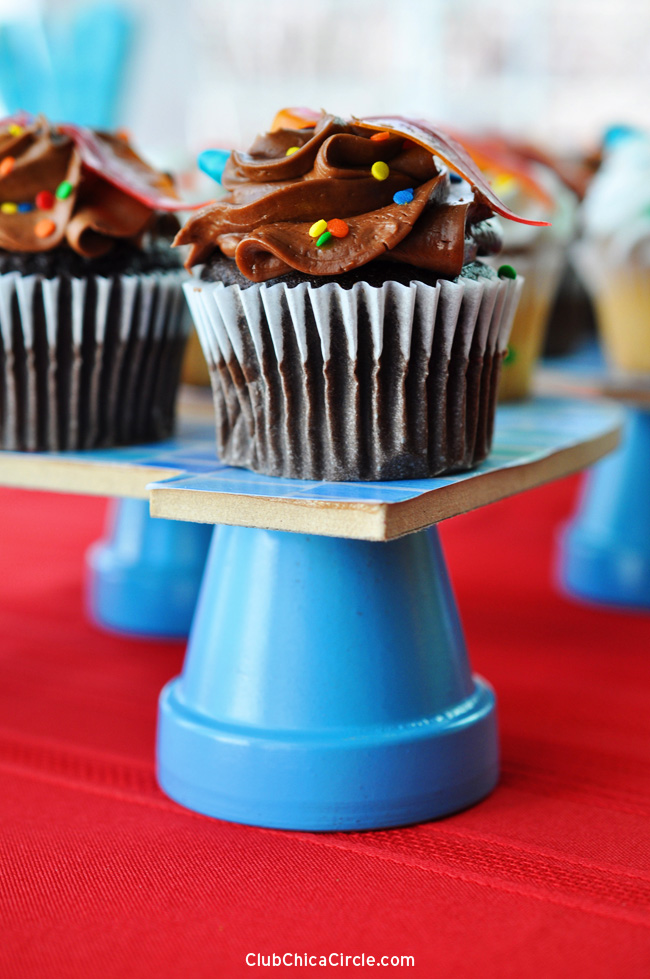 I LOVE how this cute Father's Day display turned out!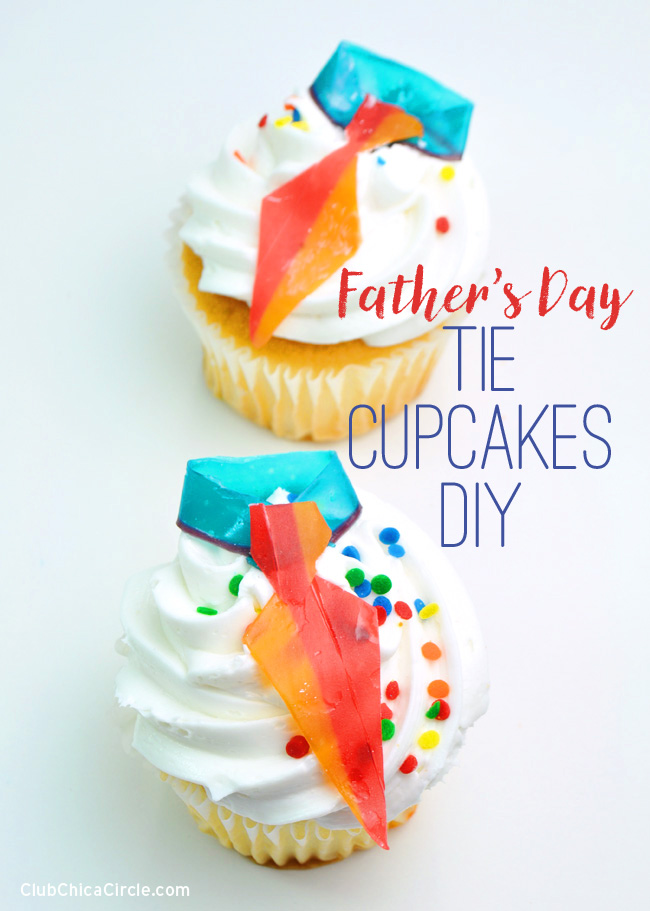 Join in on the fun by creating and sharing your own spin on a Father's Day Treat! #GiveBakery

You can get more inspiration here on Pinterest or here on Instagram.