The chalkboard may have been replaced in school by dry erase boards or smart boards, but art the of the chalkboard definitely isn't going away in the craft world! A friend recently gave me a small can of chalkboard paint and I have been looking for crafty ways to use it, and boy, did I find some cool ideas! Here are my top 5 picks to share and inspire you:
1. Chalkboard Jewelry – Need I say more? I know both myself and my tween would love these crafty customizable chalkboard jewelry ideas. This mini chalkboard/clipboard craft from Poppies at Play. Or the chalkboard earrings – so cool!
2. Chalkboard Wall Decals – You can purchase these from a variety of places. I found some fabulous designs on Wallies that I know my tween would absolutely love, like the house & tree set, or the vintage girl/boy set. Or you can put your crafty hat on and paint designs on a wall using a stencil, or cut out designs using Chalkboard Contact paper. I love this chalkboard wall calendar from the Simple Shapes Etsy Shop.
3. Chalkboard Mugs or Wine Glasses – This one I love, and it would make a great homemade gift idea. Can you just see a cute mug, customized with chalkboard paint, wrapped up with some Starbucks® Via or gift card and handed to a teacher for a fabulous teacher gift idea?  I totally can. The wine glasses are great for parties, or a fabulous hostess gift idea. Love this coffee mug idea from Wit & Whistle, or this wine glass chalkboard tutorial from Just Short of Crazy.
4. Chalkboard bottles, labels, and organization ideas – I think this is a perfectly cute and clever way to get organized and to do some crafty home decorating. Loves these label ideas and pots from The Brides Diary, and the chalkboard vases inspiration from Domestically Speaking.
5. Chalkboard Upcycled Toys – I am drooling over this idea from WhipUp from Creative Kismet – recovering an old board book and giving it new life by covering it with chalkboard paint. Brilliant! Or covering wood blocks with chalkboard paint, and creating your own gameplay from Playful Learning.
Now, there are a variety of chalkboard paint and supplies I thought worth mentioning if you are inspired like I am to get your chalkboard crafting on.
First, love this DIY on how to make your own chalkboard paint in any color from The CSI Project.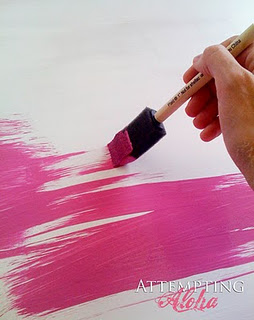 You can find chalkboard paint at your local hardware store, but the less messy version is certainly Chalkboard Contact Paper or Wallies Peel and Stick Paper.
And I am dying to try these Liquid Chalk markers to see if they truly do "work like a marker, but dry like chalk".
Hope you are inspired as I am. I will have to show you what I finally crafted with my chalkboard paint. Let me know if you have any other inspirations or suggestions below. Now let's get chalkin'! = )
If you liked this post, and want more, you can subscribe to be on our mailing list here.