This is a Sponsored post written by me on behalf of American Frozen Foods Institute and the Frozen Food Roundtable for SocialSpark. All opinions are 100% mine.
How do you host a dinner party when you don't have all day to cook? One option is to choose fresh and easy-to-prepare dishes from your freezer aisle, pair them with some fresh ingredients, and you have the makings for some really party-pleasing dishes!
The freezer aisle can be a gold mine for easy-to-make party recipe ideas. I took the challenge, and I recently hosted a dinner party where I used a component or ingredient found at my local grocer's freezer aisle and used in every course of the meal—from appetizers to drinks to the main course to the dessert!
If you think about it, freezing is Frozen: How Fresh Stays Fresh. Freezing is simply a natural pause button that keeps just picked, just baked and just crafted foods at the peak of their freshness. Don't you sometimes freeze meals that you want to save for another time? It's that same concept. Frozen food is made from real recipes and real ingredients, just like you would make in your own kitchen. When you are deciding between fresh vs frozen, sometimes it's about how much time you have too.
First step – keep your guests happy and munching as soon as they arrive. You can't go wrong with spinach & artichoke dip in our house, and this one from the freezer aisle was definitely a party-pleaser! I'm just glad I bought two boxes. My guests quickly devoured it. It was just a quick microwave heat up, and then I paired it with some yummy tortilla chips on a party plate.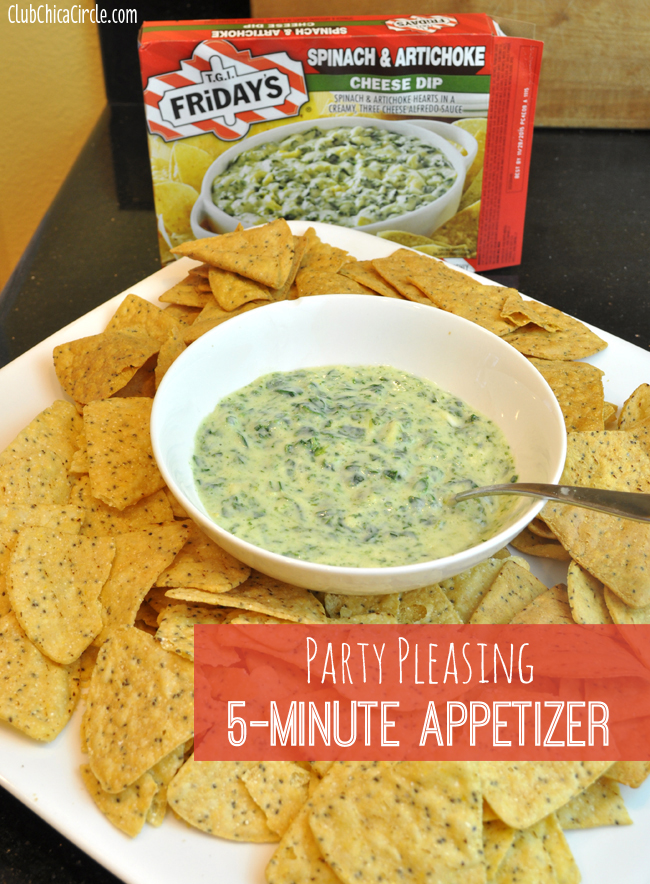 While my guests were munching on the chips and dip, I created these yummy and super easy MEATBALL CAPRESE SKEWERS.
A caprese salad is normally fresh mozzarella, tomatoes and basil. I found fresh mozzarella balls that I sliced in half, used some fresh basil (from your garden or produce aisle), and found some sweet grape tomatoes to use.
The secret is that I paired them with frozen Italian meatballs that I heated up in the microwave first, then I arranged them on a skewer for an instant 2nd course or appetizer. They were so easy to put together, the kids helped assemble them while I moved onto my next party recipe item.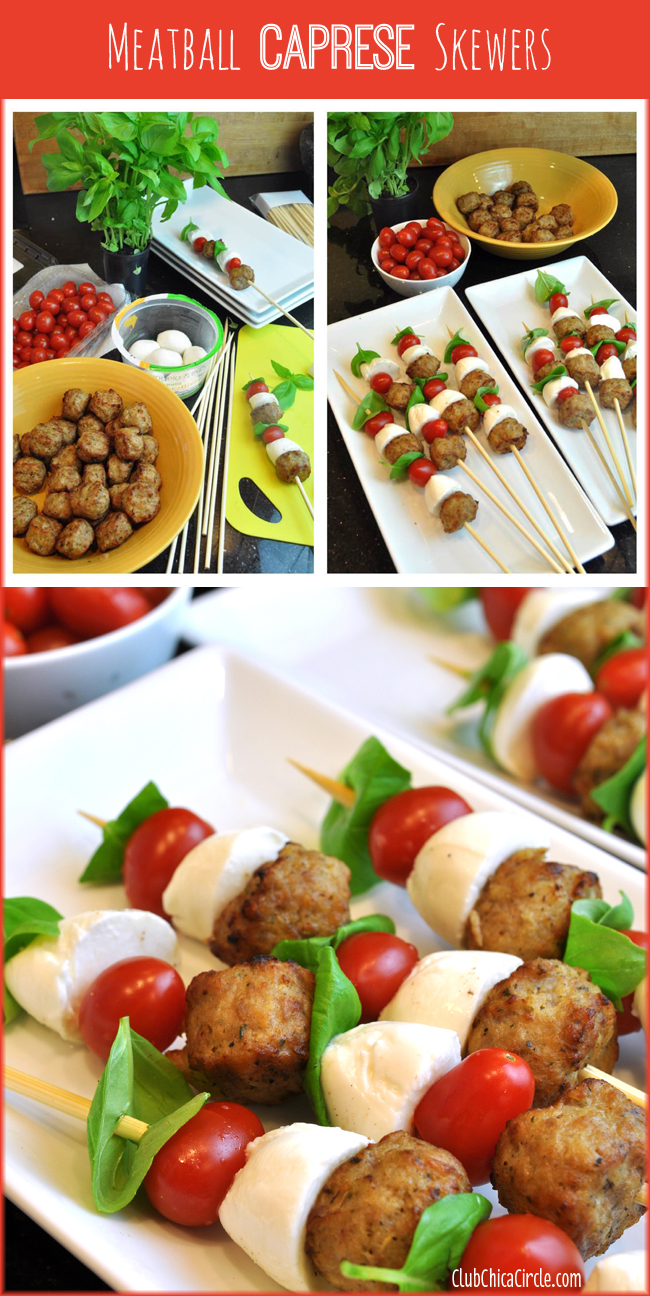 You can't forget liquid refreshments! We made some really delicious VIRGIN STRAWBERRY DAIQUIRIS using frozen strawberries.
I started with this recipe, and modify it to make enough for a crowd. The best part – no ice needed. We blended frozen strawberries, a can of pineapple chunks with the juice, some superfine sugar, and fresh lime juice to make this super yummy party treat!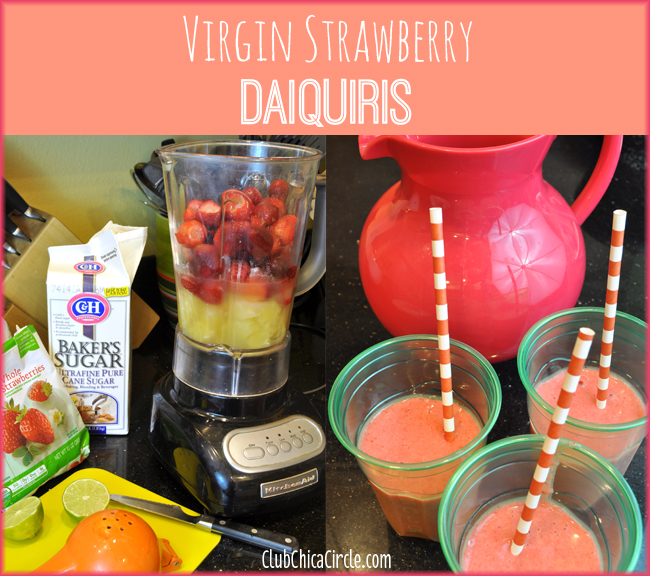 While my guests were munching and drinking on the appetizers and daiquiris, I put these bad boys in the oven.
First, you can't go wrong with fresh baked biscuits. I found these in my freezer aisle, and popped them in a pan to cook in a preheated oven.
Then I wanted to make something that both the adults, but also the kids would really like. I'm call these CHICKEN NUGGET PARM BITES.
I started with chicken nuggets and placed them on an aluminum foil lined pan and heated them up in the oven for about 15-20 minutes. Then I put a spoonful of my husband's homemade pizza sauce (that I had pulled out from my freezer!) and sprinkled some mozzarella cheese on top. Then let them get nice and melty back in the oven for the last 5-10 minutes.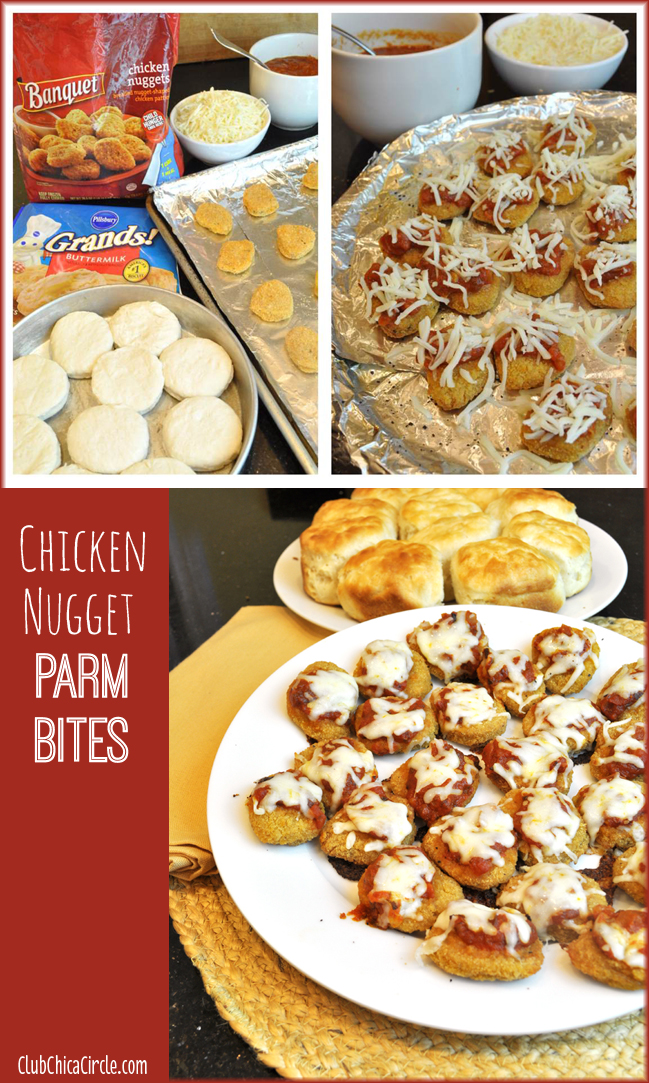 Look how yummy they look!
To complete our party main course we also grilled some chicken, I baked some sweet potato fries that I also found in the freezer aisle, and I made a delicious side salad.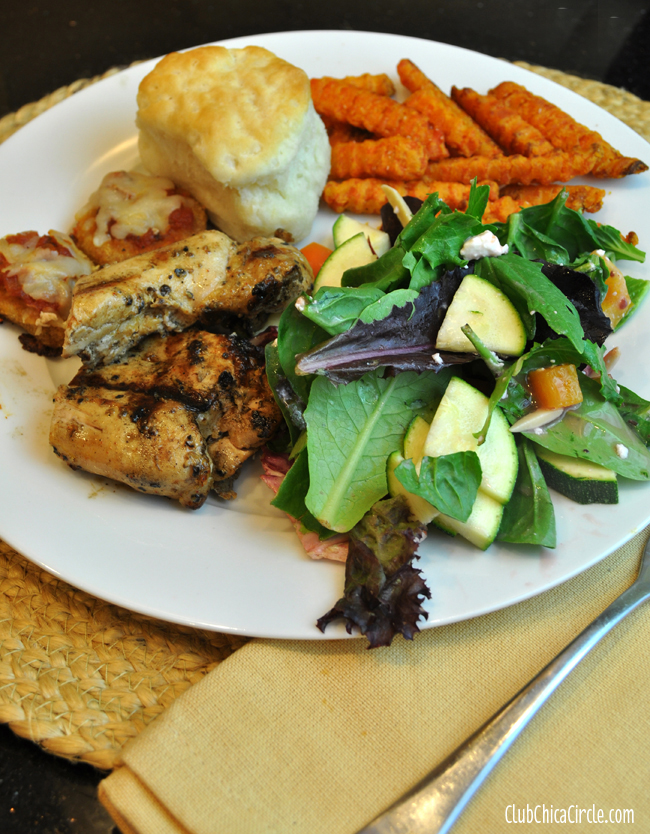 Yum!
Ok, and you can't forget about dessert when entertaining! I think this was my favorite part!
I made some MINI WAFFLE ICE CREAM SANDWICHES. They were so easy to make!
I just popped the waffles in the toaster, and when then were nice and toasty, placed a spoonful of ice cream in between two mini waffles and topped the whole thing with chocolate sauce.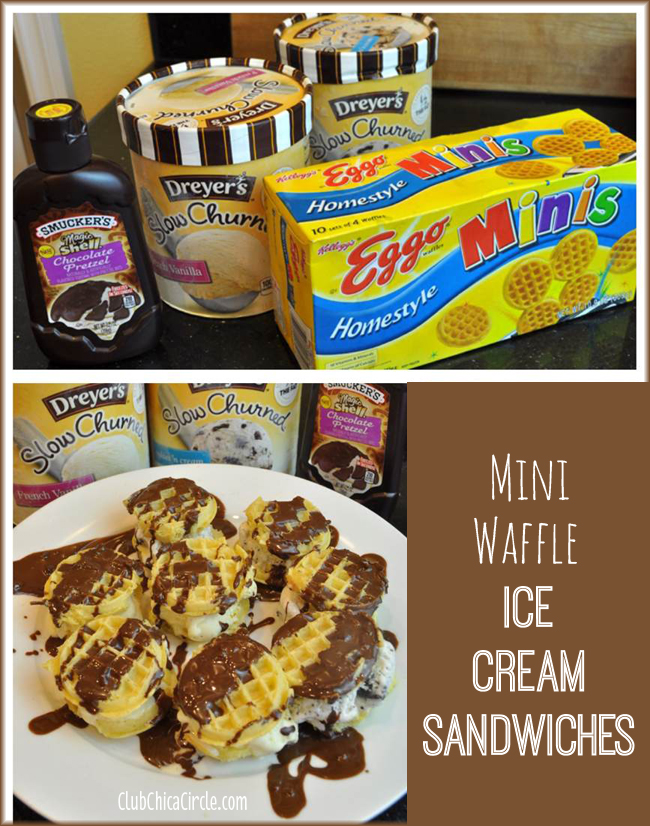 Seriously yummy food!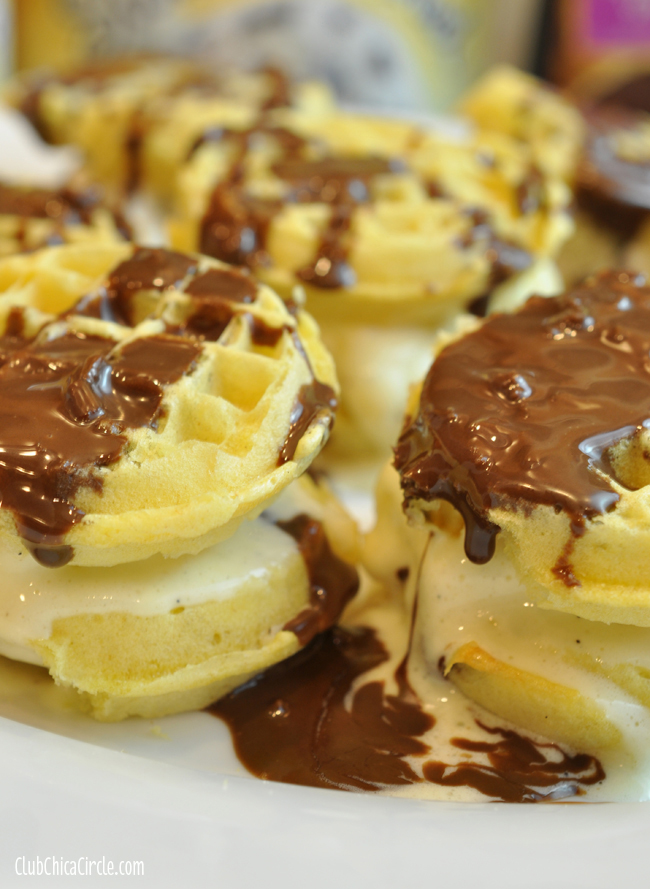 As soon as I made a plate, they were gobbled right up! Good thing they were easy and fast to make. = )
I had to make a special plate just for the adults at the party, before the kids got to them.
Next time you planning a dinner party, take a stroll down the freezer aisle. Remember, freezing naturally pauses inspired recipes made with fresh, quality ingredients and suspends them there until the moment you're ready to enjoy them. There are so many benefits of frozen foods.