Please give another warm welcome to one of fabulous Fall Contributors – Aida Arain.
She has cooked up some super colorful and fun Halloween Cupcakes—
where there is a colorful surprise inside and out!
~~~~~~~~~~~~~~~~~~~~~~~~~~~~~~~~~~~~~~~~~~~~~~~~~~~~~~~~~~~~~~~~~~~~~

Hi Everyone! I'm Aida from The Crafting Foodie, and I'm so excited to be sharing these festive Halloween cupcakes here at Club ChicaCircle. I realize that Halloween is right around the corner, and these quick and easy cupcakes are the perfect last-minute treat to add to your Halloween spread.
These colorful cupcakes are made from a vanilla cupcake and vanilla frosting base. I halved this white cake recipe to make the cupcakes. The vanilla frosting was made from this recipe (without the pink color), but you can always just grab a box of your favorite white cake mix and pre-made vanilla frosting and use that! For this recipe, I used food coloring to color the cake batter, so make sure to use a white cake mix so that the colors come out nice and bright.
For the food color, I used AmeriColor soft gel paste food color. I decorate a ton of sugar cookies with royal icing, so I have a whole drawer full of AmeriColor food color. You can purchase AmeriColor gel paste at Hobby Lobby, or you can buy Wilton brand gel food color from any of the other craft supply stores. In the step-by-step instructions below, the colors I specify are all AmeriColor brand colors, but you can find similar colors in the Wilton brand as well. You could even used regular liquid food color that you purchase at the grocery store. Keep in mind that if you use liquid rather than gel food color, the colors won't be as vivid and the addition of the liquid color will make the batter and frosting more runny.
Let's get started making these bright and colorful Halloween cupcakes!
The first step is to mix the cupcake batter. If you're using a boxed cake mix, follow the directions using egg-whites only. That will ensure a nice white cupcake base to add the food color.
Next, divide the cupcake batter into three equal portions. The most accurate way to divide the batter is to use a scale to weight the batter and divide it evenly, or you could use a shortcut like I did! I simply grabbed a 1/3 measuring cup, and I poured 1/3 cup of batter into bowl one, 1/3 cup batter into bowl two, and 1/3 cup batter into bowl three. I continued to do that until I ran out of batter. I ended up with three even bowls of batter!
Once the batter is divided into three equal portions, I colored each bowl of the batter. My first bowl of cupcake batter I colored orange by using Tulip Red and Lemon Yellow.
For the second bowl of batter, I mixed Electric Green with Leaf Green to get this bright, Frankenstein green.
Finally, I made the last bowl purple by mixing Royal Purple with a touch of Electric Purple just to brighten up the purple.
With my colors mixed, I began filling my cupcake liners. Using a tablespoon, I started by adding two scant tablespoons of the orange batter to the cupcake liners.
Then I added 1 1/2 tablespoons of the purple batter.
Finally, I topped the cupcake liner with about one tablespoon of the green batter.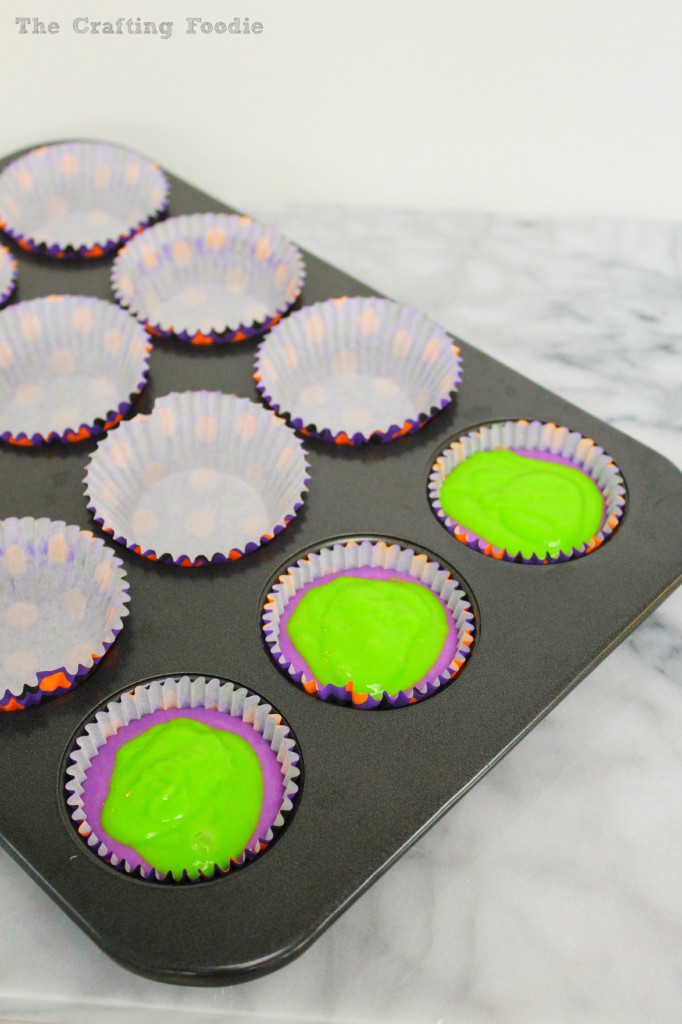 You can add the different colored batter in any order that you prefer.
Pop the cupcakes in the oven, and follow the cooking time for your cupcake recipe. Allow the cupcakes to cool completely before frosting. Below is the inside of one of the cupcakes before I frosted it. It's jam-packed with all the festive colors of Halloween!
Next, prepare your frosting. Once it's made, divide it equally into two bowls. Add food color to each bowl. For the orange, I mixed Tulip Red with Lemon Yellow, and for the black, I used Super Black.
Place each frosting color in a piping bag. Now, slip both the orange and black piping bags into a third piping bag that is fitted with an extra-large piping tip. It should look like this:
Now, pipe your frosting onto the cupcakes. Since the piping bag hold two colors, your icing will be multi-colored as you pipe! Pretty darn cool, isn't it?
If you're looking for more Halloween ideas, check out my Melted Witch Halloween Cake and some Ghost and Witches Hat Decorated Cookies. I hope you and your family have a safe and enjoyable Halloween!
~~~~~~~~~~~~~~~~~~~~~~~~~~~~~~~~~~~~~~~~~~~~~~~~~~~~~~~~~~~~~~~~~~~~~
You can also find Aida here on Facebook, Google+, or Pinterest.