As part of the Make It: Fun Team, this post is sponsored in part by FloraCraft. As always, ALL photographs, ideas, and opinions are my own.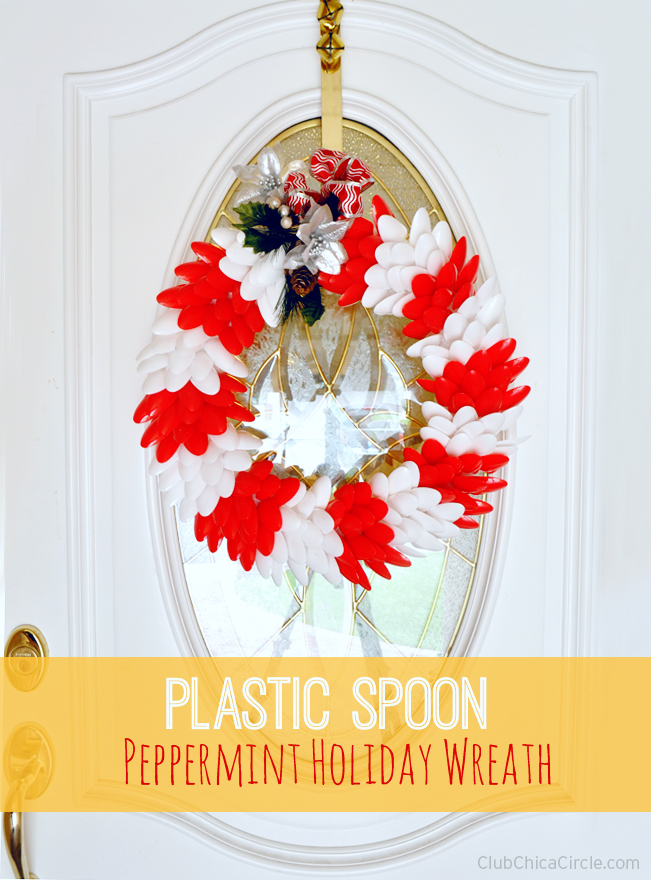 Honestly, this is one of my favorite holiday crafts I think I have made. It was so fun and easy and if you can believe it, it's made from plastic spoons! Who knew plastic spoons could look so cool! I've crafted with spoons before, when I made this super cute plastic spoon flower garland where I glued colored plastic spoons into a flower shape. But this wreath takes no glue at all!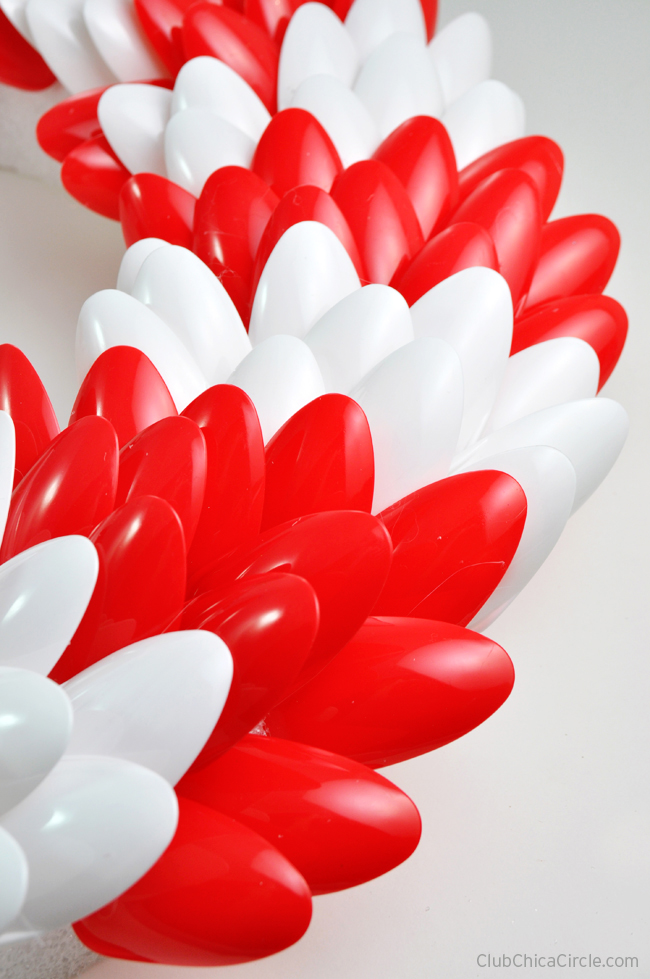 Yep, this cool red and white Peppermint inspired wreath is made almost entirely of PLASTIC SPOONS with a little help from a foam wreath circle!
Here is what I used to make my wreath:
100 red plastic spoons (I bought the big value pack at my local party store)
100 white plastic spoons
Floracraft StyroCutter Plus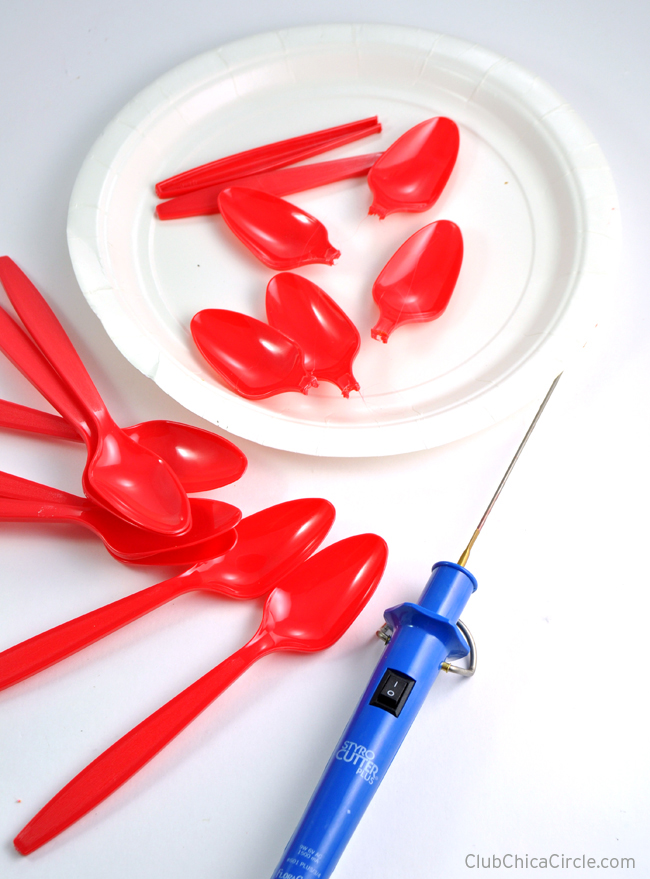 Ok, this handy tool- the StyroCutter Plus is so handy! It is normally made for cutting foam, but I figured if it works on foam, it should work on plastic. The long metal needs heats up in seconds and can cut through foam (or plastic spoons) really easily.
Here is how to make this super simple holiday wreath:
Cut off the stems of plastic spoons with your StyroCutter (or you can use a hot knife, like I show you here)
Then push in the cut end of your spoon into a foam wreath circle at an angle. Continue all the way around the top of your foam circle with your desired pattern.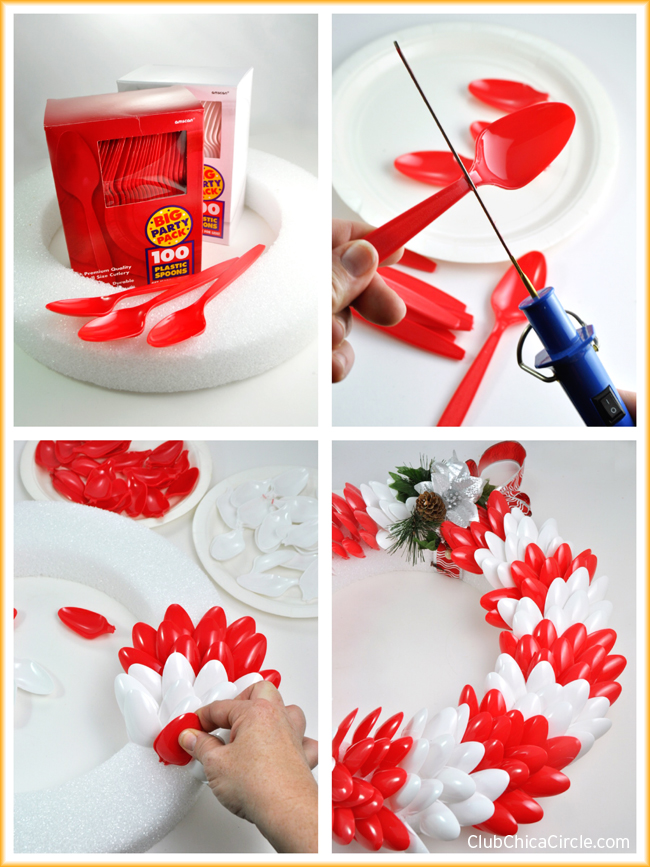 I did about 3 rows of red spoons, and then 3 rows of white until I made it all around the circle. I used all 200 spoons to make my wreath. Then, I added a couple holiday decorative picks and ribbon at the top to complete my wreath.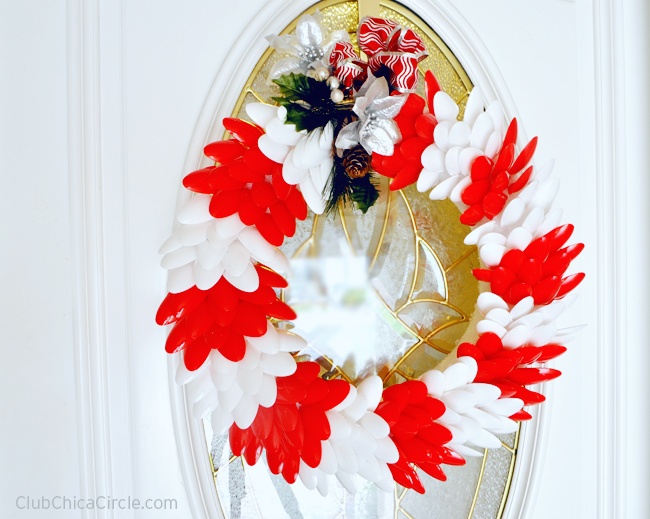 So pretty! I love how it turned out!
For more foam craft ideas, visit the Make It: Fun site and follow FloraCraft on Pinterest and Facebook.