Spring has sprung!
And you are going to love this easy crafty idea to bring a "Spring" inside… with plastic spoons.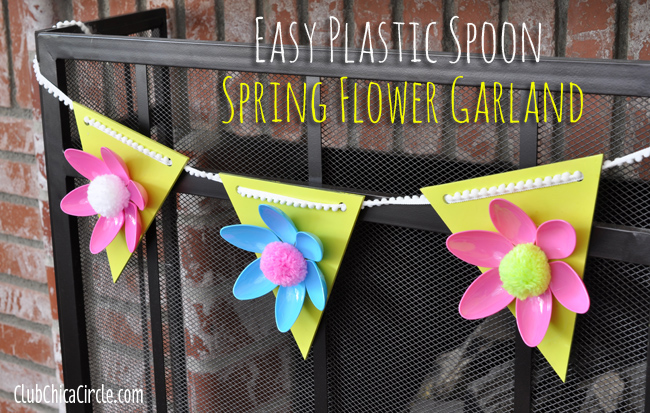 Yep, I made these colorful Spring flowers with colored plastic spoons.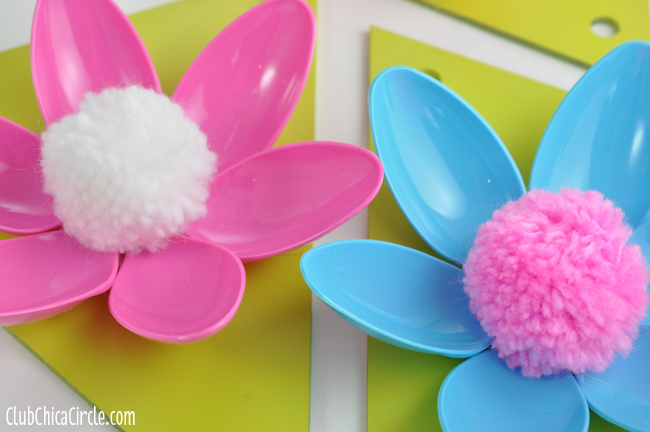 Nothing is off limits when it comes to craft materials. I've seen plenty of Pinterest images of cool plastic spoon wall art, but I wanted to try to create a pretty Spring home decor garland. The head of the plastic spoons make perfect flower petals!
Here is exactly what I used for this fun craft project:
Pink and Blue colored spoons (I found them at my local party store)
Wood triangle banner pieces (I bought mine on Pick Your Plum, but I know I have seen them at craft stores too)
Krylon Citrus Green spray paint
Yarn pom poms (I bought mine at Michaels)
Glue gun
Pom pom garland string (I bought mine on Pick Your Plum)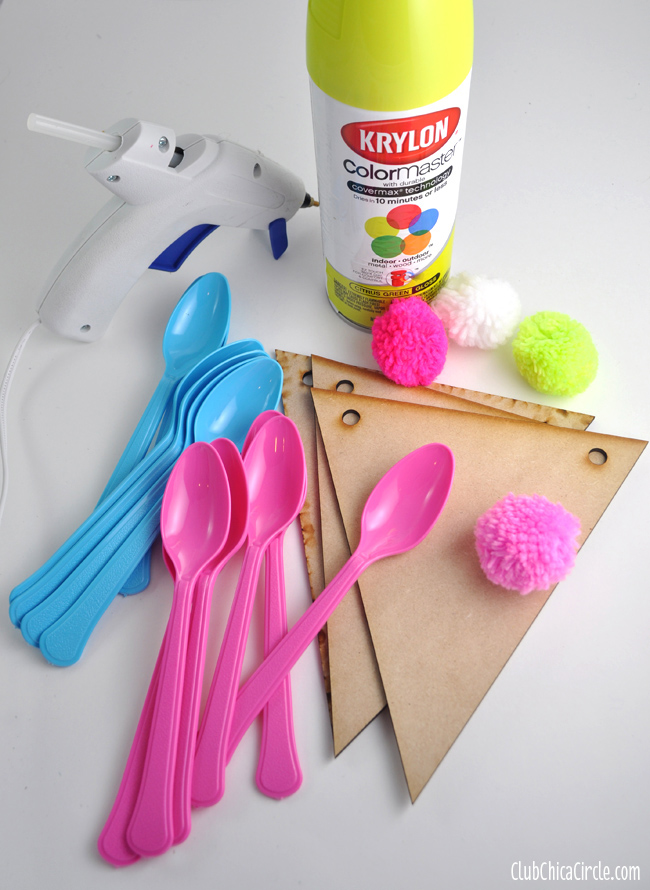 First I wanted the wood triangle panels to be a bright Spring color. I spray painted and let them dry outside.
Next, it was time to prep the plastic "flower petals". I just wanted the top part of the spoon, so I needed a way to cut off the handles.
I learned this crafty trick from my mother. To cut into plastic "like butter", I used a metal paring knife that I first heated the tip of with the glass flame from my stove top. With the hot tip, I easily cut through the spoon and severed the top from the handle.
Note: this knife I keep as my "craft knife" for jobs just like this one. I don't reuse this in my kitchen for food. Also, make sure to do this is a well-ventilated room with your oven fan on so the plastic fumes aren't too strong. And, this step should be done by an adult, or at the very least with adult supervision.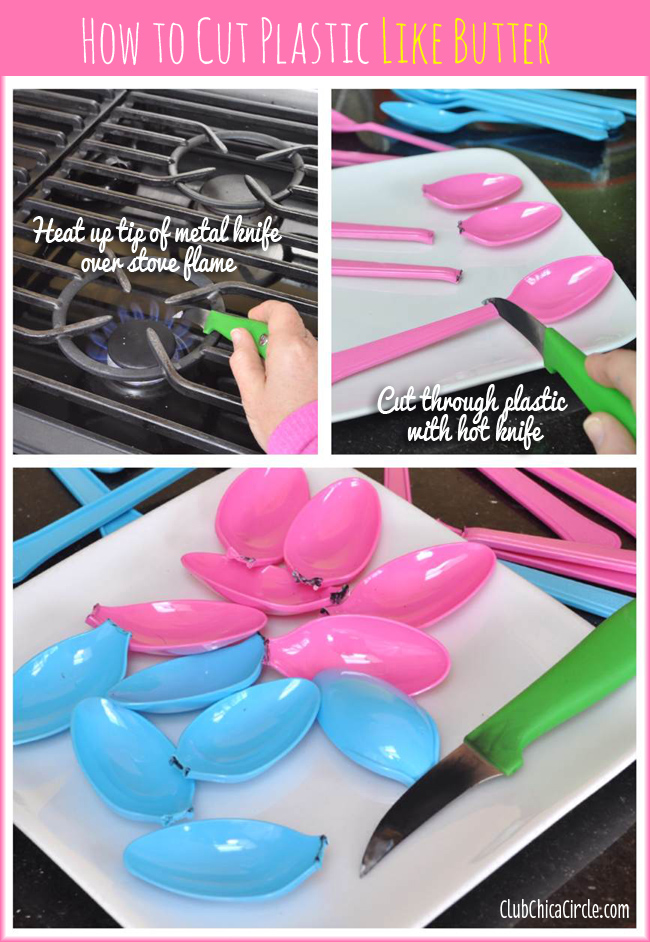 I needed 6 plastic spoon heads per flower, and I wanted to create three flower garland panels.
Once the triangle panels were painted and dry and my flower petal spoon heads were ready, it was time to assemble and "grow" each flower.
I started by marking the center of each triangle piece with a pencil. This is where I wanted the center of my flowers to be.
Then, using a glue gun, I attached the first "petal" or spoon head at the top gluing it closest to the cut edge so that the scoop part pointed up. Then I continued in a circle placing the rest of the spoon heads next to each other creating a flower shape.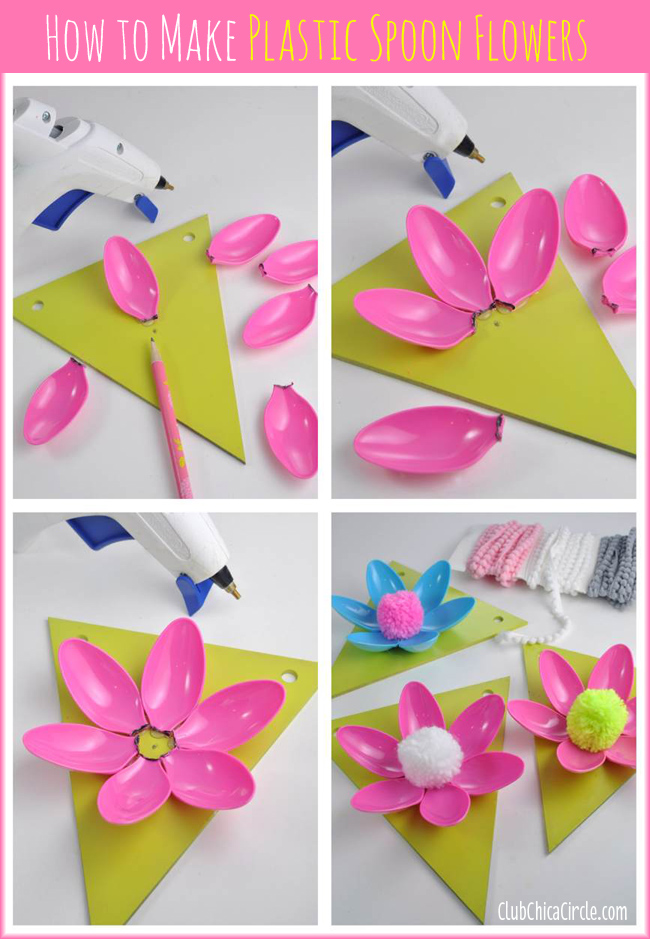 I finished off with a pretty puffy yarn pom pom in the center. Perfect!
After all of the glue was set, I used my pom pom garland string to string them together.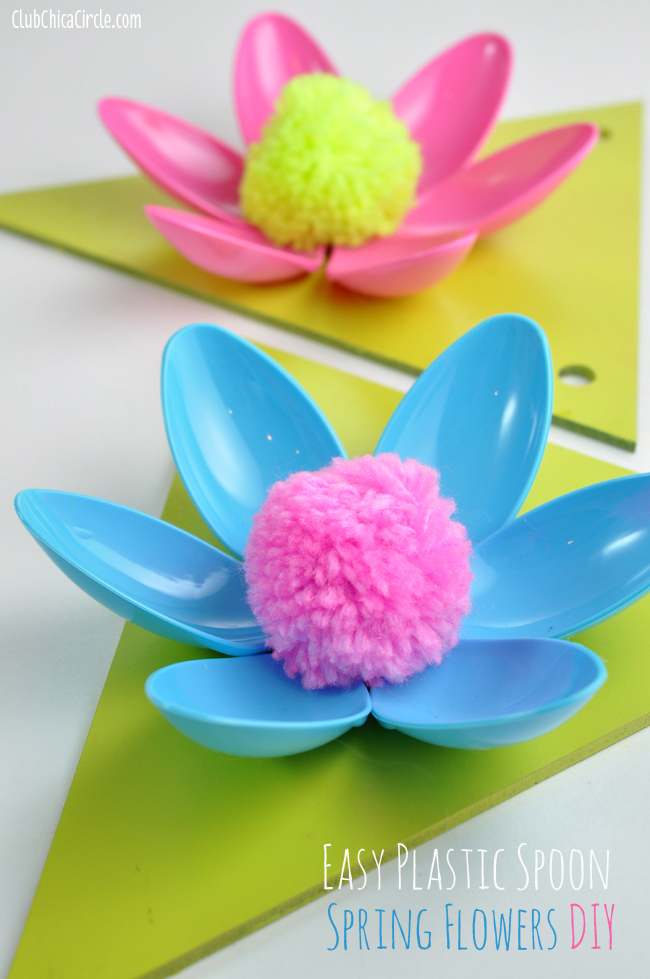 I am definitely going to have to use this plastic spoon flower trick somewhere else, for sure! I love how it turned out.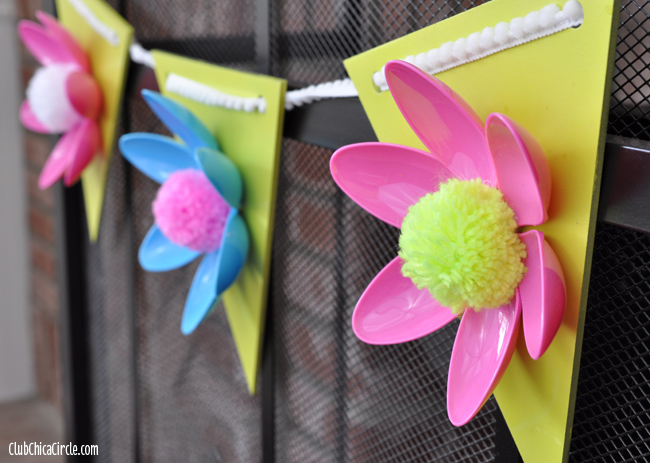 And I love the dimension I got from the plastic petals.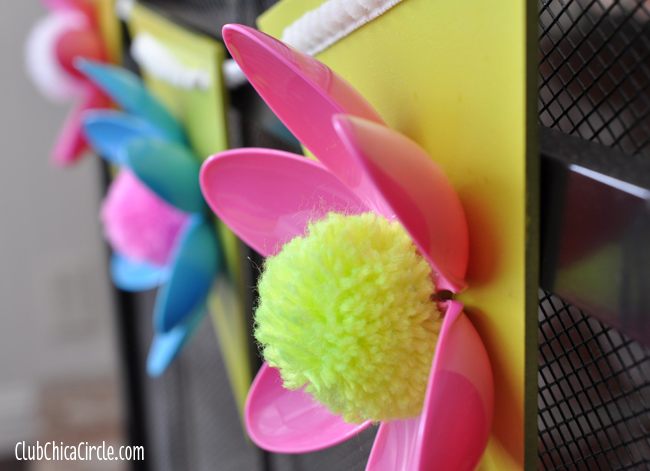 And of course it looks fantastic hung on our fireplace screen.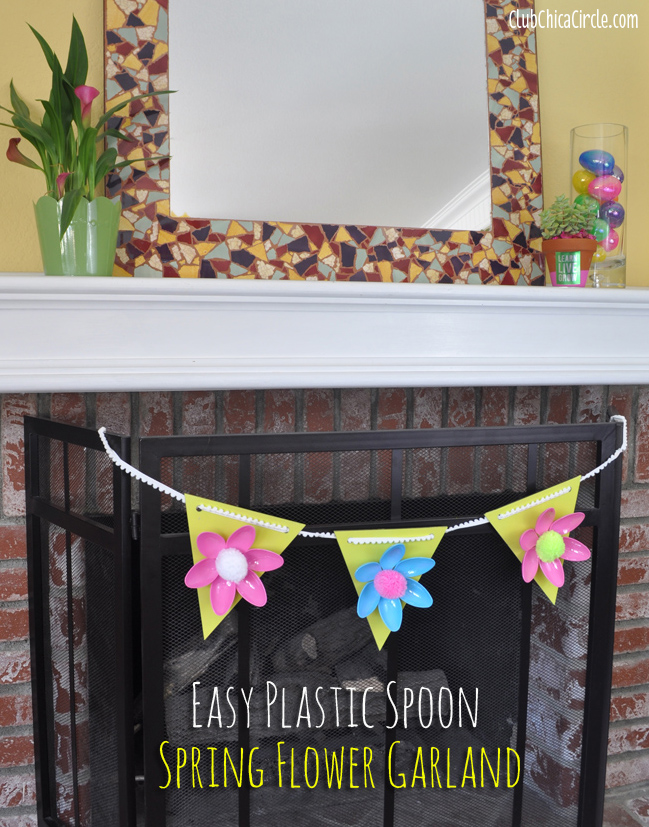 Spring in in the house! Enjoy!
Happy Crafting!
If you liked this post, and want more, you can subscribe to be on our mailing list here, and make sure to get your free Cupcake Toppers Printables for Every Occasion.

Feeling social? Follow ChicaCircle on Facebook or Twitter, and follow me on Pinterest or Instagram.