Looking for a fun way to celebrate St. Patrick's Day with your tween? We asked the fabulous Ms. Twixt to share how they celebrate this leprechaun inspired holiday:
We jumped at the chance to write a post on how to celebrate St. Patrick's Day with tweens on one of our favorite blogs.  Half of our family is from Ireland, and our tweens have grown up regaled with stories of leprechauns, hidden pots of gold, and pixies. St. Patrick's Day is a magical and mischievous event in our house. To celebrate this year, our tweens are hosting an "end of the rainbow" party for the kids on our block. Here's what we're pulling together:
The eats:
We love the idea of a towering rainbow cake, but that was a bit daunting. So the girls made these fabulous and easy rainbow cupcakes using a white cake mix and a package of food coloring.  Step-by-step instructions are here: Last year we made these for a class party, and they looked so cool that all we did was peel off the wrappers – they didn't even need frosting.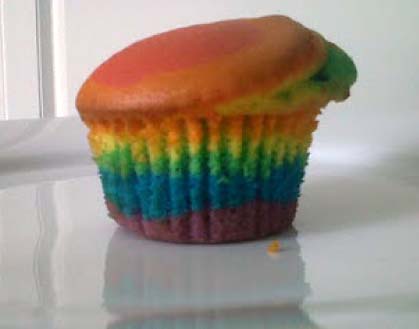 Rainbow jell-o was time-intensive but had fabulous results. Start this the day before, and use clear plastic cups – taller is better. Make each box (one at a time – you don't want the jell-o to set before you're ready) in a Pyrex liquid measure so that it's easy to pour. Evenly divide the jell-o amongst the plastic cups, and then refrigerate the cups until set. Each layer will set relatively quickly, and the entire process will be much easier if you set all the cups on a rimmed baking sheet that you can slide easily into your fridge.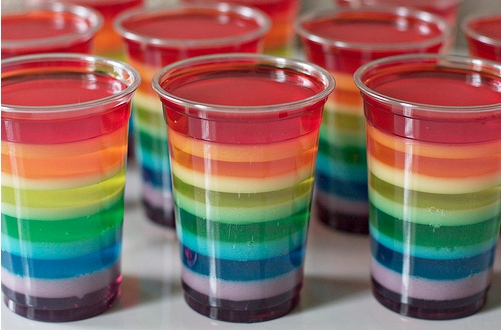 With all that sugar, we stuck to milk as the drink. To jazz them up a bit, we made rainbow-rimmed glasses (via LittleLovely): any glass will work: just dip the rims in water and then in a shallow bowl full of rainbow sprinkles. Let the rims dry before filling with green-tinted milk.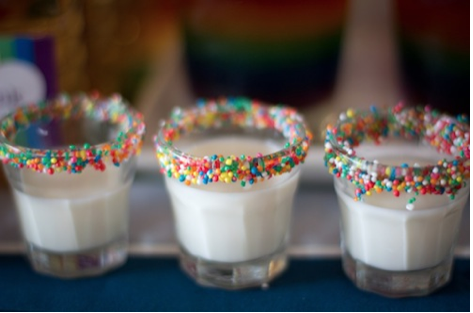 To offer a more balanced spread, you could make a rainbow fruit salad with strawberries, cantaloupe, pineapple, kiwi, blueberries and purple grapes.
Ours was a casual "tea" party, but scones with cream and jam are traditional for tea in Ireland.
The fun:
The girls gave each other rainbow manicures: we rounded up every bottle of nail polish in the house and painted each finger a different color.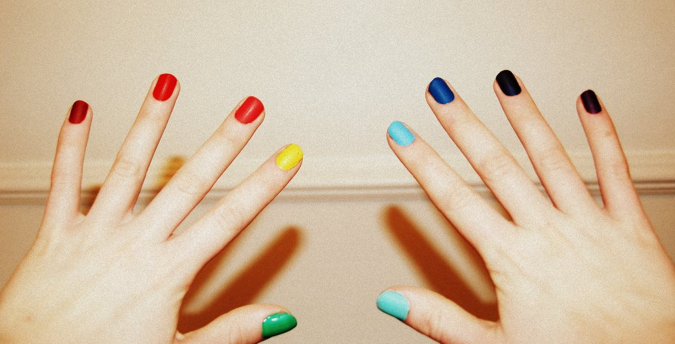 Before the party, we wrote Irish wishes on strips of construction paper. When guests arrived, they stapled the strips into rings and made a rainbow paper chain to take home. Here are some of our favorites Irish wishes:
May your right hand always be stretched out in friendship but never in want
May you be poor in misfortune, rich in blessings, slow to make enemies and quick to make friends.
May your home always be too small to hold all your friends.
May you have warm words on a cold evening, a full moon on a dark night, and a smooth road all the way to your door.
Wherever you go and whatever you do, may the luck of the Irish be there with you.
May you have all the happiness and luck that life can hold, and at the end of all your rainbows, may you find a pot of gold.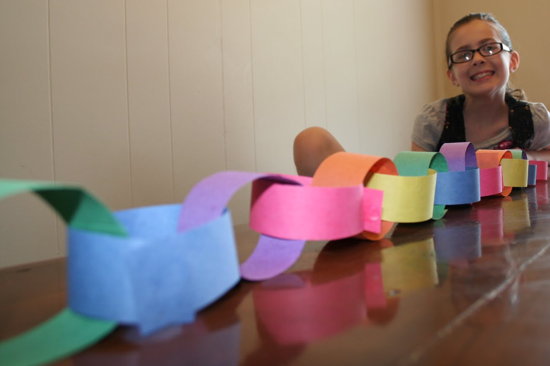 We discovered this fabulous colored bubble solution by Crayola last year. We bought bottles in every color and sent the kids outside to blow rainbows in the air.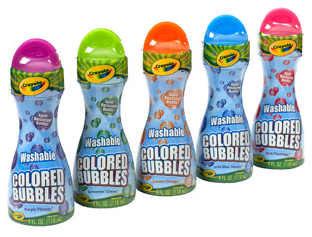 Both as a party favor and as an activity, we sent everyone home with a bag of leprechaun's gold (chocolate coins) – the catch was that each guest had to find her coins. We number each coin and hid them around the house (every good leprechaun hides his gold!). Each guest was assigned a number (we had six sets of ones, six sets of twos, and so on) and took home all the coins she could find marked with her assigned number.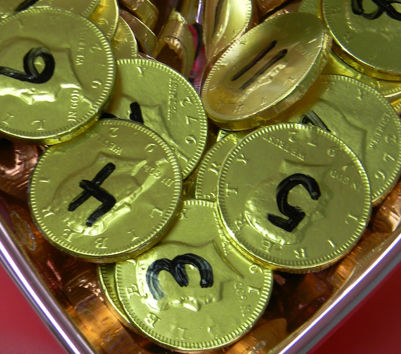 We love these creative "End of the Rainbow" party ideas from Ms. Twixt! Can't wait to have our own rainbow-inspired party! Thanks Ms. Twixt for sharing your creativity and Irish spirit!
If you liked this post, and want more, you can subscribe to be on our mailing list here.