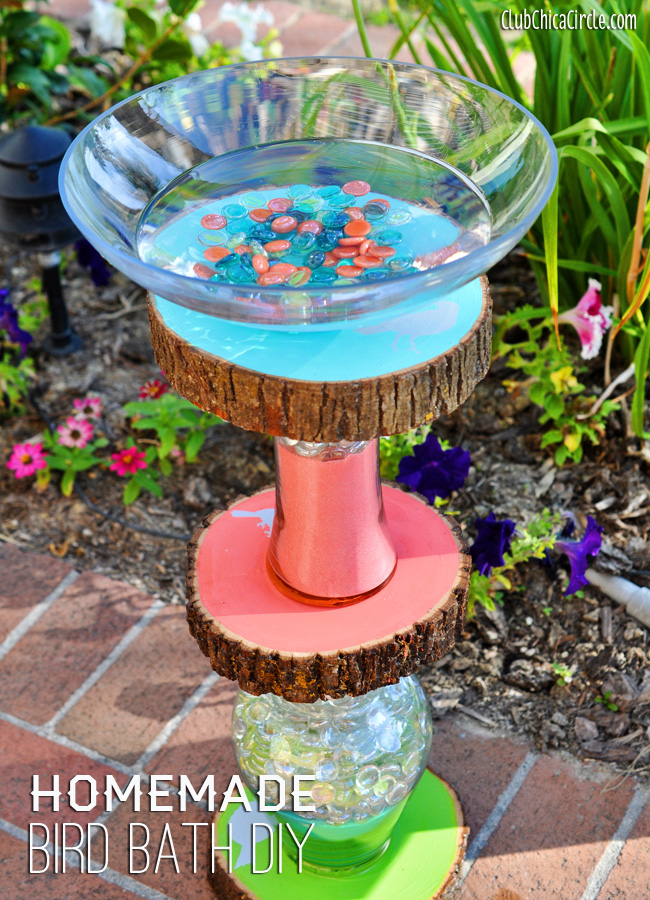 Spring is in the air! The weather is getting warmer, the flowers are in bloom, and the days are getting longer. Even though I don't have a green thumb, I am always looking for crafty ways to spruce up our backyard garden.
I recently realized that I had one too many glass vases and it was time to upcycle them and turn them into something new and fabulous. I envisioned a tower of them creating a pretty and functional one-of-a-kind bird bath. I wanted to add a bit of nature so I used three thick bass wood slices (found online or in the wood department at your local craft store. Then I also found the perfect glass bowl for the top of my bird bath at my local Michael's.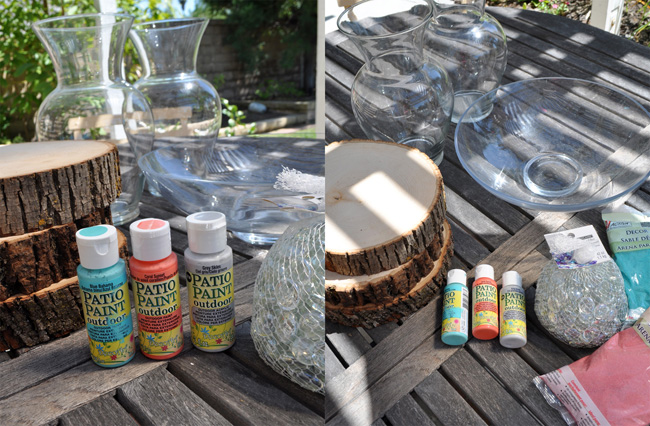 Materials I used to make this homemade bird bath:
DecoArt® Patio Paint outdoor acrylic paints
(Coral Sunset, Blue Bahama, Citrus Green, Grey Skies)
Americana® Feathered Friends Bird Stencil
Americana® Decou-Page Outdoor sealer
Glass vases and shallow glass bowl
Bass wood stump slices (found online or at your local craft store)
Paintbrushes and stencil brush
E6000 industrial strength glue
Colored décor sand (optional)
Decorative filler baubles (optional)
First I painted the centers of each of my wood slices with cool Spring colors. I love how these three vibrant colors coordinate and play off of each other at the same time. The Patio Paint is perfect for outdoor craft projects like this one.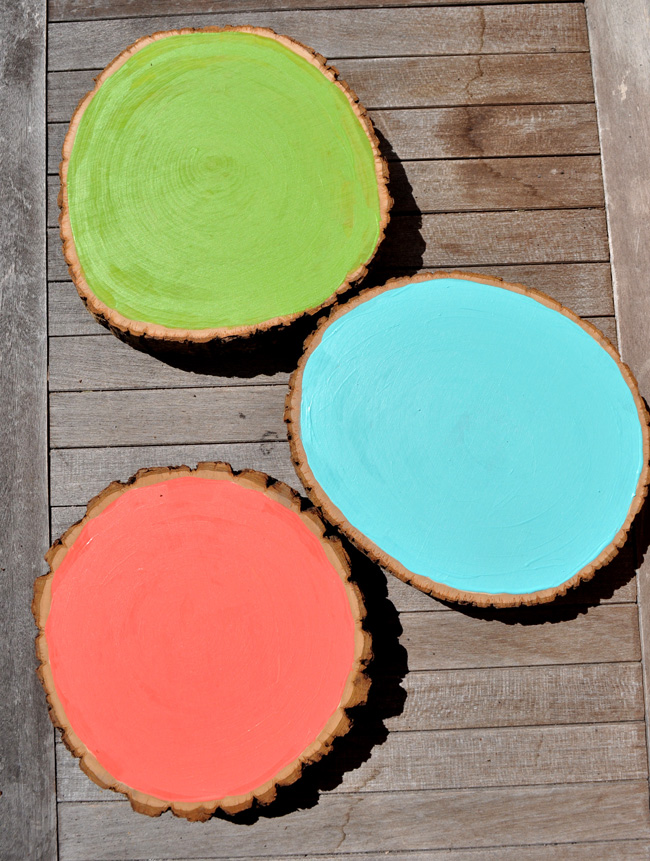 Then I added some decorative flair using the Feathered Friends Americana® stencil, a stencil brush and Grey Skies Patio Paint. I thought it quite apropos to stencil a bird on my homemade bird bath. This is one of my favorite stencils. I've used it this cute "Put a Bird on It" painted bookshelf project.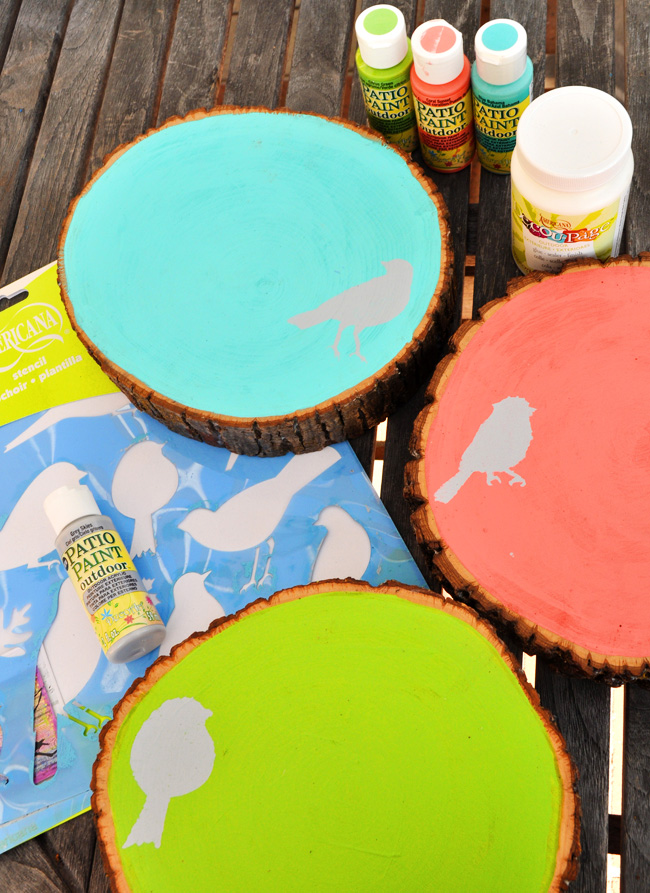 After the paint was dry, I sealed the edges of my wood slices with Decou-Page outdoor sealer using a sponge brush. I applied a thick coat all the way around the edges and let it dry completely.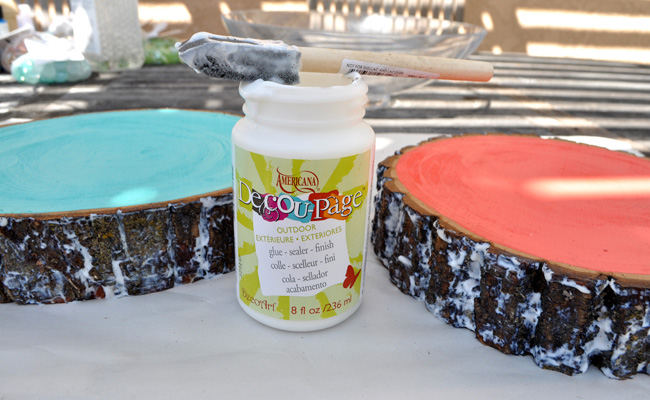 Then it was time to assemble all of my pieces. You could use clear vases, but I wanted to add some extra visual appeal, so I poured colored décor sand and clear decorative filler baubles in each of my vases before gluing them to the wood slices. I used industrial strength glue to secure the vases and bowl to the wood and let that dry completely before adding water to the top bowl for the birds to enjoy.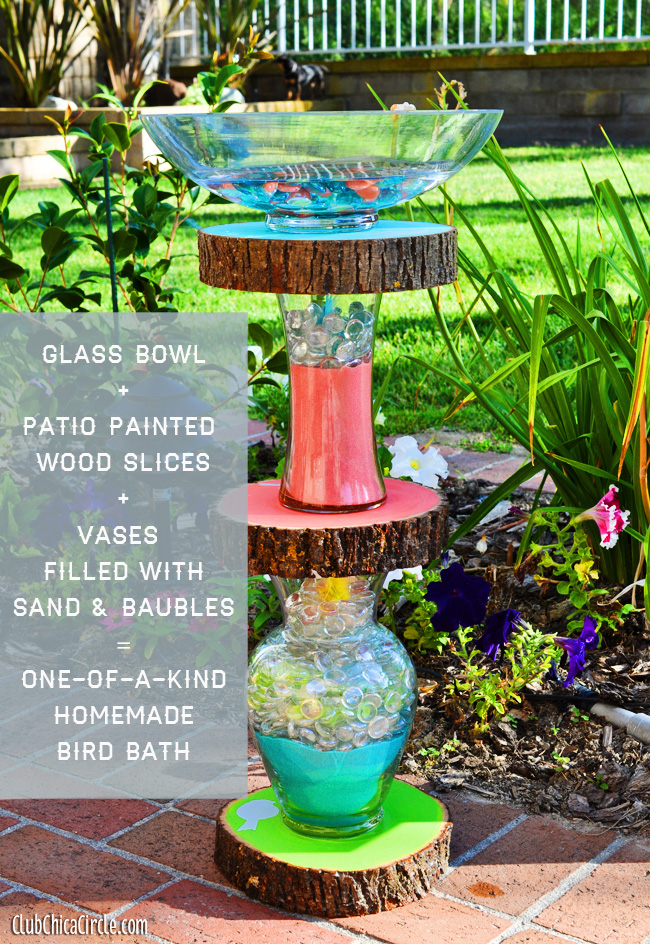 I added some colorful baubles to the bird bath bowl and my homemade garden decoration was complete!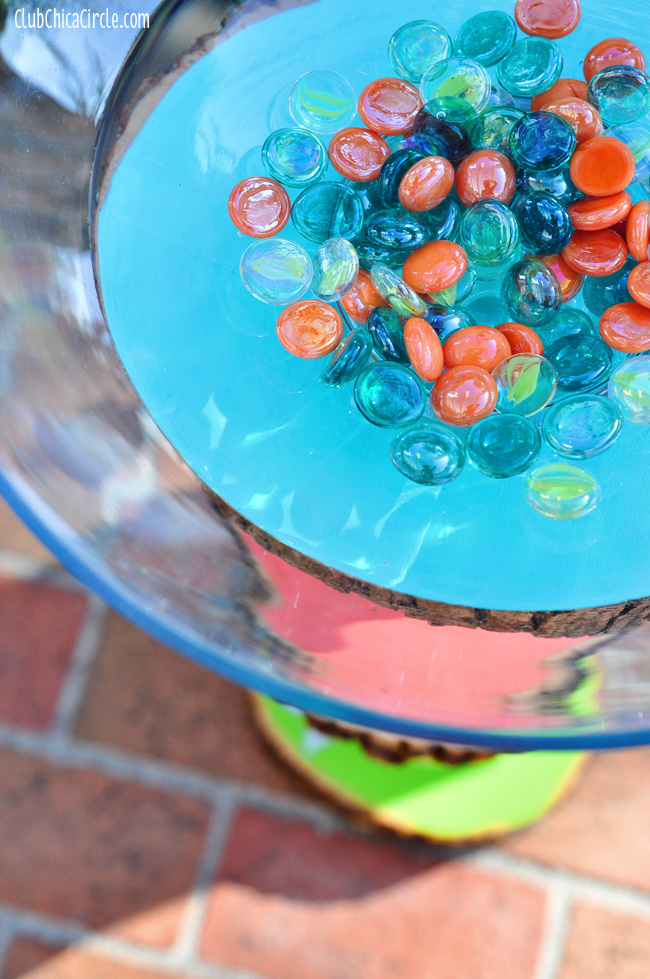 I absolutely love how this turned out and I can wait to see the first bird take a drink from my homemade bird bath. It's sure to be a hot summer and this is a really fun project to add some color and flair to any garden or backyard!