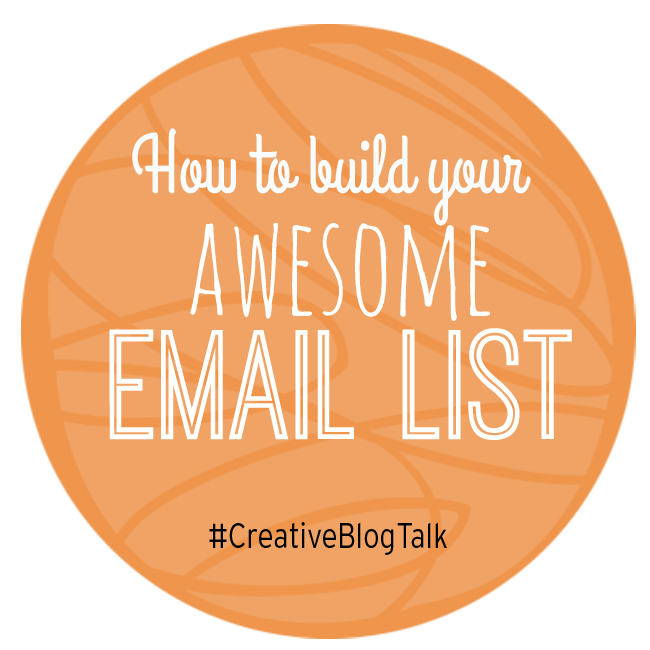 Welcome back to Creative Blog Talk! We are once again taking a very short break from crafting to share some blogging tips and ask for your tips that you can also share with our reader community. Last week we made the case that your email list is MORE important than your pageviews. Today we are showing you how to build your email list. Let's take it step by step to make sure your email list is awesome!
1. Choose your email subscription service
Your email subscription provider will provide you the toolbox you need to send emails and newsletters to your loyal readers. They will provide much needed automation for email captures and list management while also offering templates and metrics around your email activity. Three popular email subscription providers that can scale with your growth are MailChimp, Mad Mimi and AWeber. MailChimp and Mad Mimi are free up to 2,000/2,500 respectively (vs. $19/month for AWeber up to 500 email subscribers). Once your list grows beyond 2,500 subscribers, pricing for MailChimp and AWeber plans are very comparable while Mad Mimi continues to be more affordable. Pick the company you are comfortable with for the longer term. (We currently use MailChimp as we started with them under the free model.) All three companies have excellent knowledge libraries to help you get started once you sign up.
2. Integrate your email service into your blog
The next goal is to turn your blog readers into email subscribers by giving space on your blog for readers to leave their name and email address. To do this, you will need to install the appropriate WordPress plugin from whichever company you selected in Step 1 (e.g. MailChimp plugin, Mad Mimi plugin, AWeber plugin). You can find other plugins for WordPress that simply capture emails without integrating with an email subscription provider – but the power of MailChimp, Mad Mimi or AWeber for creating and tracking email campaigns will serve you in the long run if trying to build your list and your business.
3. Decide if you also want an email opt-in pop-up
Pop-ups can be a touchy subject. How do you balance grabbing your reader's attention long enough to court them to become an email subscriber without annoying them to the point they abandon your site? Our strategy has been to use an email subscriber pop-up box when you visit our site – but to allow readers to easily close the pop-up to get to the content. We use the PopupAlly right now. It is a paid plug-in, but it also allows for a lot of flexibility and design options.
Having a pop-up is a minor nuisance vs. requiring email addresses to continue on to the site. When I am required to enter my email to view the content – I tend to abandon the site. Why do we even allow our readers to have this slight nuisance? Honestly, we treat our blog business very seriously, and we want to be able to create and share the best content we can, and building our list is one really important way to share our message and connect with our audience. The Daily Egg has an excellent analysis of the power of pop-ups for email capture vs. a static sidebar email capture box.
4. Provide a freemium
A freemium is a free goody you provide to your readers in exchange for them trusting you with their email address (free + premium). You can provide a printable (e.g. PDF checklist, instruction list, recipe or design) or an eBook. The goal is to add value to your subscriber where they are happy to give you their email address. The SITS Girls has a helpful post on how to create a printable using PicMonkey (a great free tool). My graphic designer sister uses Adobe Illustrator to create our free printables. If you aren't a designer, don't forget there are inexpensive resources you can use as well, Elance and Fiverr, for example.
For Club Chica Circle subscribers, our current freemium is a Cupcake Topper Printable for Every Occasion. For our separate Creative Blog Talk Series subscriber list – we are offering exclusive content and monitoring/promotion of your blog through our social media channels.
Be sure to set up your automatic campaign once someone signs up for your list for them to receive their freemium right away. In your email program website, there should be tools to set up your confirm subscription email, your welcome email, and your thank you email. Once you set it up the first time, it will work automatically managing your list. I suggest sending out test emails, and enter your own email on your mailing list. This way, you can see exactly what your readers see.
5. Decide how often you want to send newsletters
This is a personal preference, and another hot topic amongst bloggers. I know you may be worried about bogging down your audience with too many communications, and it is all personal preference, but if you have good content, I say, it's worth sharing and promoting the best you can.
Second part of that is to figure out the best way to automate it. We have set up an automatic newsletter that goes out every time we have a new post on our site. We basically have programmed our RSS feed to run. Occasionally, we will do a special, very specific newsletter, but on a regular basis, and as a huge time saver, we use an RSS feed mail campaign. You can specify which days to send out emails, at what time, and in what template to send it in. Check your email provider's help pages. There are really easy tutorials to follow and help. For instance, MailChimp spells it out for you here.
6. Stay active with blog posts and social media
Setting up the foundation for capturing email subscribers is a critical first step, but active participation with your community through new blog posts and social media sharing will be what brings people to your site so you can entice them to leave their email. When we have pauses in our blog posts or social media, we see a real slowdown in new subscribers.
7. Finally – Just do it! Start building your email list
You are now ready! You have the pieces in place and can now send emails or newsletters to your subscriber community. Play around to determine if you want to focus on automated emails through your RSS feed or if you want to design your own newsletter to go out periodically. You could also do both. Sending newsletters has become more popular with some of my favorite bloggers. I enjoy the compilations and personal updates that give me an overview of their blog post activity. On the other hand, I appreciate the traffic our automated RSS feed emails generates. Both are good strategies so choose what works for you.
Share your tips and questions
If you are already well on your path for an awesome email list – Congrats! Share your tips below. If you are just starting – get going today! Your email list really is one of your most important tools in your marketing toolbox. List building takes time, but stay the course.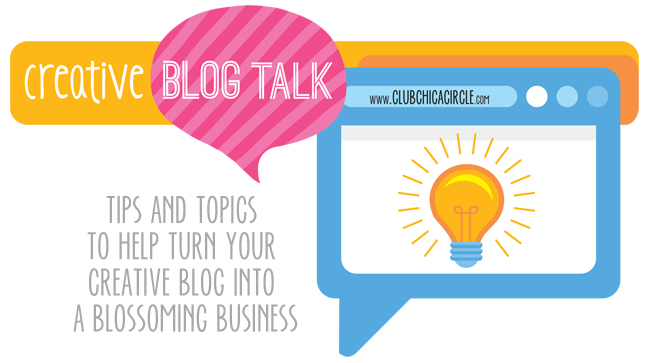 As we continue our Creative Blog Talk Series – we would love to hear from you! What topics would you like to see us talk about? You can comment below or fill out our Creative Blog Talk Series form. We will continue the series here, but also send exclusive content directly to #CreativeBlogTalk subscribers. Sign up here for free.
If you missed any, check out our 50+ Must Haves for Blogging, 5 Tips for Great Content Building, 5 Ways to Focus Your Consistency, 5 Tips to Build Your Awesome Community, 3 Ways to Create, Cultivate and Super Charge Your Blog Brand, or Why Your Email List is MORE Important Than Your Pageviews.