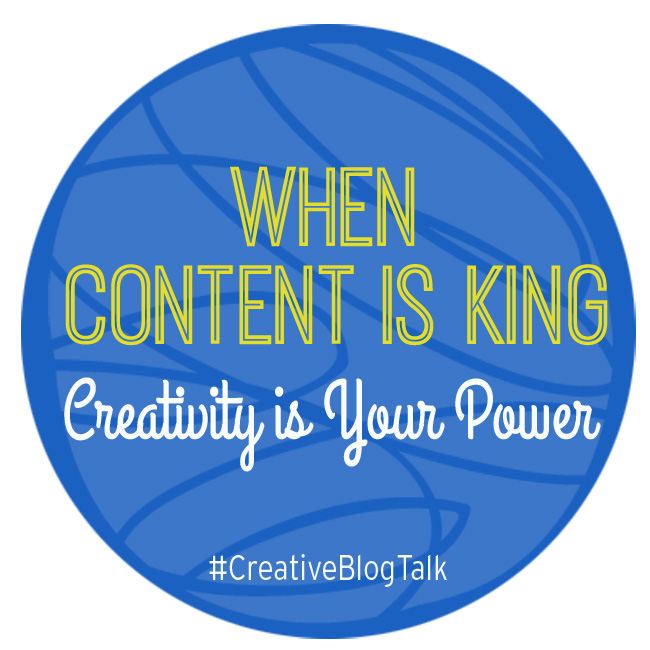 You may have heard that 'Content is King' – but have you ever had trouble finding new fresh content for your next project? I know I have stared at a blank screen trying to compose a blog post with the intention to inspire – only to be stuck. The closer I get to a blog deadline, the more my mind draws a blank. Does this ever happen to you? My blogging sister Pauline, on the other hand, cannot get enough hours in the day to implement all of her ideas.
How does she do it?
She has found that leveraging her creativity is her power. How can you find the power in your creativity to bust any content blocks? Try these 5 tips and scroll to the end to see how you can continue to receive Creative Blog Talk Series tips and support in your mailbox.
1) Start with brainstorming time
No matter what your ideas are, schedule a block of time every week (if not every day) to let your creative ideas run wild without filtering. Set a timer for at least 15 minutes and journal everything that comes to mind without stopping or editing. Not all ideas will come to fruition – but a nugget of a project will activate the brain to generate more. Brainstorming free flow style will also lift your self-expectations of perfection. Maya Angelou's quote really says it all: "You can't use up creativity. The more you use, the more you have."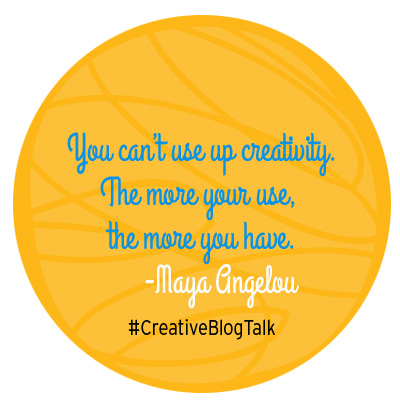 2) Block creative time
Blocking creative time means minimizing distractions but also figuring out what time of day and which day(s) of the week are your time to build something magical to share with the world. I am guilty of trying to fit in cooking or crafting projects during a busy weekend between soccer games, which makes the process more stressful instead of enjoyable. For me, waking up at 6am on Saturdays and Sundays before the family gets dressed and moving is my quality time. For Pauline, the weekends are her crafting time (and the weekdays are for writing and editing). What is your best time to block consistently every week? Are you ready to block it on your calendar now before reading on?

3) Map out posts with an editorial calendar
If you create anything holiday-related or work with sponsored posts, laying everything out on a calendar will not only guide but also help balance your content. For example, if you are working with sponsored posts, the calendar will give the bigger picture of where you want to balance non-sponsored posts between sponsored posts. Even though Pauline lays out a couple months of posts ideas on a large paper calender (with color-coded pens), she also loads the editorial calendar in WordPress so I can see the upcoming calendar and help fill in any gaps in timing. Plus, the online calendar is always visible online if an opportunity comes up while Pauline is out of the house responding to emails.
The calendar also becomes important to plan ahead for holidays that are hitting the stores earlier and earlier. By the time the next holiday theme starts showing up at Target, you know it's time to fill your editorial calendar with ideas and dates.
4) Always carry a creativity journal
You never know when an idea will spark your interest. On my latest lunch date with Pauline, she totally cracked me up by literally running back from the bathroom with a spark of an idea that she had to sketch on to paper right away. I couldn't talk to her until she finished her thought. Since I couldn't interrupt her journaling mid-thought – I had to take a picture as proof: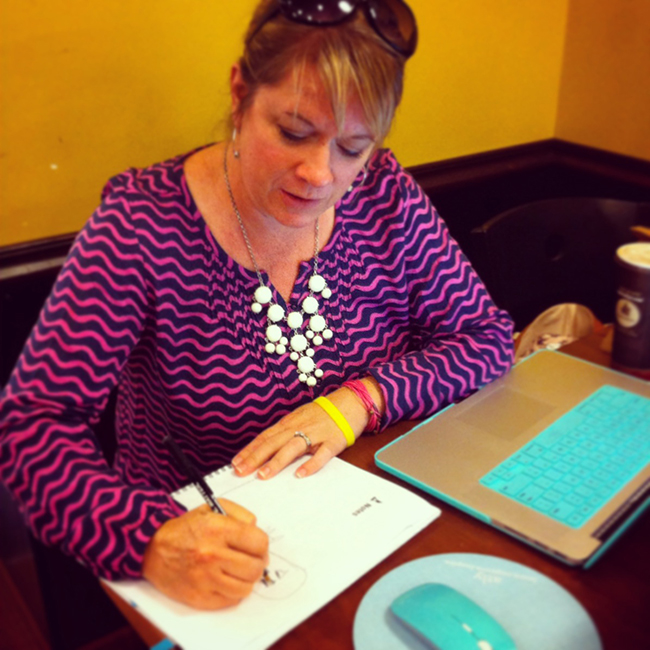 Pauline always carries a journal around with an inspirational quote on the cover. (Her journals are covered with the same printables that she has posted for everyone to download. Be sure to get your own copies of the New Year's Journal Sticker printable and You are Amazing printable to dress up any journal.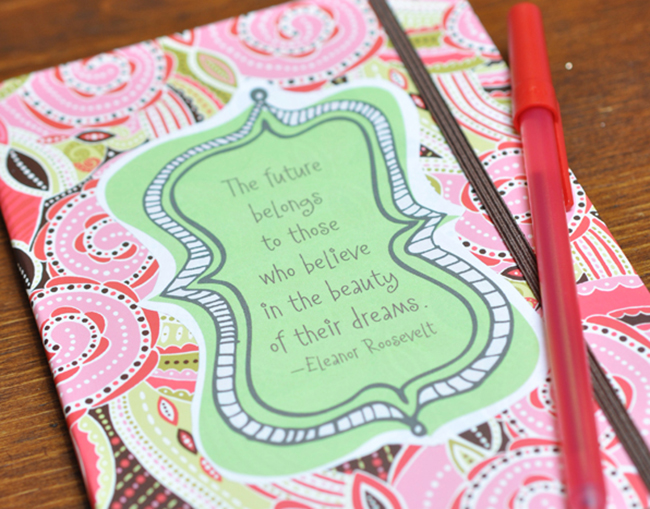 I am fascinated by looking at the creativity journals and then seeing the final product like this post on using dyed coffee filters to make a flower cupcake for mom: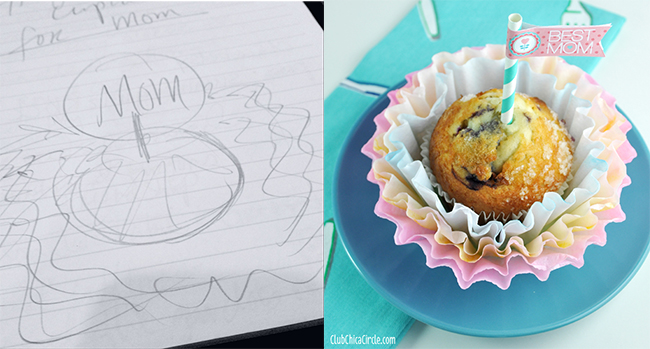 5) Ask yourself, 'What can I do differently?'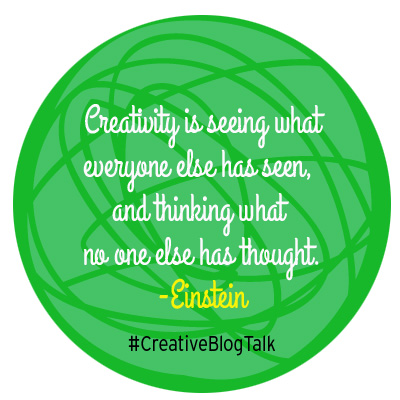 I cannot tell you how many times I have heard Pauline say "Hmmmm, I wonder what I can do with this?' This question is from the mindset of a maker, a crafter who wants to turn everyday items on to their heads for something new, fun, and inspiring for others. If you don't know what I mean, check out the one of a kind foam-head cupcake holder or the Halloween pumpkins turned into snowmen. Practice creatively thinking 'What could I possibly do with this?'
Creativity is contagious…Pass it on!
Do you have any personal tricks to share to generate fresh content? Please share! We all have the power to tap into our own personal content goldmine – sometimes we just need the framework in place (scheduling creative blocks and building the editorial calendar) while also believing it is possible (starting with brainstorming, journaling, and asking how you can do something differently).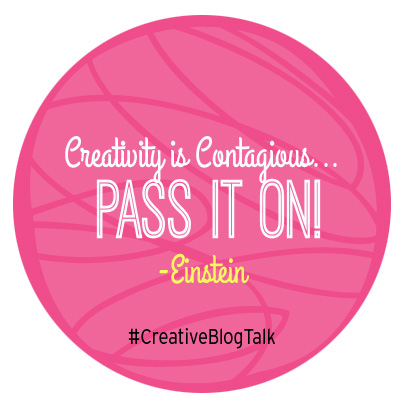 This post is the 3rd installment in our Creative Blog Talk Series where we are building the conversation around tips and topics to transform your your blog from a hobby to a blossoming business. If you are a crafter but not a blogger- this topic should still hit home to spark your creativity. If you are joining us for the first time – you can still catch up with our earlier posts: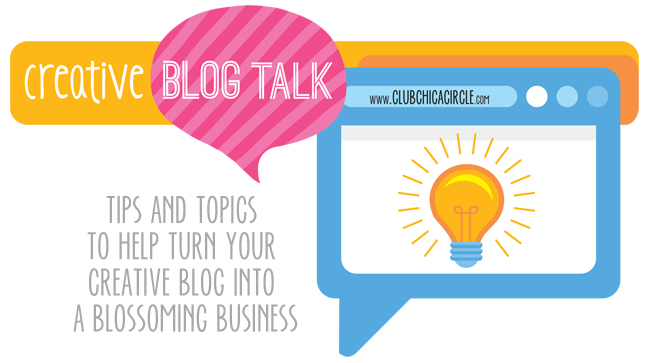 What would you like to see us tackle? Remember to add your name to the Creative Blog Talk Series form. We will continue the series here, but also send exclusive content directly to #CreativeBlogTalk subscribers. Sign up here for free.