Most of us are getting back to a normal routine today. The holidays have passed, the new year is here, and the kids are back in school. Big question of the day – did you make any New Year's resolutions? and have you kept up with them so far? This year I didn't make any resolutions like I usually do. I didn't say that I was going to lose 10 lbs. I didn't say I was going to exercise more.
What I did say to myself, is that the New Year is chance to get re-inspired. I did set some goals, and I definitely have big dreams for the year, but I wouldn't call them resolutions.
I have never really been very good at keeping a journal. But what I do like to do, is keep a small notebook handy and treat it like an idea or dream book. I always have one in my purse, ready to pull out in case I have a cool or crafty inspiration that I need to write down before it is gone from my head.
I also like to make lots of lists, not journal my thoughts, but lists—lists of craft ideas, lists of things to accomplish for the day, lists of things to accomplish for the week. I know a great tool is to keep a to do list in your phone electronically because it is always with you. But for me, I still like the pen to paper visual list. I think because I am so creative with my hands, I think I need to write it out the old fashioned way vs. typing it electronically.
I decorated a new 2013 "Idea" journal for myself, with a new inspirational quote I recently saw on a t-shirt during holiday shopping.
"The future belongs to those who believe in the beauty of their dreams." —Eleanor Roosevelt
I thought that was quite perfect for starting off a new year with fresh enthusiasm and inspiration.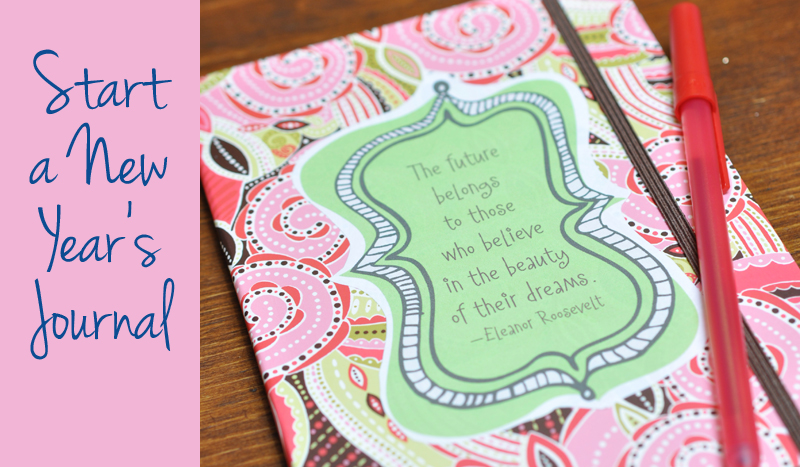 I created some fun stickers with different inspirational sayings, and printed them onto inkjet sticker paper. And of course, I wanted to share with all of you.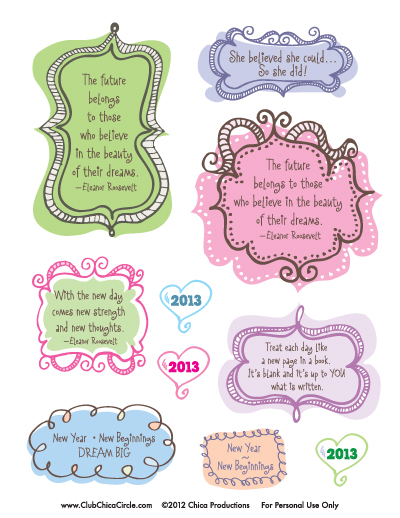 You can download your FREE printable copy here:
New Journal Sticker 2013 Printable
Then, print onto white sticker paper, and cut each shape out with a scissors. The designs are pretty organic, so the cut lines can be as well. I just left a little white border around each shape, and attached to a blank journal. I am always looking for pretty journals in the dollar bins of stores, or I love Moleskine blank journals that come in a variety of colors, and plain craft paper color as well. These are perfect to dress up with some inspirational stickers. My daughter grabbed the purple to start her own idea journal.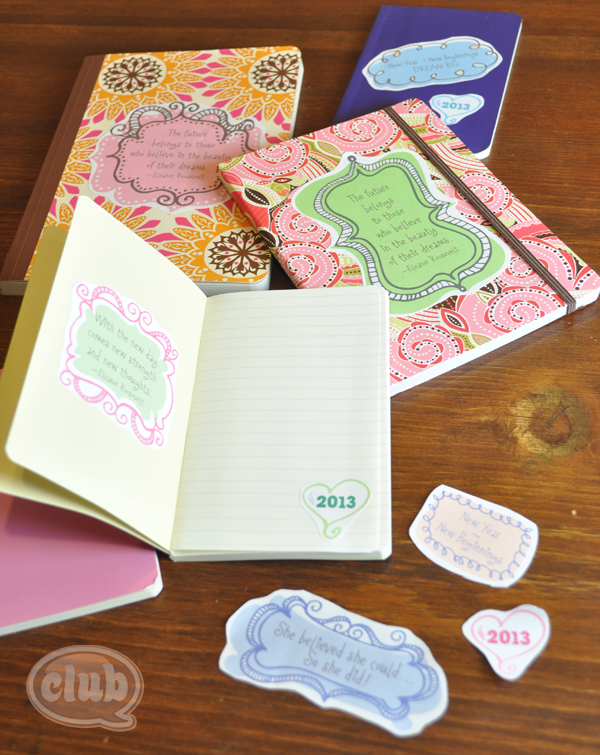 You can place stickers on the outside of the journal, or even on the inside to keep you inspired.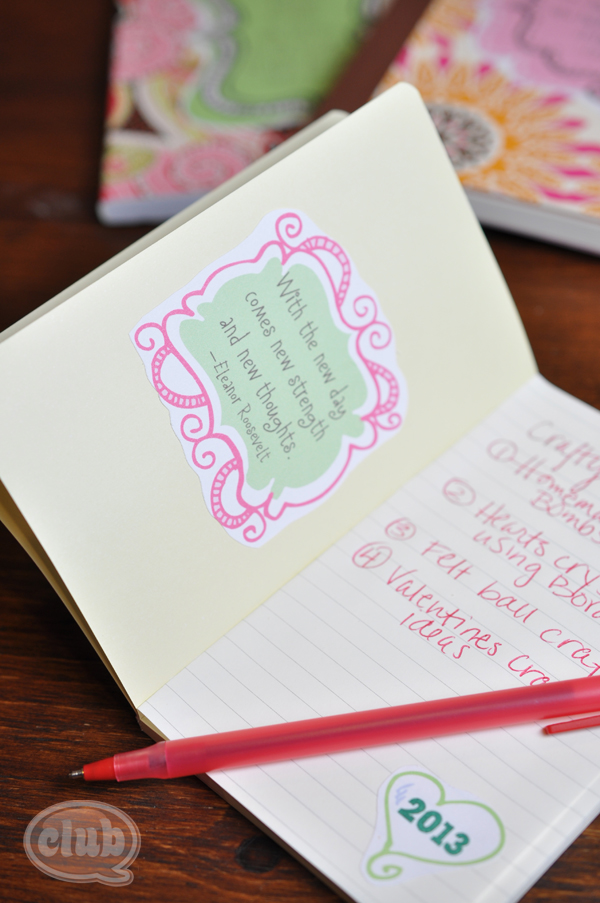 These also make great homemade gifts. Package with a pretty pen, and tie up with some baker's twine or ribbon. Perfect way to send along some extra inspiration to someone you love.
So, instead of focusing on New Year's resolutions, try creating your own idea journal, and write down your dreams for the year, or just your cool ideas for the day.
It's a new year for new beginnings. Enjoy!
Happy crafting!
If you liked this post, and want more, you can subscribe to be on our mailing list here.