Have you been planting your gardens yet?
How about a cupcake cone Spring flower garden?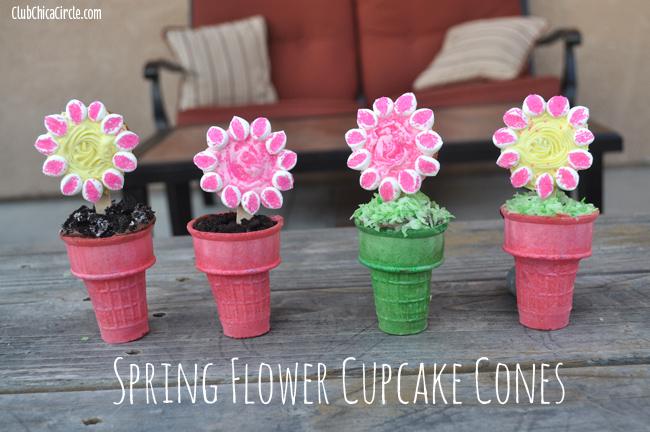 Here is what you will need:
cupcake cones (regular or colored)
chocolate cake mix of choice
chocolate and vanilla frosting
Oreo® cookies (for mud) or sweetened shredded coconut (for grass)
mini marshmallows
food coloring (green for coconut grass, pink and yellow if desired for different flower colors)
vanilla wafers
popsicle sticks
pink colored sugar
How to make the cupcake cones:
Wrap aluminum foil on top of roasting pan approximately 2″ deep. With a knife or tip of a scissors, poke a hole in foil, and with your fingers open the hole big enough to secure cupcake cone. Repeat process approximately 3″ apart for all the cones.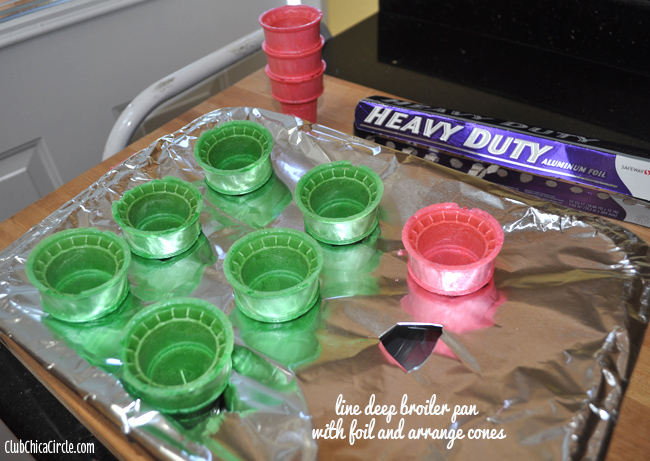 Mix up chocolate cake batter of choice and fill cones with approximately 1/4 cup batter in each. Bake as directed.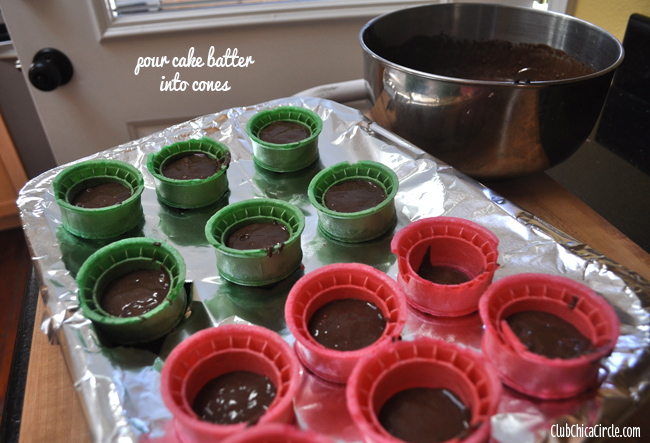 How to make flower cookie popsicles: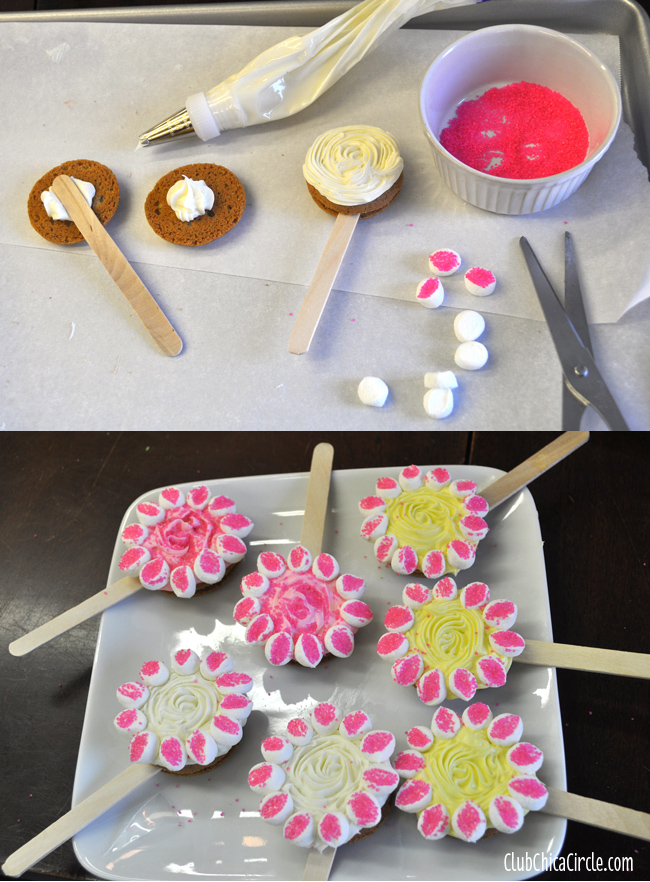 1. Squeeze a small dot of vanilla frosting on back of two vanilla wafers. Place popsicle stick in between and sandwich together. Refrigerate to set for about 5 minutes. Create as many wafer flowers as you have cupcakes.
2. Remove cookies from refrigerator once set. On one side of the wafer popsicle, pipe vanilla frosting (colored with food dye if you choose) on top of the cookie.
3. With kitchen safe scissors, cut mini marshmallows in half. Dip the sticky side of the marshmallow in colored sugar and squish the marshmallow a little on the sides to make petal shape. You may choose to add colored sugar to the whole frosted cookie too.
4. Place finished marshmallows along the edge of each cookie popsicle to create flower. Refrigerate again for another 5 minutes 
to set.
Assemble your Spring flower cupcake cone:
Start by first frosting 
baked cupcake cones with chocolate frosting. Then fill with topping of choice—crumbled Oreo® cookies to resemble dirt or coconut colored with green food dye 
to resemble grass. (To create green coconut grass, place coconut in sandwich bag, squirt a couple drops of green food coloring on top, close bag, and shake to disperse color. Add more coloring if needed and repeat.)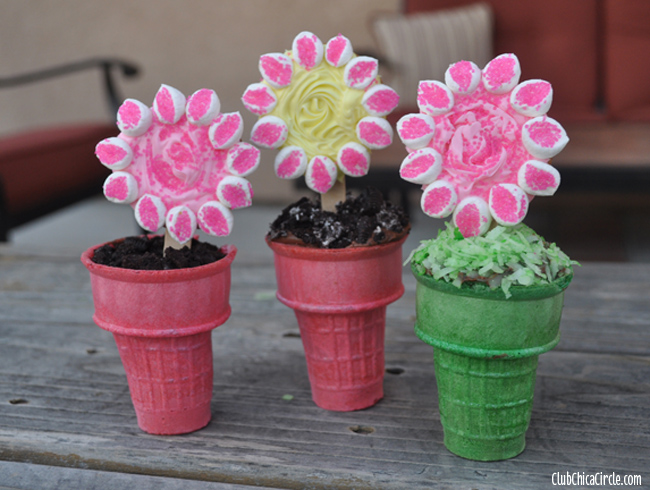 These Spring-inspired yummy food craft is perfect for Easter or a Spring afternoon party!
Have fun planting your own sweet flowers!
If you liked this post, and want more, you can subscribe to be on our mailing list here, and make sure to get your Free Cupcake Toppers Printables for Every Occasion.

Feeling social? Follow ChicaCircle on Facebook or Twitter, and follow me on Pinterest or Instagram.