No, I am not related to the Dursleys of Privet Drive, and my daughter is not Harry Potter, but YES, I did convert our closet under our stairs into a room for my daughter and niece to sleep in recently. And actually, she asked to sleep under there. Let me explain.
Over the holidays, we had a houseful of guests, and 4 of them were under the age of 11. We were thankful that the whole family could be together this Christmas, including the grandparents. My co-blogging sister's family, with her three kids, and my younger sister all camped out in various places within our house over the holidays.
This is a quick pict of Christmas morning with all the kids cuddled up with Auntie Erica engrossed in morning movie while I got breakfast ready. I could just eat them up! But if you can imagine, it was a very busy household. = )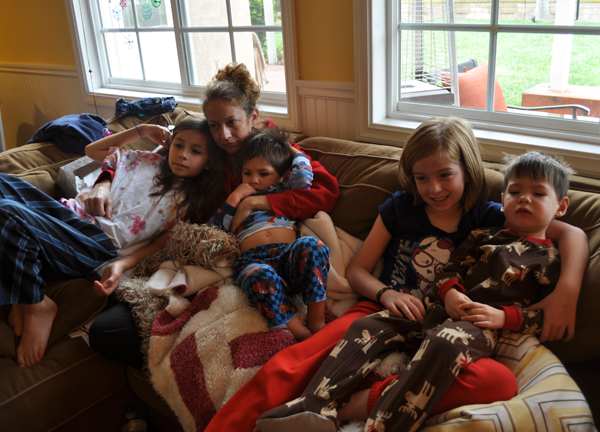 My nephews, up to this point, have been young enough to sleep in my home office in pack-n-plays, but they have since migrated into big boy beds and potty training. Yikes! I knew with all of my crafty materials and projects in my office, it just wouldn't be a safe place for them to sleep in any longer. So, I put my crafty thinking cap on, and decided to convert our closet under the stairs into a sleepover room.
We have hardwood floors, so I knew it would be uncomfortable to sleep on the floors. And the space is too small for a blow up mattress. Then I remembered we had some old chair cushions from our outdoor furniture that my husband was ready to throw away, but I stopped him knowing I had the perfect upcycle project for them. We recently upgraded our outdoor furniture with new thicker cushions that hadn't become so faded from the California sun.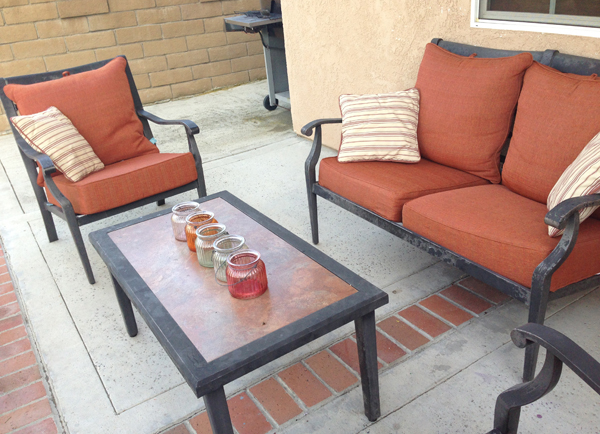 I laid out two sets of three cushions together on the floor from the old cushions. And since my seamstress mother extraordinaire was visiting as well, I roped her into helping with the crafty mission.
We sewed the cushions together to create a large sleeping pad. It was my ingenious mother's idea to use dental floss for strength, since the cushions and fabric were pretty sturdy, and they would need to hold up to kids sleeping on them. I purchased an inexpensive twin sized duvet cover from IKEA, which turned out to be the perfect size. We cut the cover in half right down the middle lengthwise, and sewed one quick seam on each of the cut edges. We had just created two large, long slipcovers for the sleepover pads. Brilliant!

Now you are starting to get the picture of why my daughter was willing to give up her room to her two 3-year old twin cousins right? Once she saw that I was making a cool tween hideaway, she was totally on board for sleeping in the closet under the stairs.
One tip I have if you try this yourself, is to make sure to sew alternating edges of the chair cushions together, so that if you want to fold the cushions up for storage, they will easily fold into themselves, creating an S or Z shape depending on how you look at it. Just like this: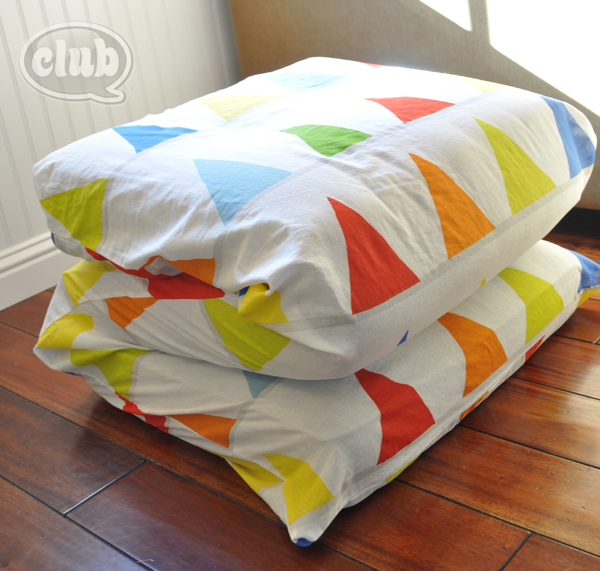 The two sleeping pads fit perfectly into the space. We already had a book shelf stored in the space filled with my daughter's books. A second shelf was placed near the door on it's end that acted a nightstand for the two girls. We hung a cool red lamp in the middle which gave off a really cool glow. And on the other wall, we hung a dry erase board for drawing on. Finally, I added a small colorful floor rug at the entrance.
Here is a tour of our crafty "cupboard under the stairs":

This did become a comfy, private place for them, especially when they wanted to get away from the boys. We set up an iPad on the nightstand and they watched movies or read books. This was a space banned from three-year-olds and dogs. Giving them cuddles at night definitely got a bit cozy, but that is what family is all about, right? = )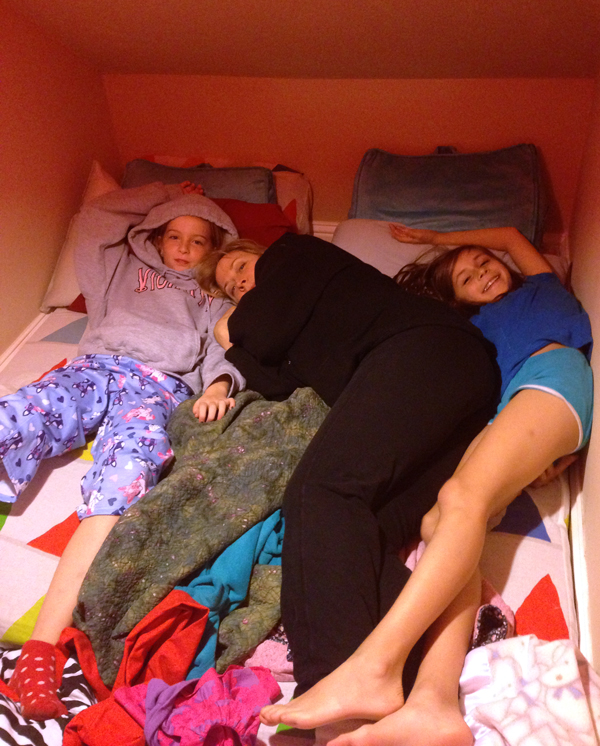 Now, after the holidays, we turned it into a cool hideaway reading space. I folded the two cushions into the Z shape, and made them into a little couch in the back of the room. Then I added a cool chair I found at Target, along with a small ottoman and reading table. Lovely!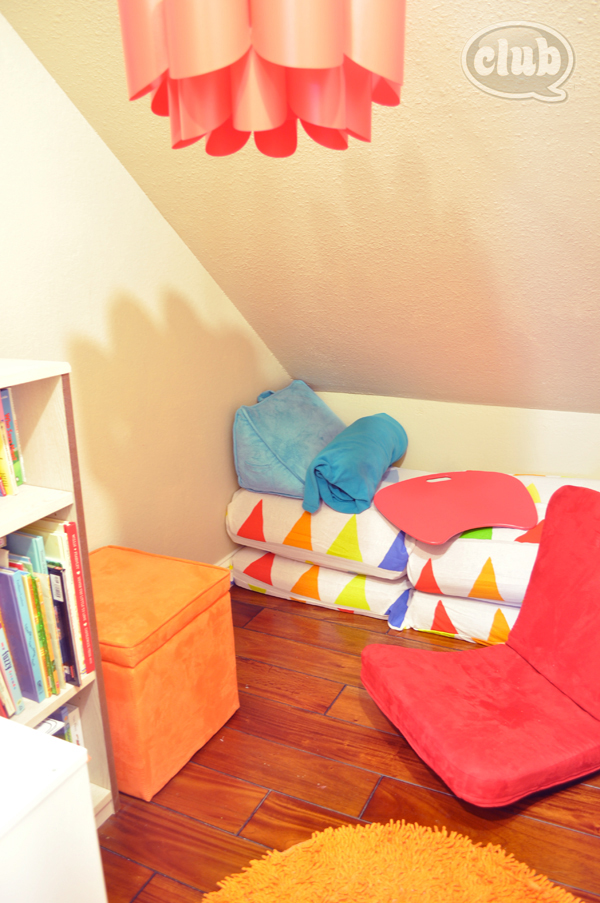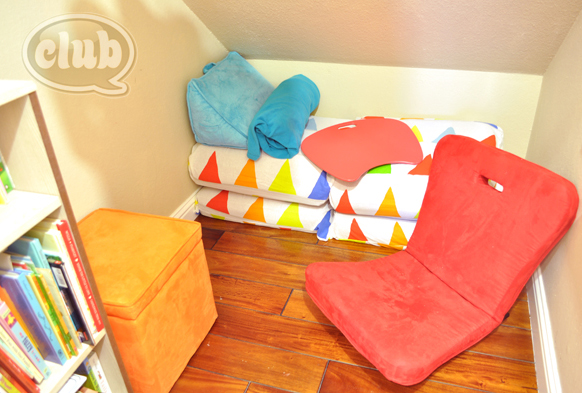 I think I may have to hideaway in this space myself. = )
Hope you enjoyed a peek into our crafty sleepover adventure, and one way we made it through the holidays.
Happy crafting!
If you liked this post, and want more, you can subscribe to be on our mailing list here.