I don't know about you, but when my daughter was a toddler, one of her favorite toys were the Fisher Price Little People sets. Even though she grew out of them years ago, I have actually kept many of them for my nephews to play with now.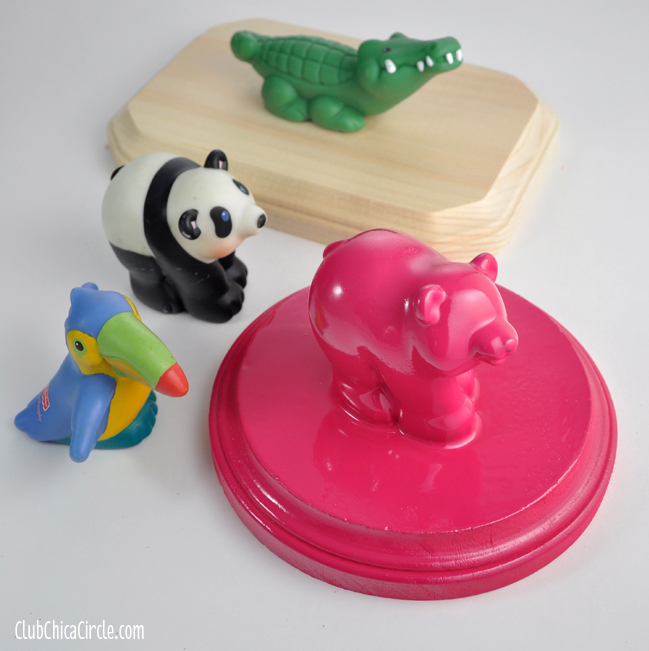 But, recently I raided our Noah's Ark Little People stash to make some cute hanging jewelry organizers.
I know, that doesn't sound like it makes sense, but stay with me.
I actually raided my daughter's Japanese erasers and Squinkies collections for this craft idea too.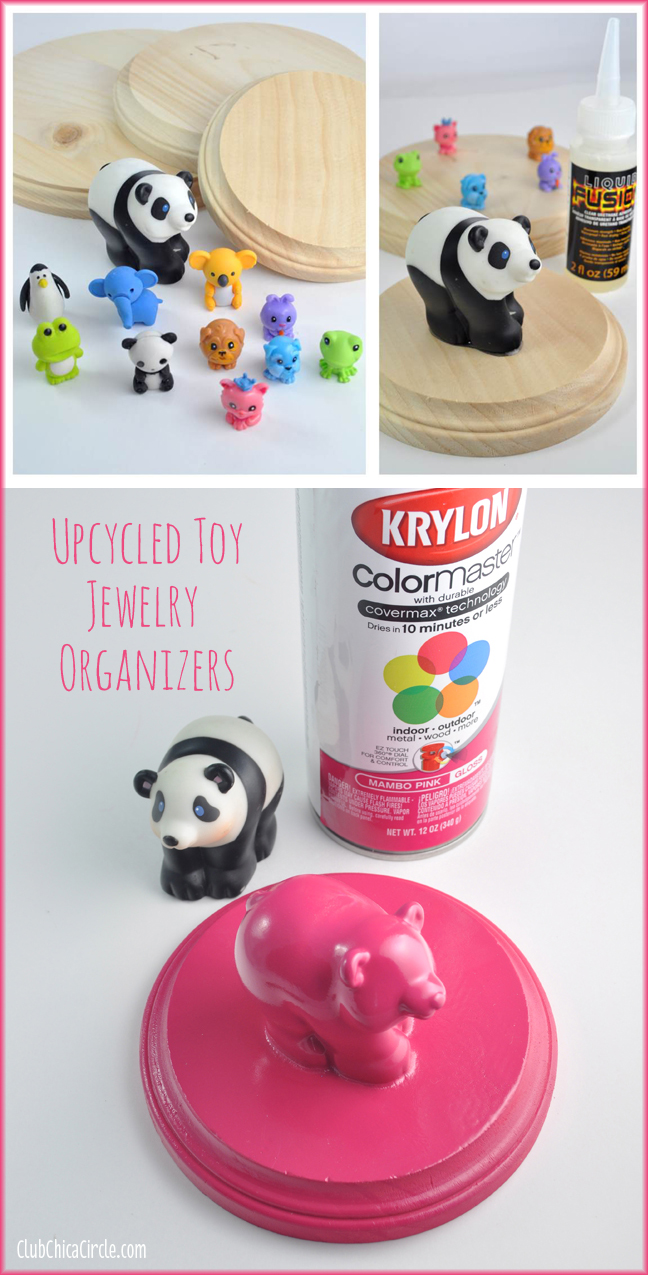 Starting to get the picture? = )
Now that my girl is going full force into tweenhood, and growing up way too fast, her jewelry and accessory collection is growing and getting a little out hand. It was in desperate need of some organization.
Here are the supplies I used to create these colorful jewelry organizers:
Wood plaque shapes (found at your local craft store, like Michaels)
Liquid Fusion glue (you will need a strong glue to make sure all the toys stay put)
Spray Paints (color of choice, I used Krylon Gloss in a variety of bright colors like Mambo Pink and Sea Glass)
Ribbons (I coordinated with my paint colors)
Glue gun (for attaching ribbon)
3M Command hanging strips and hooks (to hang from walls or door)
Toys to upcycle (I used Little People animals, Japanese puzzle erasers and Squinkies)
To make these super cute and easy hanging jewelry organizers, first plan out your toy animals on the wood plaques. Think about how they will hang on a wall, and space accordingly.
An extra step for the Japanese erasers, make sure to disassemble each puzzle eraser and reassemble with glue so that they stay intact.
Make sure the glue has dried and that the toys are solidly attached onto the wood before moving on to the painting stage.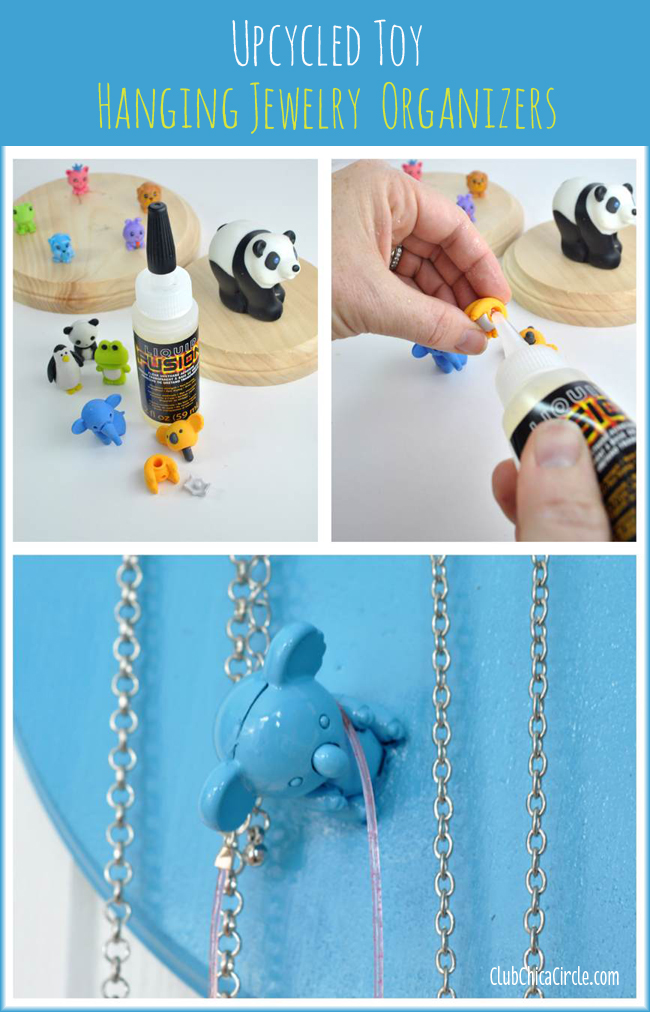 The last step is spray painting each wood board with a solid color paint.
Along with the Japanese eraser organizer, I also tried a Squinkies one for a multiple necklace or bracelet organizers.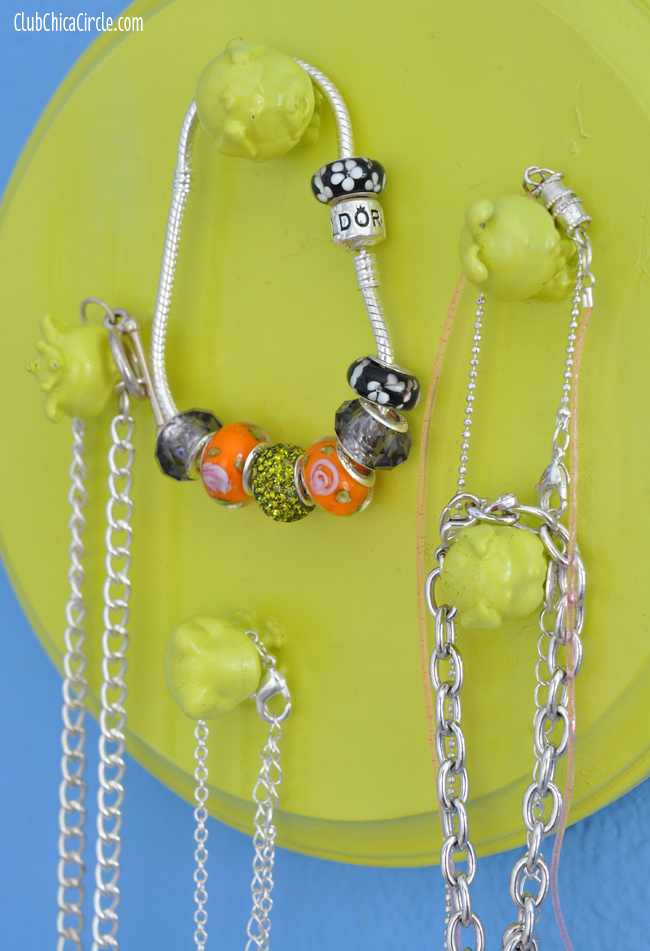 I love how they turned out, but my favorite by far were the Little People animal organizers. The Japanese eraser one worked well for hanging a variety of necklaces. The Squinkies are a much "squishier" material than the erasers or Little People. So they stayed squishy and not as sturdy, even though they still work.
The brightly colored Little People animals were just so fun to make, that after creating one, I actually could help myself from making more!
Also, I found that using a primer first, and adding a gloss finish at the end to the Krylon paints that didn't already have a gloss finish was the magic formula.

Ok, seriously, how cute are these?!
To finish each off, I attached ribbon hangers on the back with my glue gun.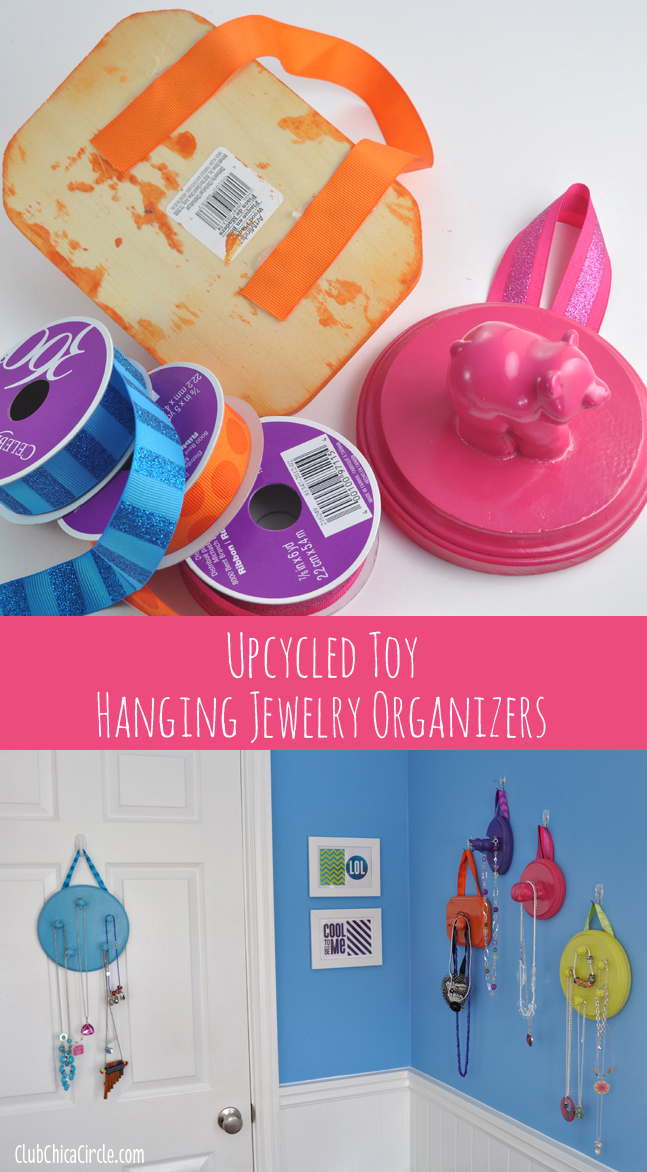 And I used the 3M Command strips and hooks to secure them to the wall. That way I wasn't poking a mass of nail holes in the wall, and if we want to rearrange any in the future, the strips won't ruin the paint or the wall.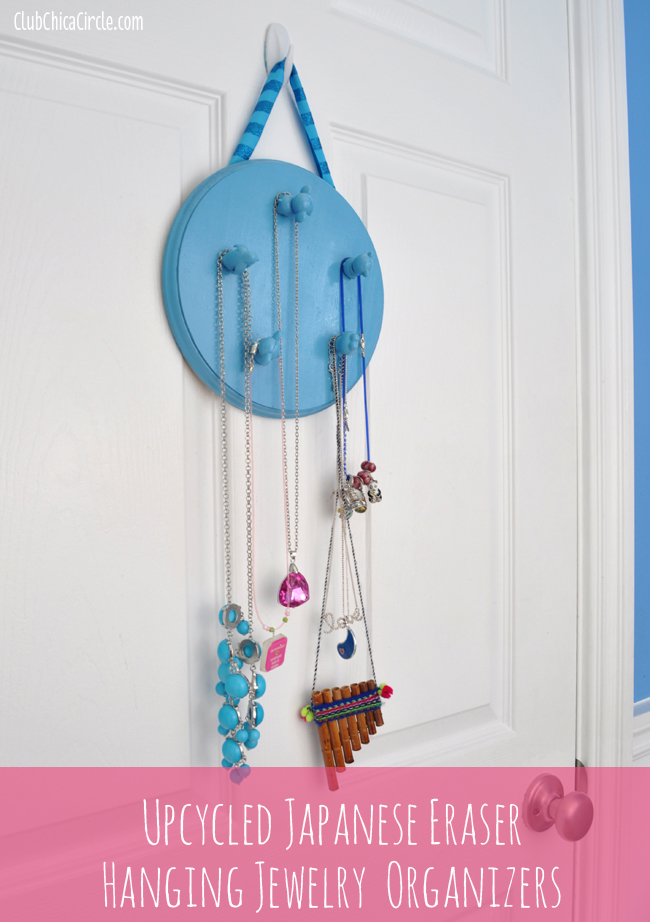 The Japanese eraser jewelry organizer worked well on her door on a 3M Command hook.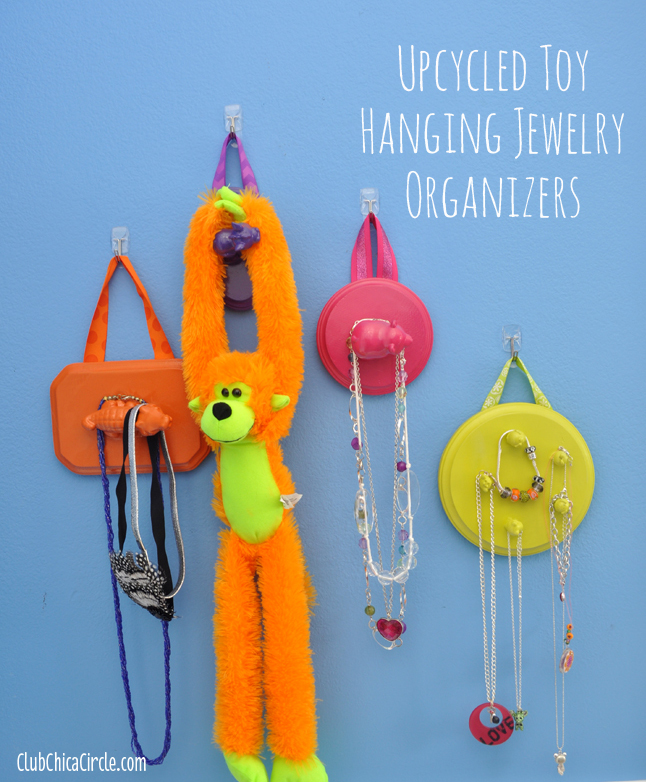 And we hung a colorful grouping on her bedroom wall. These could hold necklaces, scarves and even a plush toy.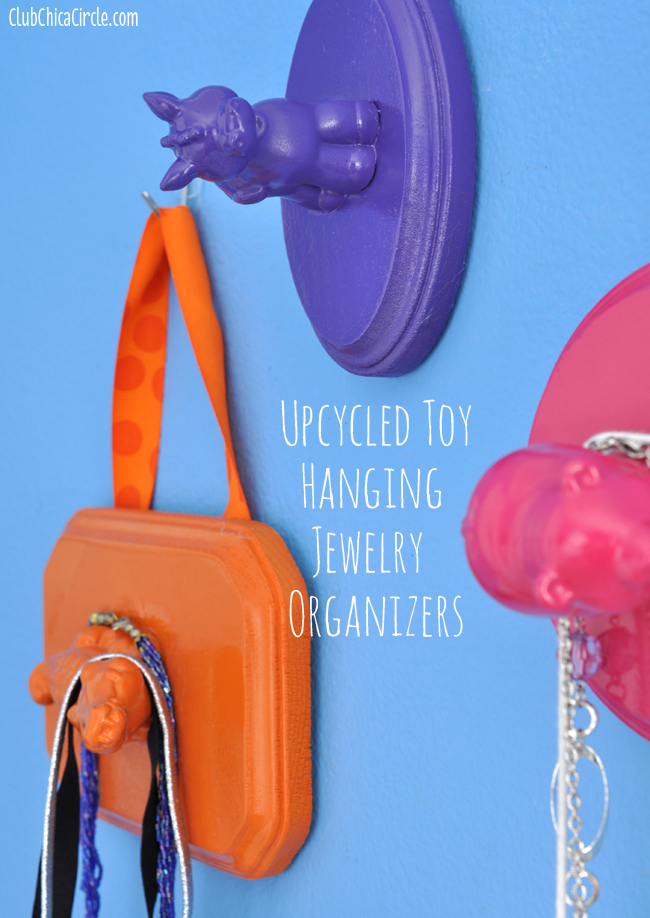 We saved one that we didn't hang on the wall for a handy hair band organizer on her shelf.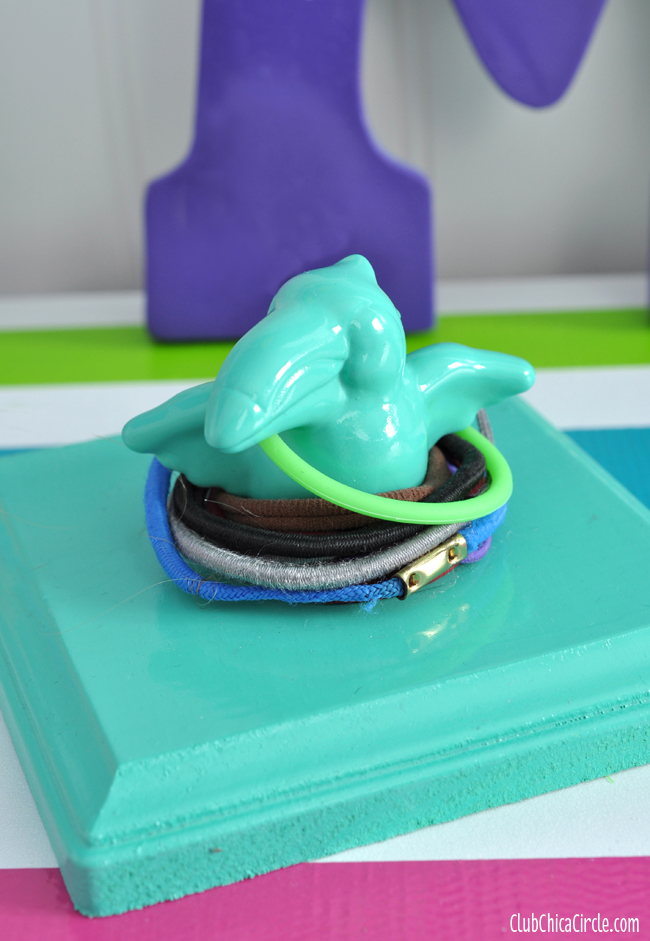 Lovely!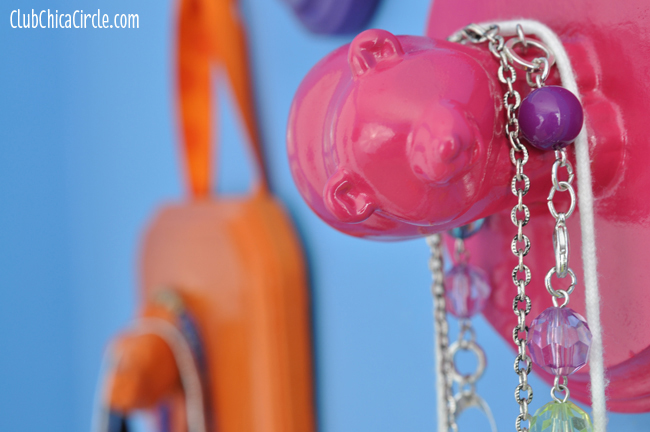 I can't decide if the pink panda or the purple zebra is my all time favorite.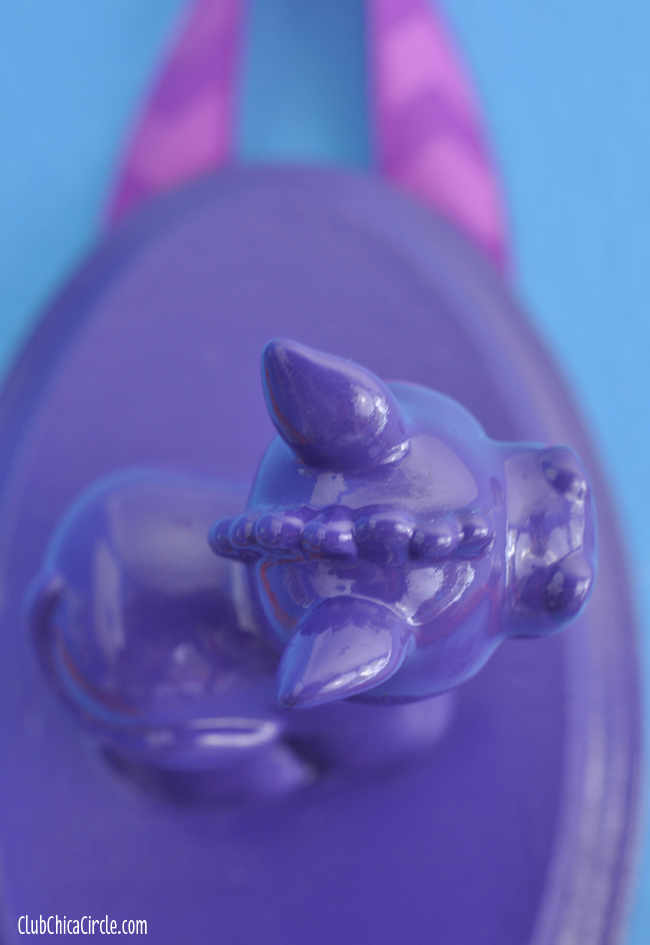 Tell me, this isn't a cute and juicy tween room decor craft idea!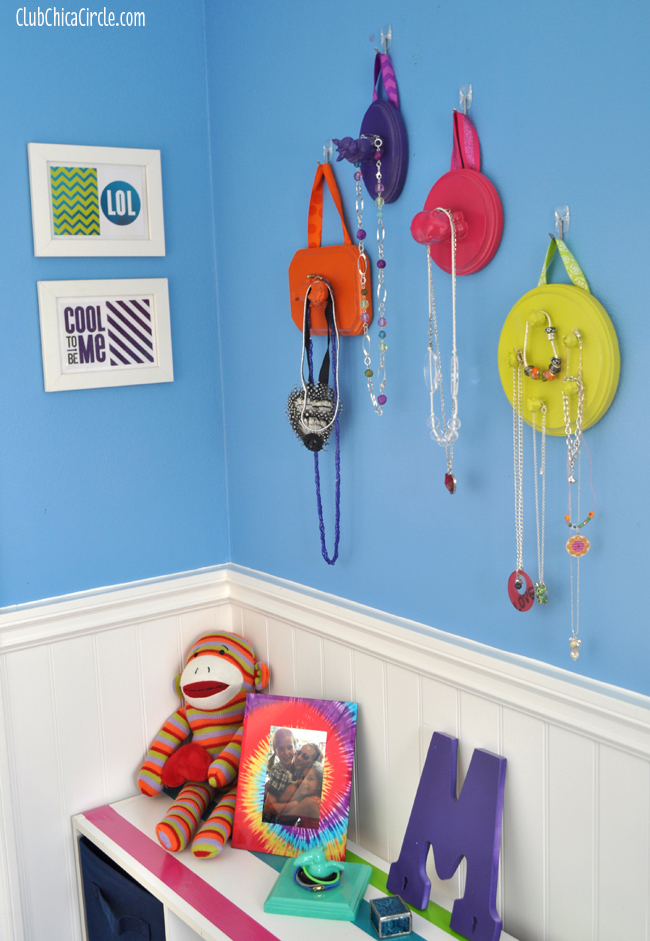 These organizers were the perfect pop of colors as we update her bedroom from "little girl" to "young lady".
Cool, right? Makes you want to raid your own kid's toys, am I right?
I actually want some of these for myself. = )
Happy Crafting!
If you liked this post, and want more, you can subscribe to be on our mailing list here, and make sure to get your free Cupcake Toppers Printables for Every Occasion.

Feeling social? Follow ChicaCircle on Facebook or Twitter, and follow me on Pinterest or Instagram.