On the last lazy days of summer, before the school year got into full swing, one of our favorite things to do was have a family movie night in our backyard. The hot summer days cool off nicely at night, and we can have as much seating as needed for family and friends. I remember as a kid, going to drive-in movies and bringing your own popcorn in a packed car was such an adventure. Maybe the sound quality and the effects aren't the same from your car, but sometimes its the novelty of it that makes the best memories! That is what a backyard family movie night is to us. It's such a fun way to enjoy a summer night with family.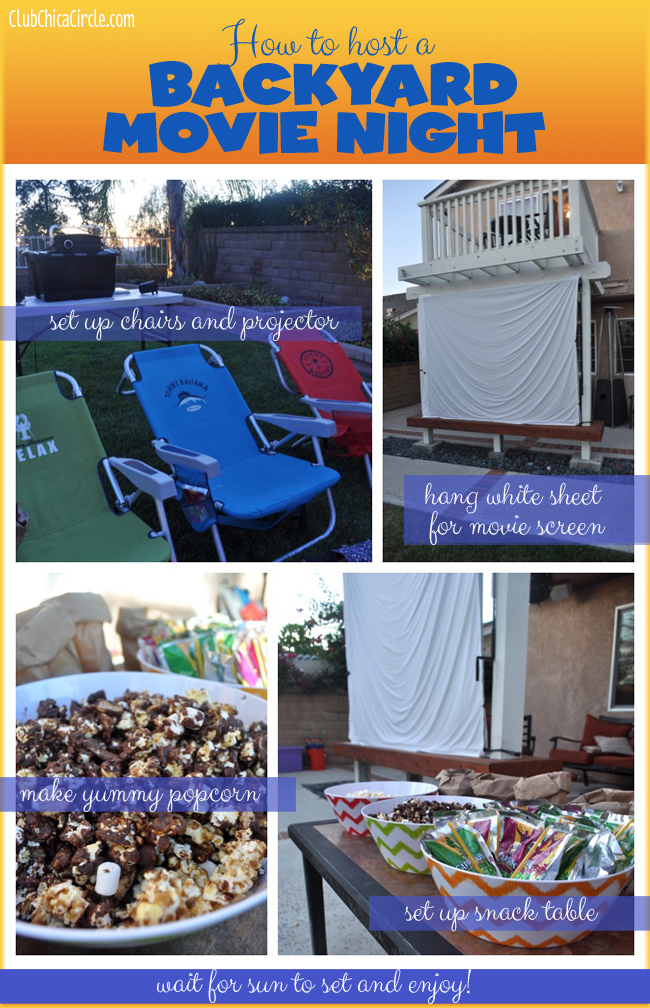 We recently invited some neighbors over to enjoy our backyard movie night with us, and it was so simple to set up. Here are some tips on how you can host your own movie night in your own backyard. First set up chairs and/or blankets for seating. We used beach chairs in a row and arranged blankets on the ground in front. The darker it gets, the cooler the night air gets, so make sure your guests are comfy and have extra blankets for them to snuggle in and keep warm while watching the movie.
Then we hung a queen sized white sheet from our balcony. Find the ideal place in your backyard to hang a sheet. It could be a fence or a blank wall of your house. We were able to use push pins to attach to our wood balcony, but duct tape would work too.
I set up cool snack table with two different types of popcorn and Capri Sun Super V Fruit and Vegetable Juice drink for the kids. What I love about Capri Sun Super V Fruit and Vegetable Juice drinks is that they are a combination of fruit and vegetable juice without any added sugars or sweeteners. And you can't beat the convenience of the packaging of a Capri Sun juice drink. It makes movie night with kids really simple and fun. They are easy to grab and drink from. Simply insert the straw in the juice pouch and enjoy. We aren't a soda family, and I can feel good about Capri Sun as an alternative. They have a range of wholesome drinks for moms to choose from.
I set out one bowl of regular buttered popcorn, one for homemade s'mores popcorn. I found the perfect recipe on Thirty Homemade Days from Leigh Anne of Your Homebased Mom. I started with her caramel corn popcorn recipe and added marshmallows, Cinnamon Toast Crunch cereal, and dark chocolate drizzled on top. Yum!
I set out paper bags for the kids to come up and help themselves to whichever popcorn variety they wanted. Or they could even mix the flavors. While the sun was setting in the background, it was the perfect time for everyone to get settled and get their snacks and drinks.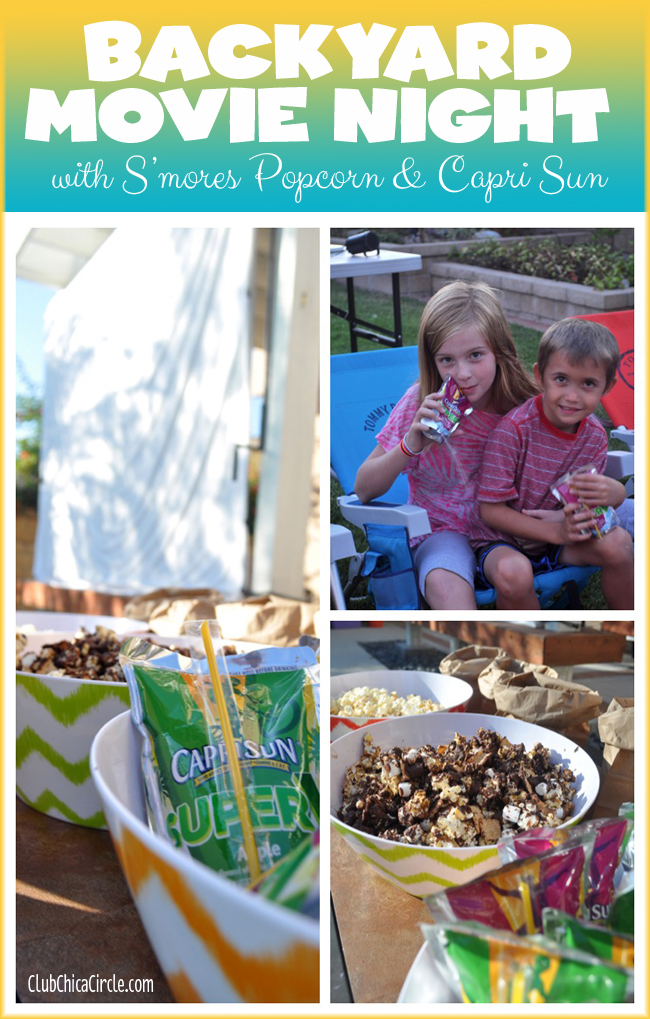 The anticipation was killing them. They couldn't wait until it got dark enough to start them movie. We set up a small projector on a table behind everyone which we hooked up to a small speaker. We bought our secondhand, and it was been one of the best purchases we ever made. If the weather isn't good outside, we have used it as a sleepover camera projected on an empty wall in our house.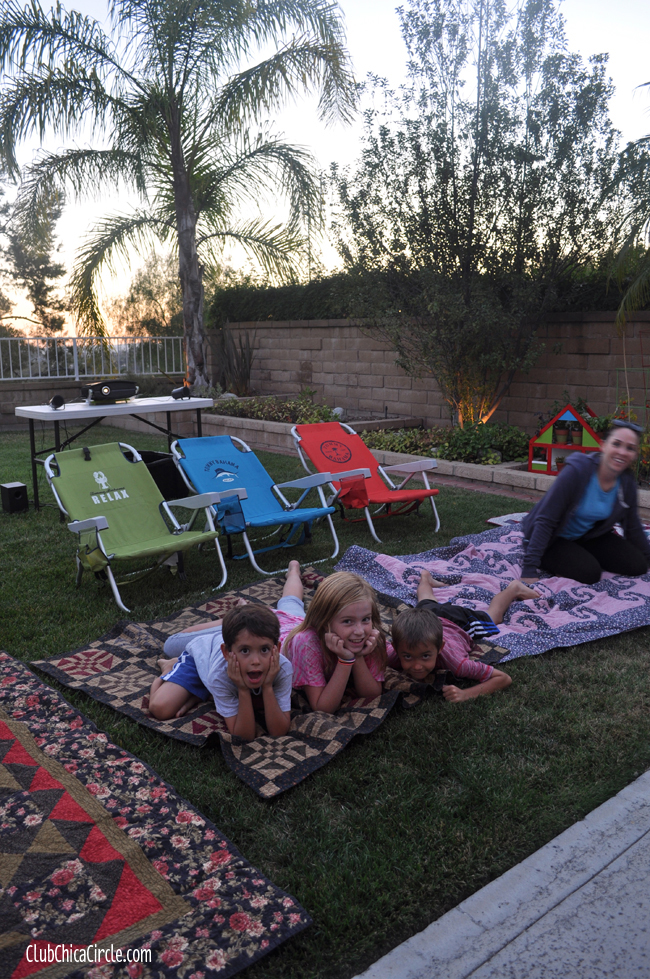 Once, it is dark enough outside, start the movie and sit back and enjoy the show! One more tip is to make sure the lights in your house or in the background are off as well. The darker it is, the better picture quality you get on the screen.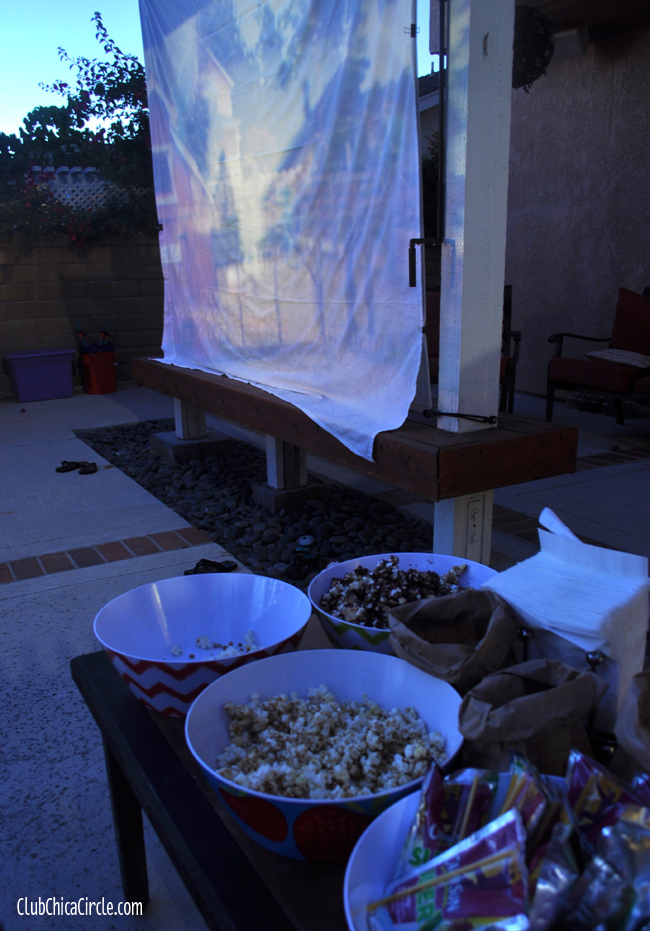 There is still time to enjoy a cool family fun night outside before the weather completely turns too cold. Host your own backyard movie night with homemade popcorn and Capri Sun.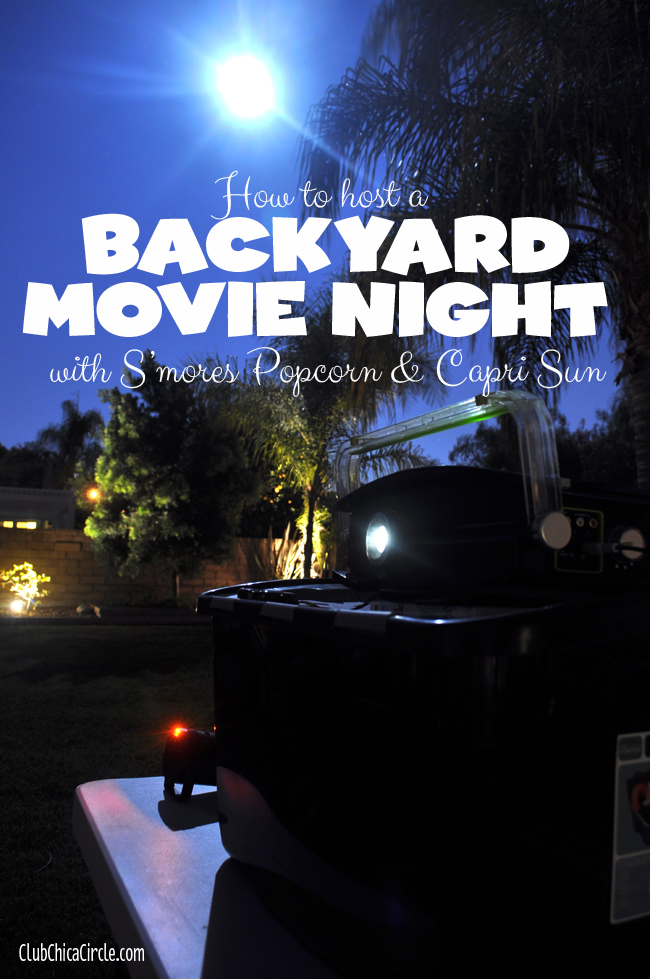 Enjoy!
If you liked this post, and want more, you can subscribe to be on our mailing list here.
Feeling social? Follow ChicaCircle on Facebook or Twitter, and follow me on Pinterest or Instagram.