I LOVE Trader Joe's and I know that I am not alone. Every season brings new surprises and some annual favorites (especially this time of year with everything pumpkin). I've rounded up 25 Trader Joe's inspired recipes to share with my fellow Trader Joe fans. Some are easy and build on Trader Joe's products – like the Lemon Basil Cake and the Pumpkin Joe Joe's in Blondie's Cupcakes. Others recreate Trader Joe favorites from scratch – like the Dark Chocolate, Almond & Orange Lace Cookies or the Kale and Edamame Salad from Kludgy Mom.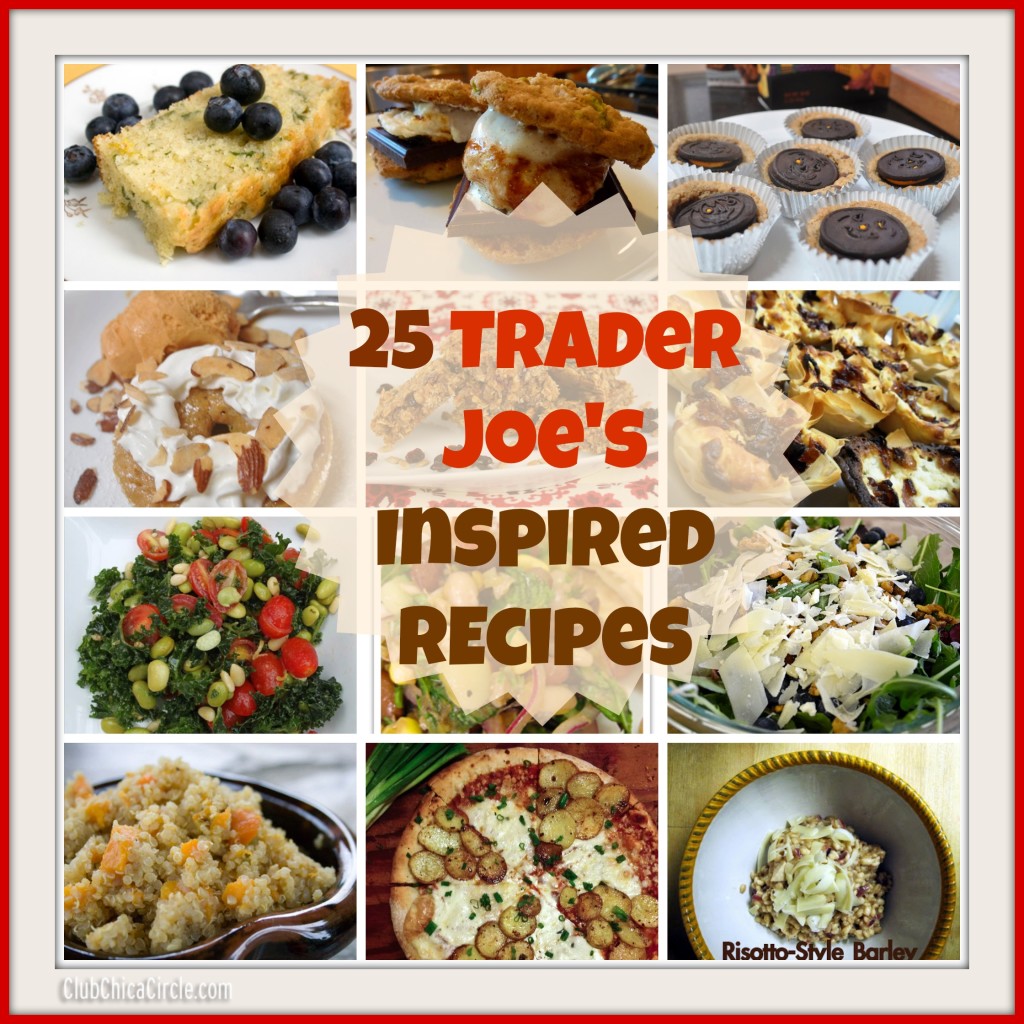 Breakfast
1.  Trader Joe's Bread Mix Pancakes (Club ChicaCircle)
2.  Breakfast Casserole (Tastebook)
Appetizers
3.  Prosciutto Wrapped Dates (Reading Your Lips)
4.  Caramelized Onion and Feta Pastry Bites (Batter Licker)
Salads
5.  Kale and Edamame Salad with Tomatoes and Pine Nuts (Kludgy Mom)
6.  17 Bean & Barley Salad (Cuisinivity.com)
7.  Trader Joe's Five Minute Arugula Salad (Little Miss Momma)
Meals
8.  Roasted Butternut Squash Quinoa (Chef Mom)
9.  Crispy Potato Pizza Margherita (Frommyimpossiblytinykitchen FMITK)
10. Risotto-Style Barley and Chicken (Our Scottland Yard)
11. Okonomiyaki Japanese Pizza (Trader Joe's Recipes)
12. Roasted Chicken Patties with Edamame Guac (Why I Love Trader Joe's)
13. Cuban Mojito Chicken Chili (Chowhound)
14. Lobster Ravioli with Alfredo Sauce (Little Ivy Cakes)
15. Shelly's Quick Pumpkin Chicken Stew (The World According to Eggface)
Desserts
16. Trader Joe's Cookie Butter S'mores (Clumsy Crafter)
17. Spicy Gingerbread Fig Bars (Cheesy Pennies)
18. Lemon Basil Cake (Cooking with Trader Joe's)
19. Pistachio S'more (Plush Puffs Gourmet Marshmallow Blog)
20. Pumpkin Joe-Joe's in Blondie Cupcakes (Club ChicaCircle)
21. Pumpkin Donut Dessert (Club ChicaCircle)
23. Push Pop Macarons (Not Just a Mommy)
24. How to Make Trader Joe's Must-Have Speculoos Cookie Butter at Home (Wonder How To)
25. Dark Chocolate, Almond & Orange Lace Cookies (My Jerusalem Kitchen)
Do you have any Trader Joe's recipes to share? We LOVE your feedback. Share your favorite links or recipes in the comments below. You can find my Trader Joe's Pinterest board that I'll continue to update here.
If you liked this post, and want more, you can subscribe to be on our mailing list here.
Follow Lynnee's boards on Pinterest and Pauline's Club ChicaCircle boards here. You can also find  Lynnee Jimenez on Google+.