Disclaimer: this post is brought to you in part by DecoArt.
Ok, I can't seem to get candy corn off my brain. I've painted mason jars in candy corn colors. I've melted beads into a candy corn colored bowl. Today, I'm showing you how I painted a candy corn inspired ombre shirt with DecoArt SoSoft Fabric paints.
It's a super simple and festive fashion craft idea for Halloween or Fall.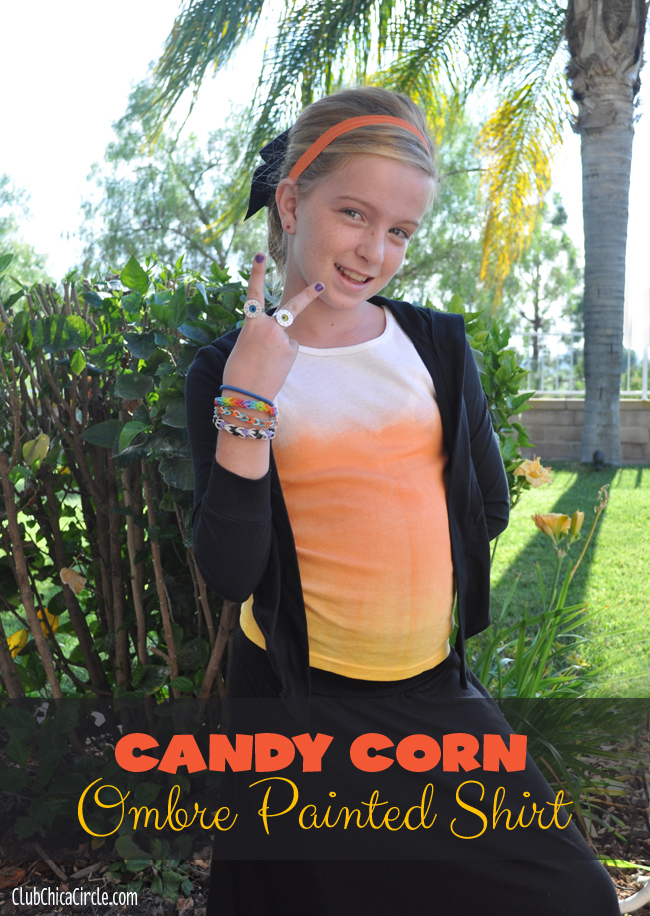 The thing is, I did use DecoArt SoSoft paints, but you might be surprised on how I applied them.
I didn't use any brushes, I used spray bottles.
Yep, spray bottles. In essence, I made my own fabric spray paint.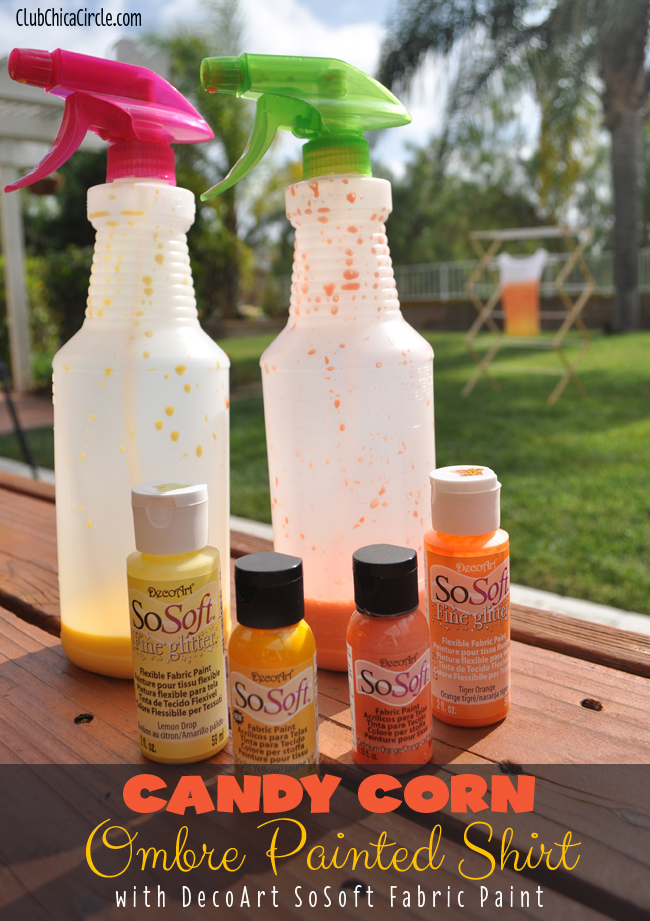 I wanted to create an ombre effect rather than hard cut lines between each candy corn color. So, I started with 2 empty spray bottles, one for the candy corn orange and one for the yellow.
I used DecoArt SoSoft Fabric Paint in Bright Yellow and Cadmium Orange, and DecoArt SoSoft Fine Glitter Fabric Paint in Lemon Yellow and Tiger Orange.
I filled each spray bottle with about 1 cup of water, then I squirted in 3-5 squirts of the paint and glitter colors combined to create a watered down yellow and orange paint.
Step 1
I made sure to do my craft outside on the grass (so any excess paint could drip down). I had a drying rack ready, and I had a white shirt prepped to spray on a hanger.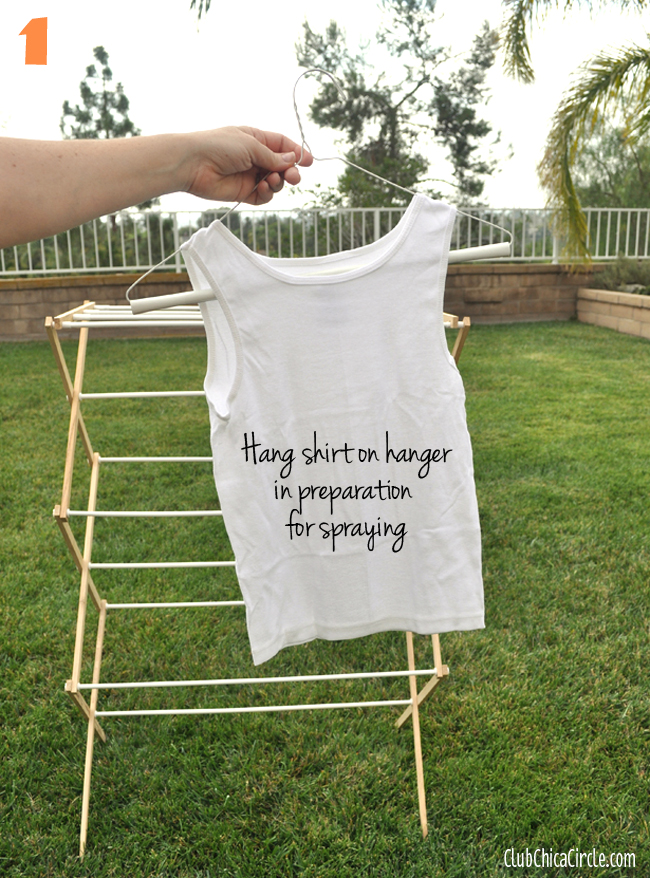 Step 2
As I held out the shirt with one hand, I started with the orange paint spray bottle and squirted the middle of my shirt. Then I grabbed the yellow spray paint bottle and squirted the bottom portion of my shirt.
As the orange dripped down, the yellow blended in with it and created a beautiful ombre effect.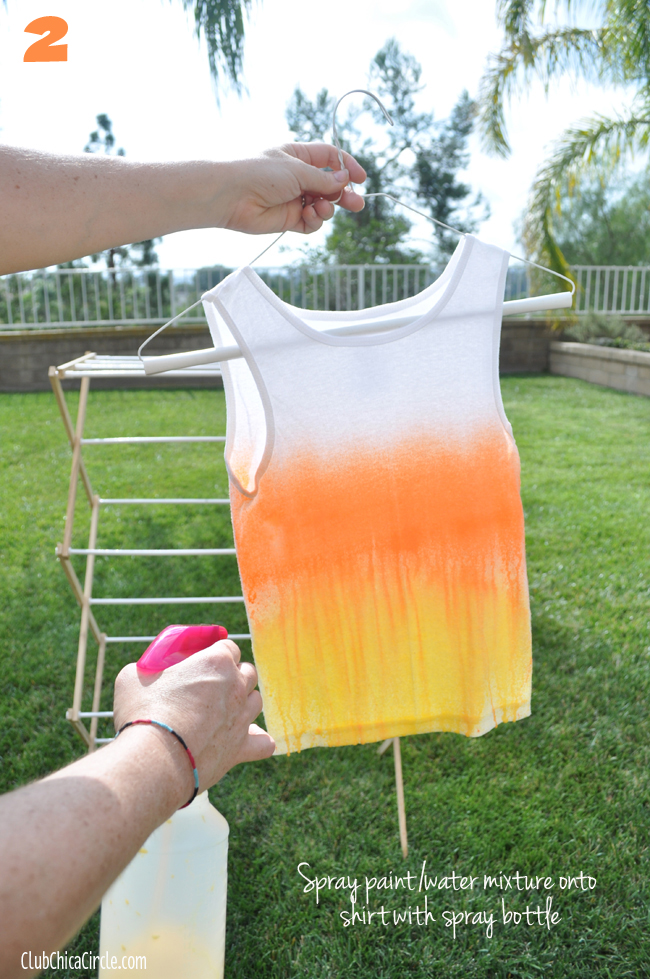 Step 3
When I was pleased with the blending and the colors. I hung the shirt on a drying rack and let it air dry completely.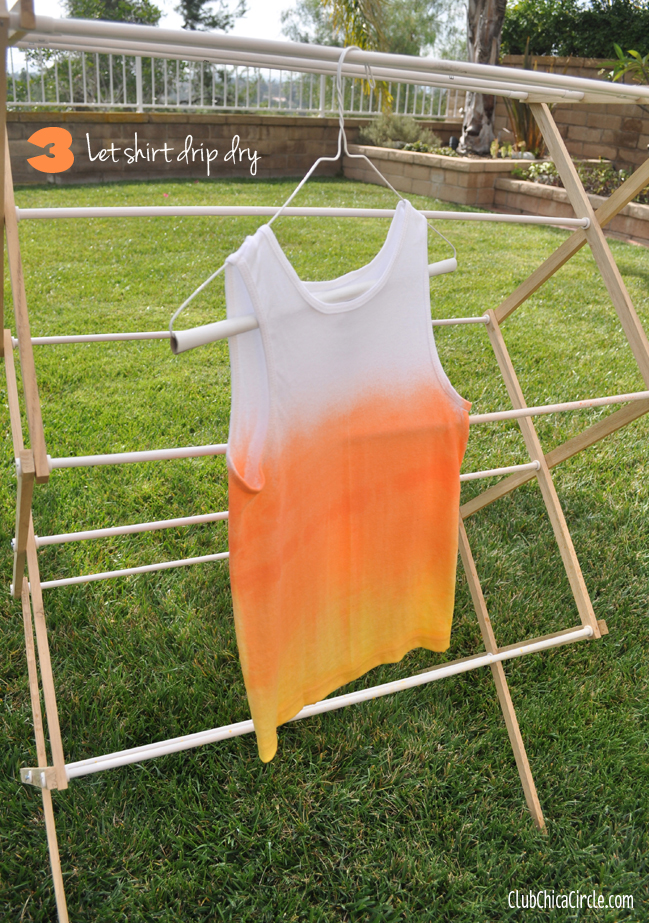 I know you tell from the photo, but the combination of the fabric paint with the glitter paint added such a glimmery effect on the shirt.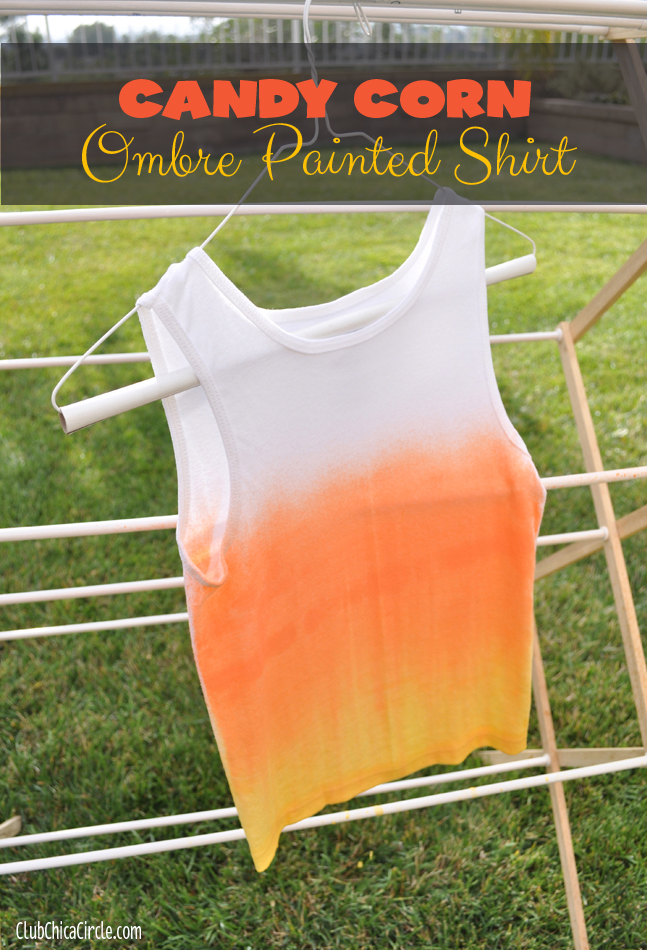 This was so easy to do, I am definitely going to try this technique on another shirt. I love how the colors blended. It was almost like tie-dye but with a spray bottle.
Happy Candy Corn Crafting!
If you liked this post, and want more, you can subscribe to be on our mailing list here.
Feeling social? Follow ChicaCircle on Facebook or Twitter, and follow me on Pinterest or Instagram.
As a member of the DecoArt core blogger team, this post is brought to you in part by DecoArt. All thoughts, crafts, photographs, and ideas are my own.