Teacher Appreciation Week kicks off today. Have you gotten a gift for your favorite teacher yet? Here is an easy teacher appreciation homemade gift idea that he/she is sure to love. The best part – it's soooo easy to make.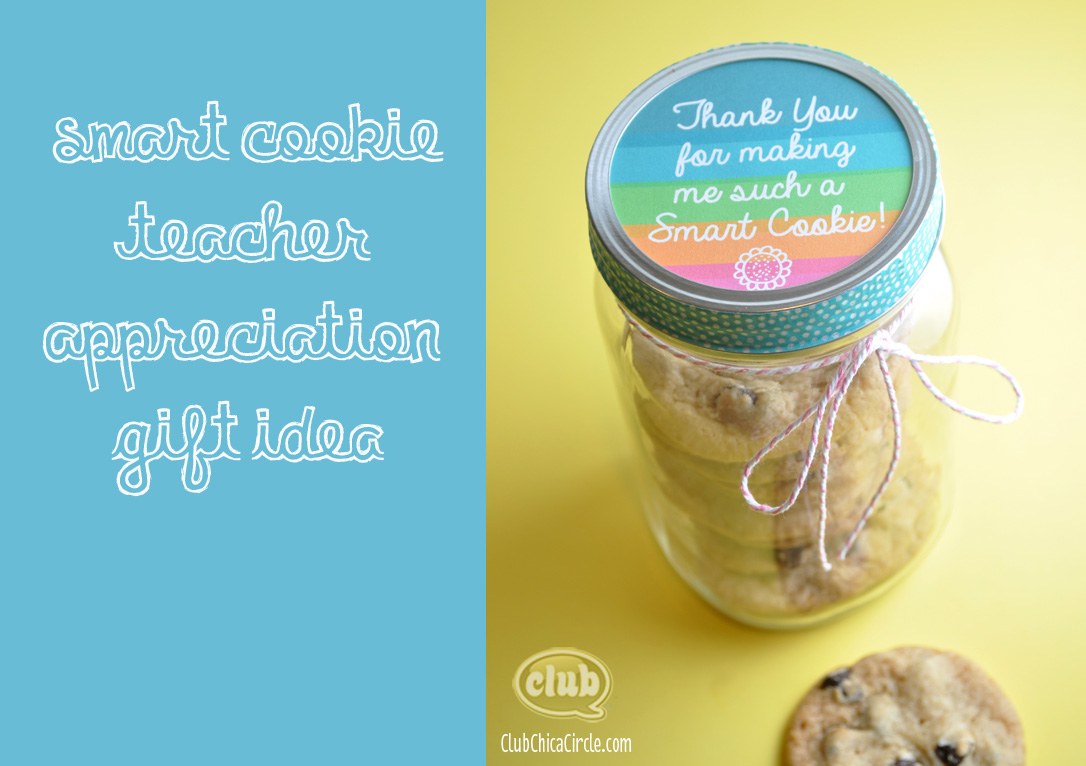 I know a full list of activities came home last week for my daughter's class. Today she left with a piece of fruit to add to fruit basket with the tag "You've given us a bountiful education" attached to it. Wednesday she needs to bring a flower to go with the "We've blossomed because of you" sentiment. Can you sense a theme here?
In this same spirit of "punniness". I know, that isn't a word. Good thing I'm not the one in 5th grade. = ) But I couldn't resist a sweet homemade gift idea with a cute printable tag or "pun" attached. And of course, I am sharing it with all of you.
Looking for a last minute gift that your kids will love to make? Look no further.
Make your own "Smart Cookie" Teacher Appreciation Jar. Make a few of them. This craft is so easy you can pass on to all of your favorite teachers.
I used a Kerr Quart Sized Mason Jar. The mouth of the jar was wide enough for a hand to grab a cookie, and tall enough that you can fit a dozen cookies into. You can find these at your local grocery store or craft store.
Make sure to bake your cookies no bigger than 2.5″ wide, so you can easily place them into the jar. We baked chocolate chip cookies last night, and there were just a couple of them that were a tiny bit too wide. Darn! We had to eat them ourselves. = )

I created this cute free printable the same size as the lid. Grab your copy here:
Teacher Appreciation Smart Cookie Printable
Print and cut it out and place the circle tag in-between the layers of the canning jar lid. The circle doesn't have to be perfect because it will go under the lip of the jar lid.
Decorate the lid with washi tape and bakers twine or ribbon for extra cuteness and flair.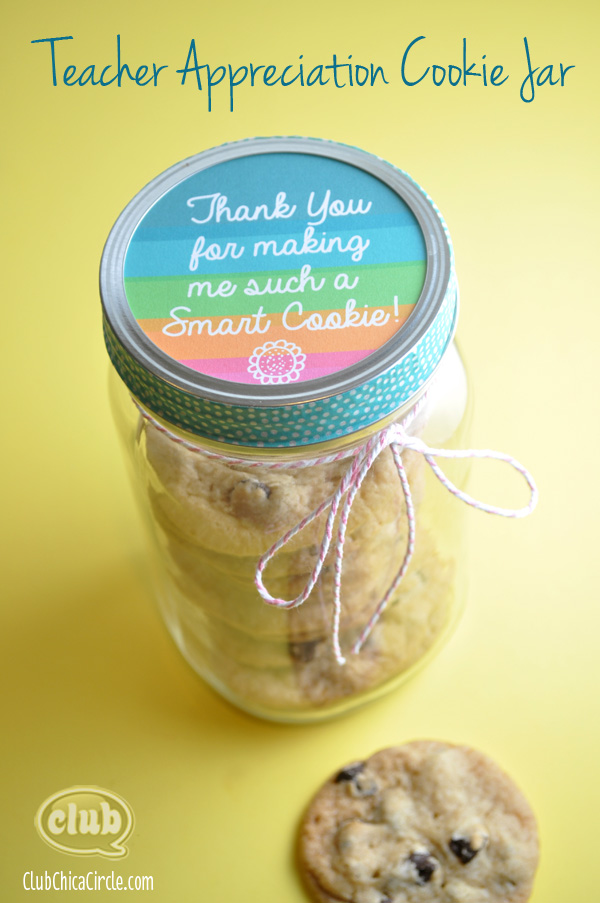 That's it! You're done!
The teacher can reuse as a great organization jar, or fill it back up with cookies for a fun cookie jar.
So, be a smart cookie, and make some of these today!
Looking for more ideas? Check out last week's homemade teacher appreciation gift round-up here.
Happy crafting!
If you liked this post, and want more, you can subscribe to be on our mailing list here.
Feeling social? Follow ChicaCircle on Facebook or Twitter, and follow me on Pinterest or Instagram.