Tuesday marks the end of Mardi Gras period in preparation for the Lenten holiday season. With huge celebrations around the world filled with food and drink, it has also become known as "Fat Tuesday". One of the traditional festival foods during Mardi Gras is "king cake" – gooey sweet cake covered with purple, green and gold.  King cake is named to represent the biblical three kings who visit the baby Jesus. By tradition, a small trinket or baby figurine is baked into the cake (representing baby Jesus). Whoever gets the slice with the baby will receive good fortune, but must bring cake to the share in the next celebration. Interestingly, it's not always cake that is expected in return. Our daughter was the lucky recipient of the baby trinket in the cake during a recent dance class festival, and she was expected to bring tamales to the next celebration (but we settled with chili and hot chocolate).
The gooey pictures on Pinterest inspired me (actually- my mom) to make our own versions of king cake – but lighter versions that I would feel comfortable feeding to my 3-year old twins or 10-year old daughter as a treat without too much guilt. My mom is in town for a few more days and she gets full credit for the baking and decorating magic. As my mom, tween and I looked at the yummy Pinterest pictures, we were curious about the king cake color theme – and found that:
Purple = Justice
Green = Faith
Gold = Power
We wanted to stay true to the colors in our treats shown below (even if we didn't fill the cakes full of gooey cream cheese).
Sweet Potato Crescent Roll King Cakes
Recipe adapted from Taste of Home
The first king cake project in our house was to turn homemade sweet potato crescent rolls (original recipe can be found at Taste of Home) into a king cake celebration food. My mom modified the recipe to add yellow food coloring (for the 'gold' color), used freshly cooked sweet potatoes and added cinnamon sugar prior to rolling into the crescent shape. A touch of green frosting and purple sprinkles complete the carnival-colored sweet potato crescent roll king cakes.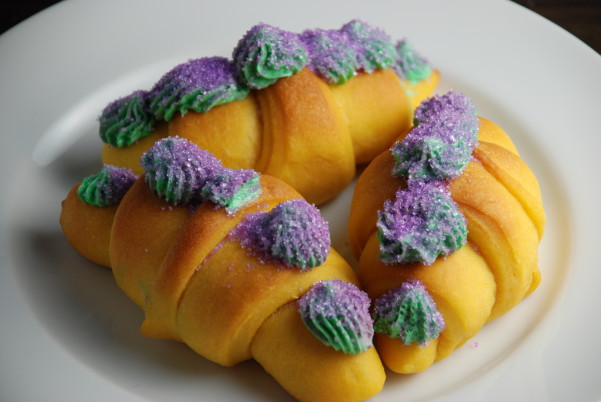 Ingredients:
2 packages (1/4 oz each) active dry yeast
1 cup warm water
1 cup cooked & mashed sweet potatoes
1/2 cup sugar
1/2 cup shortening
1 egg
1-1/2 teaspoons salt
4-5 drops yellow food coloring (optional)
5 to 5-1/2 cups all-purpose flour
1/4 cup butter, melted
cinnamon sugar to sprinkle on dough
frosting, if desired
Directions:
Dissolve yeast in water in a large bowl and let stand for 5 minutes
Beat in the sweet potatoes, sugar, shortening, egg, salt, food coloring and 3 cups flour (add enough to make a stiff dough)
Turn the dough onto a floured surface and knead until smooth (set the timer for 8-minutes kneading time)
Place dough in a greased bowl and flip over once so the top of the dough is also greased. Cover and let rise in a warm place until dough doubles (approx. 1 hour). My Mom's tip: Use a two-finger punch test to check if the dough is ready. If after inserting two fingers into the dough the finger holes remain – the dough has properly risen.
Punch the dough down and then divide into three portions
Roll each portion on a lightly floured surface into a 12-inch circle – then cut into 12 wedges
Lightly brush butter onto the rolled dough wedges and then sprinkle with cinnamon sugar
Roll each wedge starting from the wide end and place onto a greased baking sheet with tip pointed down (with 2-inch spacing between rolls)
Cover baking sheet and let rise until doubled (approx. 40 minutes)
Bake at 375°F for 13-15 minutes until golden brown (or golden gold if using food coloring). Remove rolls from baking sheet and cool on wire racks
Top, if desired, with purple/green frosting & sprinkles
Yield: 3 dozen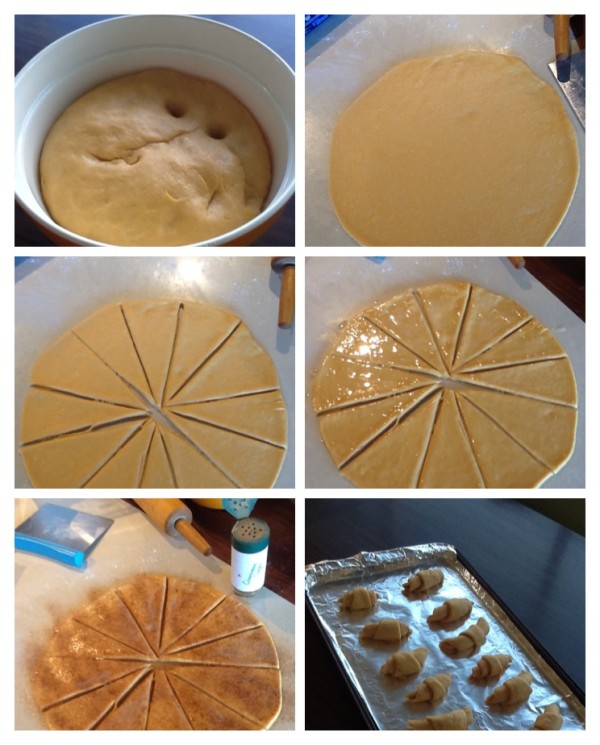 Sweet Potato King Cake Cupcakes
For this Mardi Gras cooking adventure, my mom used a recipe I found from Self Magazine for Sweet Potato Cupcakes with Chai Frosting. The recipe includes a healthy base of sweet potatoes, oat flour, an egg white and skim milk. Since we had leftover cooked sweet potatoes from the Sweet Potato Crescent Roll King Cakes – we had a perfect excuse to make cupcakes (not that we need an excuse to make cupcakes). This was a BIG hit with our entire family – even with my tween who does not care for sweet foods. Once again, the frosting is optional, but fun using Mardi Gras colors and sprinkles.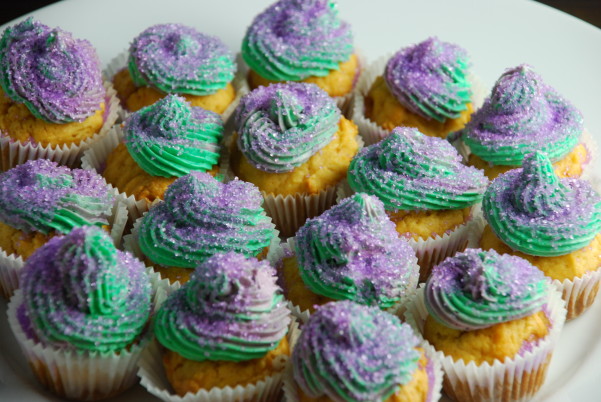 My daughter taking the photos of the completed king cakes: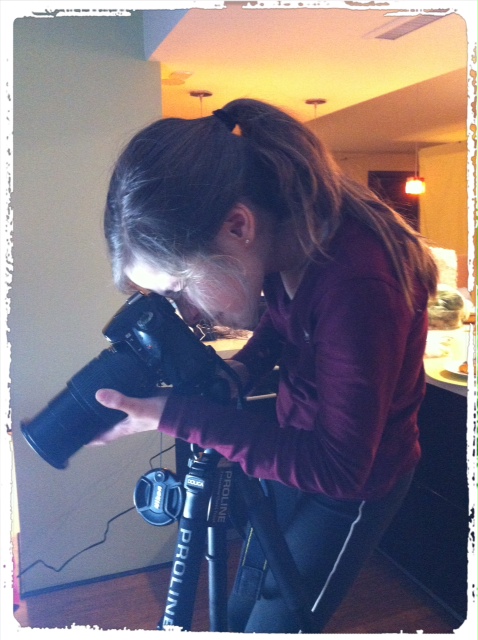 4-Ingredient King Cake
If you are looking for an easy 4-ingredient recipe (and 3 of the ingredients are purple, green, yellow sprinkles) – check out this recipe from Key Ingredient. (This would be my version if my mom weren't visiting and spoiling us with her home-baked goodies):
4-Ingredient King Cake from KeyIngredient.com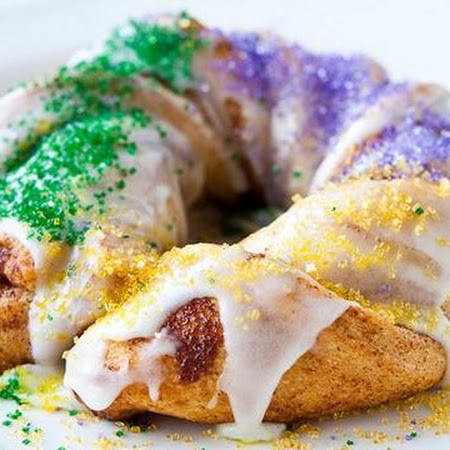 If you are still hungry for king cake and not ready to make your own- Cannata's King Cakes claim to be the official king cake of Mardi Gras and they ship worldwide.
Are you making any special treats for Fat Tuesday? Share your comments below!
If you liked this post, and want more, you can subscribe to be on our mailing list here.
Follow Lynnee's boards on Pinterest – including her Mardi Gras Board