Yesterday I showed you how to make beautiful Valentines Day inspired gift boxes. Today I am showing you how I made the tasty treats inside the box – homemade pink truffles! Yum!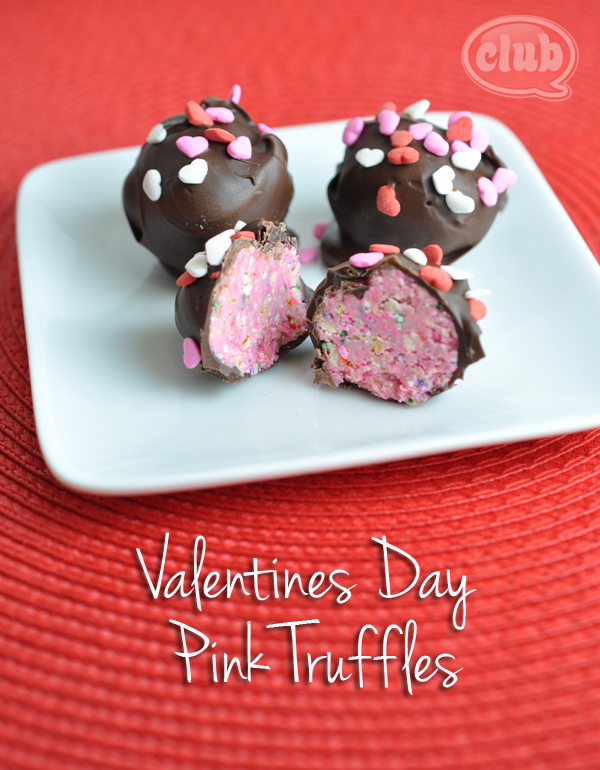 You won't believe how easy they are to make, and how few ingredients are needed. And the best part – there is no baking involved at all!
This treat can be made in less than 20 minutes.
I adapted this recipe from one of my "10 Treats to Make and Gift" post during the holidays. I made these blond Oreo truffles from Chef in training, aa well as a variation using Mint Joe-Joes during the Christmas holidays and put them in treat boxes for friends and family. They were a huge hit! I knew I had to try a pink version for Valentines Day.
Here is what I used to make this tasty treat:
Pink and White Frosted Animal Cookies
Cream Cheese (I used the 1/3 less fat)  – also use at room temperature so it is softer to work with
Heart Sprinkles
The ratio I used was 2 cups of cookies to 2 ounces of cream cheese. This made 9 truffles total. You could easily double this recipe to make more.
And there are basically only 5 easy to step to make them. So easy, you can get the kids involved for sure!

1. Start by chopping up the cookies finely in a food processor.
2. Then add softened cream cheese with a spatula until it is all worked in. I also used my hands to mix in to make sure it was the right consistency and could hold a shape.
3. Next roll your batter into small 1″ sized balls and put into the freezer to harden and set up. This will make it easier to coat with chocolate. About 15 minutes.
4. Now, melt the chocolate candy melts in the microwave. I used about a cup of candy melts, microwaved for 1 minute, stirred, and microwaved again for 30 seconds until it was the perfect creamy consistency.
5. Finally, roll each into the melted chocolate with a spoon to coat completely, and place onto a parchment paper lined plate and immediately sprinkle with heart sprinkles or decoration of choice. Put them back in the refrigerator to set up, or just them sit at room temperature until the chocolate hardens.
That's it! So easy! And the contrast of the dark chocolate looks so pretty next to the pink surprise when you bite into one.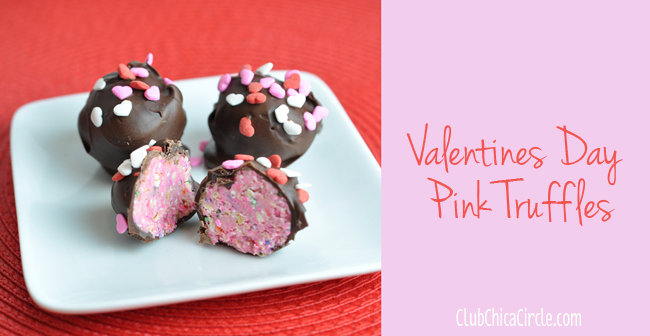 So whether you put these in a pretty gift box or treat bag, these pink truffles would put a smile on anyone's face this Valentines Day.
If you liked this post, and want more, you can subscribe to be on our mailing list here, and make sure to get your free Cupcake Toppers Printables for Every Occasion.

Feeling social? Follow ChicaCircle on Facebook or Twitter, and follow me on Pinterest or Instagram.