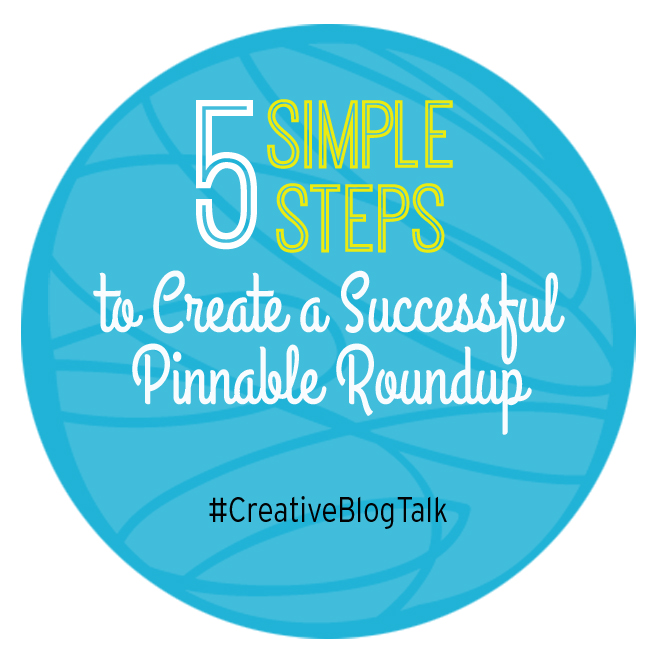 Welcome to our Creative Blog Talk Series where we take a brief break from crafting. We are on a mission to share blogging tips to help fellow bloggers avoid any mistakes we've made along the way and also introduce ways to grow and achieve big bold blog goals. We invite you to join us on this journey.
Today we are breaking down the steps for building up a highly pinnable roundup. Creating a roundup post (an article featuring a list of other people's content or products) can be a strategic way to make connections with other bloggers while also providing interesting content to your readers. When done well, your roundup can get 'pinned' on Pinterest and continue to generate traffic to your site.
Whether you are a roundup newbie or a prolific roundup artist, check out the 5 simple steps below to see if you are factoring in the different elements of a successful pinnable roundup.
1)  Choose a clever topic
One way to create a roundup that catches the reader's attention is to select a clever topic. For example, "20 Magical Ways to Use Mason Jars This Christmas" from Country Living is more enticing and a little more specific than '20 Magical Christmas Crafts'. One of our most pinned roundups on Club Chica Circle is "25 No Carve Pumpkin Decorating Ideas" which is a niche topic to overall pumpkin decorating.
You may notice that all of the sample titles above contain a number in the title. The number is a trigger to the reader that there is a valuable amount of content (by using large numbers like 15, 20, 25, 50) or that it is a digestible amount in everyone's busy schedules (like the 5 steps title in this post). If you are more interested in the psychology of using numbers in a title (and specifically odd numbers) check out this article from Baker Marketing.
2)  Curate pictures and posts to feature
Beyond a clever topic, it will be the pictures and unique items to feature that will bring attention to your roundup. When selecting feature items, you will have better blog karma showcasing other bloggers rather than selecting content from major media sites (like MarthaStewart.com). Look for links to posts that have really clear and bright images. The quality of the pictures that you feature will be what captures the attention of the readers. How can you find a list of items to feature without spending all day surfing the web? Try these three approaches:
Post a request on private blogger Facebook groups – asking for links to ideas that fit your selected topic.
Search on Pinterest for items fitting your topic that also have amazing images. Pin potential ideas to a secret board. Once your roundup is live, you can flip your secret board to public status. (By keeping your pins secret until you are ready – you are not flooding the feed with your pins that may overwhelm your followers if you pin too much of a topic in one sitting.)
Use Elance for research help. Occasionally, we have proposed projects on Elance for help researching a blog topic. For $25 or less, you can get a list of links on your topic. If you hire someone from Elance, be specific about your request. We also recommend posting the job on a fixed rate basis (vs. hourly).

Sample Elance request

:  Blog Research for Christmas Mason Jar Crafts needed. Create an Excel document with a list of links to 25+ Mason jar craft ideas for Christmas. Excel List should include blog name (spelled and capitalized correctly), links to the craft posts, and craft name (also spelled and capitalized correctly). Focus on blogs with clear images. No more than one link per blog. Select links from crafty individual blogs and not large media sites.
3)  Check permissions and photo policies
Rule number one in blog sharing etiquette is to use no more than one image from any featured post. For every item in the roundup, we review the content and photo sharing policies on the respective sites by looking for permission to use a single image without pre-approval. For any sites that specifically request no use without prior approval, we leave them off the roundup. If it is unclear, we may use the link in the list but not the photo in the main photo collage. It is generally accepted, unless specifically noted otherwise, to feature other bloggers in a roundup with a single photo. The traffic that it can bring to other sites is worth the sharing.
Side note: Refer to Uncommon Designs for an excellent photo sharing policy posted prominently on their front page.
4)  Create your pinnable photo collage
To give your roundup post the best exposure and eyeballs on your site, it's ideal to have a really stellar and compelling roundup collage image. In the beginning of our blogging journey, my co-blogging sister Pauline was creating photo collages by hand in Photoshop. That can be really time consuming. All we can say is, thank goodness for apps that can do the work for you!
When it comes to photo collages, there are two apps on the iPhone that we use regularly to create a collage image, PicFrame or Fotor. We like that in both of these apps you can customize your layout to how many images you are putting together, and you can select the picture ratio, from 1:1 (square images) to a 9:16 ratio (which is a long vertical image). If we have a really long roundup image to make, like the 25 No Carve Pumpkin Decorating Ideas, Pauline will actually create 2-3 separate collages and then put them all together in a Photoshop program to create one bigger collage image. If you don't have Photoshop (you can subscribe from the Creative Cloud for $9.99 a month, or buy Photoshop Elements for $119), you could also use PicMonkey (which is free).
As long as you have your images in your camera roll, you can create your collages right on your smart phone. I usually create a folder in my dropbox with images to put in my roundup, and with my dropbox app on my phone, I then download them to my camera roll. Now, my collage apps have access to the images with which to create a collage.
The other really important thing to consider in your roundup collage image is your title. Sometimes we leave an empty photo space in the collage for a title, or we will add it at the end in an editing program (Photoshop or PicMonkey). There are also apps that can help with this too, but my graphic designer sister likes to make any final edits in Photoshop where she can make sure the image size isn't too huge, and can make sure to create a really great looking title. I still use PickMonkey and have also started exploring Canva. Sometimes we will add numbers to the collage images, but other times will just let the images speak for themselves.
5)  Promote the roundup
Once your roundup is live, you can go through a normal cycle of promotion (pin the main collage image, post to Facebook, tweet, post to Google+), but you can take one further step by tweeting or posting on other Facebook walls for those that you have featured. Even though we get pingbacks when we are featured, it is sometimes the tweet mentioning us or the Facebook comment on our wall that gets the real notice.  When we are included in a tweet, we are more likely to retweet and extend the promotion. I love this clever roundup tweet from It Happens in a Blink: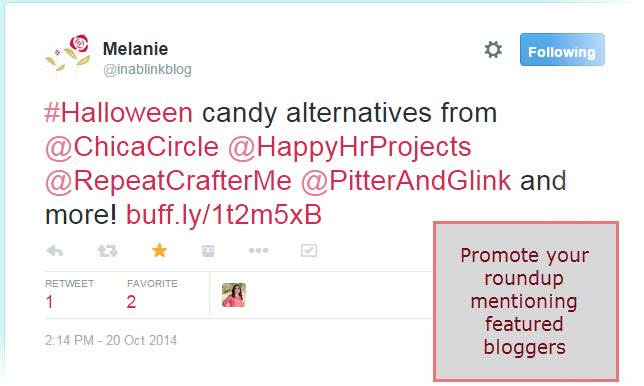 Do you have any roundup tips to share? We would love to hear from you in the comments below. If you already have this nailed, you can share your links to your most popular roundups below so we can all benefit from the different examples.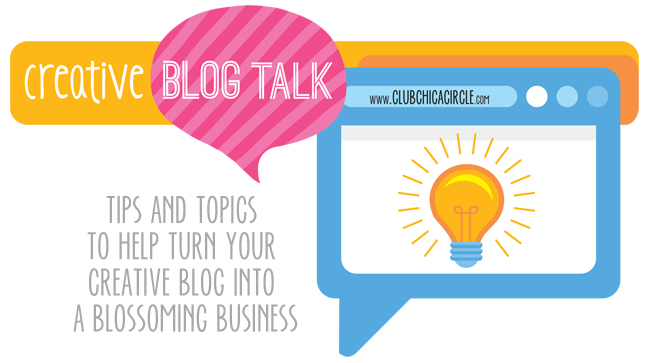 As we continue our Creative Blog Talk Series – we would love to hear from you! What topics would you like to see us talk about? You can comment below or fill out our Creative Blog Talk Series form. We will continue the series here, but also send exclusive content directly to #CreativeBlogTalk subscribers. Sign up here for free.
We hope you catch up on our past posts: