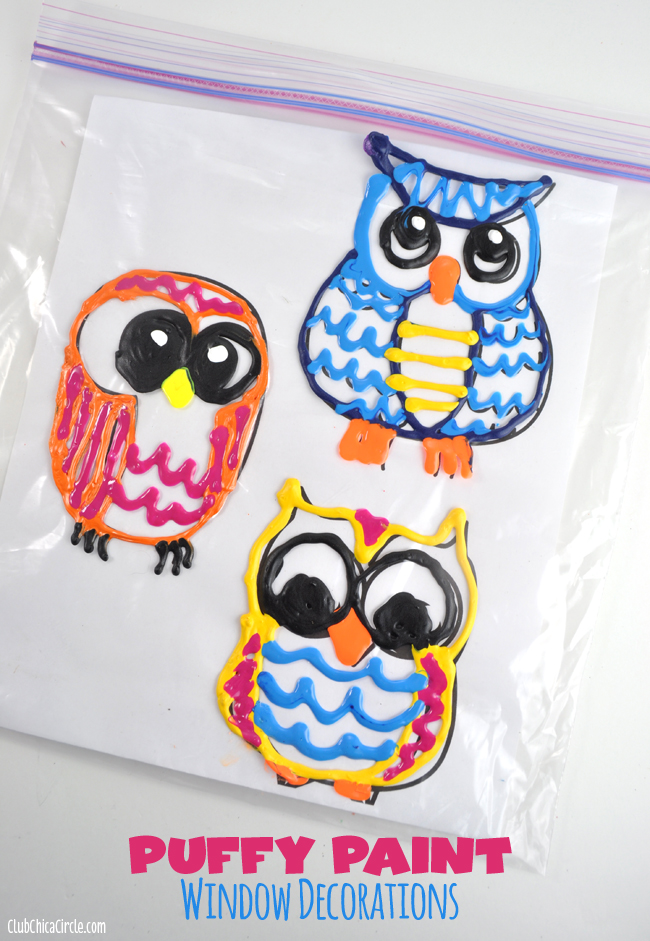 In response to one of our favorite posts of all times, I wanted to share an update and more fun templates for Fall!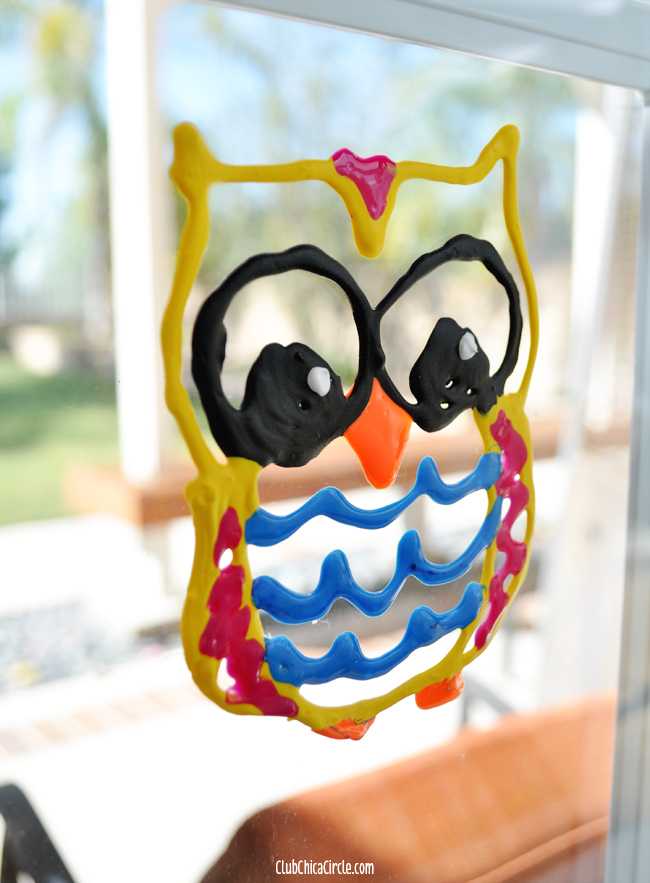 We have almost done puffy paint window decorations for every occasion—Snowflake and Ornaments, Glow in the Dark Halloween Skeletons, "Movember" mustache and glasses, Fourth of July fireworks, and even Puffy Paint bracelets. I thought it was high time to feature a Fall inspired one with Fall leaves and Owls.
First of all, I love owl crafts and leaf crafts, and I don't know how I didn't think to do window decorations for them before now!
Really the steps are super simple—and perfect for kids to do! You can decorate your windows for every occasion!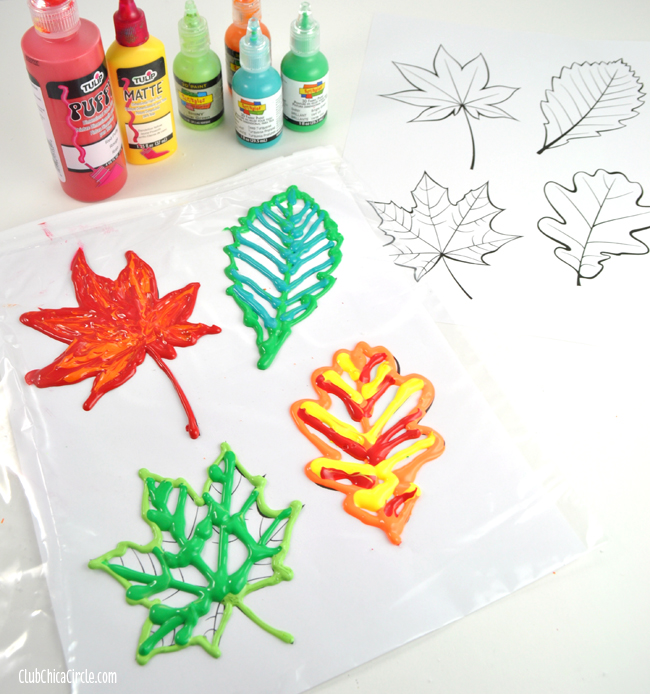 After doing so many of these, I have found my favorite technique is to use a template within a plastic storage bag or a clear plastic page protector sleeve.
As I mentioned, I have created two templates for you to work with:
Fall Leaves Template for Window Clings Free Printable
Owls Template for Window Clings Free Printable
But keep in mind, you can pretty much use anything as a template. I've used a design on a bag as a template, you could use coloring pages, or search for free images on the internet for what you are looking for.
The one rule of thumb is that all of your lines for your puffy paint design should meet and connect in some way.
For instance, on my owl designs, I wanted to add some extra details on the belly and wings of the owls, so I just made sure they were connected on either end of my template design that I had already drawn in with puffy paint.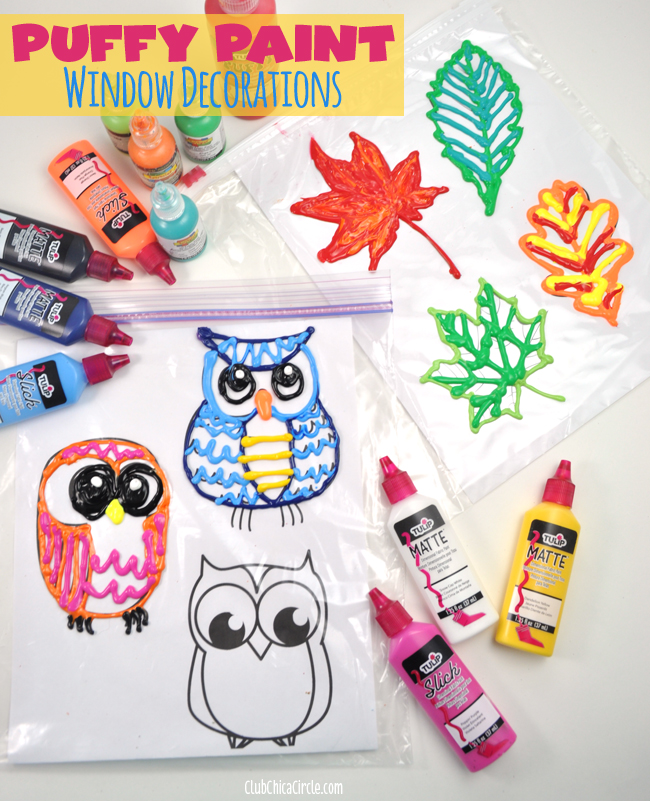 Besides that, there are a variety of paints that this will work with. I have heard from many readers that glitter glue has worked, some have made their own homemade puffy paint. I use either paints that are labeled "puffy paints" or 3D fabric paints generally.
After you draw your design on the front of the plastic surface (with your template underneath), you must let it dry completely. I always think that it should be dry in a few hours, but really I generally let them dry overnight to be safe.
When they are dry, I simply peel them away carefully from my plastic surface and apply to a window or mirror. That's it!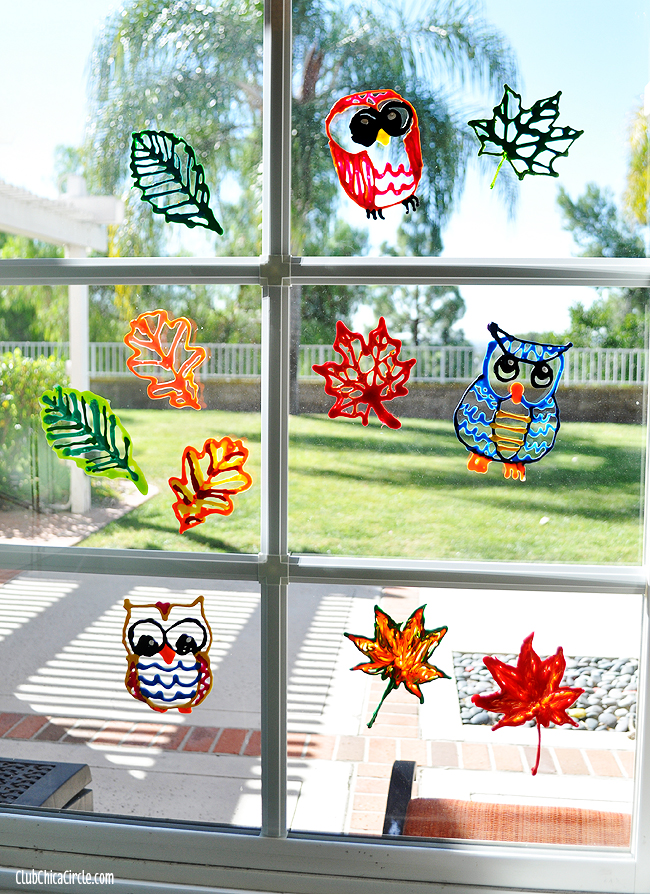 When I am ready to remove them from my window, I simply peel them away. I may need to use a little glass cleaner to get off any residue, but they usually peel right off.
I love how cute the owls turned out.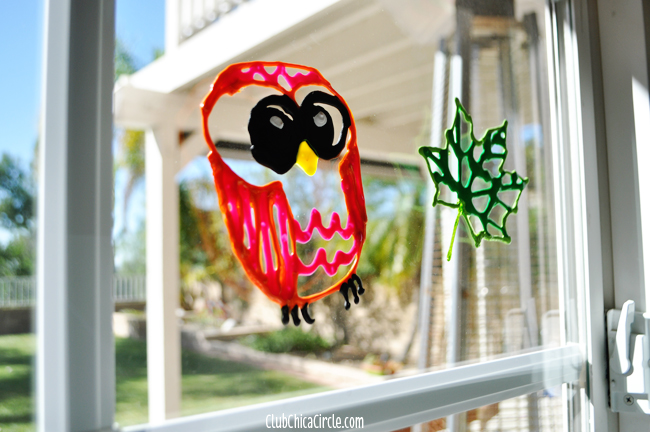 I even tried a "toothpick painting" technique with a few of my Fall leaf designs.

I applied 2-3 different colors of puffy paint, and then used a toothpick to mix them colors around and create a cool design (see above).
Get your windows ready for Thanksgiving and celebrate Fall with these fun window decorations!
Enjoy!