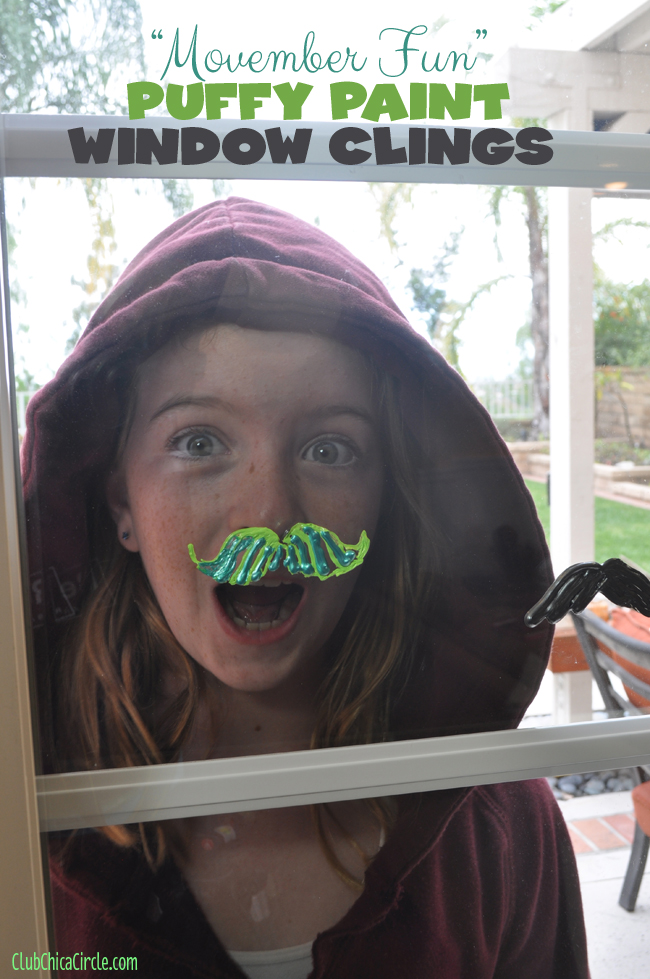 It's Movember! No, I didn't spell November wrong.
Movember is mustache growing time to raise awareness for prostate cancer in men, much like the pink ribbons do in October for breast cancer in women. My husband has participated and grown a full-0ut beard in years past. And, my tween, being the crazy character that she is, has always been obsessed with mustaches.
I thought it was time for a fun window cling project. Last year during the holidays we made snowflake and ornament puffy paint window clings, and I've had a lot of good comments and questions on that post.
So I thought I would give some helpful hints and what I've learned. They are super simple to make, and trust me, you will be hooked to make them for every occasion.
Tip #1: you can use most any surface that does NOT have a porous surface. I've made these on wax paper, acetate sheets, clear file sleeves, and plastic storage bags. I prefer to use the surfaces that you can bend. I think it helps when peeling up your window clings.
Tip #2: Put the puffy paint on thick and let dry overnight. For really thick designs, you may have to let them dry longer. When peeling off your designs, test one slowly to make sure it is dry enough to peel away.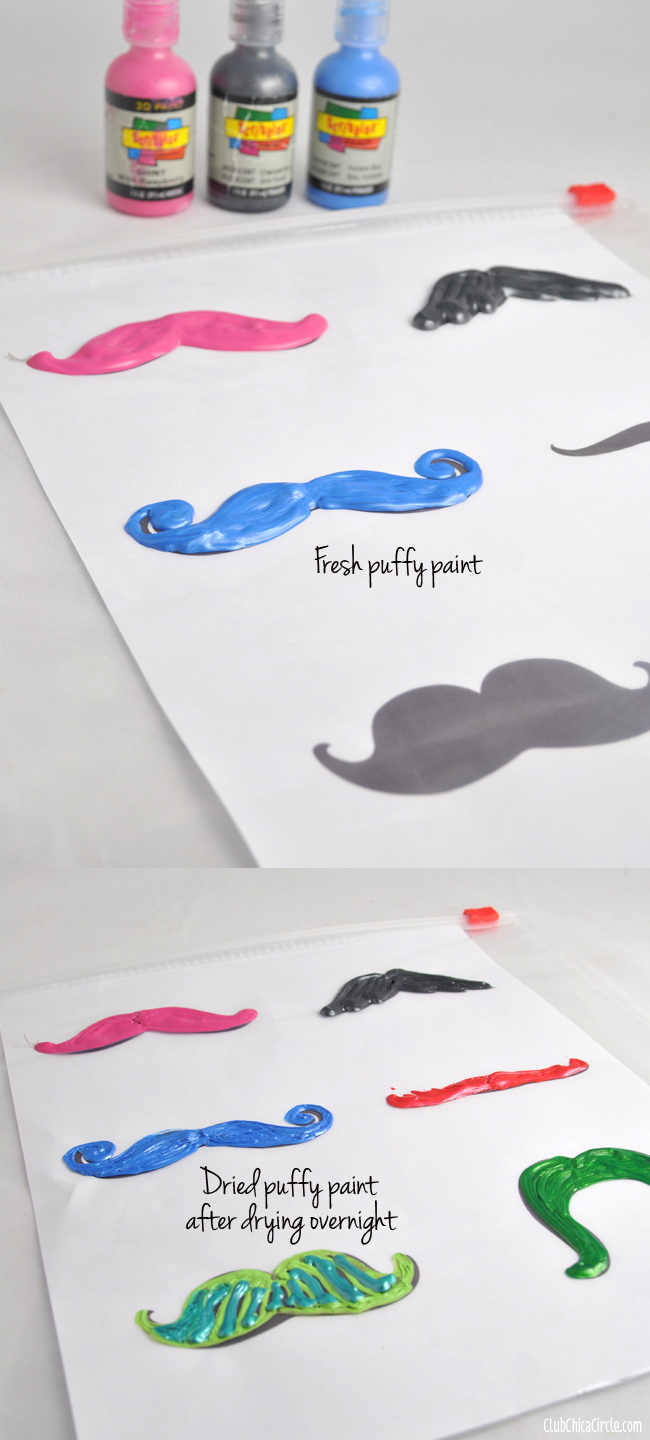 Tip #3: Make sure all of your lines are touching and that they aren't too thin. As you can see, they definitely shrivel up a bit, and if your lines aren't touching they may not peel away in nicely keeping your design intact.
Tip #4: Most dimensional paints (fashion and acrylic), more commonly called "puffy paints" will work to make fun window clings. I've tested out the Scribbles brand dimensional fabric paint, the DecoArt Americana dimensional acrylic writers, and the Tulip brand puffy paints. They all worked, but I'm not going to lie, the Tulip brand were my favorite to work with for this craft.
Once you have made your window clings, they make fun window decorations, or even mirror decorations. We were having fun with them on our bathroom mirror taking turns making funny "selfies". We even our dog, Rocket, got involved. Hee-hee.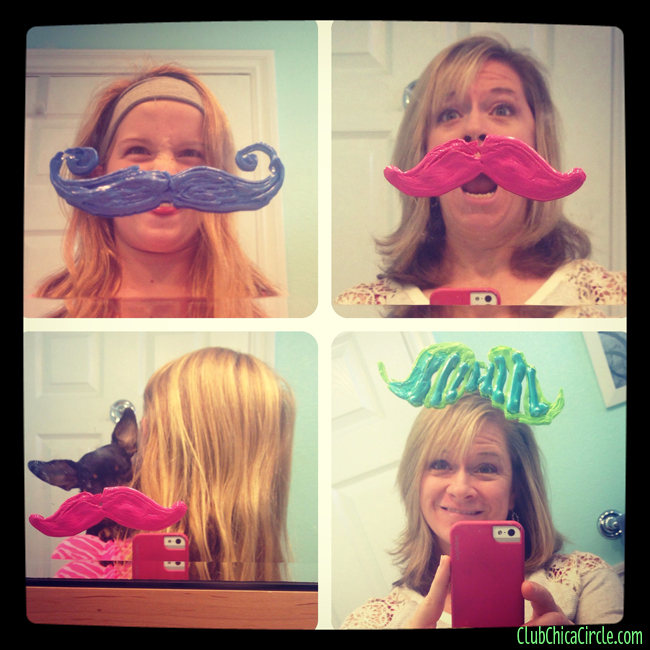 We had fun playing with the perspective. Mustaches make a great hair bow right? = )
But I couldn't stop with the mustache fun. Last "Movember" holiday season, this is one of my favorite pictures of my girl and husband together.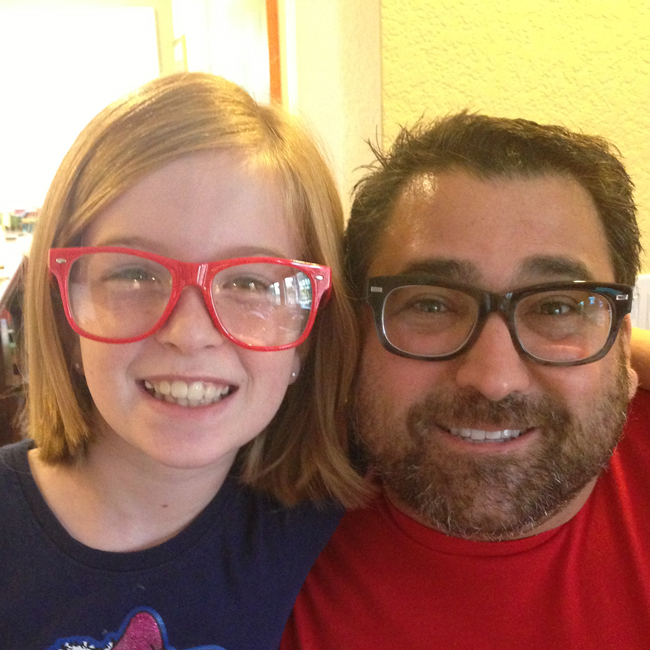 Maggie is all about the fashion glasses, and my handsome Italian husband is in his full beard glory. The two of them were quite a pair.
So, I couldn't resist making a fun glasses template too!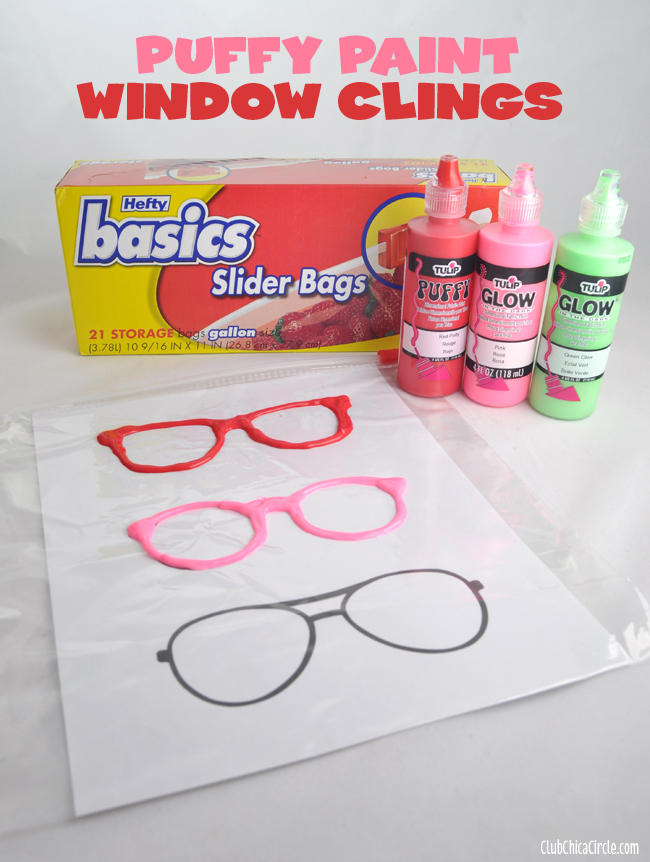 And I really wanted to test out the Tulip Glow in the Dark puffy paints.

Um…completely satisfying—both on the window and in the bathroom mirror! Need I say more?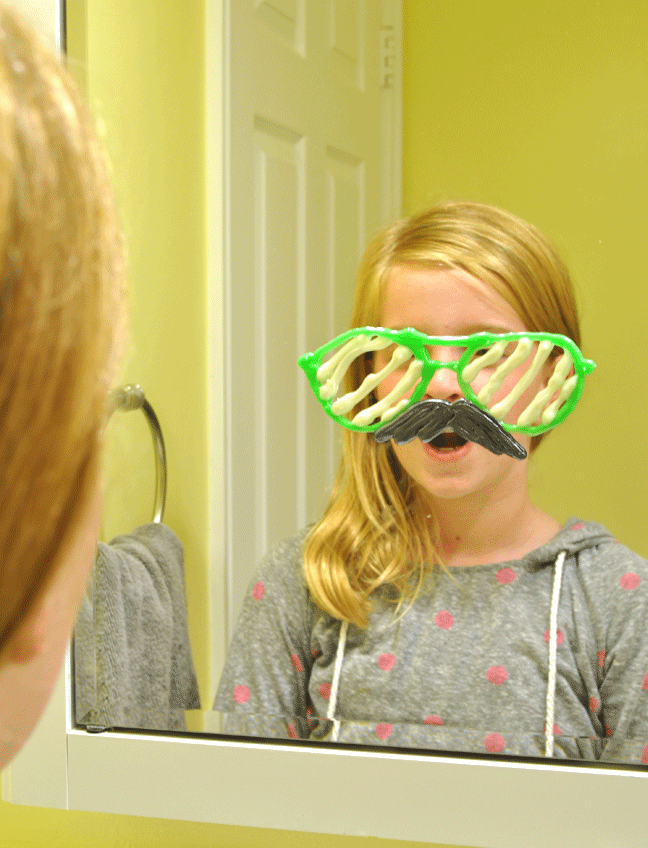 And when you turn the lights out, this is what you see.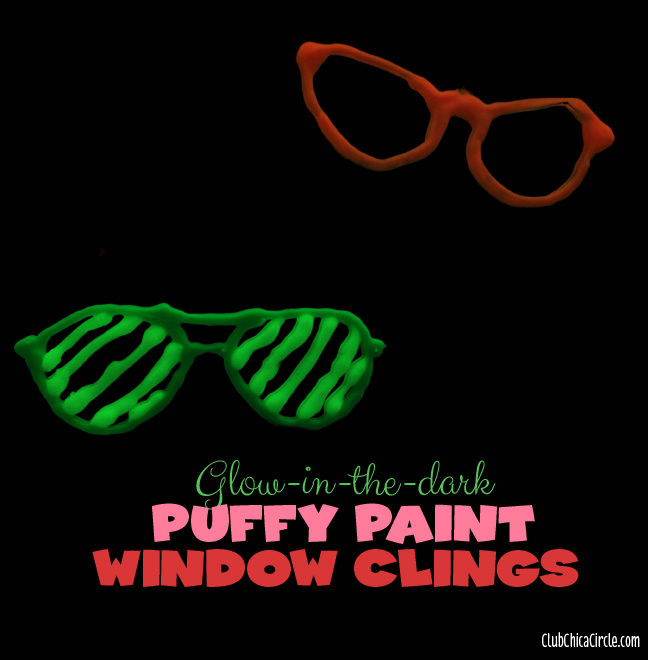 Love it!
Grab your free printables here:
Puffy Paint Window Cling Mustaches Printable
Puffy Paint Window Cling Glasses Printable
Have some Movember family fun!
Enjoy!
If you liked this post, and want more, you can subscribe to be on our mailing list here.
Feeling social? Follow ChicaCircle on Facebook or Twitter, and follow me on Pinterest or Instagram.