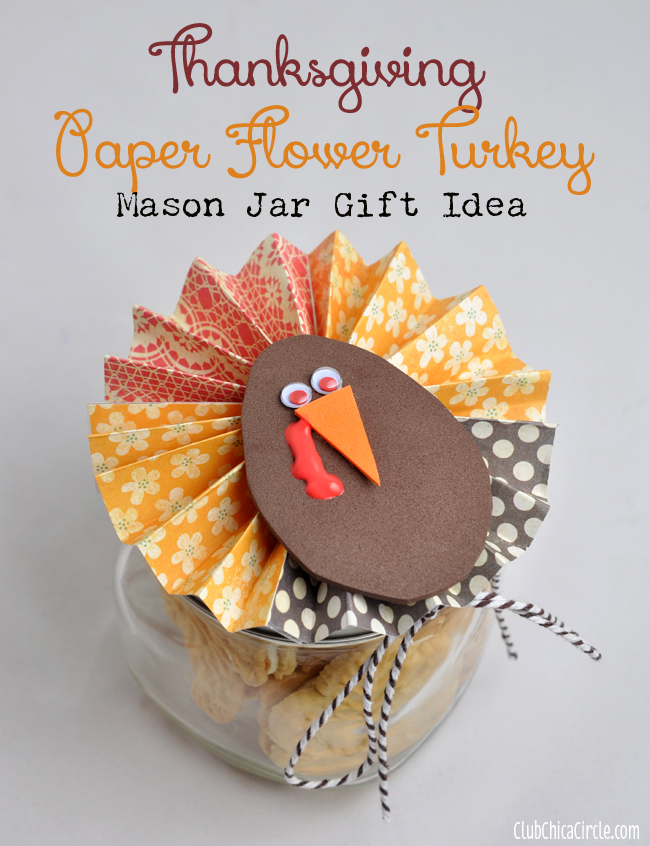 Gobble-gobble! This festive turkey is just hankering to make a new friend. = )
With Thanksgiving right around the corner, this simple craft idea is a great gift idea for teacher's before the holiday break, or for neighbors and friends to brighten their day. Simply dress up a mason jar filled with goodies with this super cute Thanksgiving paper flower turkey.
This technique of making a paper flower burst shape is pretty easy, and can be used in a variety of different ways. It could make a cool bow on a package. I've made them into pretty badge pins for my daughter's girl scout troop. I'm telling you, learn this fun paper flower technique and stay tuned for lots of great applications of it.
So let's get started!
The first thing you will need is paper. I love using patterned scrapbook paper for this craft. There are so many cool patterns and designs out there, and they are the perfect size and paper weight to make gorgeous paper flowers.
Imagine that the paper flower burst is the colorful wings of the turkey and it's body. I picked a pretty pattern with a red tone, a yellowish orange tone, and a brown tone.
First I cut 2″ wide strips from the patterned paper. My scrapbook paper sheets were 12″ x 12″ to begin with.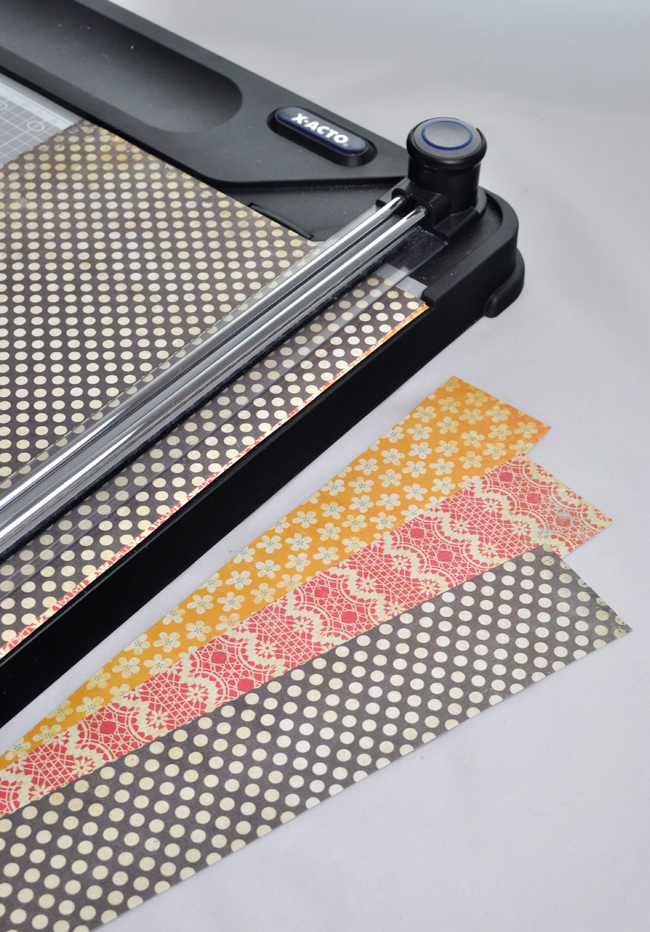 Then I cut the 2″ wide strips in half, to make 2″ x 6″ strips of each color.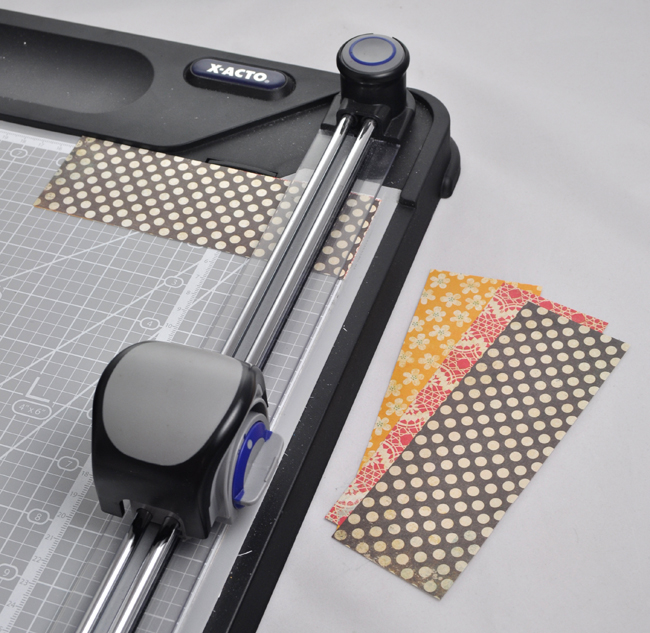 Here is what else you will need to make your own paper flower turkey:
orange and brown foam sheets
scissors
glue gun
wood circle, at least 1 1/2″ in diameter
transparent tape
dimensional paint or puffy paint
googly eyes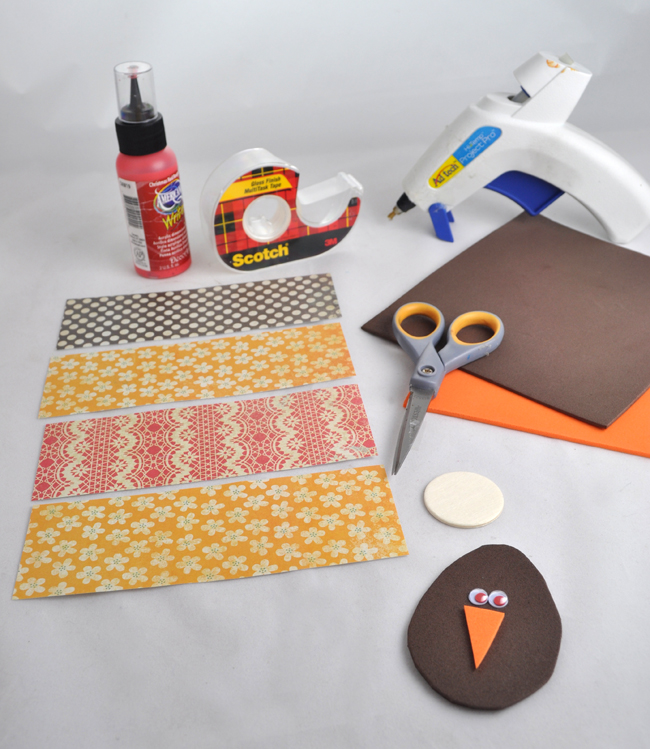 For the turkey body, I cut out a small triangle nose, and an egg shaped turkey body. My triangle nose is about 1″ long and 1/2″ wide. For the turkey body, I cut an egg shape from 2″ x 2 1/2″ piece of brown foam.
To make the turkey paper flower, line up one red strip, two orange strips and one brown strip together end to end as shown below and tape them together end to end. You will then have one long strip 24″ x 2″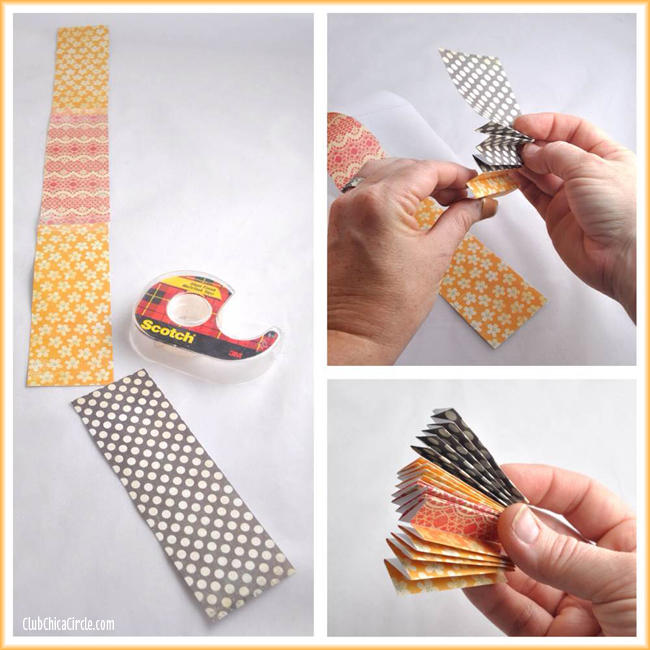 Then, start accordion folding the long strip (like a fan) with approximately 1/2″ creases. I started folding where two of the papers met so that I knew it would make a perfect crease.
Keep folding until the whole length of paper is creased and folded.
Now, it's time to attach the two outer ends to make a circle.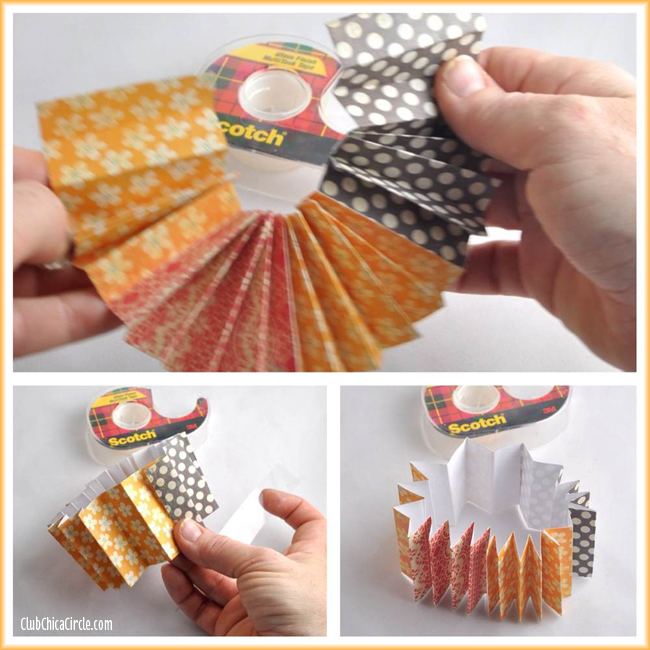 Form a circle with your creased paper strip and tape together.
Now, here is where the magic happens. Get your glue gun ready and hot to use, and your wood circle next to your paper circle. You will need both hands to work with here.
With one hand on each side of the paper creased circle, pinch each side pushing inward and down until it forms the paper flower burst shape. You might want to do it a couple times to practice and know you have the hang of it.
Squirt some hot glue on your wood circle. Then make the paper flower burst shape again and place right on top of the hot glue in the middle of the circle. Hold until the glue dries slightly and is able to hold the burst secure.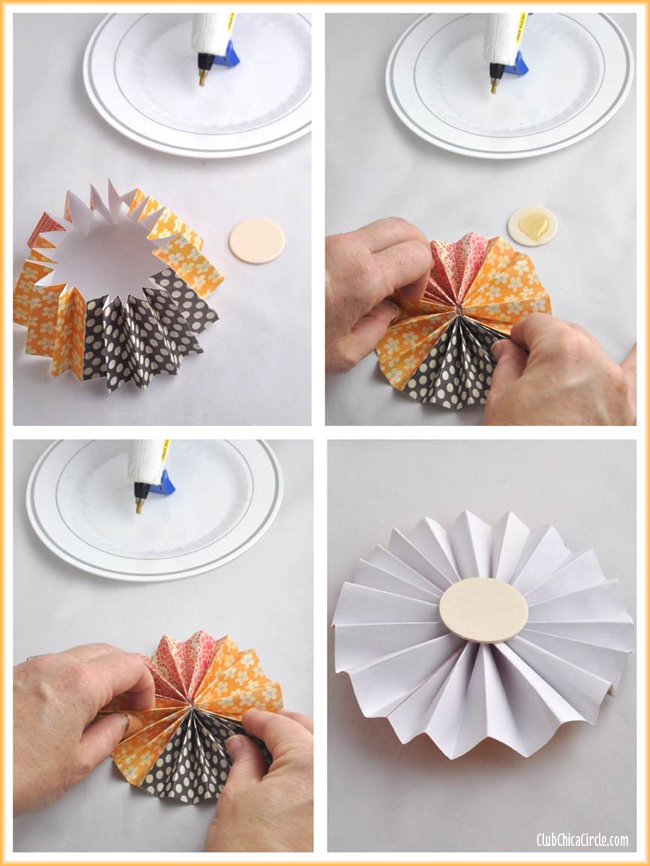 Let it dry and you have made your paper flower!
Now it's time to add your turkey body. With a little hot glue attach the nose and eyes onto your turkey body shape.
Then, with hot glue on the back of the turkey body, attach to the front of the paper flower burst lining up the brown paper at the bottom and letting the red and orange papers fan out like feathers.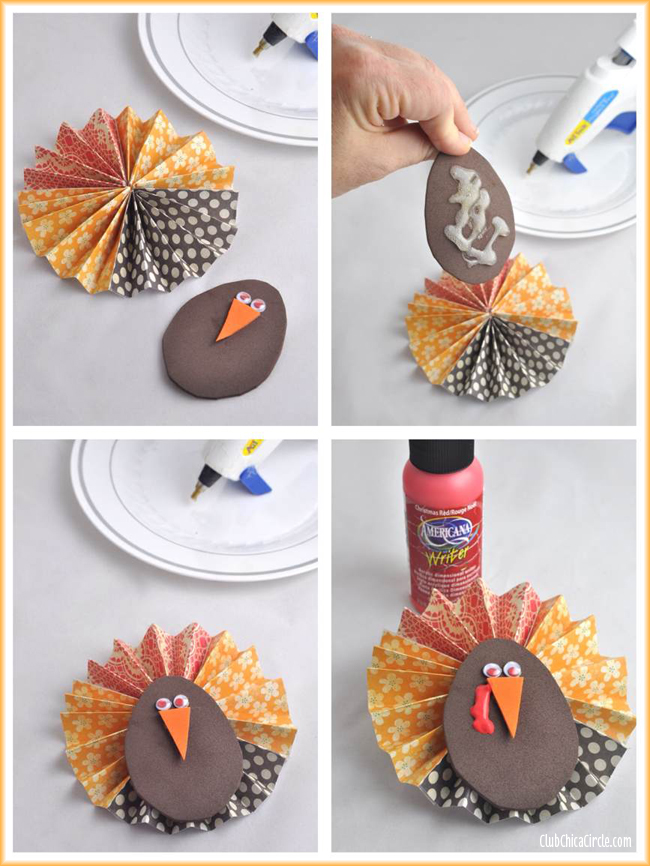 Voilá!
Finish off with one last detail. Add a squirt of red dimensional paint next to the beak for the wattle of the turkey and let it dry.
Now prepare your gift jar. I used a shorter squat 16 oz mason jars like these.
With a sheet of orange cardstock paper, I traced the the top lid and cut it out.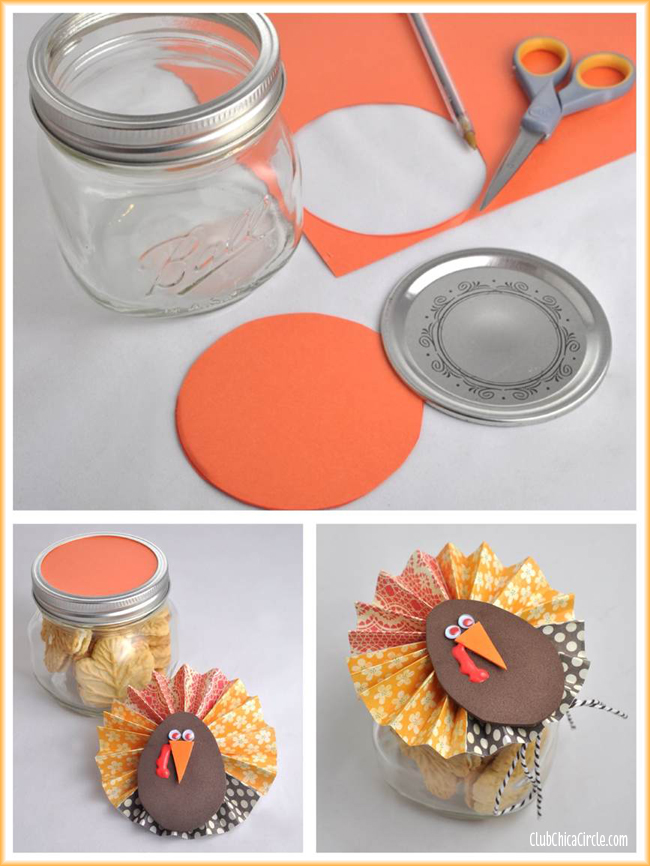 I filled my jar with yummy cookies and replaced the lid back on with the orange paper in between the bottom lid and the lip of the top lid.
Then with a little more hot glue, I attached my paper flower turkey onto the middle on the paper lid.
Finish off with a little baker's twine or pretty ribbon and you're done.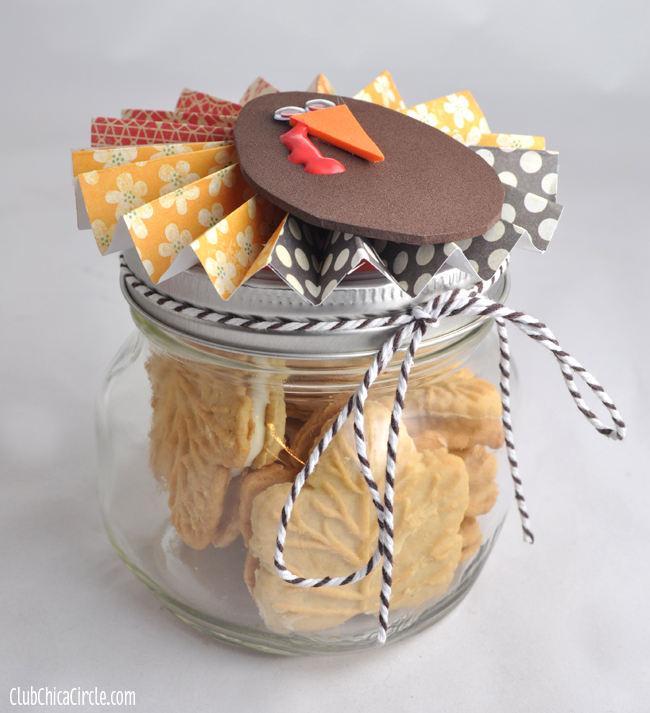 Your turkey gift jar is ready to gobble it's way into someone's heart… or belly. =)
No jar, no problem.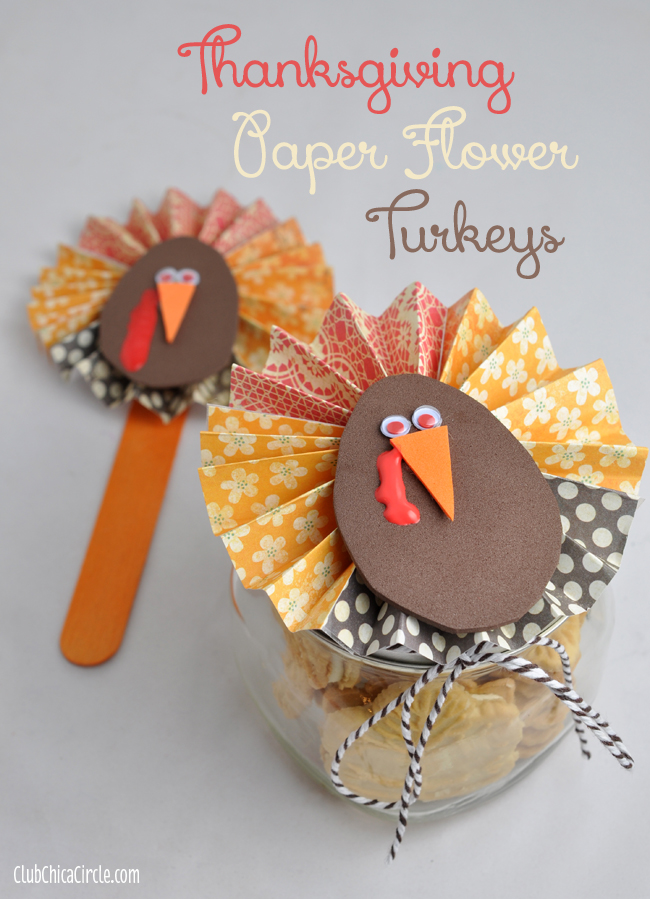 You can attach your paper flower turkey onto a craft stick. Use it as a mini loaf topper, or cake topper. Or use it as a fun table setting for Thanksgiving table.
All I know, this craft is too cute not to spread a little gobble cheer.
Enjoy!
If you liked this post, and want more, you can subscribe to be on our mailing list here.
Feeling social? Follow ChicaCircle on Facebook or Twitter, and follow me on Pinterest or Instagram.