I recently had the pleasure of attending CHA 2014 Winter Show, or the coolest events from the  Craft & Hobby Association. It is the conference where all crafty and creative brands show off all of their new products for the year. I got to see and sample things that won't be in stores until the Spring.
And it is one of those conferences where it is common to have a "Make and Take" in your booth. You could literally spend all day going from booth to booth crafting and making cool things.
I met crafty superstars like DIY Gurus Cathie & Steve from Handmade Happy Hour or super fancy and crafty Handmade Charlotte.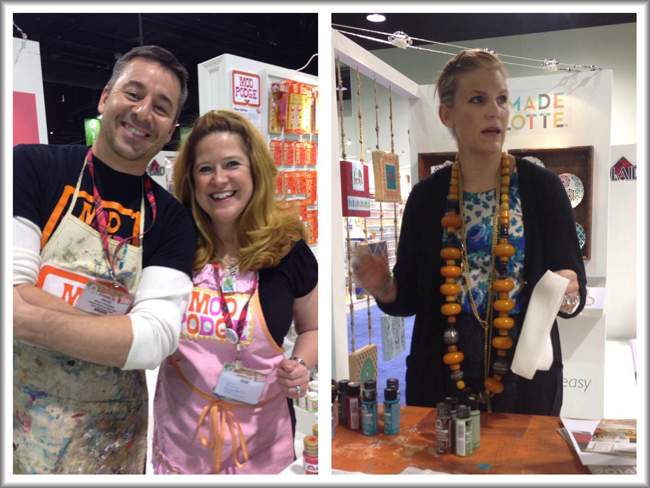 This is the kind of conference like no other. You can expect to see things that you normally wouldn't in any store—things like the 7 Wonders of the World recreated in yarn, or Prom gear fashioned only with Duck Tape.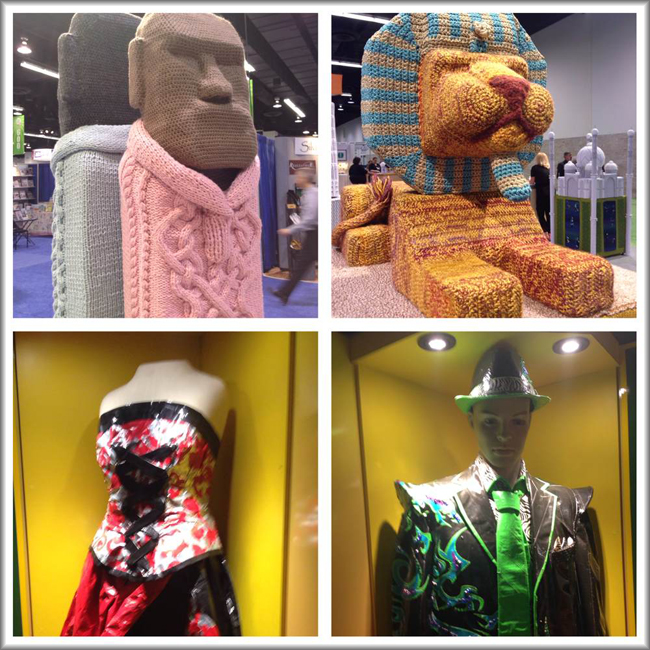 At the show I saw so many new products that I cannot wait to try out.
Here is my shortlist of some of my favorite finds:
Chalkboard Fabric Paint from Plaid.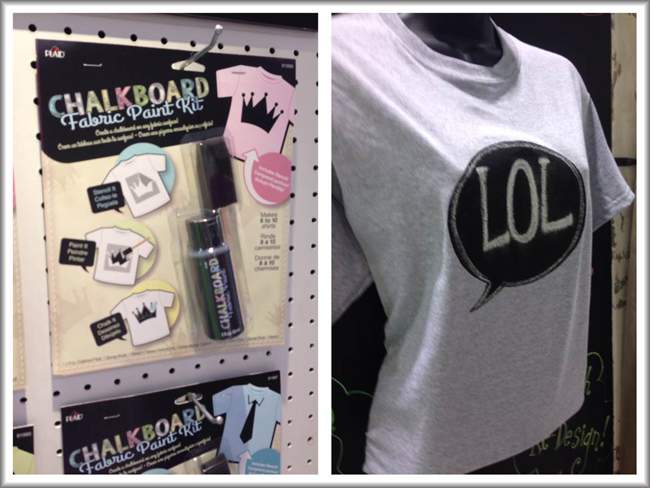 I love chalkboard paint and have covered a table with it and made a cool rustic wood trivet, but I have to say, I never thought about trying it in fashion! So cool.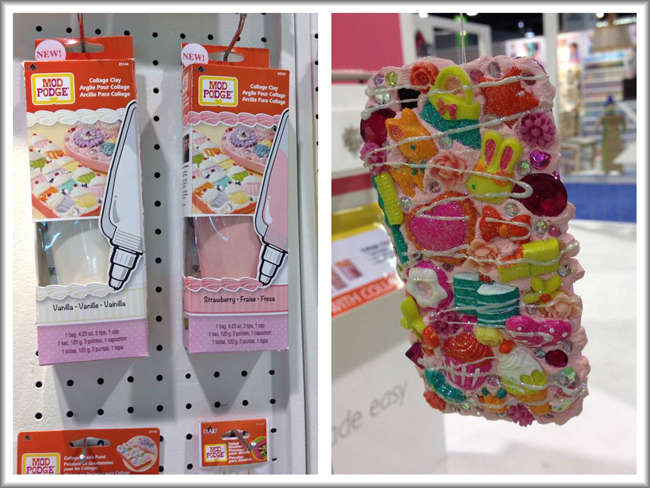 Ok, if you know me, you know I love to craft with caulk. I've made cupcakes and fun wreaths and frames with caulk. But this collage clay from Mod Podge looks like the perfect non-toxic substitute!
Self-adhesive Stencils from Plaid.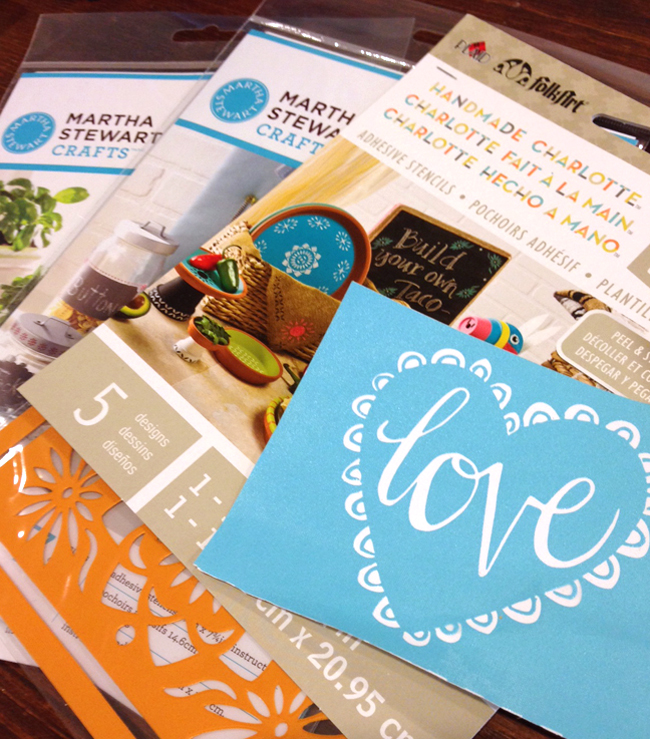 With lots of cool designs to choose from across all of their brand lines, I can't wait to test these out. I've used stencils many times before 0n homemade bulletin boards or party trays, but I am looking forward to testing out the adhesive variety. The package says that each stencil will hold up for 20 washes!
Clover French Knitter for rubber band bracelets.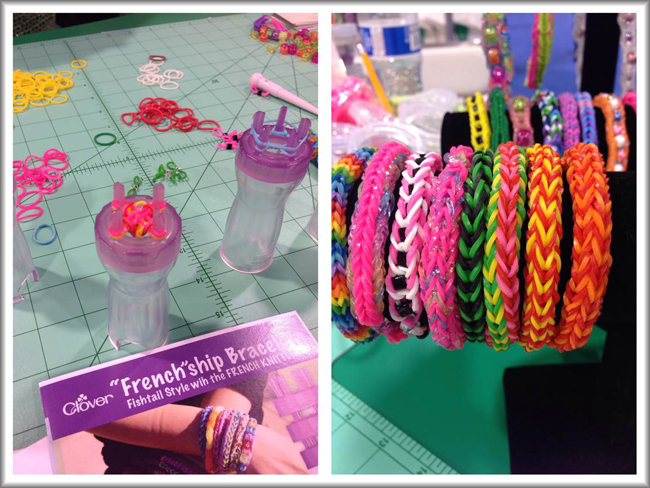 This one isn't a new product, but a new way to use one of their classic knitting loom products. With the popularity of Rainbow Loom creations, this was a new way to look at how to weave bracelets.
New Duck Tape Designs and Glittery Tapes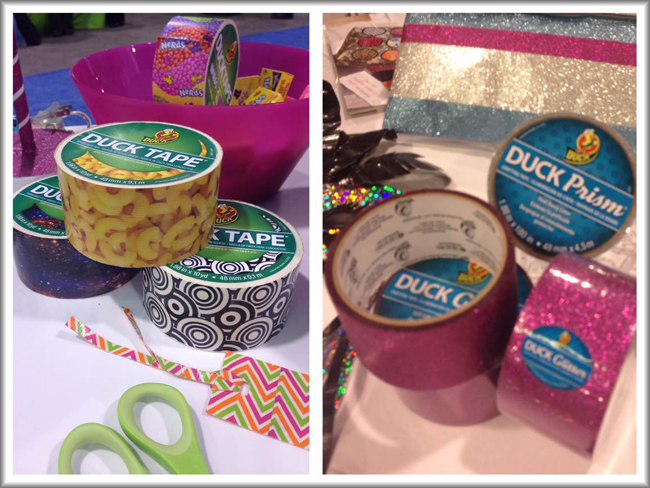 We LOVE Duck Tape crafting from Holiday stockings to pretty roses. With new funky designs like Mac 'n' Cheese and Nerds to Glitter and Prism tapes, it is going to be a crafty fun sparkly year!
Phoomph for Fabric and Sashay Mini Tween-inspired Yarns from Make It Coats and Red Heart.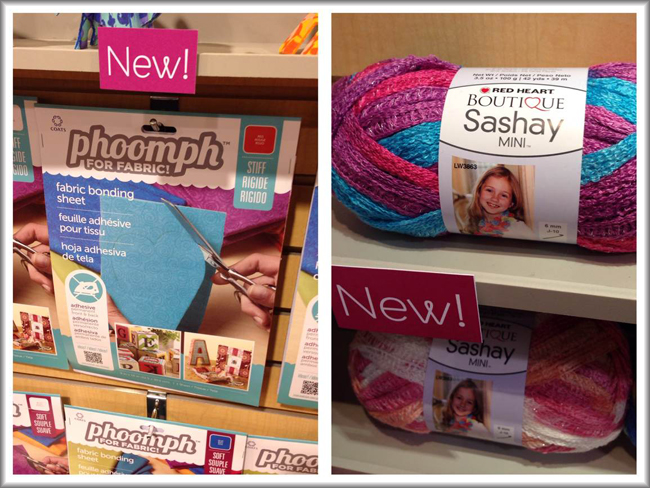 Imagine giving any fabric a little "oomph" and stability to craft with. That is exactly what Phoomph is meant to do with it's double-sided adhesive front and back.
And, I love when a company takes notice to what younger crafters like. They have taken their regular Sashay line and created a Sashay Mini line that is a little bit thinner yarn for smaller bodies. Not only that, their color palette for tweens and teens is spot on ranging from cool pastels to bright neons and bold vibrant combinations.
MD Hobby & Craft Metal Sheets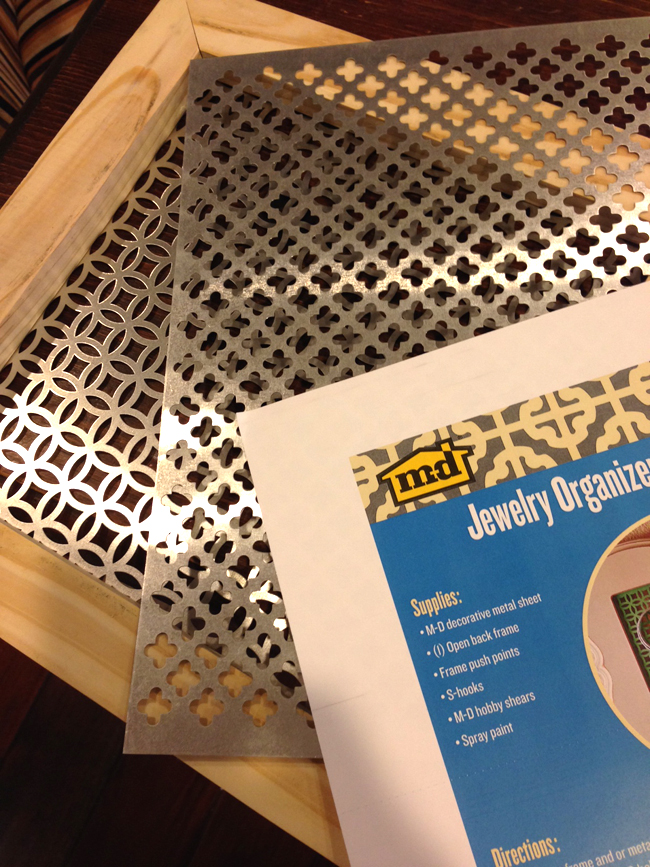 One of the coolest things I saw at the show, and something I had no idea was out there. These 12″ x 12″ decorative metal sheets can be used in so many crafty DIY ways. I love the patterns they come in and can't wait to share some crafty adventures with them.
Lumi Sun Printing Kits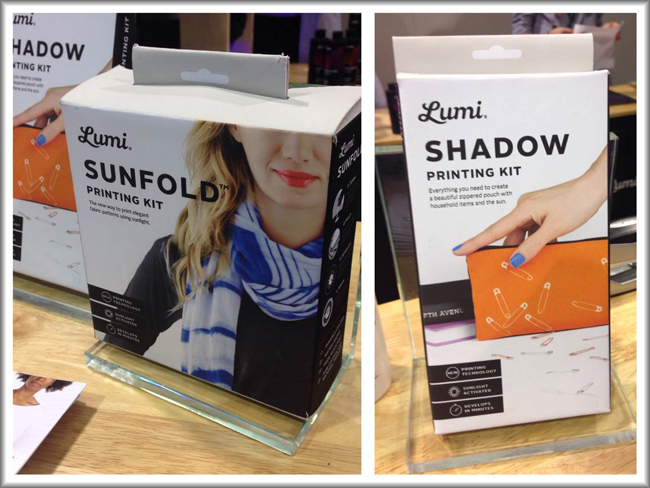 We am always up for a crafty fashion experiment, and this one seems too cool not to try with my tween. After applying special ink and masking off certain areas of your fabric with either an object, tape, rubber bands, or a negative film of a photo, you play your fabric in the sun to be exposed and create a one-of-a-kind print. They have even developed an app to use if you want to see the effects you might get or turn one of your photos into film easily.
Reflective Yarn from Red Heart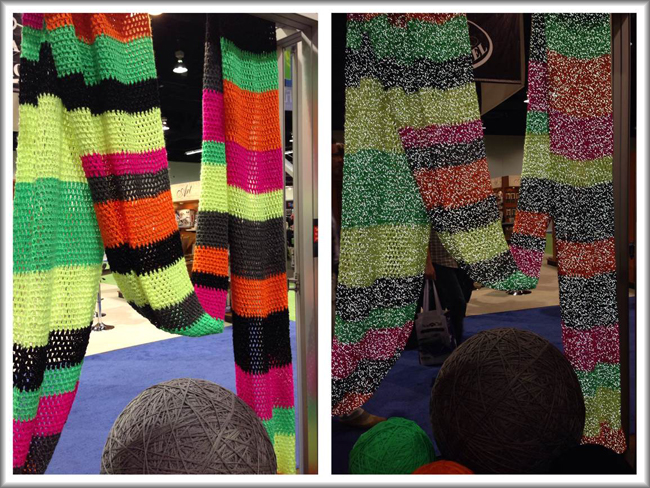 Ok, I wouldn't have believed it if I hadn't tested it out myself. It looks like regular yarn with vibrant colors available, but as soon as you take a picture of it with the flash on – you can immediately see the reflective specs in the yarn pop out.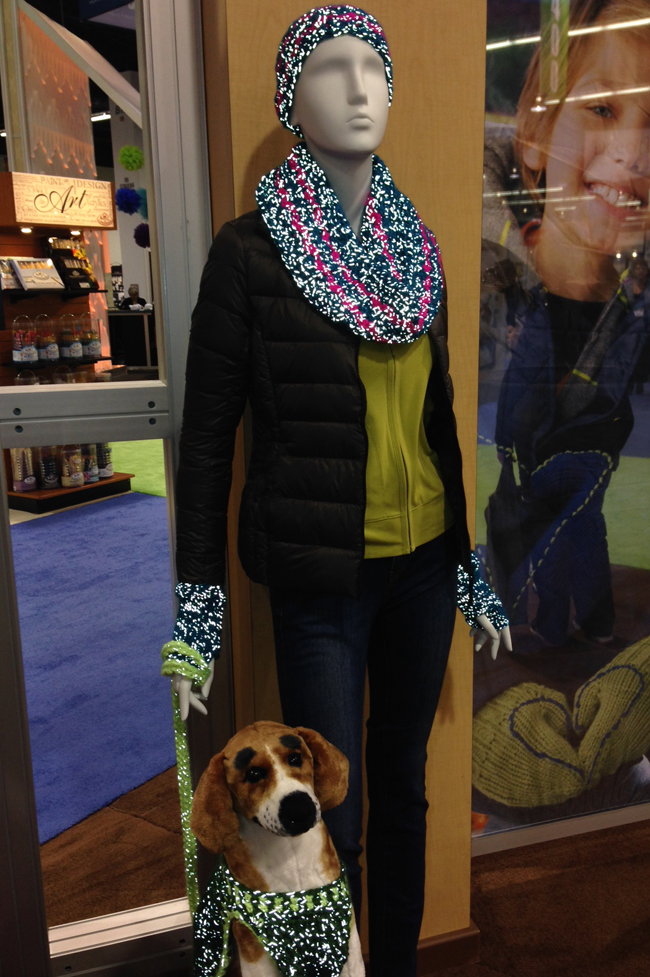 Just imagine the possibilities!
Whew! I know I said shortlist of items, but I couldn't help sharing all of the cool things I saw at CHA.
Let me just leave you with one thought I saw at the show.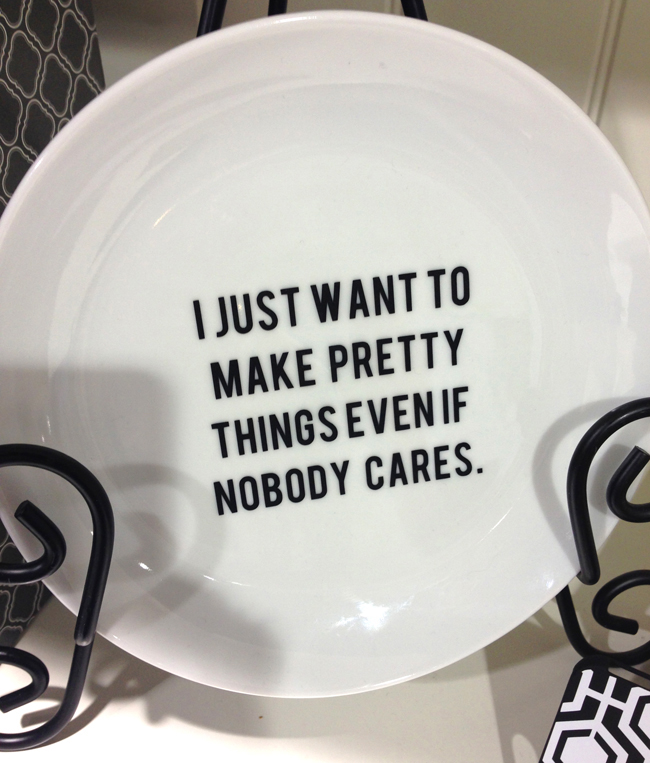 Isn't that why we all are creative and crafty? No matter the result, it is the journey that matters. Am I right?
Keep an eye out for some of these cool products in the store, and I will be sure to share any creations I made with them.
Happy Crafting!
If you liked this post, and want more, you can subscribe to be on our mailing list here, and make sure to get your free Cupcake Toppers Printables for Every Occasion.

Feeling social? Follow ChicaCircle on Facebook or Twitter, and follow me on Pinterest or Instagram.