We are definitely getting into the Halloween spirit over here. I have been dying to try a crafty experiment using Kitchen and Bath sealant as the base. Yes, you read that right, Kitchen and Bath sealant?? The thing is, I know this substance is pretty thick, it can hold a shape, and it is easy to press things into before drying. I wanted something different than using regular glue or a hot glue gun. Something that you could see and not want to hide like regular glue. I wanted the sealant to be a part of the craft. Believe me, when I pulled out the craft materials for a bit of weekend crafting with my tween, she couldn't wait to dive in.
Here is what I grabbed:
Kitchen & Bath Sealant, I used DAP Kwik Seal Plus in Bright White (caulk might work too – that may have to be my next experiment)
Styrofoam ring for a wreath (I found a great one at the dollar section at Target) and/or blank frame (I used one that I got in a two pack at IKEA really inexpensively)
Various Halloween plastic toys or decorations (we used rubber skeletons, plastic party rings, googly eye ping pong balls, etc.)
The steps are simple. You simply squirt on the Kitchen and Bath Sealant onto your surface, and place items on top. I could barely squeeze the sealant on fast enough for my tween to place the Halloween items on top. The squiggly way the sealant came out of tube added to the look of the wreath, I think.
The most important step is that when you are done placing your items – LET IT DRY! Don't touch for a few hours, and let it dry completely.

I also used a hot glue glue, Halloween ribbon, and shredded party paper (for gift filler) to finish off the wreath. I glue them onto the back and then the wreath was ready for hanging.
For the frame, I used the sealant tube much like I would if I was decorating cupcakes. I swirled on little dots along the bottom and zig-zag swirls along the sides. We cut off the rings from the plastic rings so that the cool spiders laid flat on top of the squishy sealant. I think the result turned out so cool looking!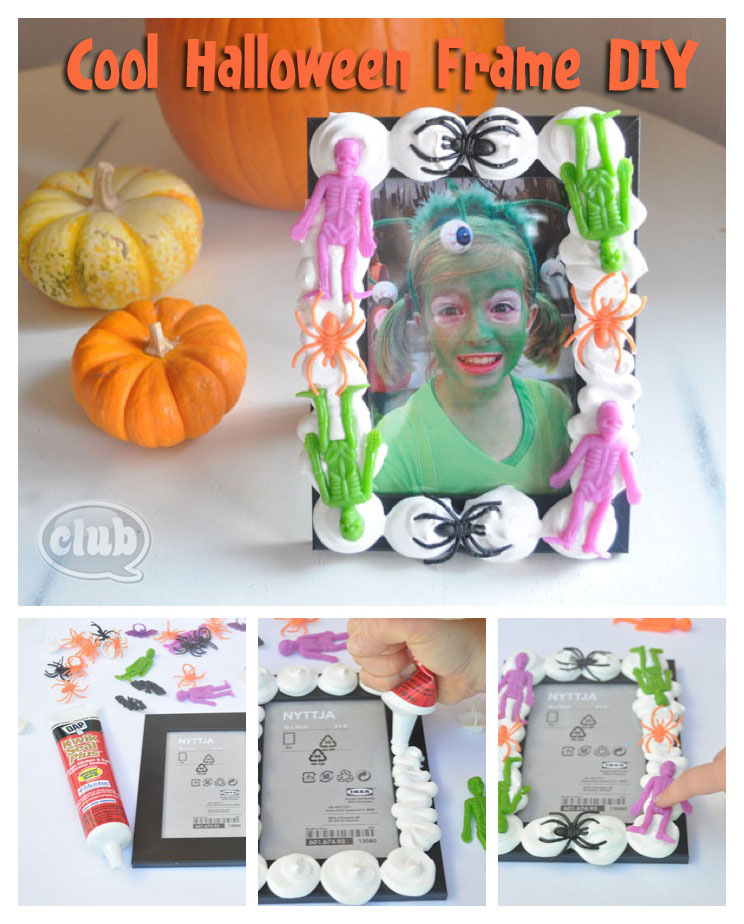 I'm telling you, you are going to be hooked! Try this fun Halloween craft with your tween. The frame makes a great decoration or homemade gift, and the wreath is perfect homemade crafty addition to your door.
Enjoy and happy crafting!
If you liked this post, and want more, you can subscribe to be on our mailing list here.