Ok, the real reason I wanted to do this post is to help learn the tween rainbow loom language.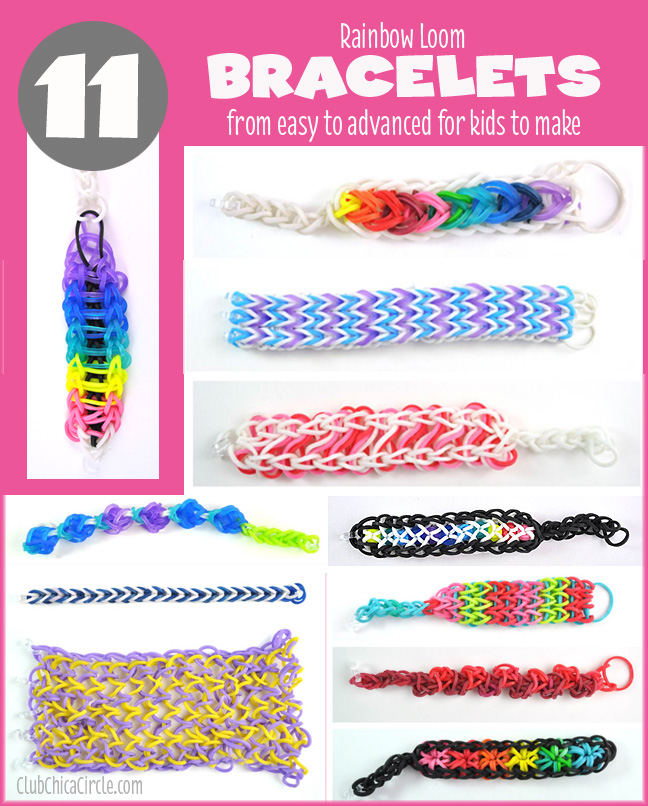 Every time my daughter makes a new design with her Rainbow Loom I ask her what it's called, and I always get an answer like she is ordering a drink at Starbucks. "It's the double-single, Mom, or the rainbow triple-single."
There are tons and tons of video tutorials out there, and honestly that is the preferred way my daughter likes to learn a new design. Obviously some tutorials are better than others.
I really like the video tutorials on the original Rainbow Loom channel, and the Parenting Channel also does a really good job. And I have a couple kid instructors that I'm huge fans of like Olivia's Looms and Crafts channel.
I've watched all of the videos below, and tried to pick the easiest ones to follow for each. I've given you estimated band counts for each bracelet, because I know that is usually helpful when deciding which bracelet to design. I have tried to give you the minimum needed, and for some you may need a few more for extenders on the end. And all of them require at least one C-clip or S-clip on the end to form the bracelet closure.
Now for our guide for our top 11 rainbow loom bracelet picks in order from easiest to hardest: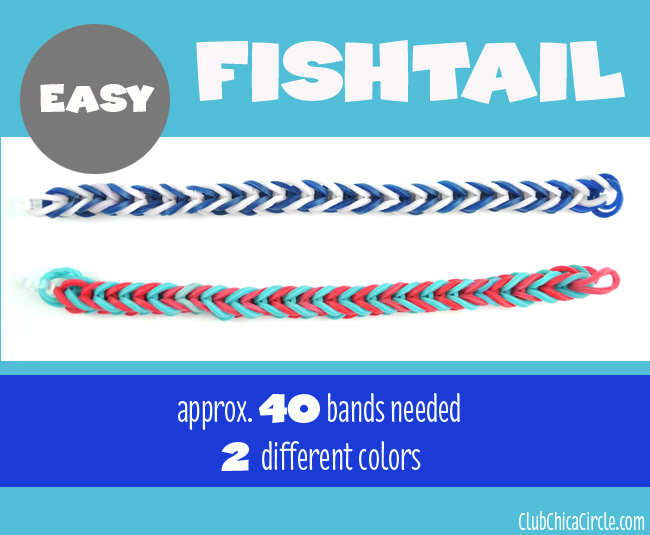 1. Fishtail
This one is one of the first Rainbow Loom bracelets you (or your kid) will most likely make. You can tailor it to how long you want it. For my daughter's size wrist, about 40 bands were used.
You could keep on looming and make a necklace or headband or even belt if you had enough bands. This one you make on just a couple pegs of your loom and the bracelet continues off the loom as long as you want to make it.
Fishtail Bracelet video tutorial here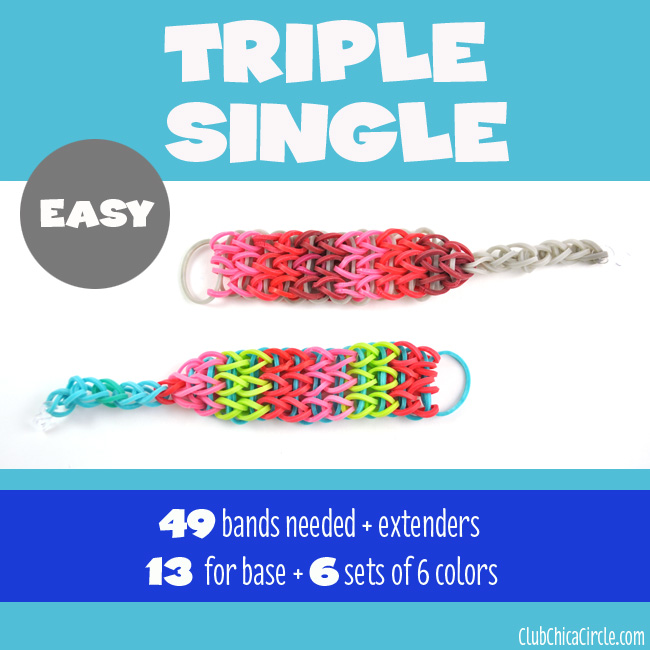 2. Triple Single
This one is one of my favorites, and these are actual bracelet that I keep in my jewelry collection. I requested an ombre triple single, and my girl delivered!
You can really have fun customizing your color palette for this easy Rainbow Loom design. Below are two video choices, one for the basic technique and one for a rainbow colored bracelet.
Triple Single Bracelet video tutorial here
Rainbow Triple Single Bracelet video tutorial here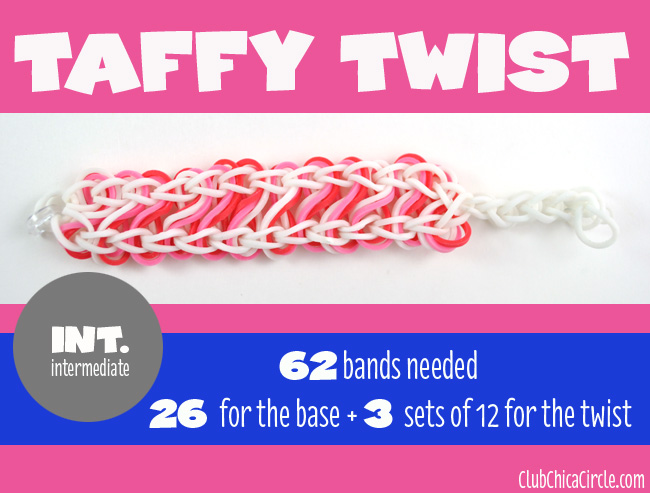 3. Taffy Twist
I love the swirly design of this one. Once you master twisting 3 colored bands on the loom, then this one is relatively easy.
Taffy Twist Bracelet video tutorial here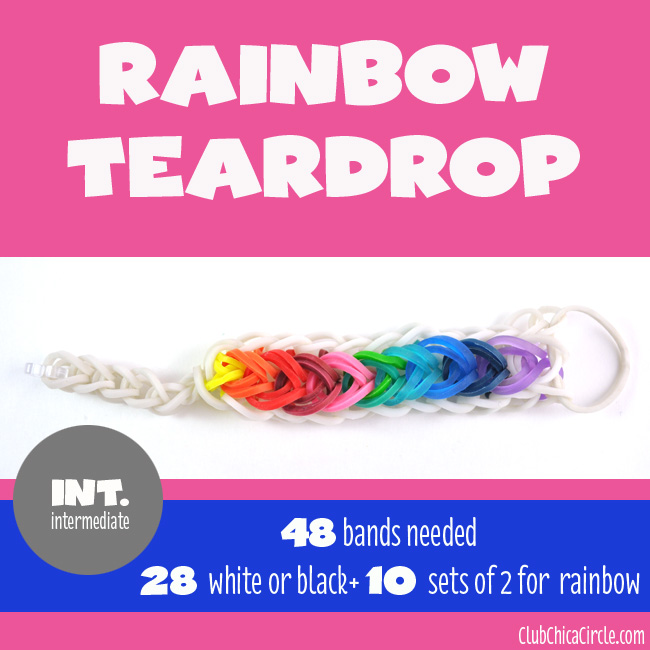 4. Rainbow Teardrop
This one you can make with your own color design, alternating 2-3 different colors versus making a rainbow, but the rainbow design is so pretty and popular with all of these bracelet designs.
Teardrop Bracelet video tutorial here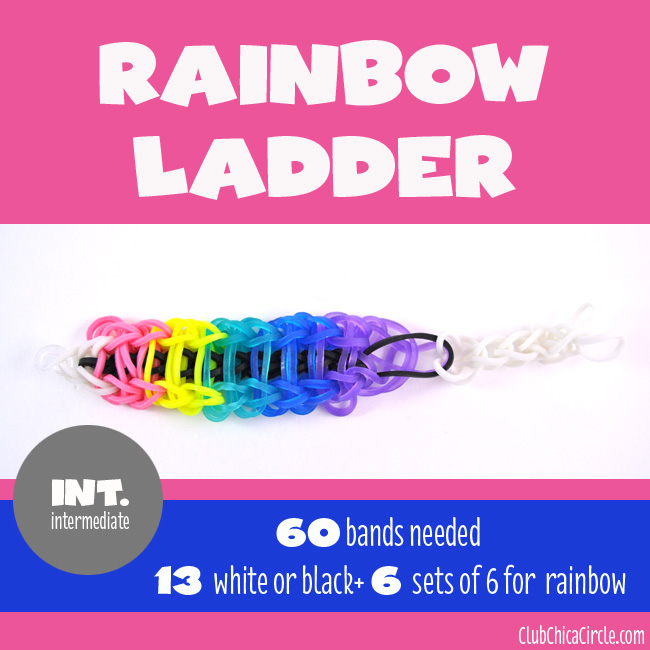 5. Rainbow Ladder
Just like the teardrop design above had the rainbow on the inside of the bracelet design, this one switched it up a little and has the rainbow on the outside. 60 bands are needed plus extra for extenders depending on your wrist size.
Rainbow Ladder Bracelet video tutorial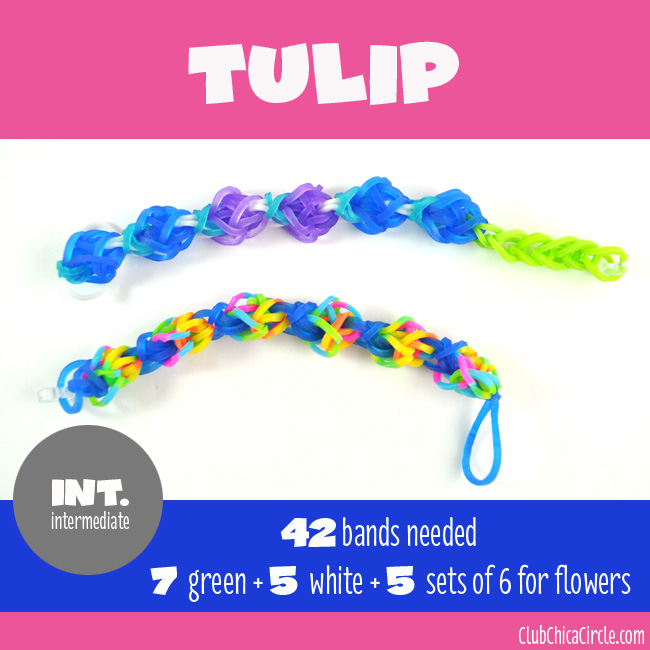 6. Tulip
This design truly does remind me of cute Spring tulips. The bracelet pictured on the top uses one color per flower. The one tulip bracelet pictured below it, my daughter used multi-colored neon tie-dye bands to make each "tulip" and got some really pretty results.
Tulip Bracelet video tutorial here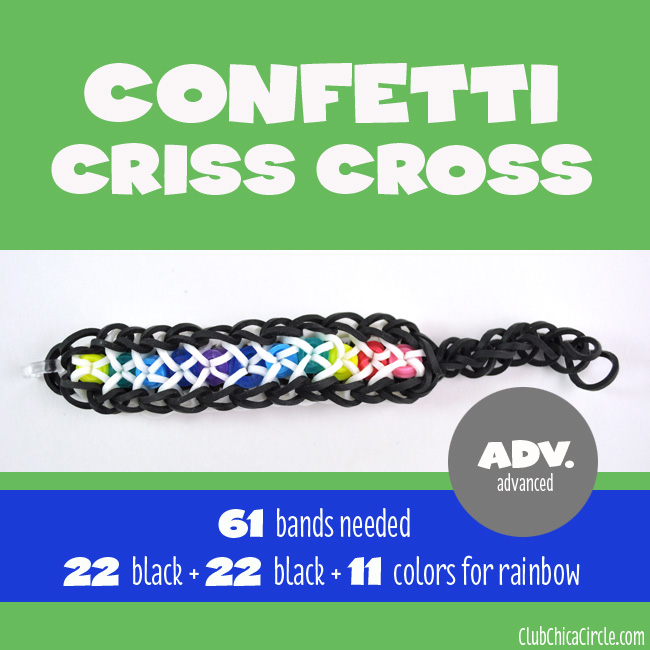 7. Confetti Crisscross
Just looking at this one, you know this design is a bit more complicated. This one is really cool to show a rainbow pattern underneath the crisscrosses.
Confetti Crisscross Bracelet video tutorial here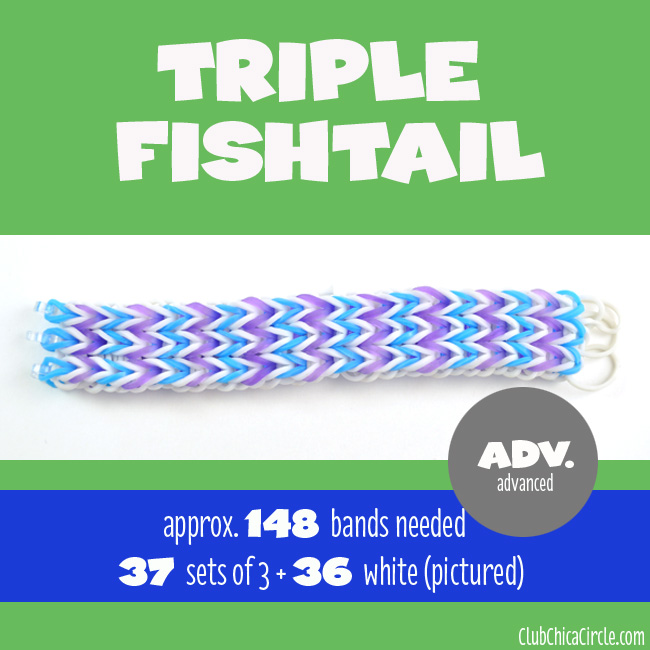 8. Triple Fishtail
This is a super popular bracelet design, and like the easy single fishtail, this one is made by looming the bands off of the loom. You use 6 pegs, and you can keep making this one as long as you desire. The weight of it is pretty substantial compared to the other bracelet designs and you can tailor your desired color palette to it. For this size bracelet which fits my daughter's wrist, you need almost 150 bands. Also, the other tricky thing about this one is that it takes 3 c-clips.
Triple Fishtail Bracelet video tutorial here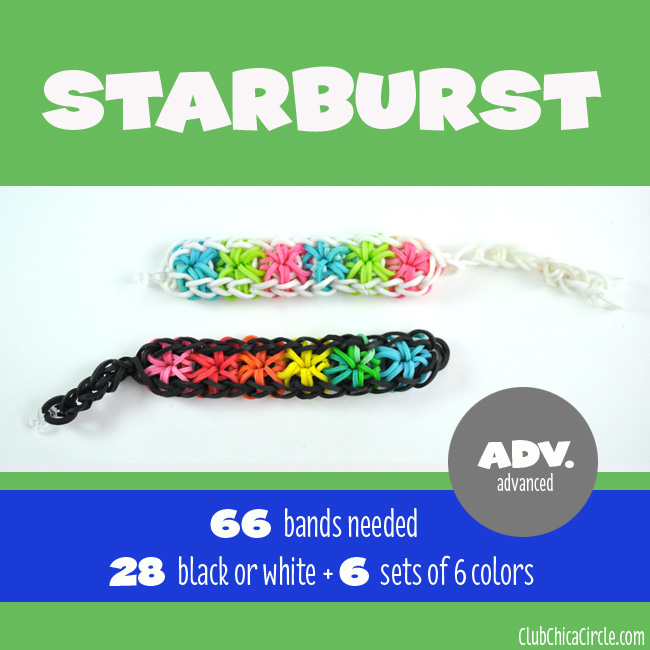 9. Starburst
I love this bracelet design, and it's so easy to customize your colors. You could go with a popular rainbow design, pick 2 sets 3 different colors, or 3 sets of 2 colors. Either way, the results are really pretty.
Starburst Bracelet video tutorial here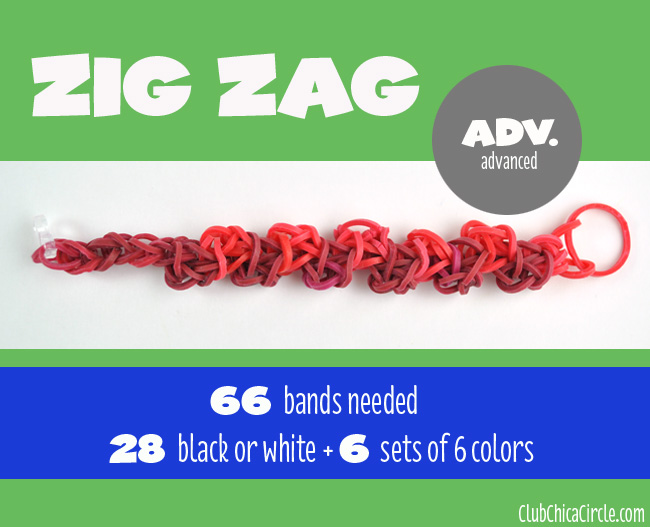 10. Zig Zag
This one reminds me of the tulip design, but with the "flowers" zig-zagging off to the sides. I love the almost ombre effect my daughter designed on this one as well.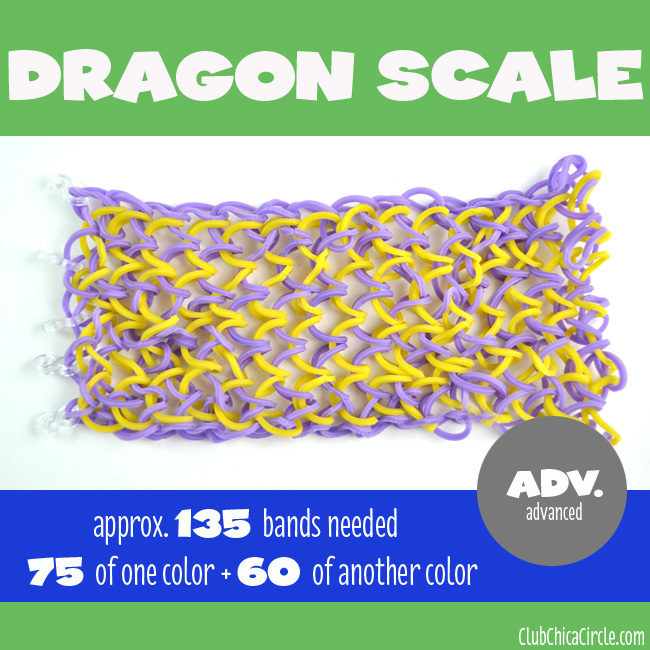 11. Dragon Scale
Ok, this one may look easy, but it does take patience and a bit more time to weave than the other designs. Like the fishtail type bracelets, it is woven off of the loom and you can make it as long as you desire. It takes at least 5 S or C-clips and creates a cool cuff bracelet design.
Dragon Scale Video Tutorial here
And for more Rainbow Loom fun, check out these 7 Rainbow Loom charm designs here.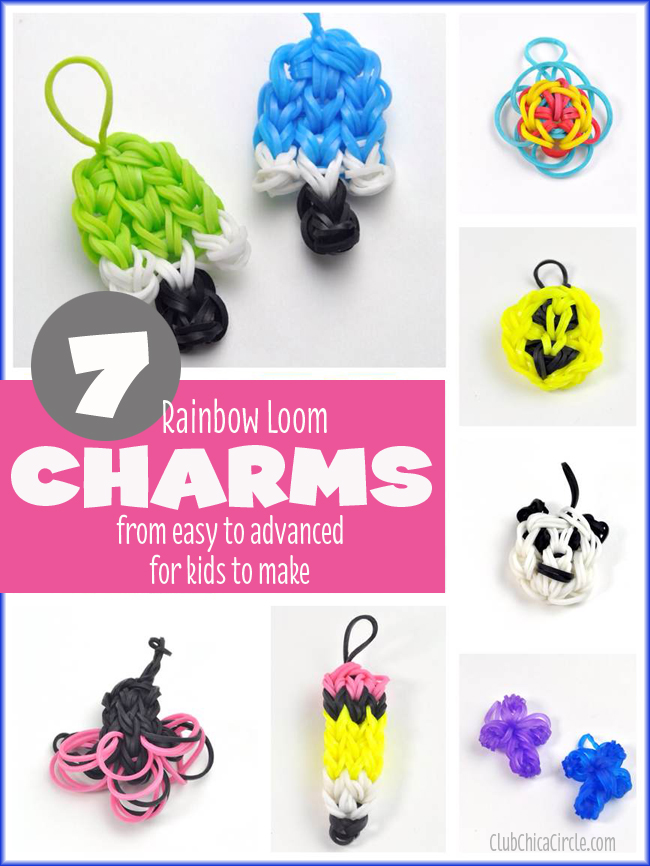 Happy Looming!
Looking for another fun bracelet craft idea for kids? Check out this cool bangle bracelet made from recycled t-shirts from Crafts by Amanda.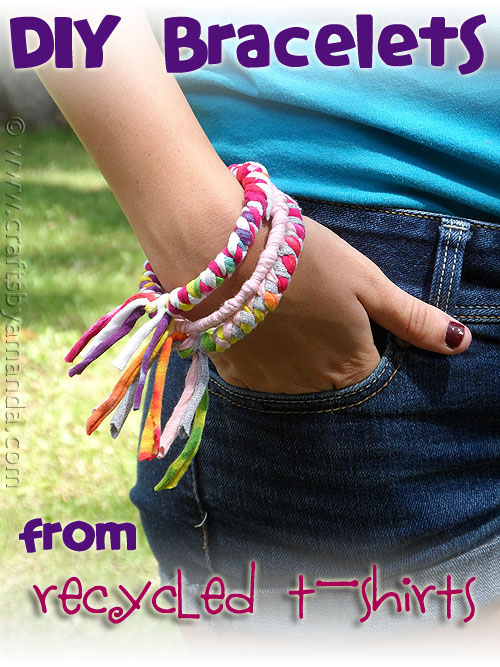 Happy Crafting!
If you liked this post, and want more, you can subscribe to be on our mailing list here, and make sure to get your free Cupcake Toppers Printables for Every Occasion.

Feeling social? Follow ChicaCircle on Facebook or Twitter, and follow me on Pinterest or Instagram.