I had one of those magical moments with my tween yesterday. Maybe it was because we were immersed in the world of Mary Poppins, the ultimate connoisseur of making your imagination come to life, or maybe it was just because I took a moment to slow down, not answer any emails, hang the imaginary "taking the day off" sign on my computer, and enjoy a mom and daughter day together. As a celebration of summer coming to an end before my tween embarks on the adventures of 5th grade next week, we took a day to just enjoy each other's company and treat ourself to a little pampering and musical theater.
The day started off with a little pampering in a nail salon chair where she was treated to a zebra mani-pedi. Then off to lunch by the theater where we had some very French mac-n-cheese at Kendall's Brasserie. Then onto the supercalifragilisticexpolidocious production of Mary Poppins at the Ahmanson Theater. I think our favorite part was when Bert literally walked on the ceiling!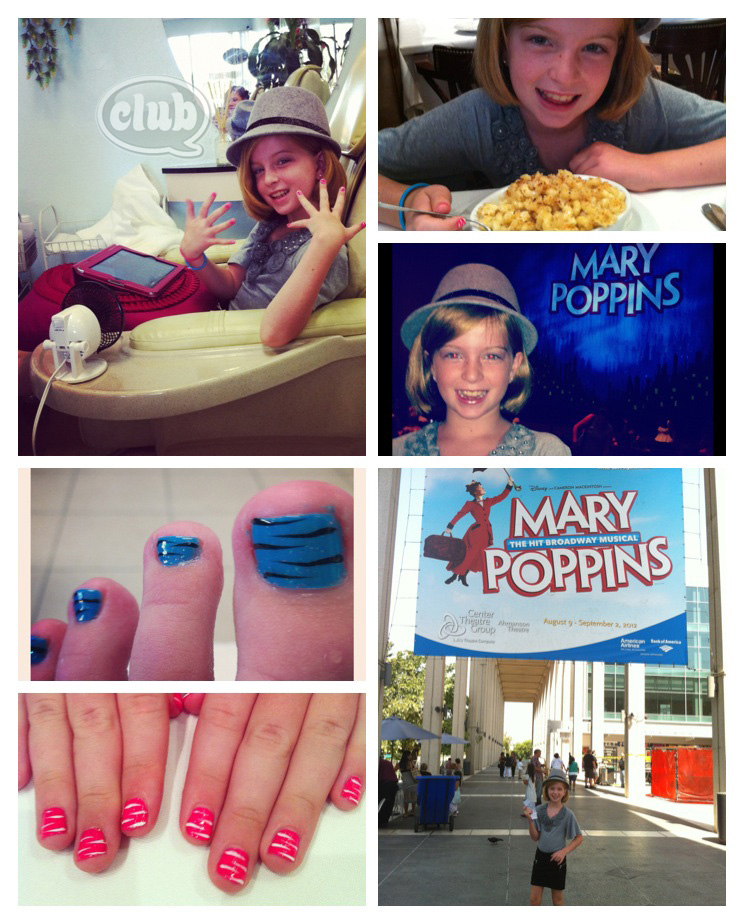 I am so thankful that I can experience that with her, and she is still wants to experience that with me. In a blink of an eye my daughter has turned into a young lady on the cusp of puberty from my little princess who loves to dress up. Mind you, she still loves to dress up, now I call them her "fashion statements". She definitely has her own style, and I try not to stand in the way of that. And I know she is still at that stage where she can feel confident enough to express her own style. In 5th grade, she is going to be part of the "big kids on campus" before she embarks on middle school where she will be little fish in a much bigger pond. I feel like this is such a turning point in her tween life, I know it will be fly by in a flash too. So, I will take the moments now when I can, savor them, enjoy them. Thanks Mary for a great day!
I wish you all a very happy and safe holiday weekend! Enjoy the last weekend of summer!
I will sign off before the long weekend with one of my favorite Mary Poppin quotes:
"Anything can happen if you let it." —Mary Poppins
Happy crafting!