It's Monday morning, and we just got back from camping in Yurt near the Santa Barbara area on Lake Cachuma. We had a total of four adults and four kids between two Yurts. It was the first time any of us had experienced camping inside a Yurt, the funny cylinder-shaped, canvas-walled structure. My nephews coined it the rocket ship building.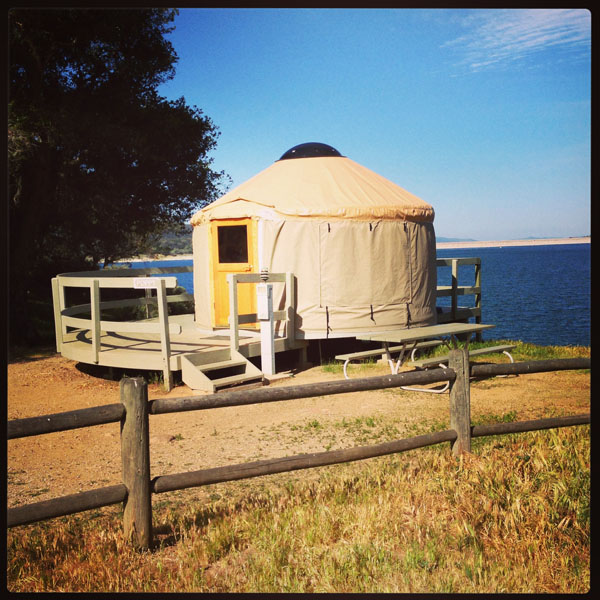 We had a great time, and it was actually quite comfortable inside, but I am definitely enjoying the comfort of plumbing, hot showers, and starting my day with the perfect cup of coffee. We are in the middle of our Spring Break, so we are trying to take life a little slower as we enjoy the company of being with family this week.
I am fortunate enough to work from home. Sometimes I don't even leave the house until it is time to get my girl home from school. I like to maximize my time, and my wallet by making my own coffee at home. Don't get me wrong, I love a yummy espresso treat from Starbucks. My coffee order of choice is the tall nonfat cappuccino. I love sprinkling all of the flavored powders on top – cinnamon, cocoa, nutmeg, chocolate, and vanilla – all of them! That way every sip is a coffee flavor adventure.
But, how do I replicate this coffee yumminess at home, and for a fraction of what I would spend at the coffee shop?
In January we bought a milk frother. I actually had no idea something like this existed until a friend introduced it to us. We got the Capresso frothPRO, and my morning cup of coffee has not been the same.
I tried a variety of different milks to froth, from whole to almond milk, and actually skim or nonfat milk froths the best. All you do is pour in a small amount of milk into the carafe, and press which temperature button you prefer to start. You can choose between hot, warm, or cold frothed milk. I always do the warm since I usually pour onto hot coffee, and I love to drink from it right away.
The cost of the frother has more than paid for itself. I have even converted my husband into enjoying a nice frothy cup of jo at home in the morning.

It will turn off automatically when the froth is ready to pour on top of your coffee. Then of course, I finish off with yummy spices of choice. Cinnamon is a must, and I like my foam a tad sweet, so I add a little sprinkling of Stevia or Truvia sugar free sweetener.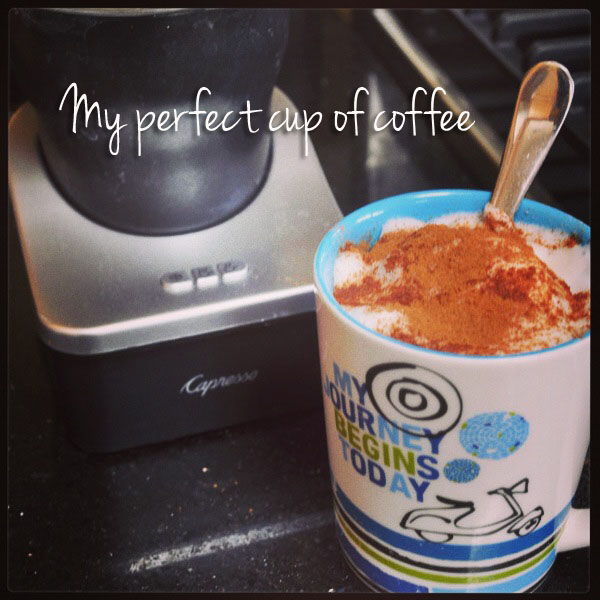 On a normal day, my journey begins with the perfect cup of coffee that I made right in the comfort of my own kitchen.
How do you start your day? What is your favorite way to begin your daily journey?
As we enjoy this Spring Break, take a little coffee break with me. = )
Happy Spring, and happy crafting!
If you liked this post, and want more, you can subscribe to be on our mailing list here.
Feeling social? Follow ChicaCircle on Facebook or Twitter, and follow me on Pinterest or Instagram.