Yesterday, I showed you the outside of the Yurt we camped in over the weekend with family. Here is a sneak peek at what it looks like to camp with 4 kids from the inside of a Yurt. = )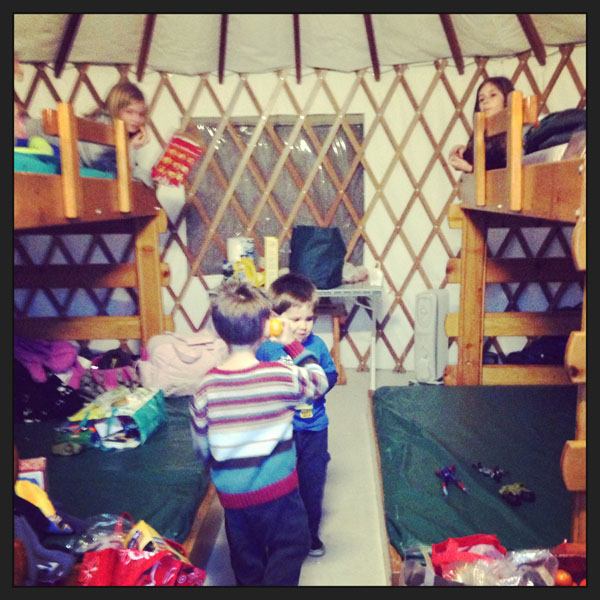 When is the last time you can say you slept in bunk beds with your kids?
I remember camping as a kid, not with family, but in sleepover summer camps. I took one of my first full-blown, hike-everything-in camping trips with my sister and co-blogger as an adult. Now we like to take our kids camping to experience a whole new family adventure together. I would say sleeping in a Yurt was one of the most comfortable camping options I have experienced. And when you are camping with 3 year old boys—not having to assemble and sleep in a tent can make all the difference in the world.
We did what I would call "car-camping". Which is, in effect, being able to pack what you need and drive it right in next to your campsite. This allows for bringing coolers for food, extra blankets, and of course, a bag of toys and games to keep the kids occupied.
One of my favorite meals from camping as a kid in sleepover camp, was something called a campfire foil packet. And if your daughter is a girl scout, she has most likely experienced this easy campfire meal camping with her troop. I don't know how it happens, but somehow food always tastes a little better while camping. Something that you might cook in your kitchen vs. over a campfire, just doesn't taste the same.
My sister and I planned the meals for the trip. When we told our husbands that we were building campfire packets for dinner the first night, they had no idea what we were talking about. I thought for sure it was a campfire standard, and that anyone who had camped before had made them. I guess not.
Today's post is a quick tutorial on how we build our campfire foil meal packets.
All you need is aluminum foil, a variety of veggies, your choice of meat, and condiments of choice.
I can tell you what I suggest to make the yummiest campfire packets. We prepared plates of potatoes, sweet potatoes, carrots, and onions cut up into bite-sized pieces. The kids took turns building their own packets with their favorite ingredients. Then we would give a portion of ground beef to each of them to add to it.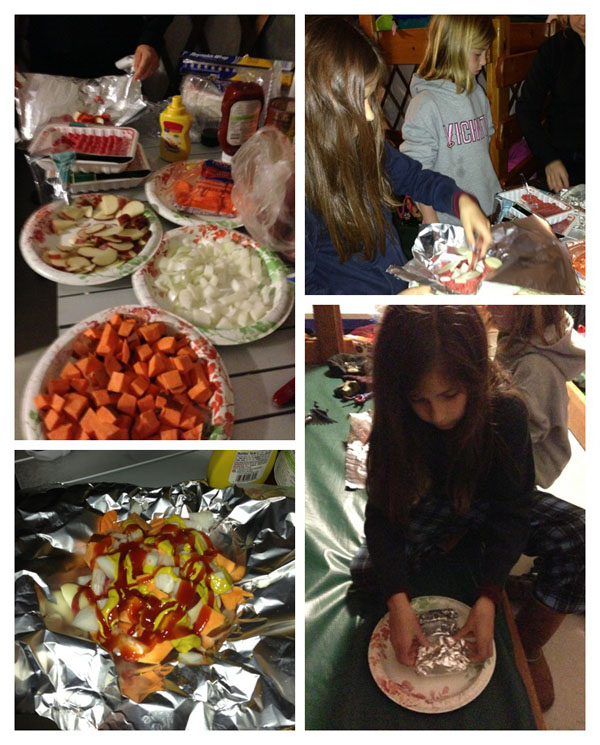 One note, if you are using really lean meat, you may want to add a pat of butter to add a little fat and help the cooking process. The potatoes will inevitably take the longest, so make sure to cut them in small pieces.
Then squeeze your favorite condiments on top. I suggest ketchup and mustard, and a little salt and pepper if you have it. After you have made the perfect campfire packet, fold it all together and close up. Use another piece of aluminum if needed to make sure your packet is sealed completely. All of sauces and juices cook together to make a super yummy and interactive meal.
Once you have closed up your packets, you are ready to throw it right onto the fire. Of course, an adult should handle this part. Depending on how big your packets are, they should cook on the fire for about 20 minutes. You should be able to smell their yummy aroma coming off the fire. Use long tongs to flip them occasionally and make sure they cook evenly. Caution! They will be really hot when you pull them off. Open up the cooked packets and let them cool before eating.
Makes you want to plan a camping trip, right? Well, you don't have to go camping to try this. Try making these at home, and cook on your BBQ grill in your own backyard.
Enjoy!
If you liked this post, and want more, you can subscribe to be on our mailing list here.
Feeling social? Follow ChicaCircle on Facebook or Twitter, and follow me on Pinterest or Instagram.