This is a Sponsored post written by me on behalf of FrogTape for SocialSpark. All opinions are 100% mine.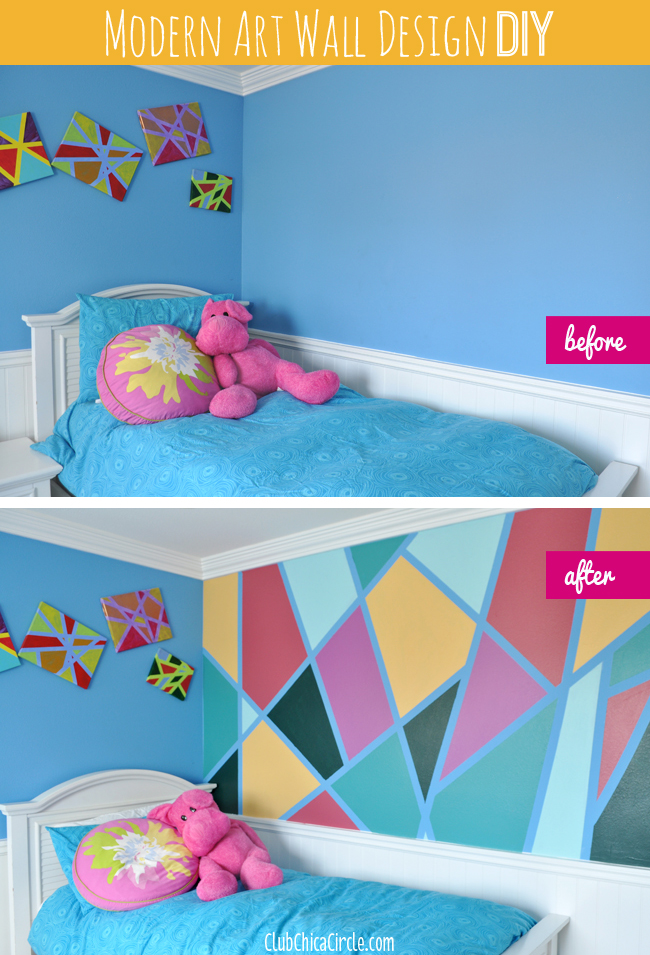 Guess who just got the coolest bedroom wall EVER?
My girl!
Yep, I willingly just turned my tween's bedroom wall into a piece of modern art.
Am I crazy?
Nope!
Honestly, I absolutely LOVE how this wall turned out, and most importantly, so does my daughter. This has to be one of my favorite home decor DIY projects I think we have ever done. The truth is, my girl is on the brink of being a teenager—EEK—and slowly we have been transforming and updating her bedroom to reflect her developing style. You may remember when we turned her Little People toys into cute wall hooks.
Well, this time we took on a bigger project together – her bedroom wall. And we got the inspiration from the modern art canvases we had created together years ago that are hanging on her wall now: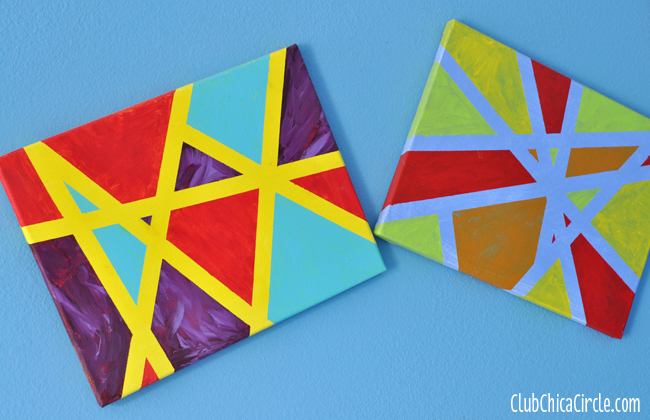 We used the same basic technique of masking off and dividing our surface into different areas with painters tape, but her bedroom wall is slightly textured and I wanted to make sure to have nice crisp lines.
The solution—Textured Surface by FrogTape. This fabulous tape has PaintBlock® Technology, which may just make it the coolest painters tape ever.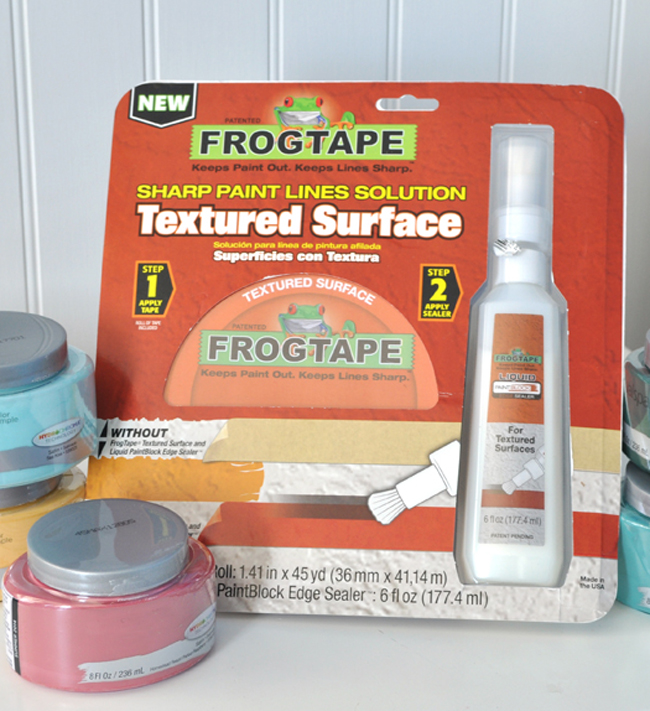 Oh, and have I mentioned how EASY this is to do?
Not only did I get my daughter involved, but she invited a friend to help as well. I wanted this to feel like it was all her design.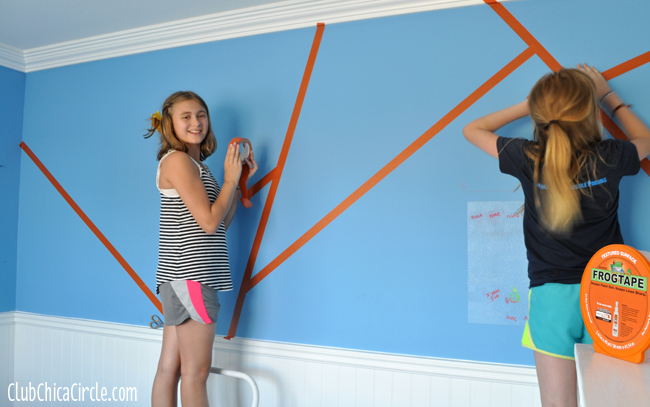 And it truly was! She created this beautiful piece of modern art to fill one of her bedroom walls.
Here is how we did it:
We applied strips of FrogTape in a random pattern dividing our wall into various geometric shapes.
After we were happy with the design, we first rubbed all the tape lines down with a wet rag, and then applied the special FrogTape liquid on all of the seams and let dry.
Then we simply painted a different solid color in each shape in a random pattern as well.
Finally, when the paint was fully dry, we peeled back the FrogTape to reveal our modern art wall.

We picked 6 different contrasting colors that worked together nicely – keeping in mind what the original wall color was too.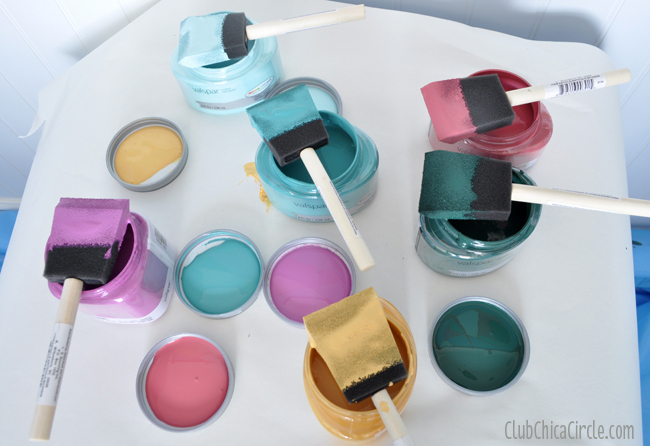 On the left is what the tape lines look like before painting, and on the right is what the reveal looks like.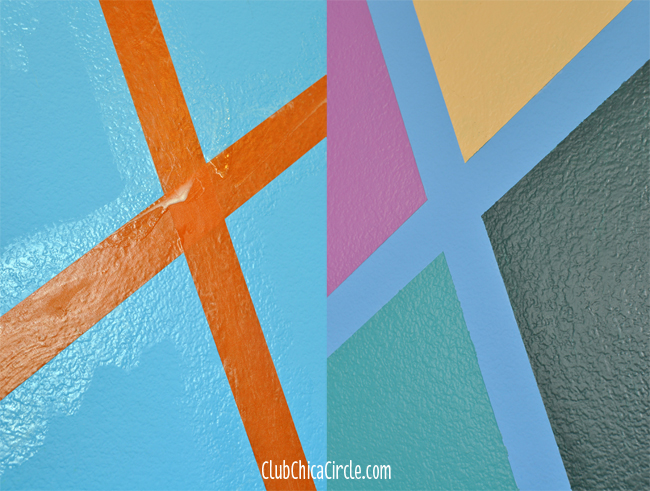 Gorgeous, right?!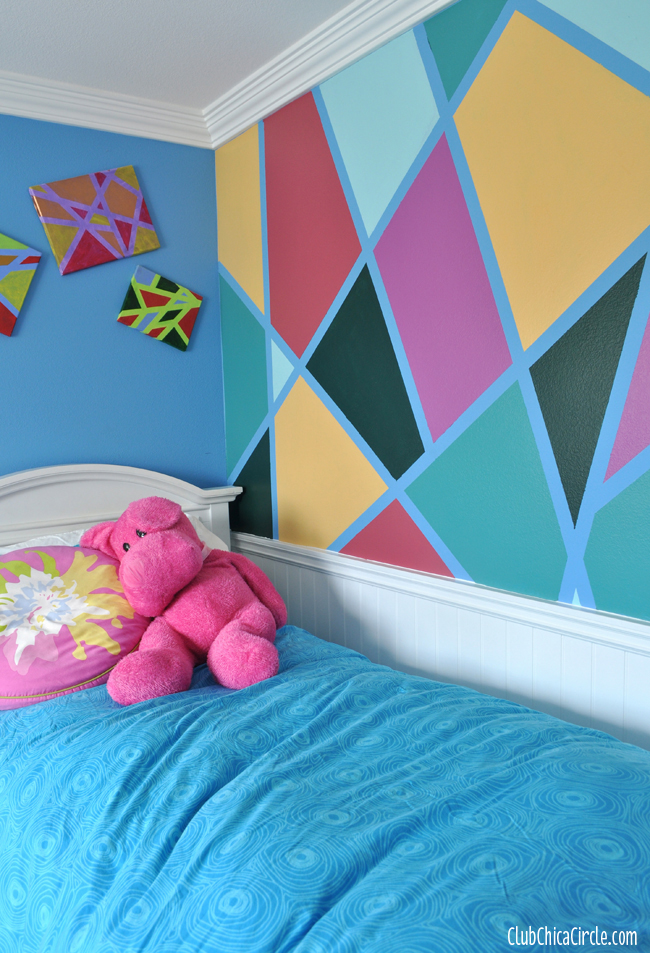 And the best part—my girl LOVES it too… almost as much as she loves her pooch. = )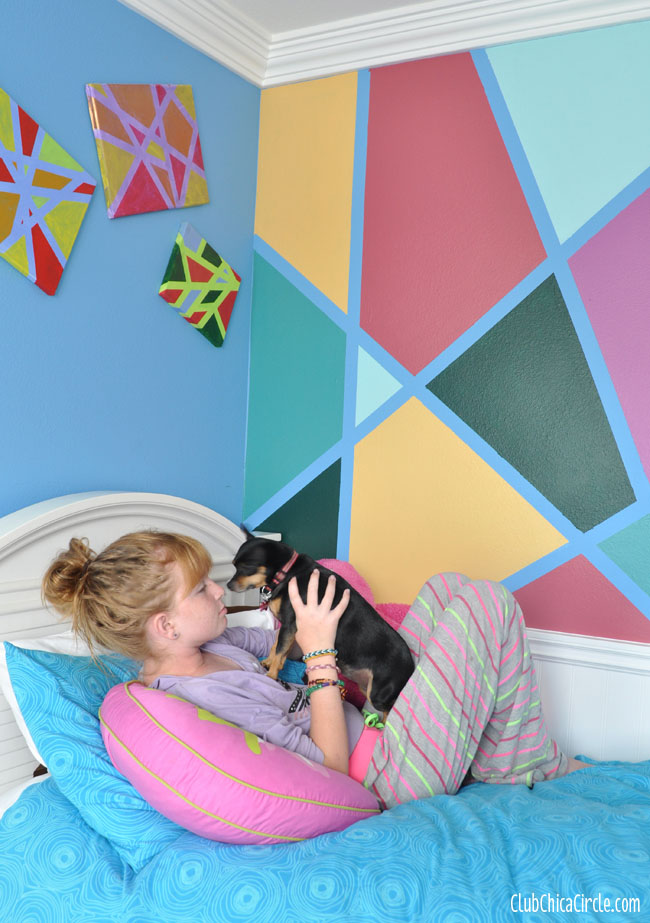 For more cool inspiration, follow the FrogTape Textured Surface board on Pinterest.
So, what projects would you use FrogTape® on?