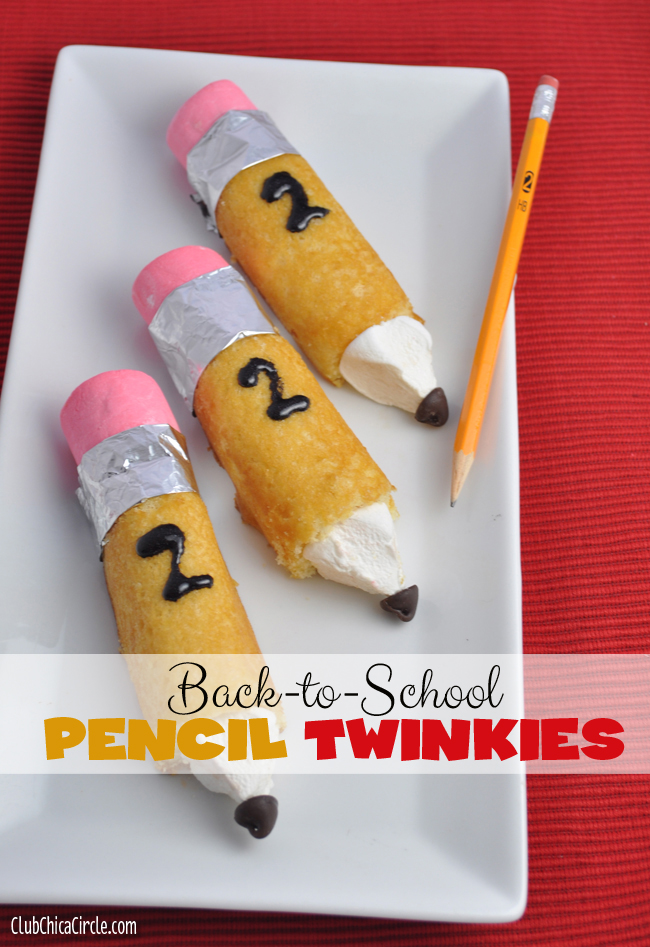 Hooray! The day has arrived. My girl is officially off to middle school today. I really don't know where the time has gone.
I don't mean, where has the summer gone. It seems like we have had the longest summer ever this year. We were both completely ready for school to start.
I mean, where has my little girl who I vividly remember dropping off on her first day of kindergarten gone?
Today's post is a throwback to my school days. My parents hardly ever bought Hostess Twinkies or Ho-Hos for us, but when they it, it was definitely a treat. And now that they are back on grocery shelves for "The Sweetest Comeback Ever", I couldn't resist buying a box. But, of course, I had to turn it into a fun food craft idea. That's just what I do. =)
In honor of back-to-school, I turned Twinkies into "#2 Pencil Twinkies".
I started with Hostess Twinkies, and added large marshmallows, chocolate chips, a little red food coloring, aluminum foil, and some black decorating gel.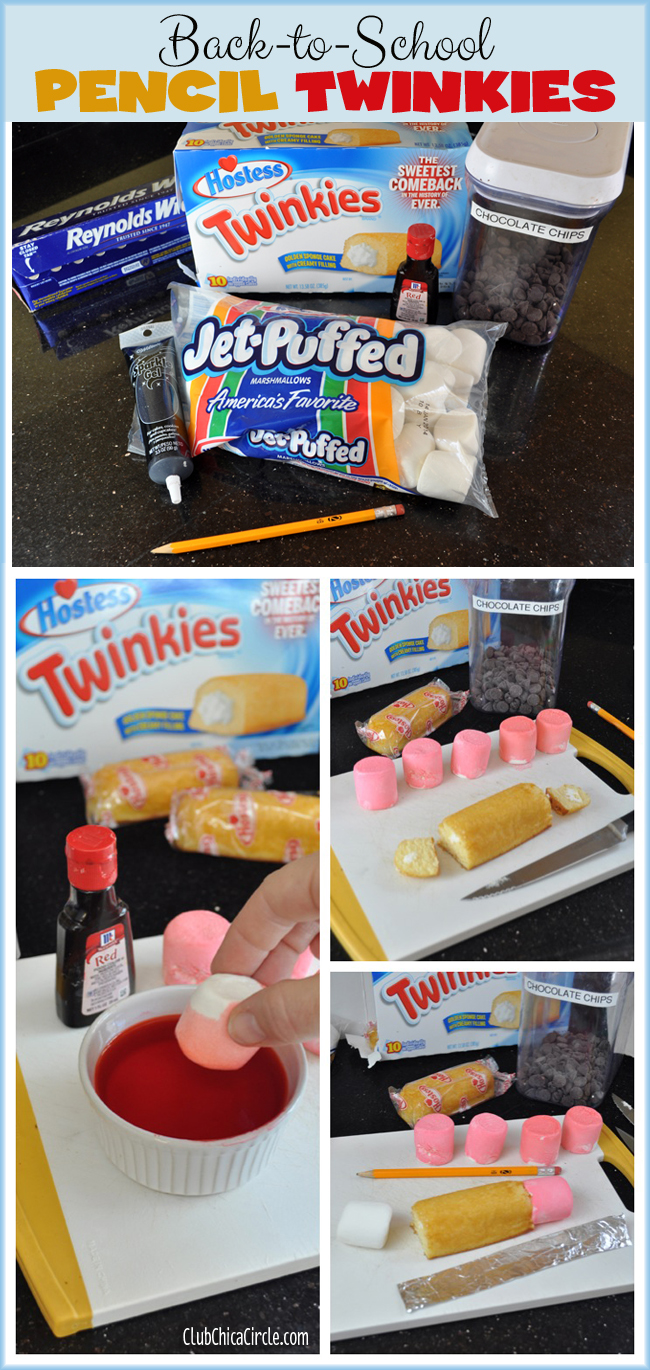 The first step was to dye a few marshmallows reddish/pink—to match the color of the pencil's pink eraser. I filled a ramekin with water, and mixed in a few drops of red food coloring to make the perfect color. Then I dip-dyed marshmallows and let dry.
Then I unwrapped the Twinkies and cut off a small slice off of each end. On one end I put the pink marshmallow eraser, and the other I made a marshmallow pencil tip.
I cut each pencil tip marshmallow to almost create a pyramid shape, and then a small snip at the top to place a chocolate chip, or the pencil lead.
The thing about marshmallows is that once you cut into them you reveal a sugary sticky edge.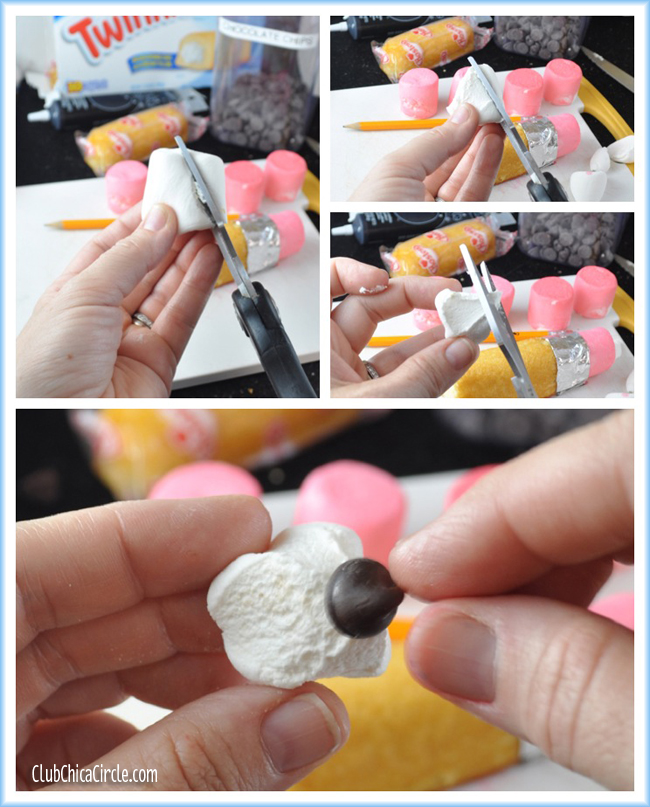 I cut off a small slice from the "pencil tip" and the "eraser" to create a sticky surface and attached the ends of the Twinkie.
If you are serving these right away, it works great. You can also use a little bit of vanilla or white frosting as glue to attach the marsmallows.
To complete the food craft, I cut a small strip of aluminum foil, about 6″ x 3″, and folded each edge in to make a straight edge and wrapped around each Twinkie on the end by the eraser.
I finished off by drawing a #2 on the top with black decorator gel.

Come on, you cannot tell me that this isn't a fun after school treat. = )
One tip, I found that these are best eaten shortly after making them. If they sit out for a long period of time, the Twinkies tend to dry out and not be the spongy goodness that they are meant to be.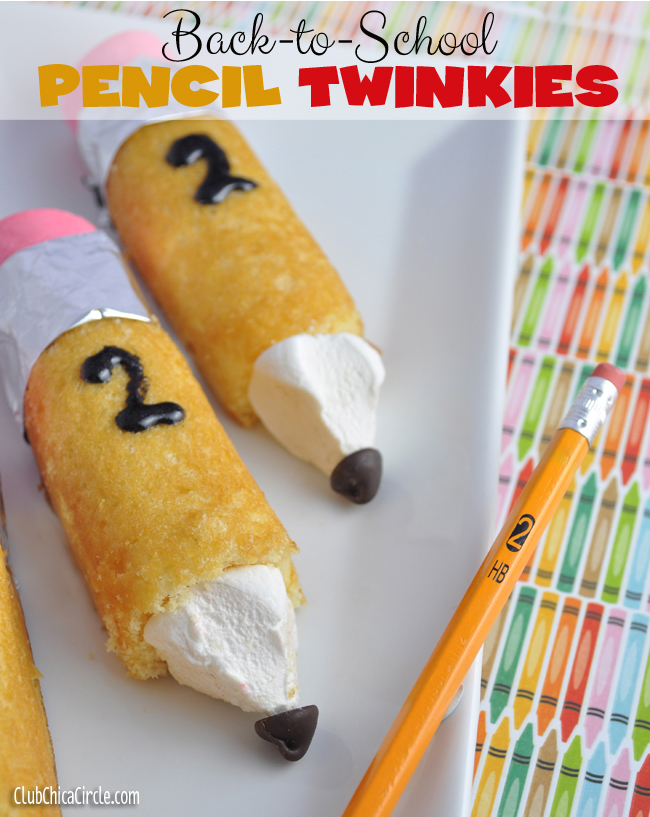 Congratulations to all of the parents and kids who have sent their kids off successfully to a new school year.
Enjoy!
If you liked this post, and want more, you can subscribe to be on our mailing list here.
Feeling social? Follow ChicaCircle on Facebook or Twitter, and follow me on Pinterest or Instagram.