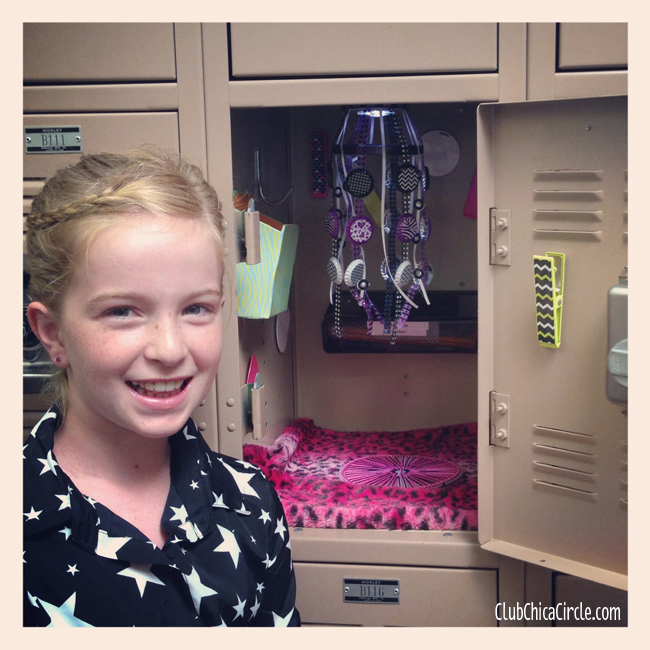 That's my girl—my little interior decorator in the making. Or is that she knows how to make the ordinary her own, and add her own unique style to it?
We made it through the first day of middle school with flying colors. She has mastered one of the most important skills—being able to open a combination lock. You forget how hard the concept is until you witness a sea of 6th graders struggling with opening their first locker on orientation day.
The last couple weeks of summer, my tween had been planning our her locker décor and creating a number of locker crafts.
I didn't have locker chandeliers growing up, but they seemed to be all the rage in the stores this year. Or maybe I'm just noticing this trend since I now have a middle schooler. Needless to say, this called out to be a homemade craft. For the most part, I know my daughter's style. I gathered up some supplies that she could use for her homemade locker chandelier, and then let her go to town making it.
The first, and most important, item is the magnetic locker light. We used an LED tap light that I found at our local Home Depot store, but I have also seen them really cheap at IKEA as well. They are labeled as self-adhesive, but we didn't even need to use the double stick tape it comes with, since it was already magnetic.
I also raided the dollar bin at my local Michaels, and found really cool decorative bottle caps, jewel ribbon trims, and self-adhesive gems.
Then I purchased a small embroidery wood hoop, in which she used the inner ring. She painted it first with DecoArt Crafters Acrylic in black, and then gave it sparkle with DecoArt Glamour Dust in lavender and purple passion.

We got out the glue gun, and she went to work planning out how long she wanted the gem ribbons to be, and in what pattern she wanted the bottle caps to be in.
I helped her attach the painted hoop about 3″ below the light by gluing the ribbons on the outside of the light and hoop evenly. This created the chandelier effect and let the decorative strands hang around the light in the center nicely. She used a thin 1/8″ white ribbon in between each gem/bottle cap strand and attached the self-adhesive gems to those.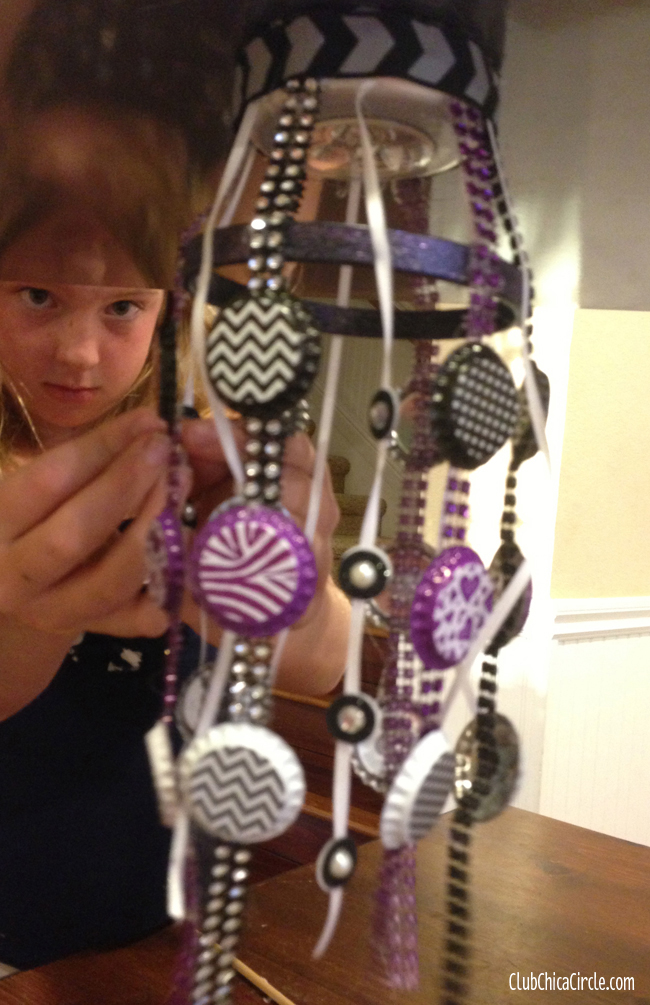 She finished off her craft, by lining the outer edge of the light with decorative ribbon using a glue gun as well.
To turn the chandelier light on, she just places her hand in the center and taps the light on when she needs it.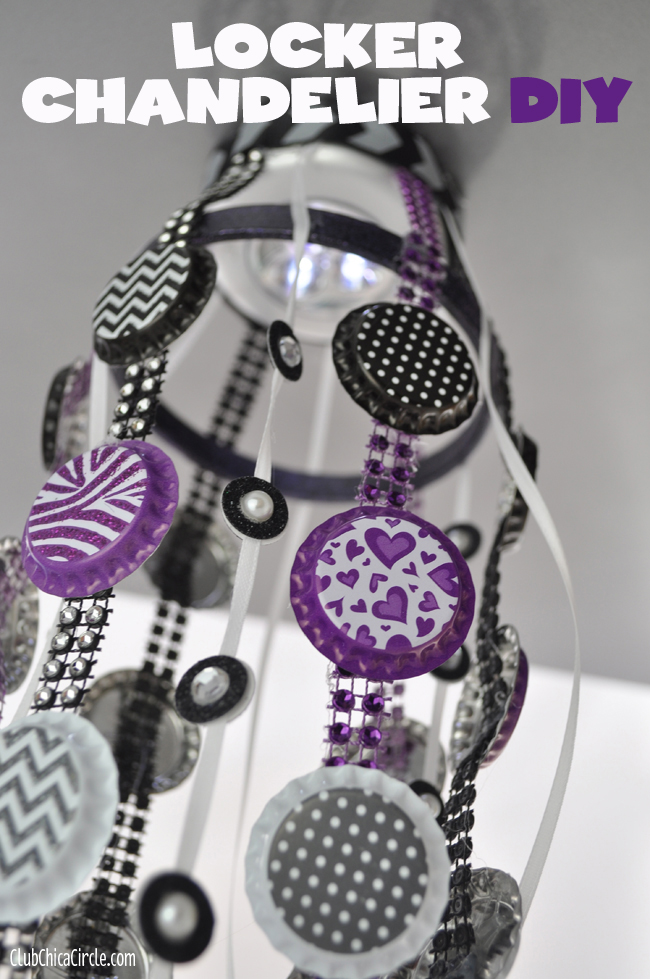 And what locker wouldn't be complete without a rug? I found this 6″ circle needlepoint template, large needles, and thin yarn at my local Michaels as well.
She did a simple stitch along the outside of the template in black first, and then the hot pink. Then she created a starburst pattern in the center.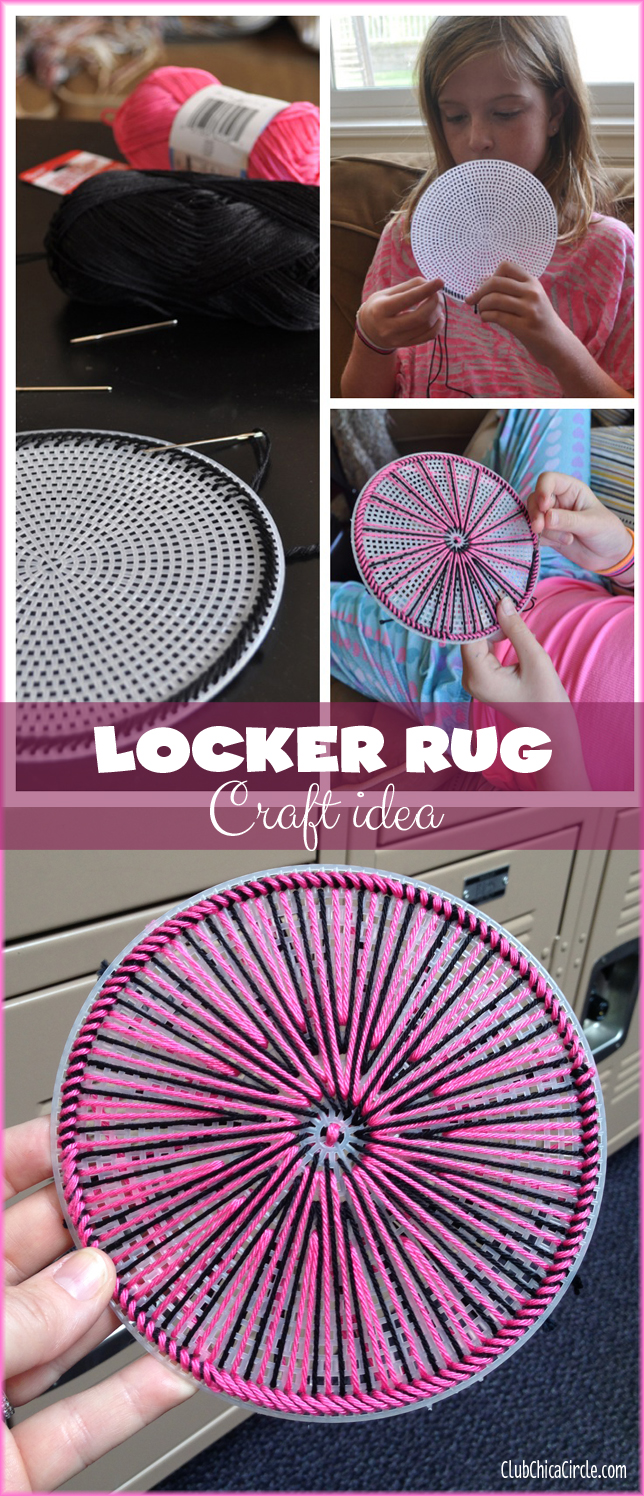 It matched perfectly with the small piece of pink and black cheetah patterned fabric, in which she lined the bottom of her locker with.
This, along with her handmade chandelier….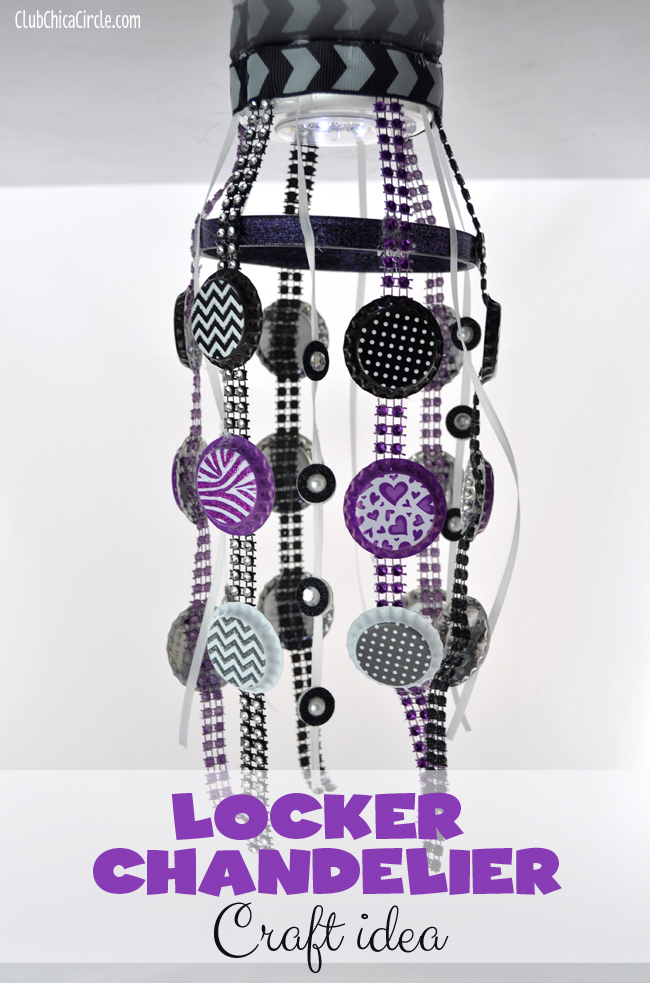 …and her locker bulletin board from last week's post, as well as a variety of magnetic pencil cubbies, made for a pretty spectacular tween girl locker.
Don't you think?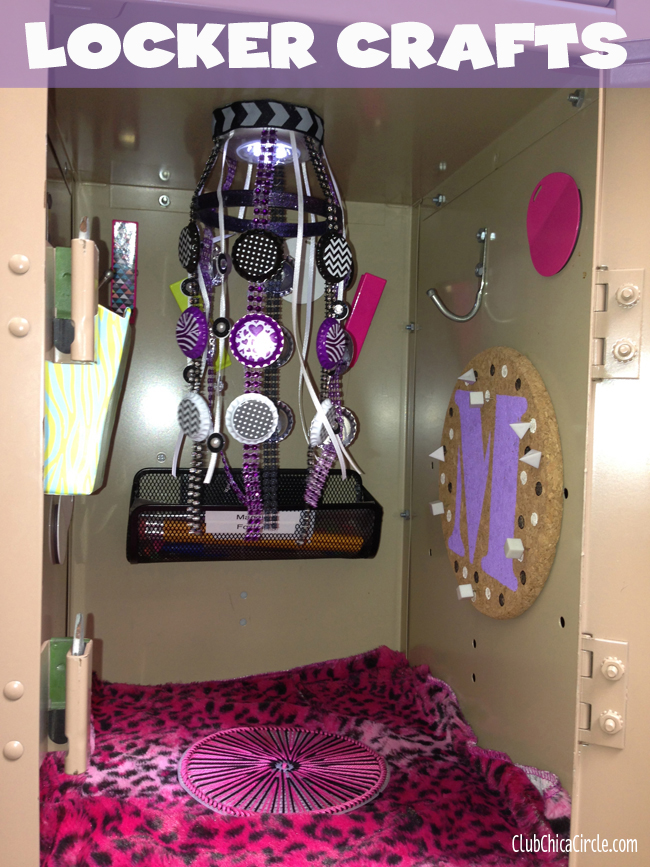 Did your tween have the locker decorating bug this year too? She swears her backpack and books fit into her locker as well.
A locker for her room is on her wishlist now. I say, as long as she wants to express her creativity and uniqueness, I say go for it.
Happy crafting!
If you liked this post, and want more, you can subscribe to be on our mailing list here.
Feeling social? Follow ChicaCircle on Facebook or Twitter, and follow me on Pinterest or Instagram.