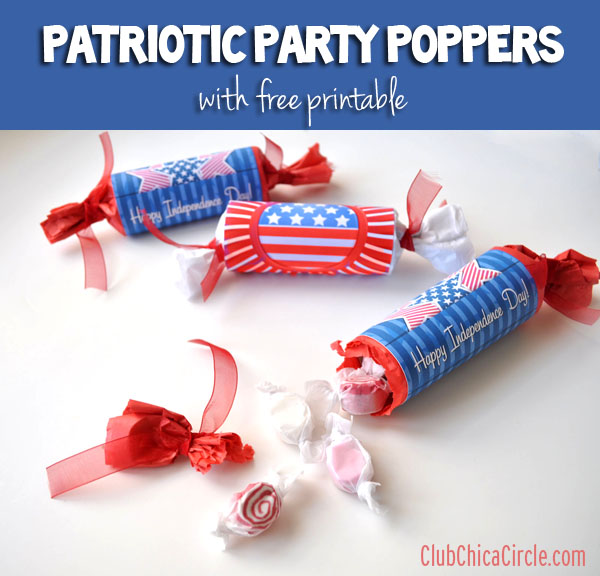 Have any Fourth of July party plans? Get crafty and make these fun party poppers for your party plans, big or small.
This fun craft idea can get everyone involved and ready to celebrate.
First step – save those toilet paper rolls. You are going to upcycle them and fill them with candy.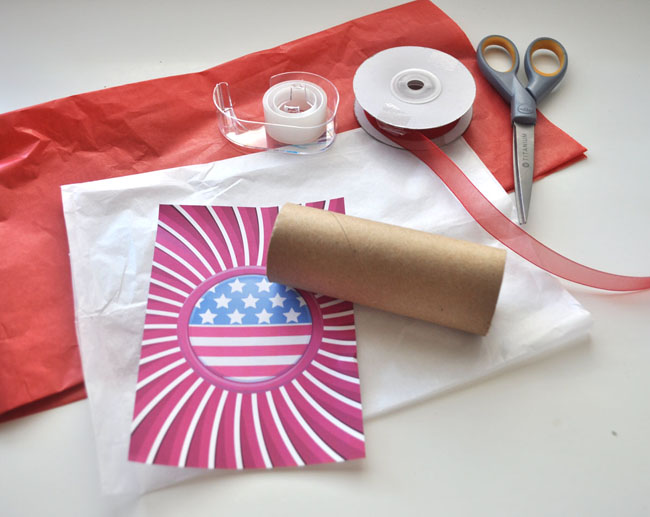 Next, gather tissue paper in patriotic color of choice. I had red and white on hand. You will also need ribbon, tape, and scissors.
Print and cut out the party popper wrappers with your free printable here:
4th of July Party Popper Printable
Roll and wrap an empty toilet paper roll with tissue paper and secure one end with ribbon or string. Make sure the toilet paper is at least 3-4 longer than the toilet paper roll on each end.
Then fill the tube with candy of choice. I filled mine with some yummy taffy candy. Just keep in mind that once they are "popped", the candy will go flying. That is the fun part, but you may want to fill with wrapped candy pieces.
Finish the party craft by securing the other end with another piece of ribbon. Wrap the decorative paper sleeve around the roll and secure with a piece of tape.
When you say the word, your guests can take a popper, pull the ends and candy will pop on out. Hooray!
Happy 4th of July party planning and crafting!
If you liked this post, and want more, you can subscribe to be on our mailing list here.
Feeling social? Follow ChicaCircle on Facebook or Twitter, and follow me on Pinterest or Instagram.