Whew, that was a mouthful! Today I'm combining one of my tween's favorite craft materials, duct tape, and some colorful plastic eggs to make this super cute flower bouquet and gift idea. I thought this would make a perfect Mother's Day gift idea, or even a fun Teacher Appreciation gift idea. So let's put some of those leftover plastic Easter eggs to use, and get crafting! = )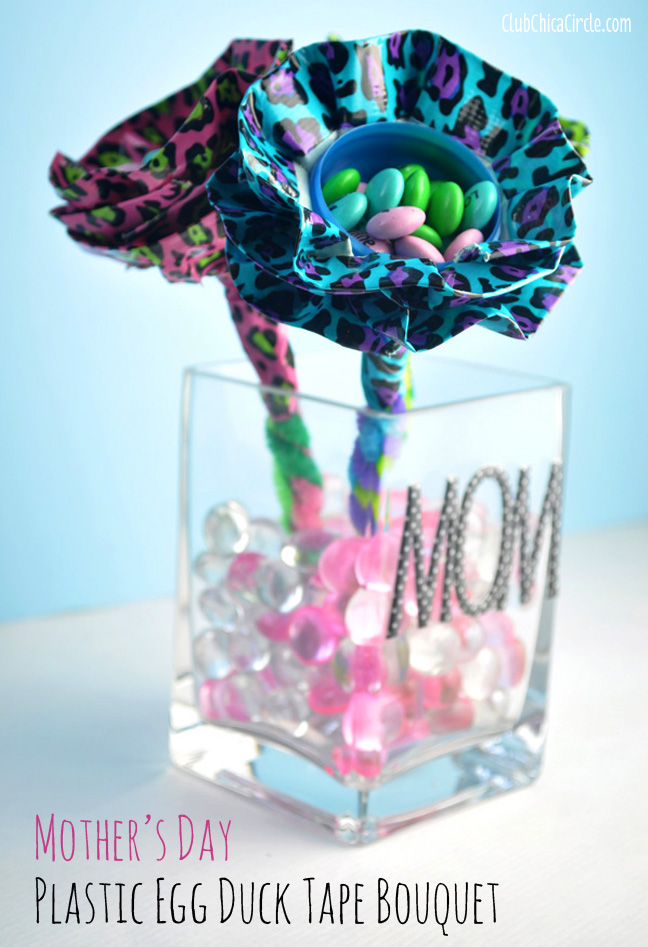 I can't take credit for the actual craft idea. I follow the Duck Tape brand on Facebook, and recently saw this Spring craft idea photo promoting their new spring pastel Duck Tape colors. I noticed in the comments that a number of fans were looking for the tutorial on how to make them. I went searching for one on their website too, but couldn't find one either. So here is my DIY version of how I made these Duck Tape plastic egg flowers with a candy center.
I used these three Duck Tape patterens: pink and green cheetah patterned Duck Tape, blue leopard Duck Tape, green zebra Duck Tape. I then picked coordinating plastic eggs and 3 colored pipe cleaners for each flower. It was actually pretty simple to get from this….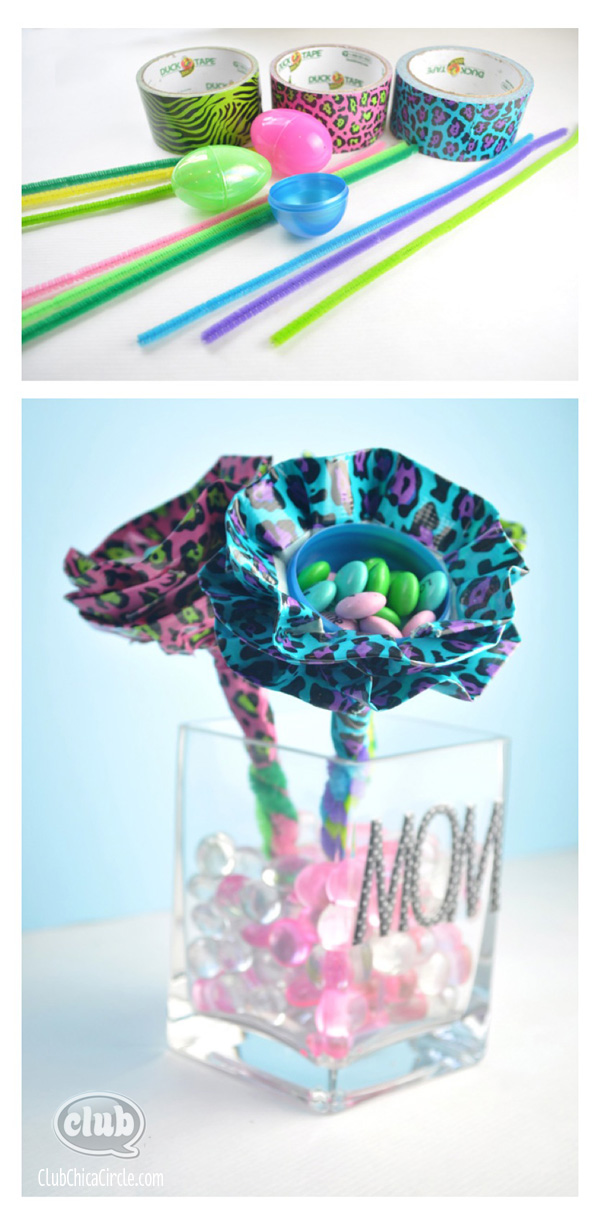 … to this.
Just like yesterday's craft idea reusing plastic eggs, I used the bottom shorter half of each plastic egg.
I started by braiding each set of colored pipe cleaners together.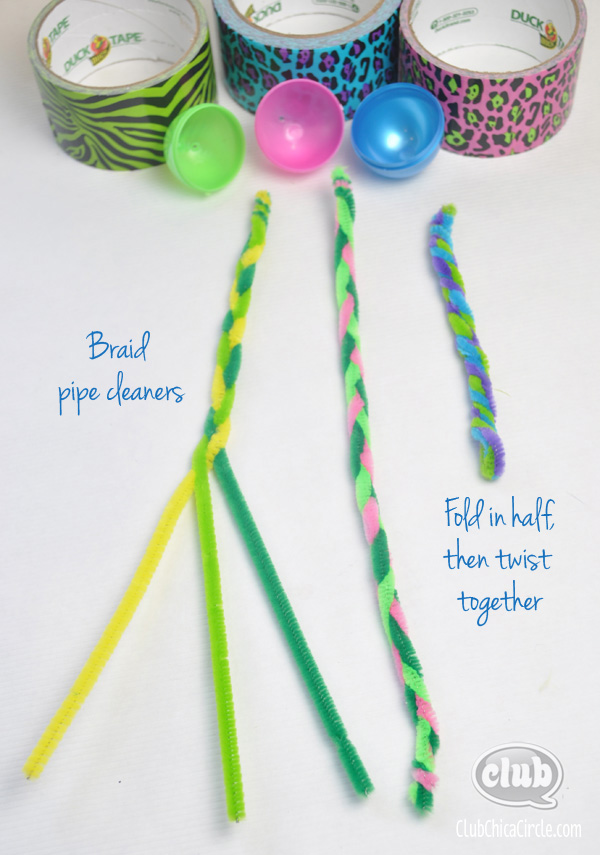 Then I folded each in half and twisted them together to make a nice strong flower stem.
Next I attached each pipe cleaner stem to the bottom of the plastic eggs using about a 3″ piece of Duck Tape.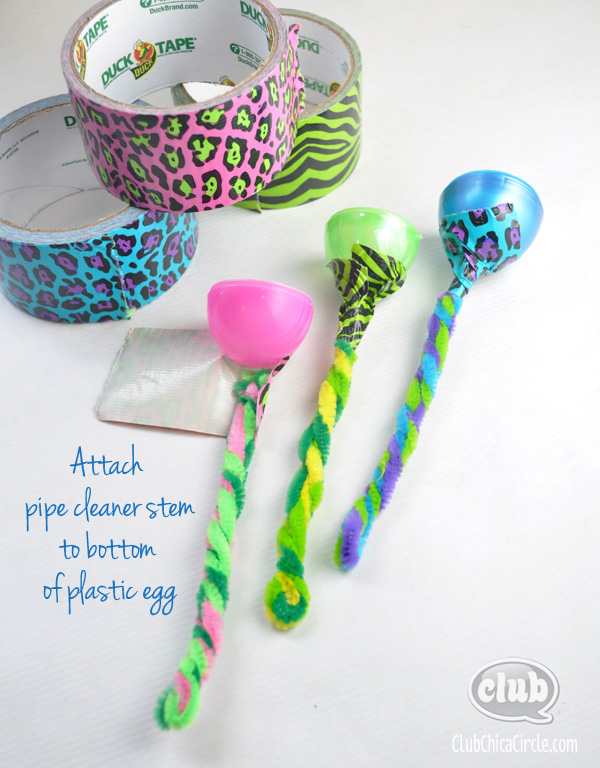 Then I took a long piece of Duck Tape (about 15″ inches) and folded the longer side up about 2/3 of the way, leaving a 1/3 of the sticky side of the Duck Tape exposed, like so: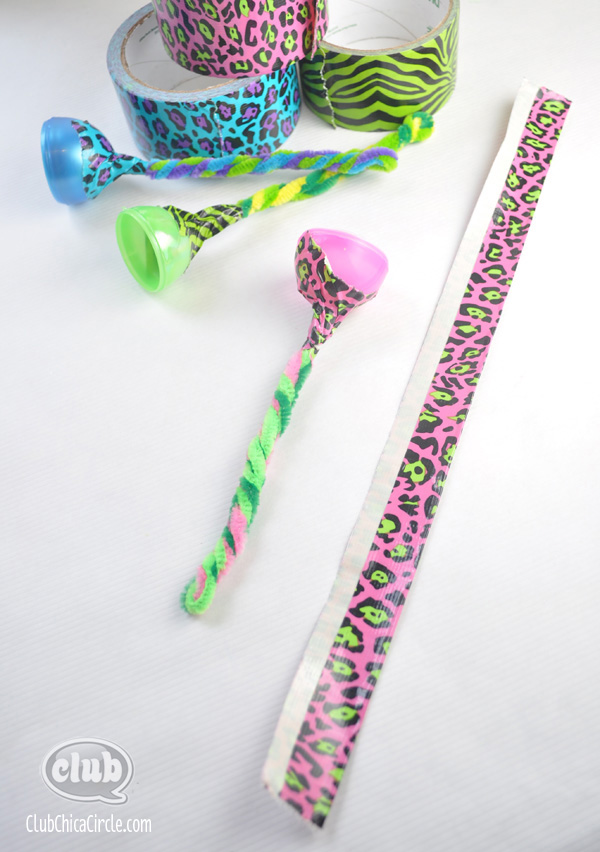 I started attaching the strip on the top edge of the plastic egg and wound it around the diameter of the egg in a spiral pattern like so…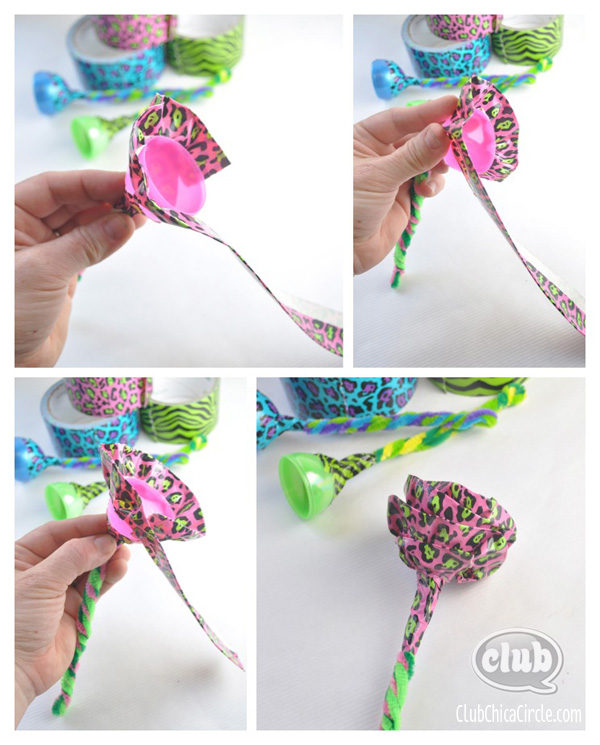 … until I made it to the stem. Note: you will need to used a second long strip of duct tape to complete the flower all the way to the stem. Simply, attach the second strip where the first one left off, overlapping slightly, and keep going around the egg.
Also, as I was attaching the Duck Tape, I would pinch a little of the tape creating a mini ruffle effect to give the flower petals some body, like this: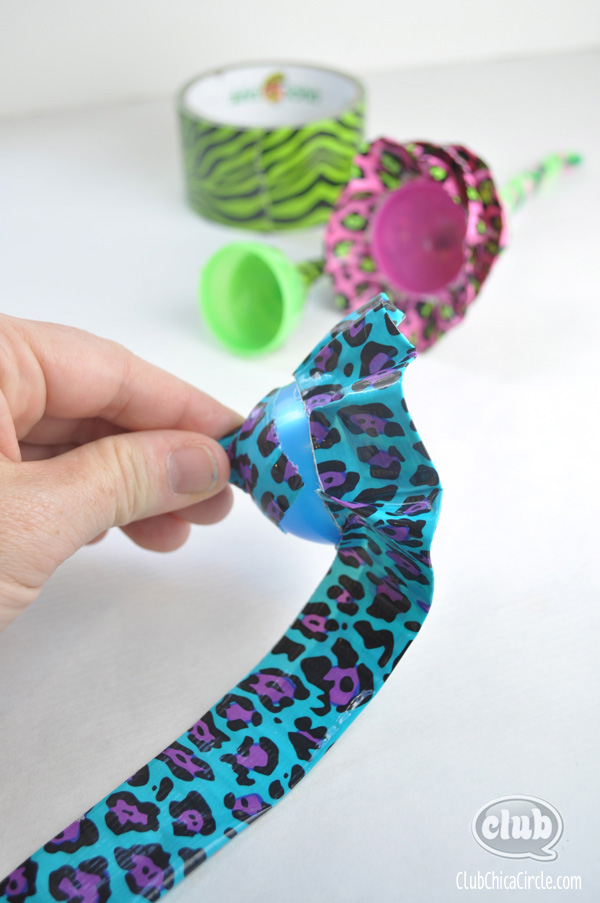 I finished off the flowers with one more piece of tape along the bottom of each duct tape flower and the pipe cleaner stem.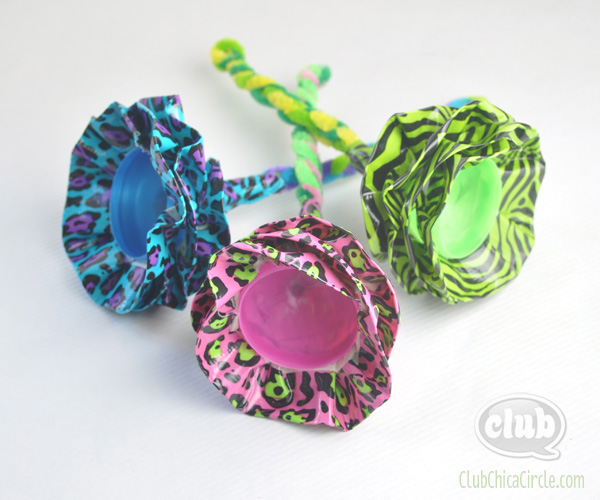 To create the candy flower bouquet, I arranged them in a small glass vase filled with pretty glass baubles to hold them upright.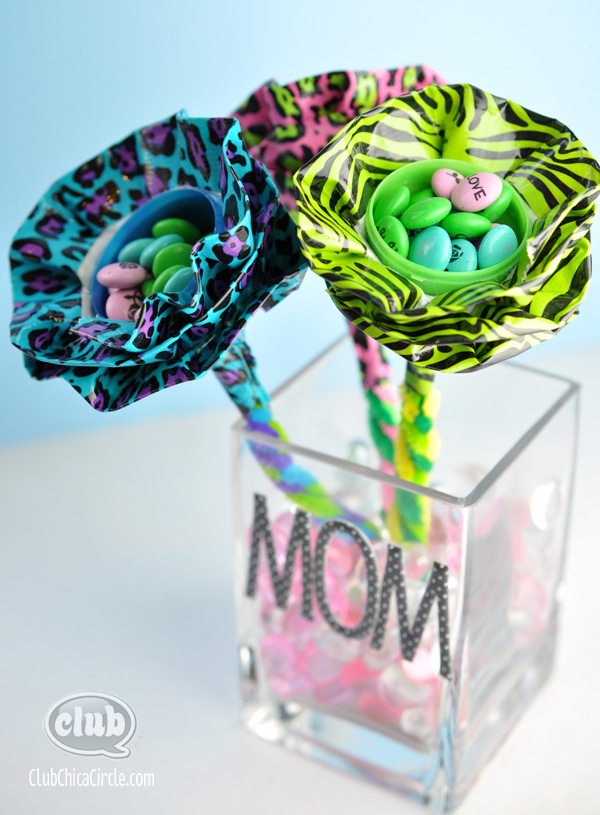 Your sweet gift is complete once your fill the center of the eggs with some small candy pieces. I used color coordinated candy M&Ms.
I also decorated and personalized the glass vase by spelling out "MOM" using self-adhesive scrapbook alphabet stickers.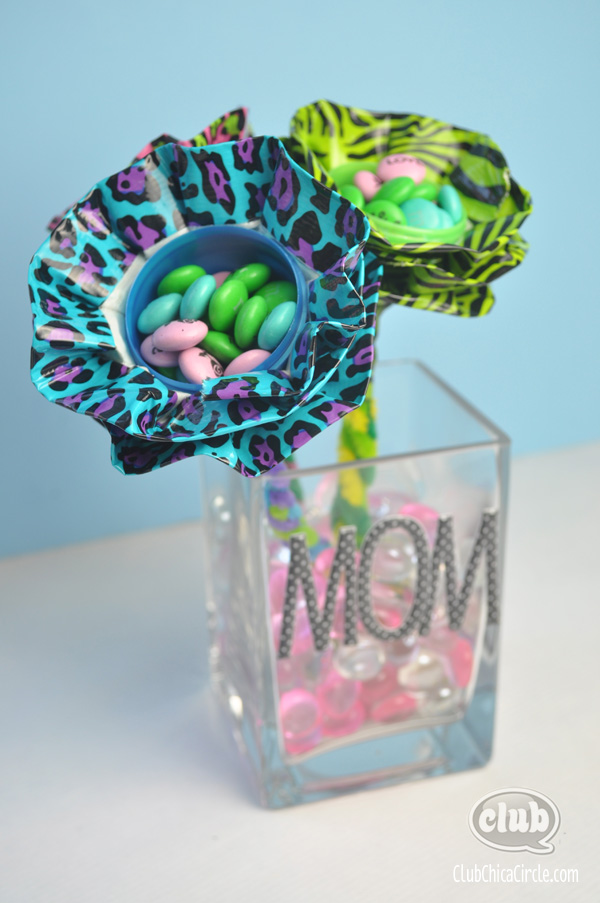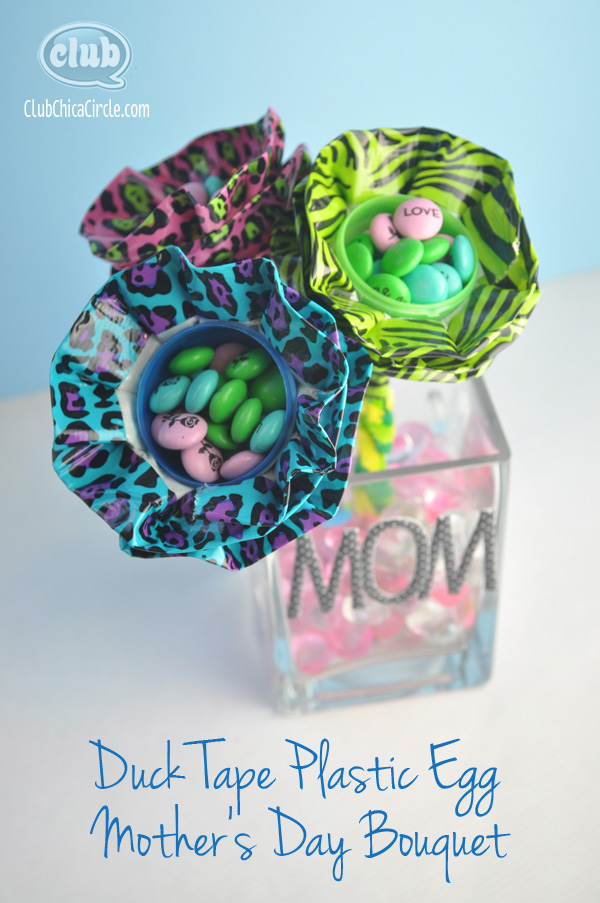 Lovely! Try this fun and easy craft today! Thanks Duck Tape brand for the crafty inspiration.
If you want to finish the rose and close up the center, without the "egg candy dish" in the middle, simply use one more strip of duct tape about 12″ long and attach in the center, making sure to pinch as you go.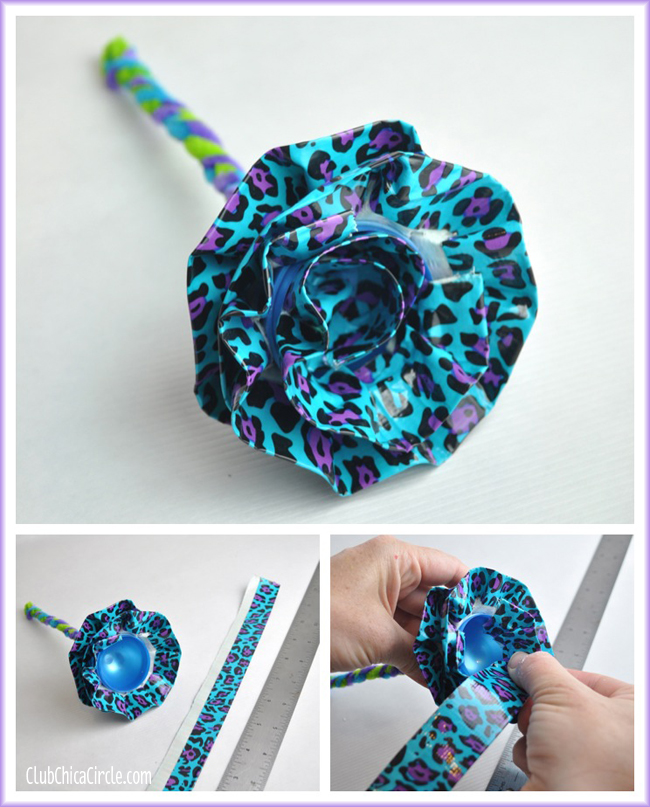 Happy crafting!
If you liked this post, and want more, you can subscribe to be on our mailing list here.
Feeling social? Follow ChicaCircle on Facebook or Twitter, and follow me on Pinterest or Instagram.