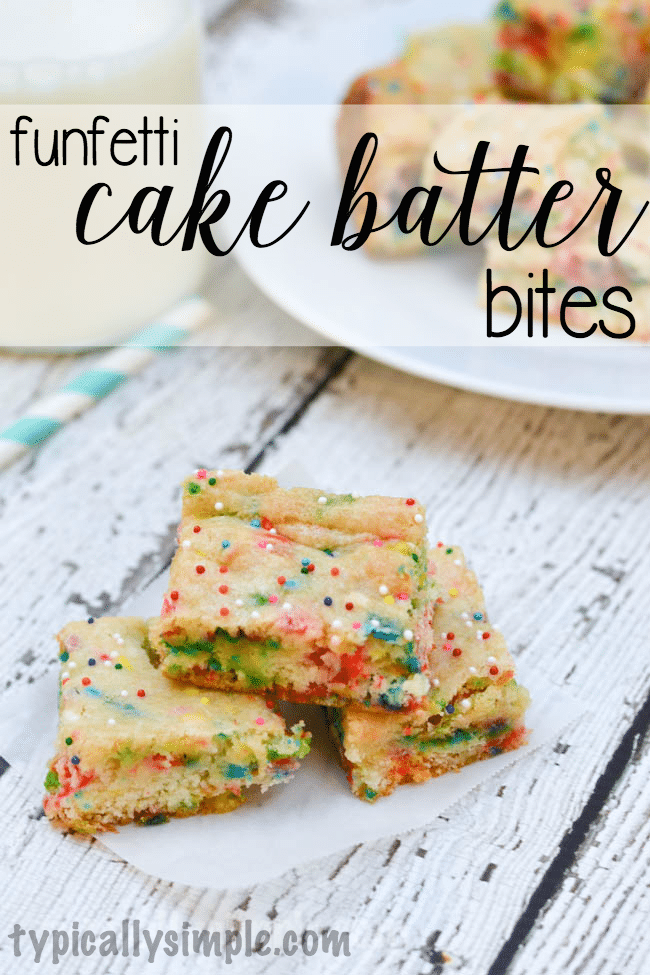 Hi there! It's Kelly from Typically Simple and I'm back this month with another yummy dessert recipe. These yummy funfetti cake batter bites are super easy to make and taste just like the batter you "shouldn't" be licking from the bowl!
I remember eating funfetti cupcakes as a kid and thinking they were the best thing ever…a cupcake full of sprinkles inside and out! And to be honest, I still kind of think that even as an adult! So I thought it would be fun to put a little twist on them and make cake batter bites. They are as delicious as cake, but because of the thicker batter, they come out baked more like a cookie bar. So all the yumminess of a cupcake without the crumbs.
Ingredients
1 box vanilla cake mix
1/4 cup vegetable oil
1 egg
1/2 cup milk
sprinkles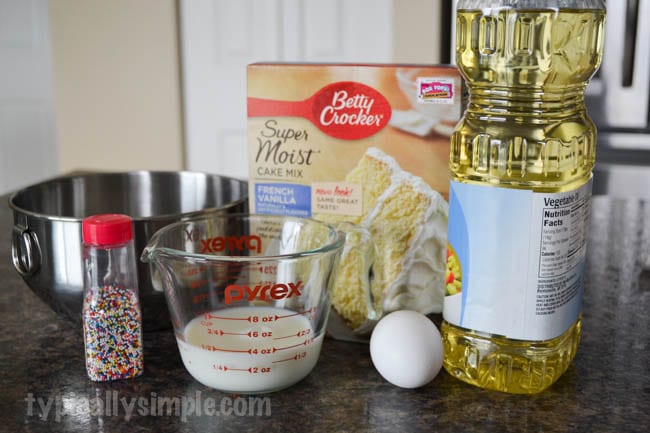 Directions
Preheat oven to 350°
Coat 8×8 baking pan with nonstick spray.
Combine cake mix, oil, egg, and milk in a bowl. Add the milk slowly, mixing well.
Add in sprinkles, pour into baking pan, top with some extra sprinkles.
Bake for 25-30 minutes until golden brown.
Allow to cool completely before cutting. Keep in the fridge.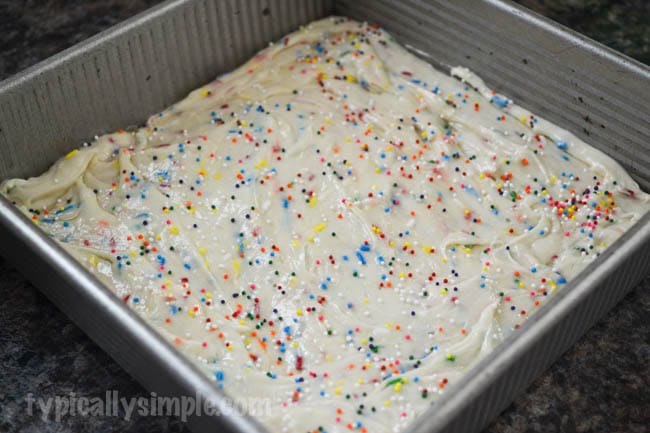 These cake batter bites are one of those treats where you can't just stop at one. I had to hide them from myself in the back of the fridge because I would sneak one every time I opened the door to get something. So good.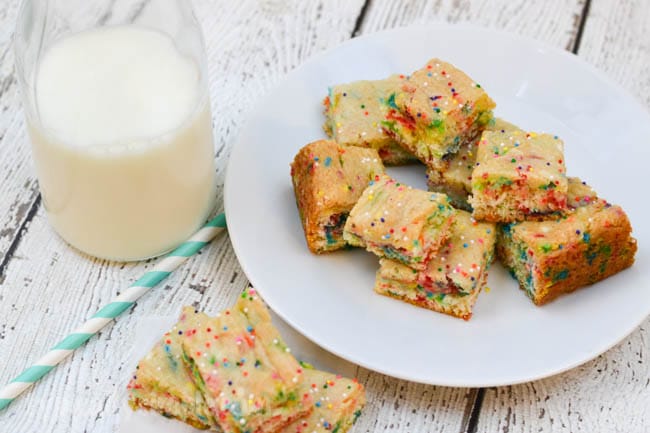 These would be the perfect treat to take to a party or make for a backyard BBQ since they are simple to make and easy to transport. You don't have to worry about ruining the frosting on these cake batter bites.
And I'm betting these would also be tasty in other flavors with different mix-ins. Chocolate and dried cherries. Chocolate and mini marshmallows. Vanilla and chocolate chips. So many possibilities! If you try a different combo, you'll have to let me know how it turned out!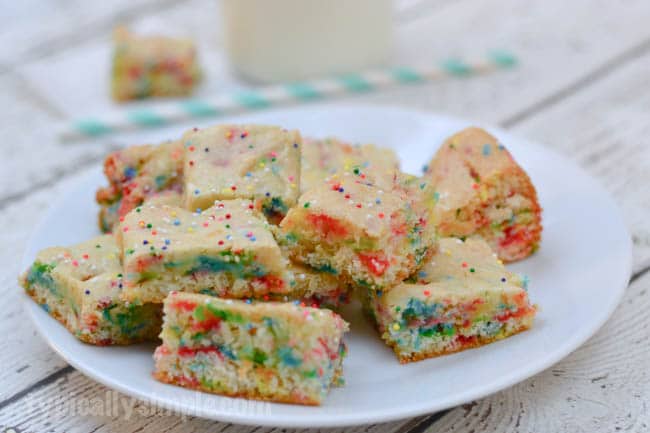 Until next time…find me pinning, tweeting, and sharing more delicious recipes and fun crafts! Be sure to check out this yummy magic cookie bar recipe which is always a hit in our house.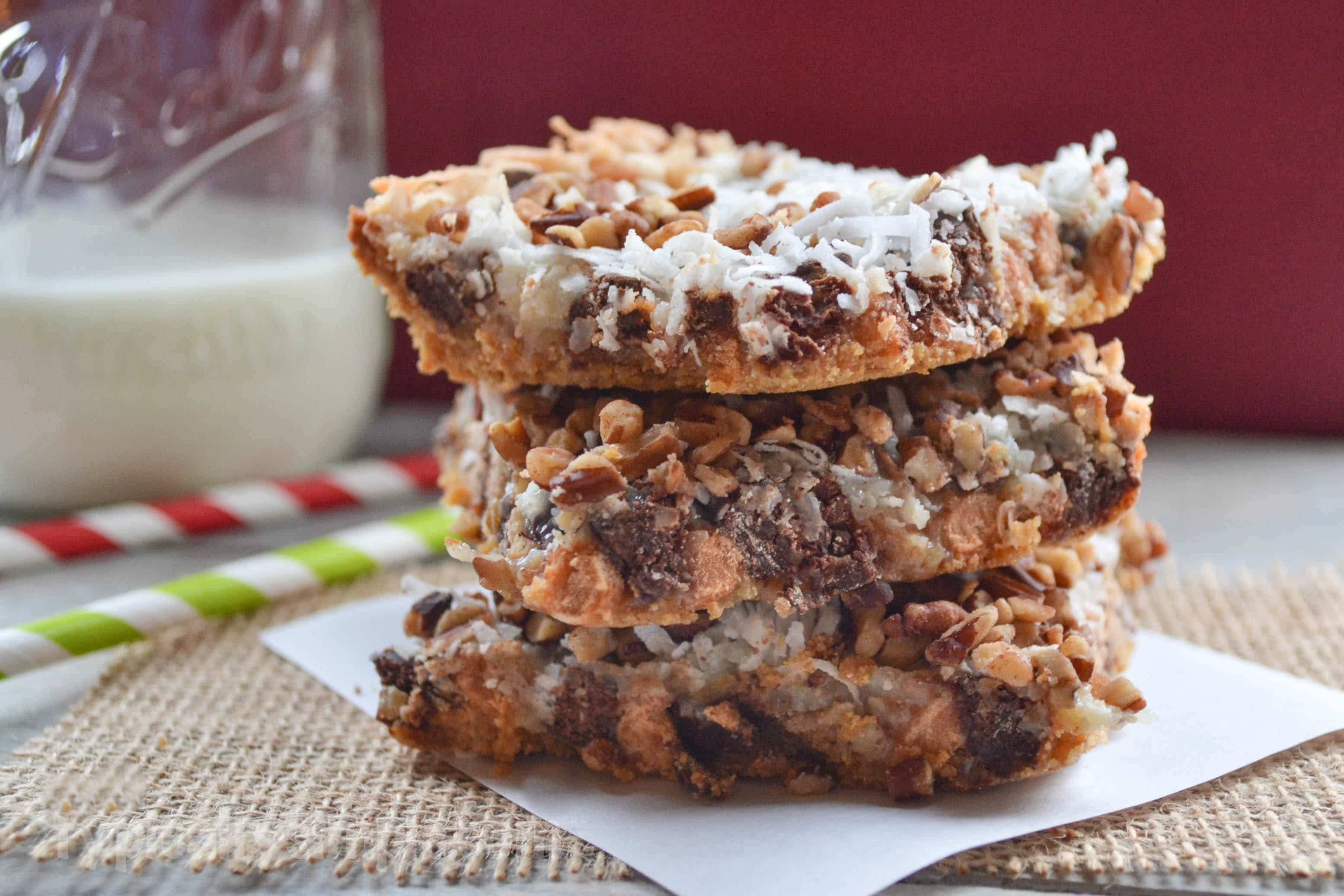 Or if you love apple pie, but don't like all the prep work…here's a simple apple pie roll up recipe that is just as delicious without all the work.