Hi, everyone! I can't believe it already August and time for my third post here on Club Chica Circle. For those of you I haven't met, I'm Jess from Chaos & Love. I write about life as a mom of two boys, crafts, recipes and DIY. Come visit some time, we'd love to have you!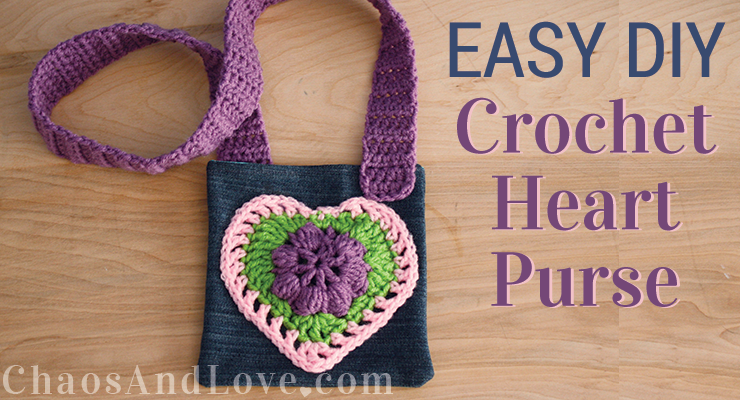 This month's project is a little denim purse with crochet strap and heart applique. This is great for beginning sewers and crocheters alike. This entire projects is way easier than it looks and can easily be completed in an afternoon.
What You Need:
2 small pieces of denim, cut to 7 in x 7 in (upcycled jeans work great)
1 small piece of quilting fabric, at least 8 in by 15 in
coordinating thread
3 colors worsted weight yarn (I like Red Heart)
J and I crochet hooks
fabric glue
sewing machine
rotary cutter and mat
What You're Gonna Do:
1. Sew denim squares together along one edge using 1/4″ seam.

2. Press seam open and use sewn together denim pieces as a pattern to cut quilting fabric.

3. Pin right sides together. Using 1/4″ seams, sew fabric together on short sides only. Leave long sides open.

4. Match seams on short sides together so denim faces denim and quilting fabric faces quilting fabric.

5. Pin fabric in place. Sew long edges, using 1/4″ seam, leaving a 3-4″ space open for turning.

6. Turn carefully.

7. Iron fabric flat. Pin opening closed and top stitch. This will be on the inside of the purse so it's okay that the seam shows.

8. Turn lining to inside of purse. Press and top stitch to hold in place.

9. Crochet strap using J hook. Pattern is as follows:
Chain 6.
Row 1: Single crochet in second chain from hook and across (5 sc).
Row 2: Chain 1, Single crochet in each stitch across.
Row 3-end: Continue pattern until strap reaches 30-34 inches long (go longer or shorter depending on how tall your girl is).
Tie off and weave in ends.
10. Pin strap about 1″ down on outer right of facing side of purse. Pin other end of strap on opposite side. Using a sewing machine, tack down edges in a square.

11. Crochet heart using I hook. Click here for pattern.

12. Attach heart using fabric glue. Allow to dry completely.

And that's it! You're done! Cute bag with SO many possibilities! I'd love to see what you all come up with – feel free to post them on my Facebook page!
Thanks so much for hanging out with me here on Club Chica Circle today!
I'd love to connect with elsewhere, too!