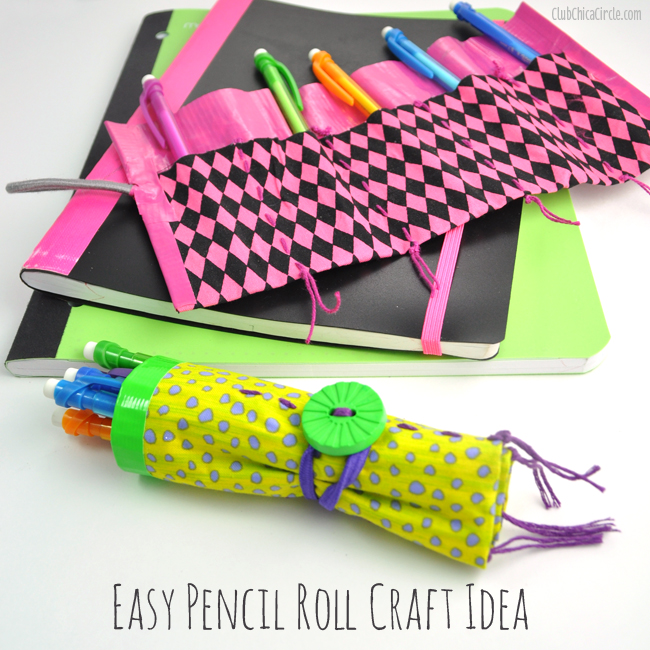 There is no denying it—summer fun will eventually come to an end and another school year will begin! We've joined forces with some of our favorite blogging friends to help you get ready!
It's a BACK-TO-SCHOOL PARTY, ya'll!
Plus, we have a great GIVEAWAY that you can enter to win to help with your back-to-school shopping needs. Details at the end of the post.
For my back-to-school party post, I'm sharing a super easy and fun craft that your kids can make themselves. These highlighter rolls we made for our teachers last year were a huge hit, so I thought I'd use that same concept, but with a twist.
To make these cute pencil rolls you will need:
Duck Tape sheet (8.25″ x 10″)
Coordinating fabric (at least 9″ x 11″)
Additional coordinating Duck tape rolls
Rotary cutter, mat and straight-edged ruler
Scissors
Large needle and coordinating embroidery thread
Large button
Hair band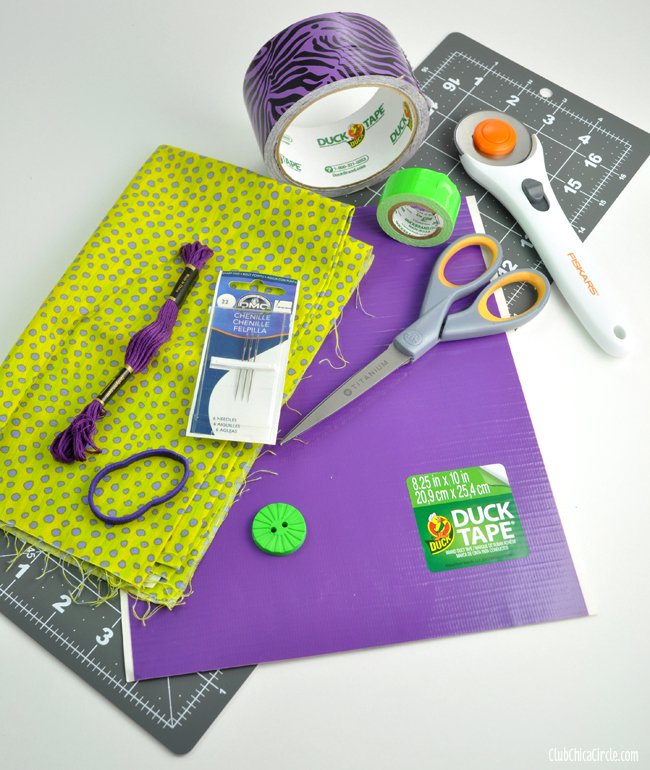 The Duck Tape sheets make this craft super easy. It's the perfect size for this pencil roll craft.
The first step is to adhere the Duck tape sheet onto your fabric on the side you DON'T want facing out. Then, using the sheet as a guide, trim off the excess fabric using a straight-edged ruler and a rotary cutter on a cutting mat.
(You could also line strips of Duck tape next to each other to line the back of fabric and cut it out to size.)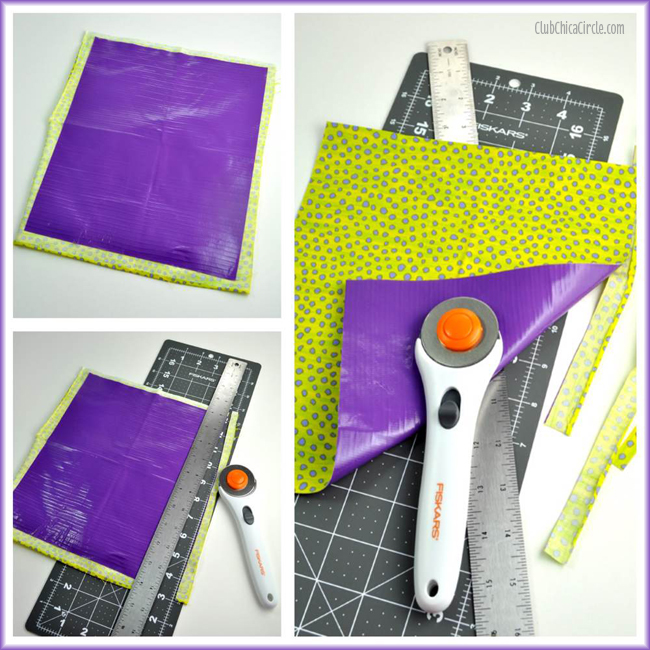 To create pencil roll pockets, I folded up one side about 3 1/2″ inches up. Before securing the sides with more Duck tape, I secured the hair band in the middle with a piece of Duck tape.
I used half-width pieces of Duck tape on each side to secure and cut flush the ends with my scissors.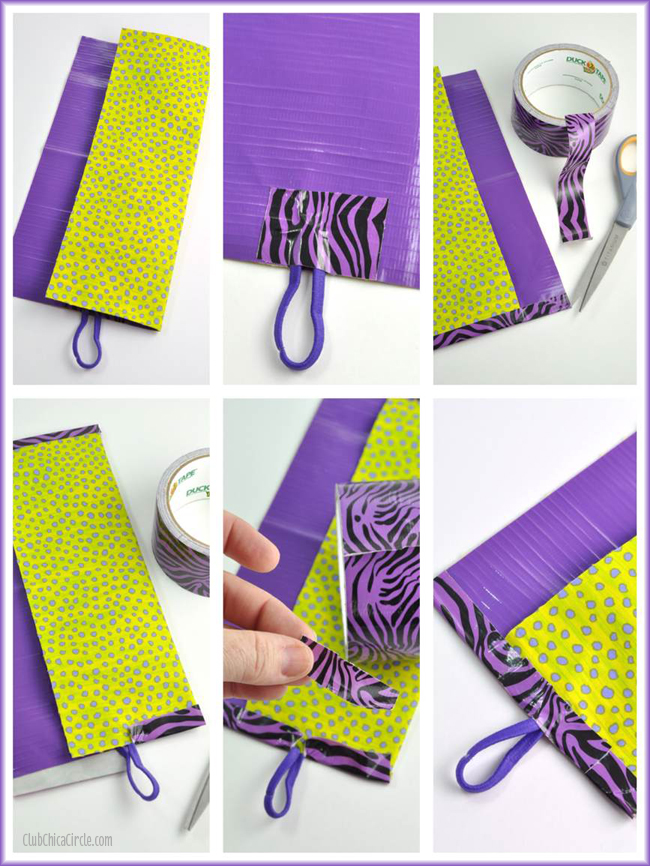 For the edge with the hair band, I cut a little slit first and then taped it down. I finished off with a smaller piece of Duck tape to size over the cut edge.
Now it's time to create the single pencil pockets.
I measured every 2″ along the top of the pocket sleeve and marked it off with a Sharpie dot, making 5 sections/4 dots.
If the top of your fabric is fraying, you can put an extra strip of Duck Tape along the top to secure.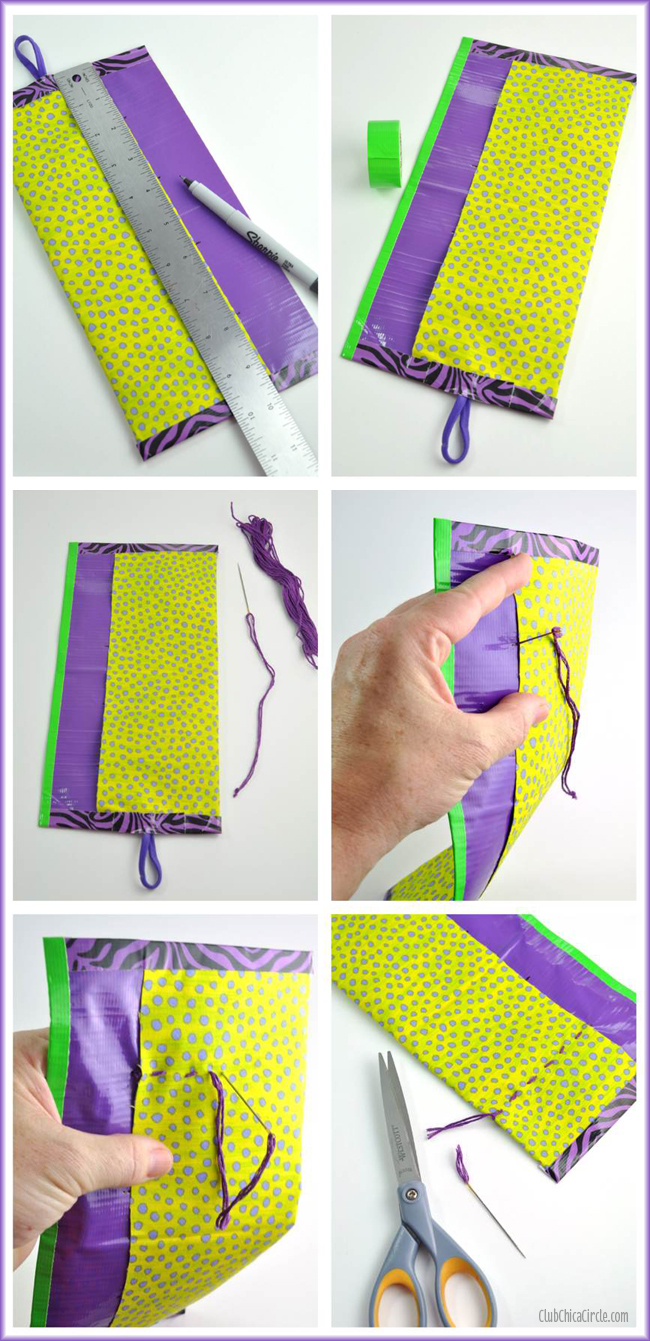 Then with a large needle and embroidery thread, I stitched a quick straight stitch from the top of the pocket all the way down to the bottom.
For each pocket I used about 18″ of thread, folded it in half after threading it through my needle, and knotted the end. I started at top of each Sharpie dot that I marked, and then went through both layers of the pocket, leaving the knot in the center of my pocket. Then I did a simple straight stitch with about 1/4″ stitches. When I got to the end of the pencil pocket, I tied another knot, and cut off the thread leaving about an inch of thread creating a fringe.
The final step is attaching the button for the pencil roll closure.
On the back side of your pencil roll, on the stitched line closest to your hair band hook, attach a large coordinating button with your thread and needle.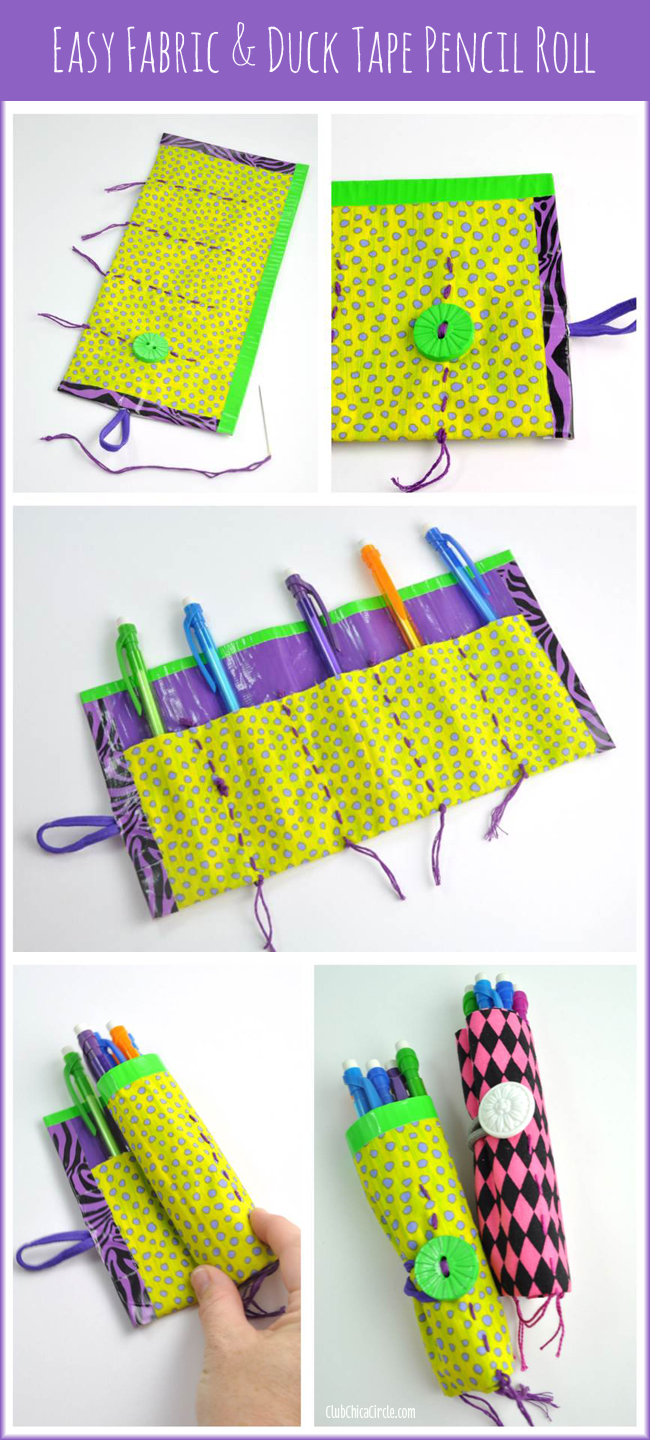 Now your homemade pencil roll is ready to fill with pencils!
Starting from the end that doesn't have the hair band, roll inward and hook the band on the button to secure.
You have your own fancy, custom and super fashionable pencil roll ready for back-to-school!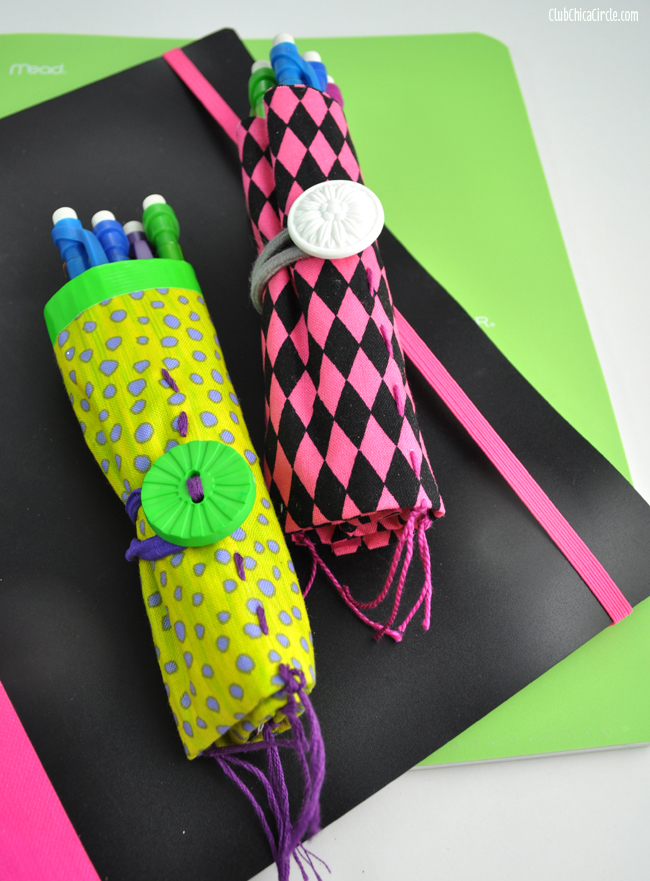 These are so easy to make, you will want to make more than one! Great gift idea for your friends, or even your teachers!
And you have to check out the rest of these fabulous back-to-school ideas!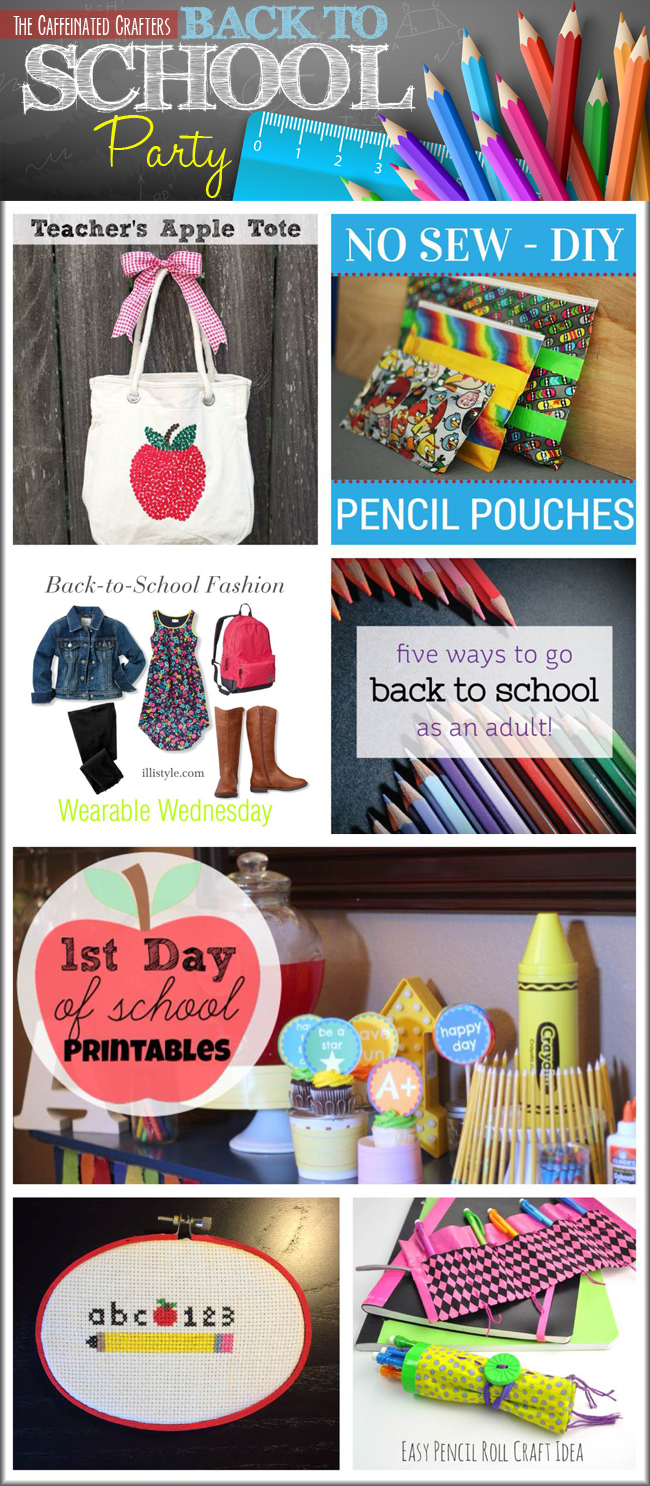 Teacher's Apple Tote from Artzy Creations  •  No-Sew Pencil Pouches from Chaos & Love
Back-to-School Fashion Tips from Illi Style  • Five Ways to Go Back to School as an Adult from Let's Eat Grandpa
1st Day of School Printables from Made with Happy  •  School Days Cross Stitch Pattern from Albion Gould
Go to the head of the class with all the fun ideas above and don't forget to enter the giveaway below!
Good luck!