Disclaimer: this post is sponsored by DecoArt. All opinions, ideas, and images are completely my own.
For the holidays, we hosted my sister and her family. The house was alive and buzzing with activity with two tween girls and two 4-year old boys! I have loved watching my nephews growing up, and let me tell you, boys definitely play differently than the girls did at their age.!
Before the whole crew arrived, I wanted to give my daughter's old play table an uplift and give it some color. I knew the new Americana® Decor™ Chalky Finish Paints paired with the Americana® Chalkboard Paint would be perfect to update her old table. Americana Decor Chalky Finish paints can be found exclusively at Home Depot.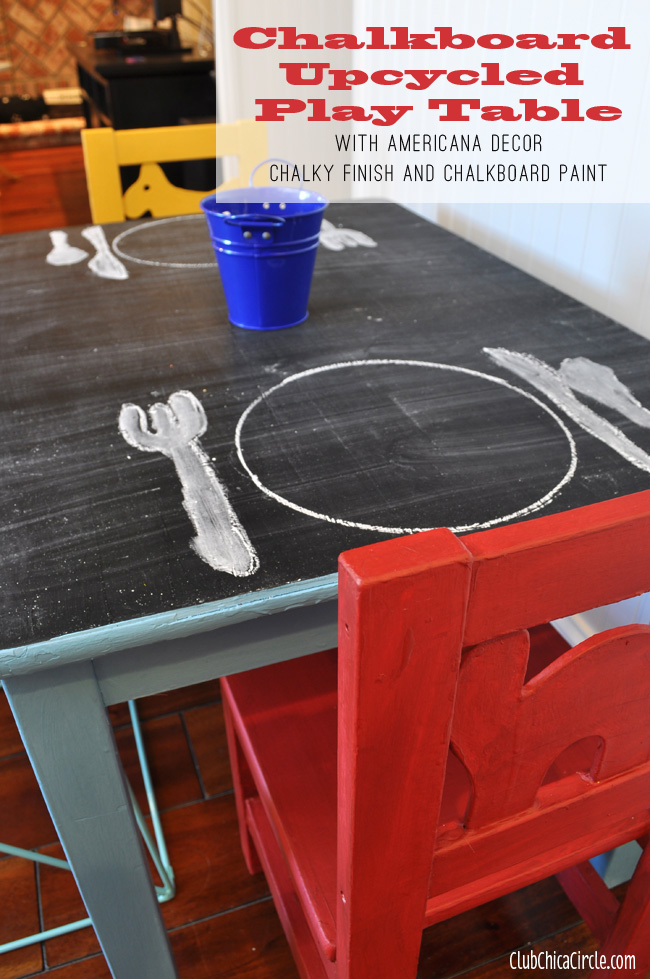 I have been upcycling a number of my daughter's old toys as she gets older—the ones that still have some life in them, that are sturdy, that she doesn't play with anymore, and that could use either an uplift or a new purpose altogether.
For instance, I turned her old wood dollhouse into a herb garden planter using DecoArt Outdoor Patio Paints, as well as their Glass Enamel Paints for the mini tile floor I installed. For full herb garden dollhouse project DIY, check it out here on the Home Depot website. Click on the "Craft Project Inspiration" button and scroll through until you see my herb garden dollhouse planter.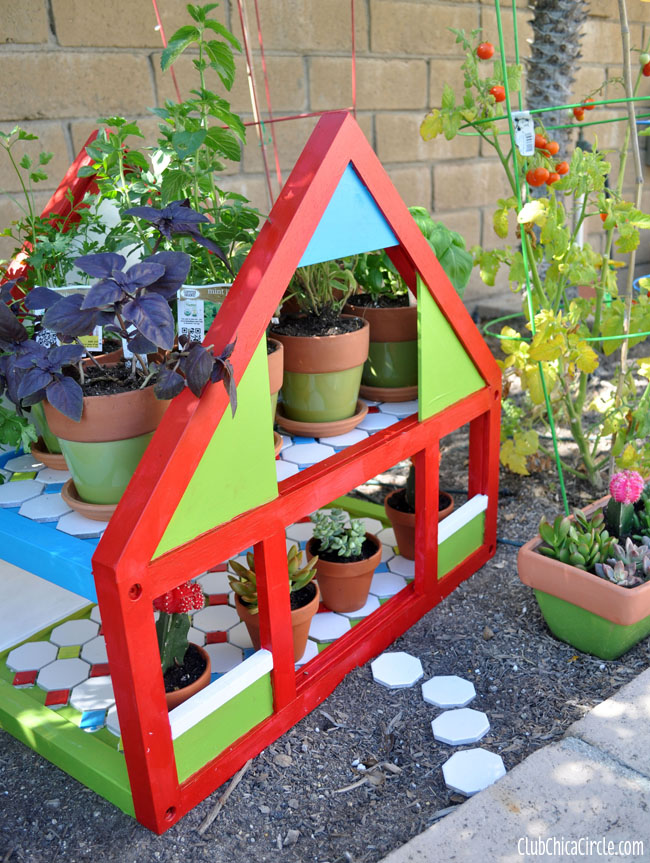 This time I wanted to take my daughter's old kids play table and turn into a cool and colorful chalkboard table.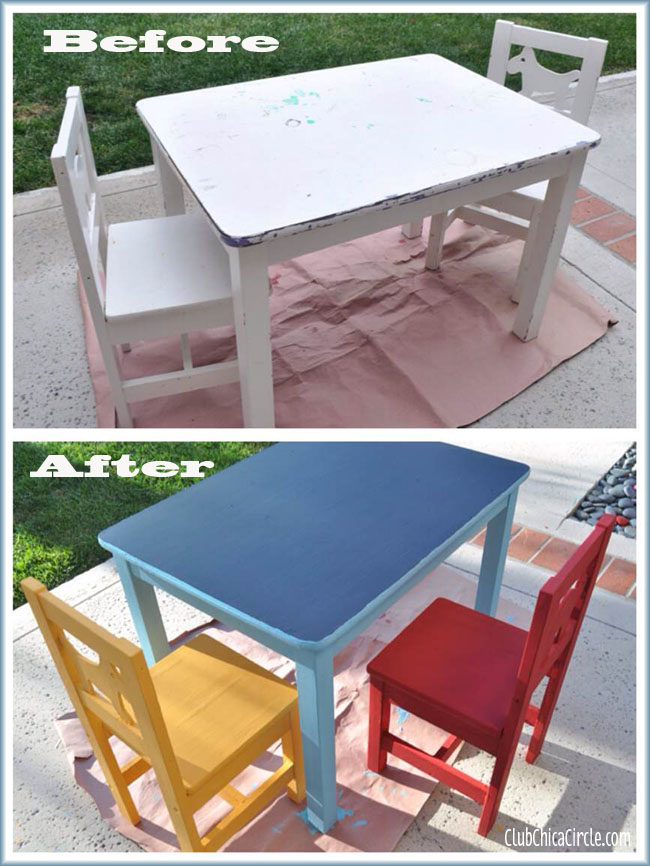 There are 29 colors to choose from in the Americana Decor Chalky Finish line.
I used Escape (blue), Rouge (red), and Inheritance (gold) along with black chalkboard paint.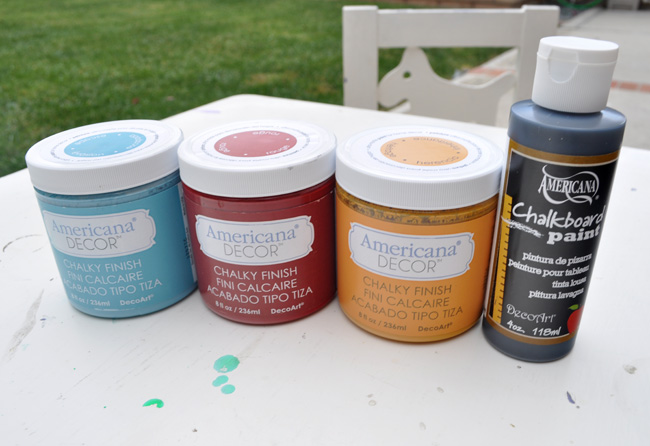 I wanted to make it a really colorful table with primary colors working together with the retro feel of the black chalkboard.
So I painted one chair red, one gold, and the table legs and edges blue.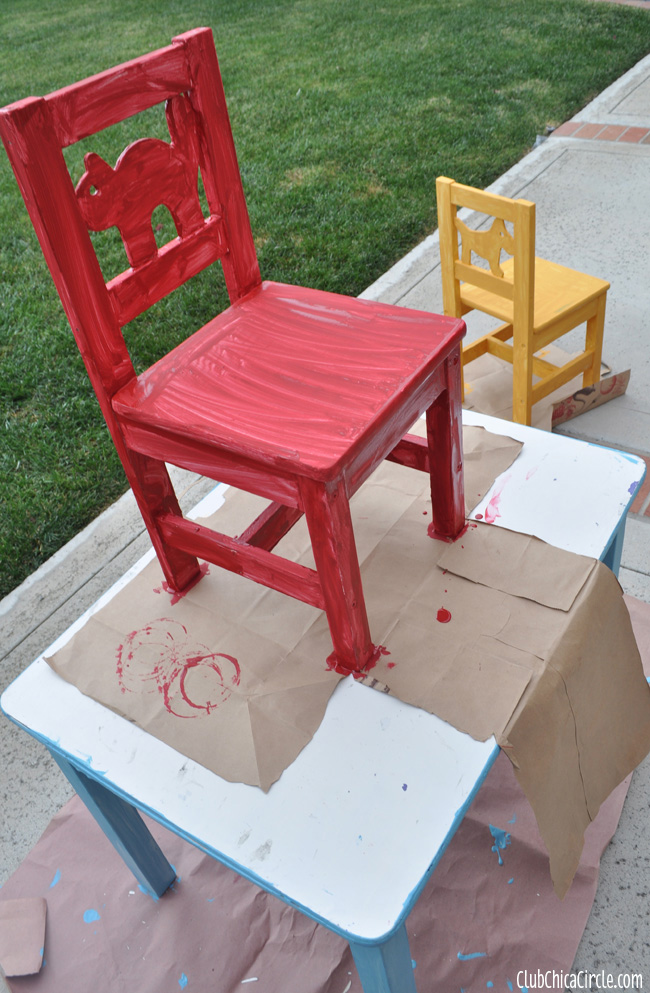 I followed the instructions which said no priming or sanding was necessary. I just forged forward and applied the paint with a sponge brush. I did need to put on a couple of coats to get full coverage though.
It took 2 coats for the blue and gold and three for the red.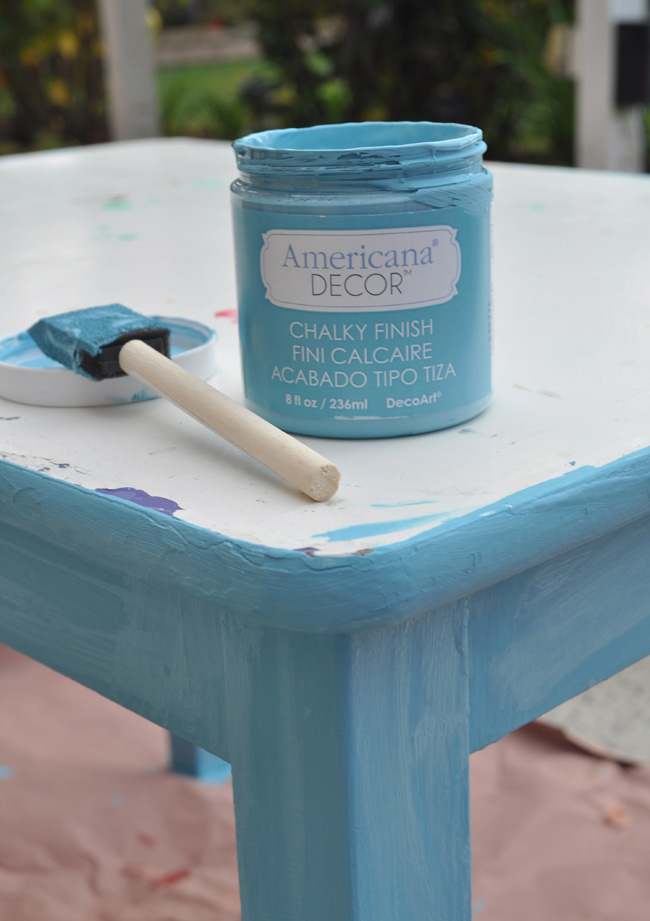 After I was happy with the color coats, it was time to paint on the chalkboard top.
Following the directions for the chalkboard paint, I painted one coat horizontally and let dry for at least an hour. Then I painted a second coat on top vertically and let that dry as well. I let the whole table dry for at least 24 hours before going on to the next step.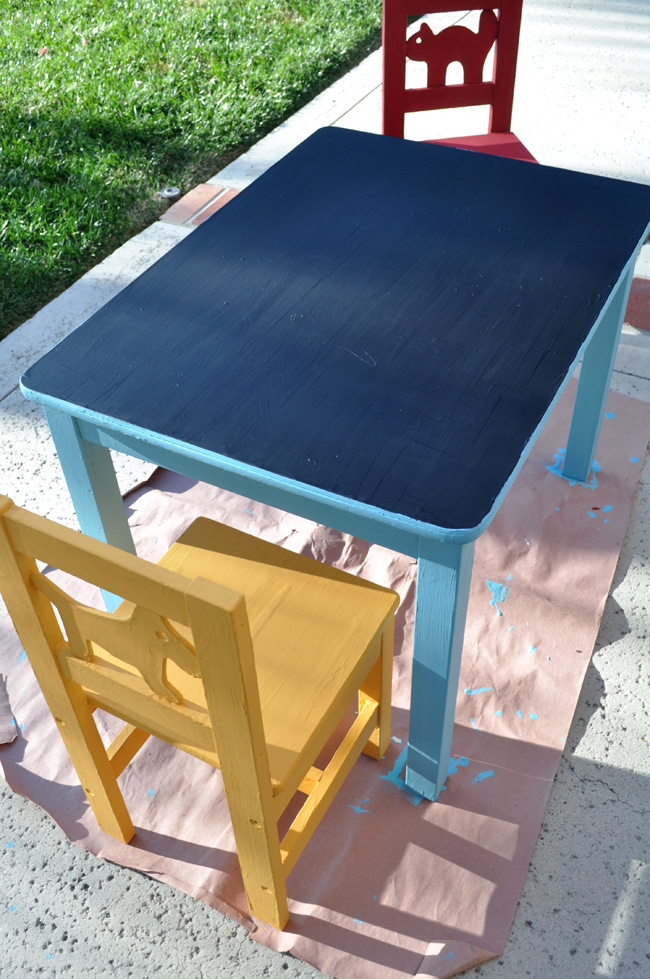 On the chalky paint surfaces I wanted to finish it off with the Americana Decor Soft-Touch Varnish. I also used the 2″ round Americana Decor brush to apply it to the colored surfaces.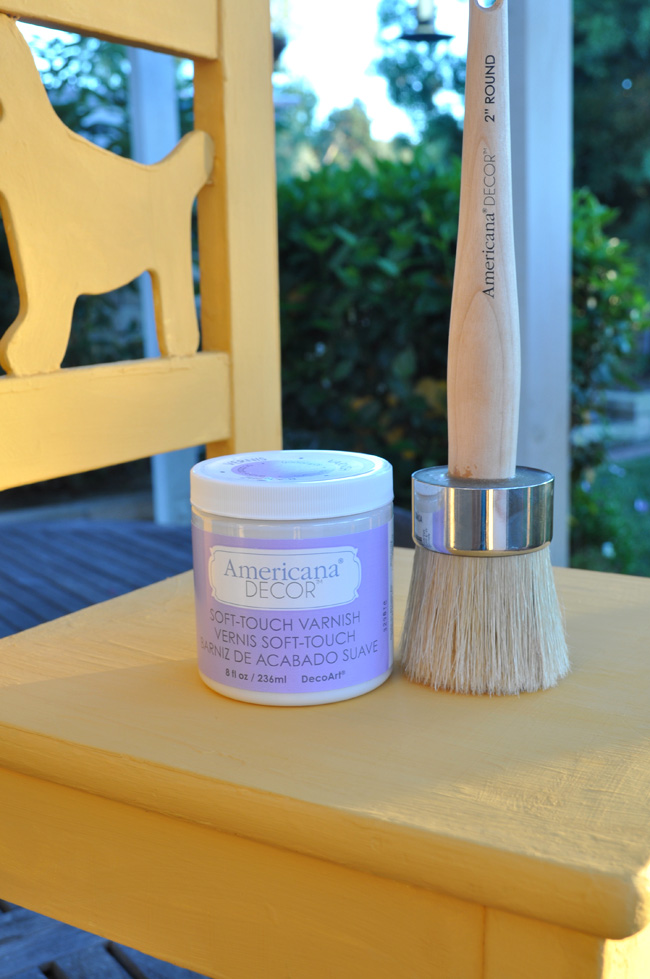 After everything was set and dried, our table was ready to use. It doubled as a cute snack table and a play table.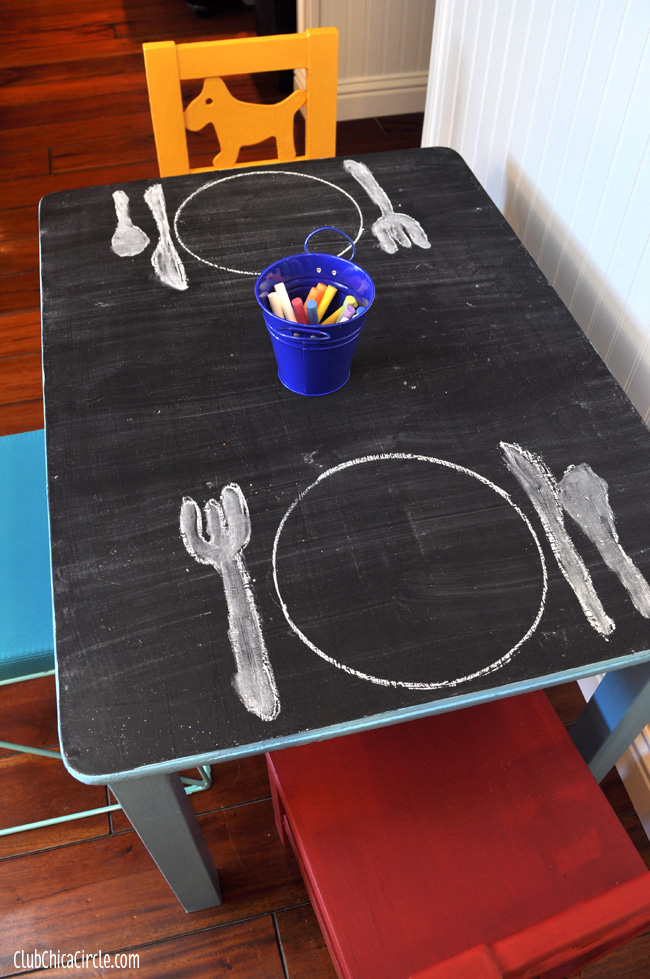 It was perfect to eat and to play on. One thing we were in no short supply of during the holidays were race cars. My nephews brought almost their whole collection on the road trip down with them.
My tween couldn't wait to draw a racetrack on the top of the table.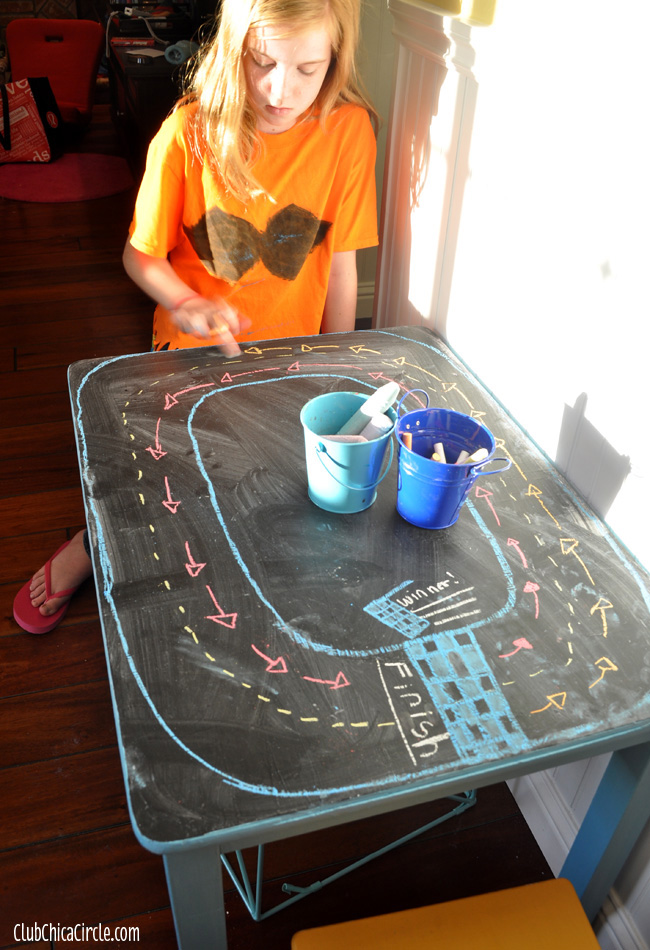 And my nephew couldn't wait to drive his cars on it.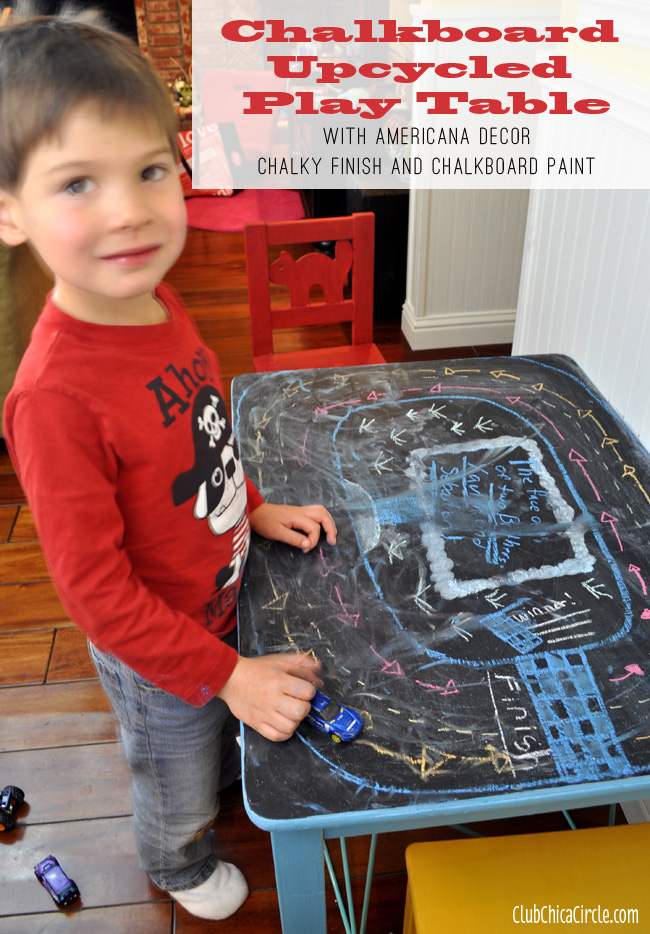 Vroom, vroom! When it got too messy, we would wash it off and draw another track with a different course.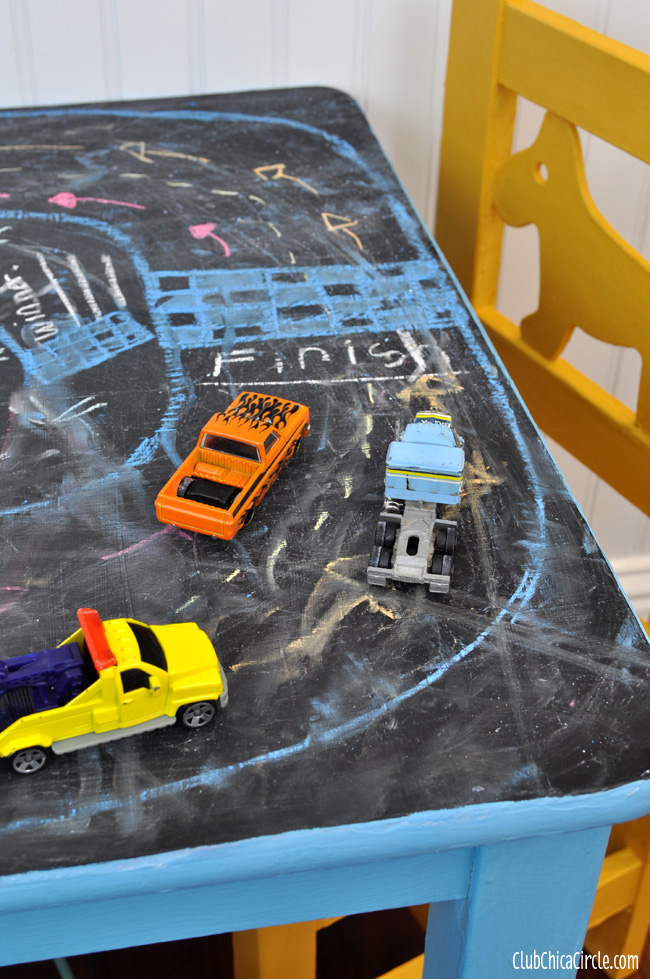 I love how colorful this table turned out, and now that the holidays are over and the boys have gone home, my girl still uses it as a mini homework drawing table.
Lovely! Makes you want to take another look at some of your kids old toys right?
Happy crafting!
If you liked this post, and want more, you can subscribe to be on our mailing list here, and make sure to get your free Cupcake Toppers Printables for Every Occasion.

Feeling social? Follow ChicaCircle on Facebook or Twitter, and follow me on Pinterest or Instagram.
Disclaimer: this post is sponsored by DecoArt. All opinions, ideas, and images are completely my own.