We love, LOVE, love our teachers. At least one week a year we have a chance to honor and celebrate them. Thank you, teachers!  That includes our classroom teachers as well as the violin, soccer, karate and dance teachers in our lives.
Teacher Appreciation Day or Week is celebrated around the world on different dates.  In the United States, the first full week of May (May 5th this year) is the designated week for many, but not all schools.  (I have learned the hard way by being ready for the 'official' week only to find the school shifted timing to an alternate week). 
We have rounded up some of the most terrifically creative teacher appreciate gift ideas to make the gifts extra special.
You can find pictures of all of these ideas and more pinned to my Terrifically Creative Teacher Appreciation Gift Ideas Pinterest board.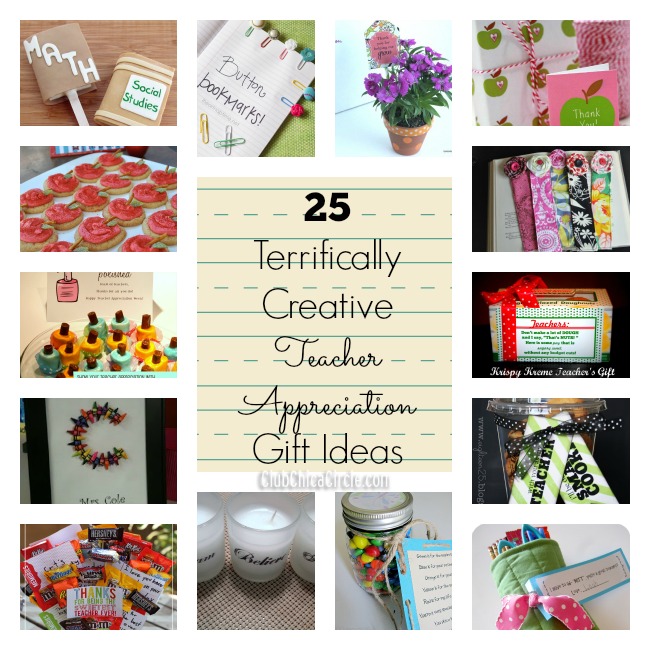 Handmade Gifts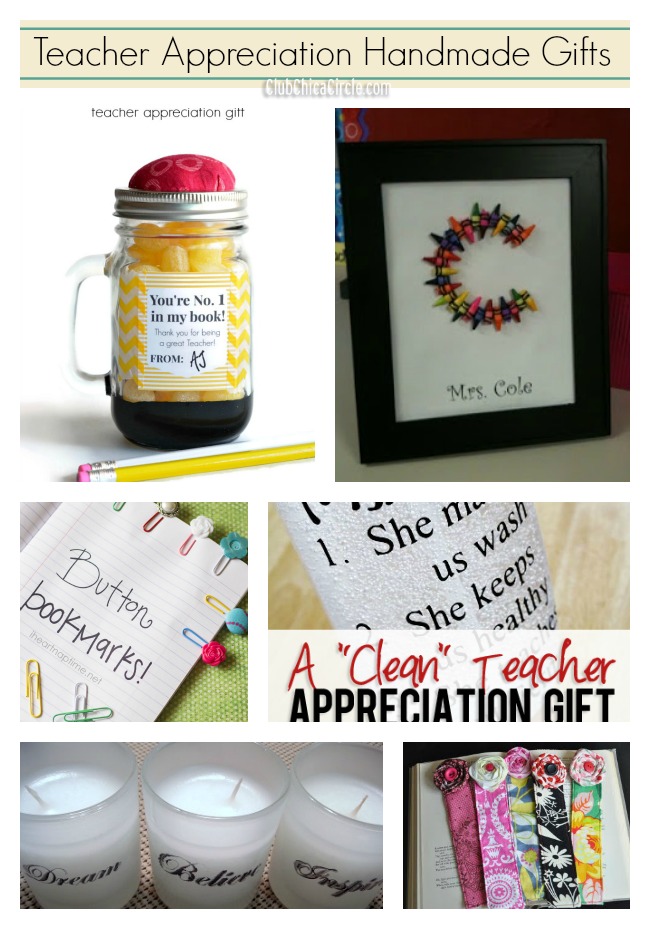 1.  Fabric Bookmark (Little Birdie Secrets)
2.  Button Bookmarks (I heart naptime)
3.  Crayon Monogram (Keeping up with the Comptons)
4.  A Clean Teacher Appreciation Gift (How Does She)
5.  Pencil Mason Jar (A Night Owl Blog)
6.  Stamped Candle Gift Set (The Country Chic Cottage)
Food Gifts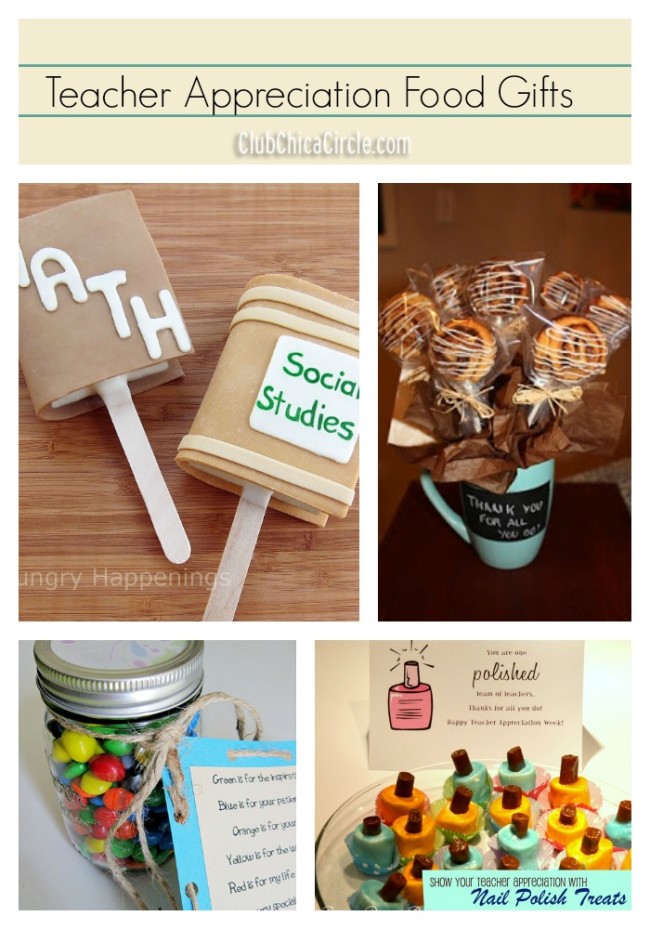 7.  Rice Krispy Treat Book Pops (Hungry Happenings) – brilliant use of modeling chocolate!
8.  Cinnamon Bun Bouquet (From Glitter to Gumdrops) – in a personalized mug
9.  Nail Polish Treats (Brie Brie Blooms) – check out the hidden marshmallows
10.  M&M's Filled Jar with Poem (Domestically Speaking) – a sentiment for each M&M color
Printables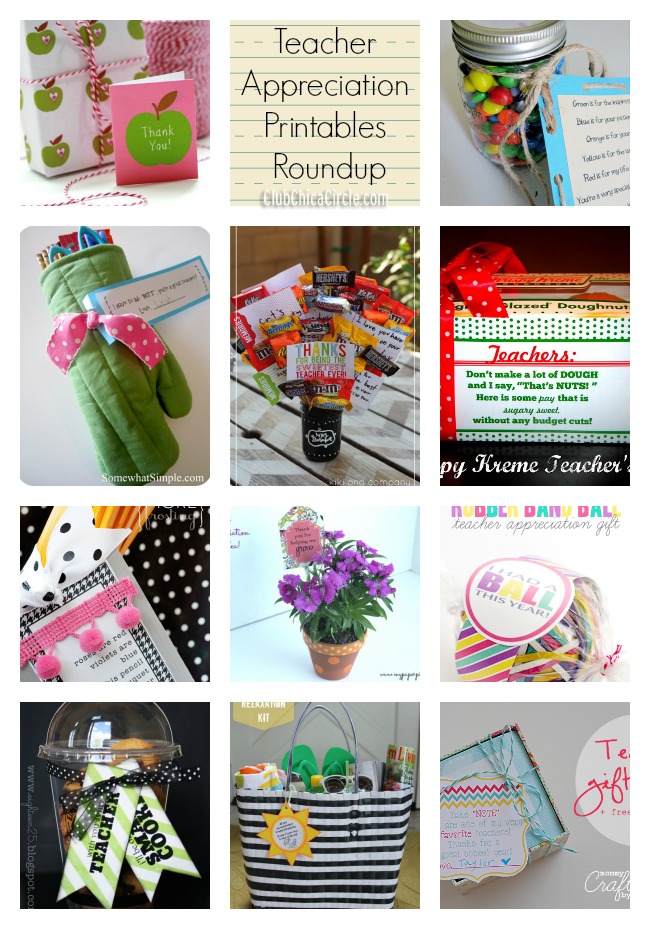 Printables are the perfect way to personalize a gift card or gift basket. Check out these appreciative sentiments:
11.  "Thanks for being the sweetest teacher ever" (Kiki & Company) – pair with a candy bouquet
12.  "I have to ad-"MITT" – You are a great teacher" (Somewhat Simple) – pair with a goodie-filled oven mitt
13.  "All year long you worked hard to make learning fun, so now it's your turn to relax in the sun!" (The Lovely Cupboard) – pair with a beach bag filled with vacation items
14.  "Take "NOTE" you are one of my very favorite teachers! Thanks for a great school year!" (Mommy by day, Crafter by night) – pair with a fancy note pad
15.  "Roses are red, violets are blue, this pencil bouquet is just for you" (Less Cake More Frosting) – pair with a decorated bouquet of pencils
16.  "With you as my teacher, I'll be one smart cookie!" (eighteen25) – pair with a delicious cookies
17.  "I had a BALL this year!" (Tried & True) – wrap a colorful rubber band ball
18.  "Thank you for helping me grow" (My Paper Pinwheel) – perfect with a flowering plant
19.   Printable Apple Gift Wrap and Mini Thank You Card (Delightfully Noted for Uncommon Designs) – beyond cute!
20.  "Don't make a lot of DOUGH, and I say "That's NUTS!" Here is some pay that is sugary sweet without any budget cuts!" (Detail-Oriented Diva) – pair with Krispy Kreme doughnuts
Featured on Club Chica Circle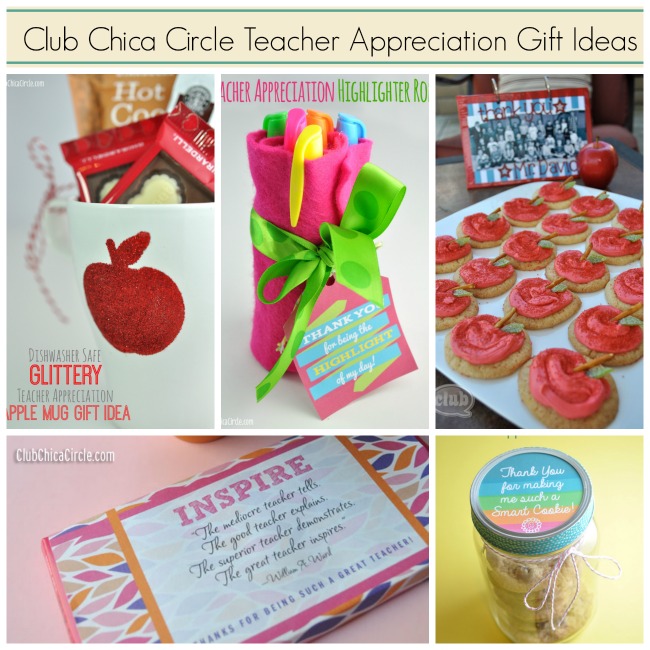 21.  Dishwasher-safe Glittery Teacher Appreciation Apple Mug
22.  Teacher Appreciation Highlighter Roll
23.  Teacher Appreciation Apple Cookie Treats
24.  Teacher Appreciation Chocolate Bar "Inspire" Printable
25.  "Thank you for making me such a smart cookie!" Mason Jar Printable
What are your favorite teacher appreciation gift ideas? Please share below so we can get more ideas on how to make our teachers feel appreciated and special.
If you liked this post, and want more, you can subscribe to be on our mailing list here, and make sure to get your free Cupcake Toppers Printables for Every Occasion.
Feeling social? Follow Lynnee's boards on Pinterest and Pauline's Club Chica Circle boards here. You can also find  Lynnee Jimenez on Google+.