Microwave air-popped popcorn. There is no other smell like it? You either love it or you hate it.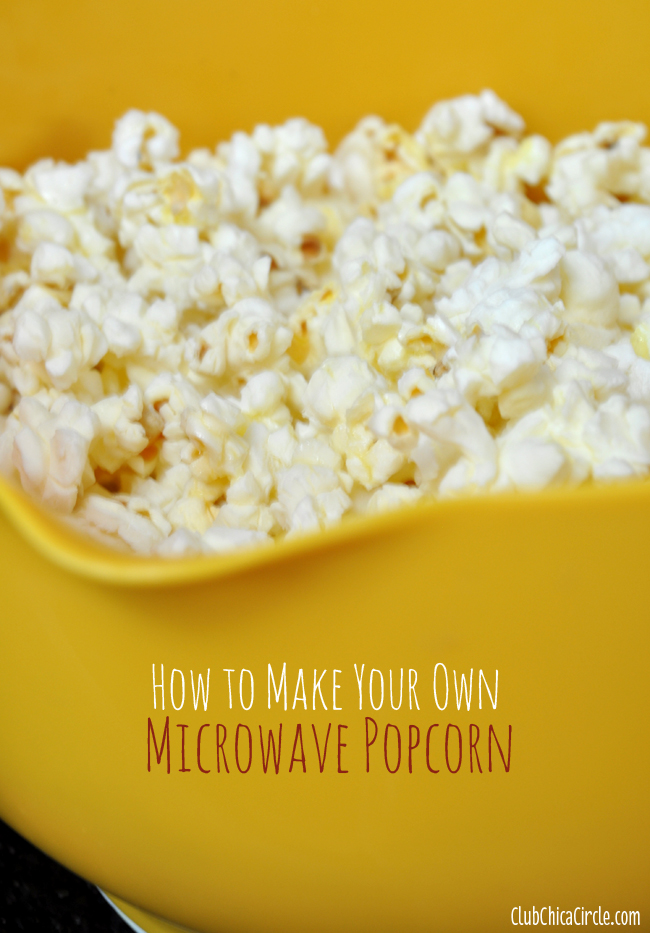 Remember air poppers? If you are child from the 80s like me, you certainly do. I think the ease of microwave popcorn has replaced this kitchen appliance in a lot of homes. I know you can still buy these handy machines, especially if you want to have popcorn without any added butter or chemicals or salt.
But, have you ever made your own microwave popcorn bags?
Yep, MAKE YOUR OWN!
It is actually super easy, and I can't believe I hadn't thought of it before. I stumbled across the idea a ways back (forgive me, I can't remember the original link), and knew immediately we had to try it out on our next movie night.
Guess what?
I don't think I will ever buy ready-made popcorn again. Best of all, you can tailor your popcorn to exactly how you like it—with butter, no butter, cinnamon sugar, salted, etc!
All you need to make your own microwave popcorn bags is:
popcorn kernels
lunch-sized paper bags
washi tape

For one paper bag, put 1/3 cup of popcorn kernels at the bottom of the bag.
Then use washi tape to close up the top without leaving any holes. I like using washi tape, because it is less tacky than regular tape and you easily take it off the bag after popping. And it looks pretty. = )
Place your bag in your microwave with the bottom bag crease facing up. Use your "popcorn" setting on your microwave, or cook on high for 3-5 minutes. Just like cooking ready-made microwave popcorn, listen for when the kernels start to stop to pop to avoid burning your popcorn. Do NOT place any extra grease or butter in your bag.
After you popcorn is popped, eat it right out of the bag, or dump into a bowl and dress up as you like. We like to sprinkle on a little butter and flavored salts to our liking.
I'm telling you. It's so simple to make your own microwave bags. You could even get a whole batch ready if you are having a movie night party.
So, plan a family movie night, and try this handy trick on making your own microwave popcorn.
Enjoy and Happy Crafting!
If you liked this post, and want more, you can subscribe to be on our mailing list here, and make sure to get your free Cupcake Toppers Printables for Every Occasion.

Feeling social? Follow ChicaCircle on Facebook or Twitter, and follow me on Pinterest or Instagram.