Painting is one of my favorite hobbies, and it doesn't have to be on a canvas. And homemade Mother's Day craft gift ideas have been on my brain lately, too. How does the saying go? Give a gift that you would like for yourself? One of my favorite ways to accessorize an outfit with a pop of color is from a cool statement necklace. That is where today's DIY craft gift idea comes from.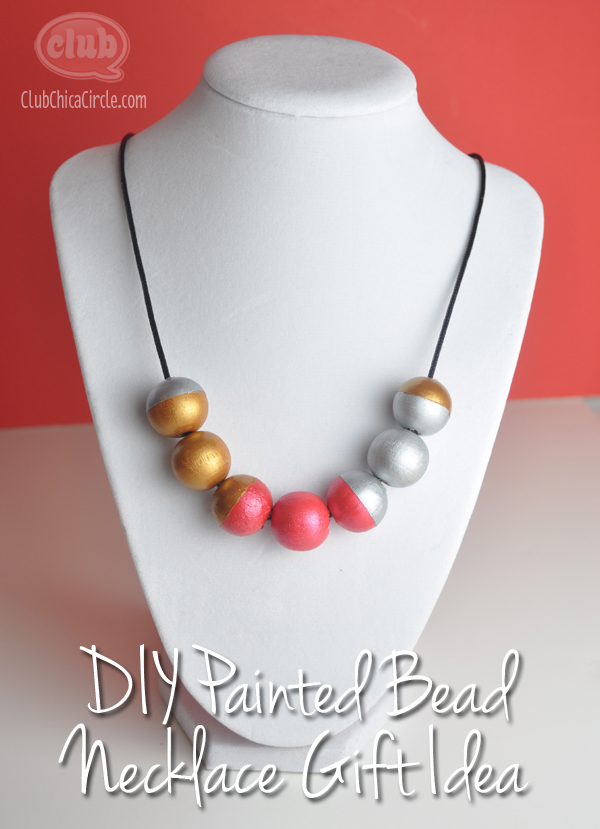 I painted wooden beads as part of my weekend craft activities and made a really cool statement necklace.
For the modern bead necklace, I started with DecoArt"s Dazzling Metallics Paint in Festive Red, Shimmering Silver, and Venetian Gold.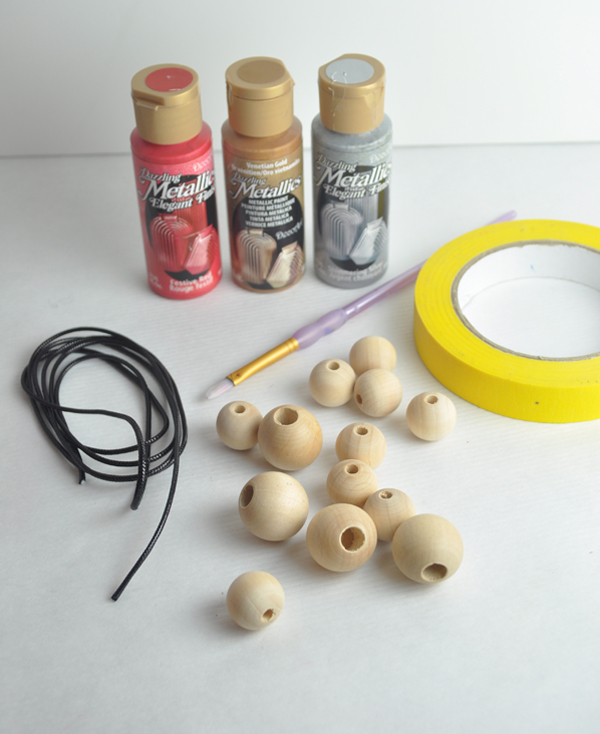 I also used unfinished wooden beads, painter's tape, black cording, a paint palette, and a paintbrush.
If you have ever tried to paint a bead before, the first challenge you have is figuring out how to paint the whole bead while holding it and not messing up your paint job by getting your fingers in the paint.
To solve this problem, I used a cup of rice and some straws that I creatively cut into bead holders.

On each straw, I cut off the "bendy" part. On the other ends, I cut them at an angle to create a point. Then I placed each bead on top of each pointy end, and used the rest of the straw as a wand to hold the bead while I painted them. When I wasn't holding the bead, or needed to let the paint dry, I placed the straws and beads in a cup of rice for stability. Voilá! Instant bead holder and drying rack.
For the red, gold, and silver design, I painted 3 beads red, 2 beads gold, and 2 beads silver, and let them dry completely.
Next, I took a strip of painter's tape to cover up one side of 2 red beads, 1 gold bead, and 1 silver bead.

I painted the exposed end of the beads with alternately colors to create my necklace design. I planned my design to have the brilliant metallic red in the center, and then transition out to gold and silver on either side.
After that coat was dry, I peeled away the painter's tape to reveal the clean line and the "half-and-half" beads.
The final step was just stringing the beads onto the cording, and tying a simple knot on the end.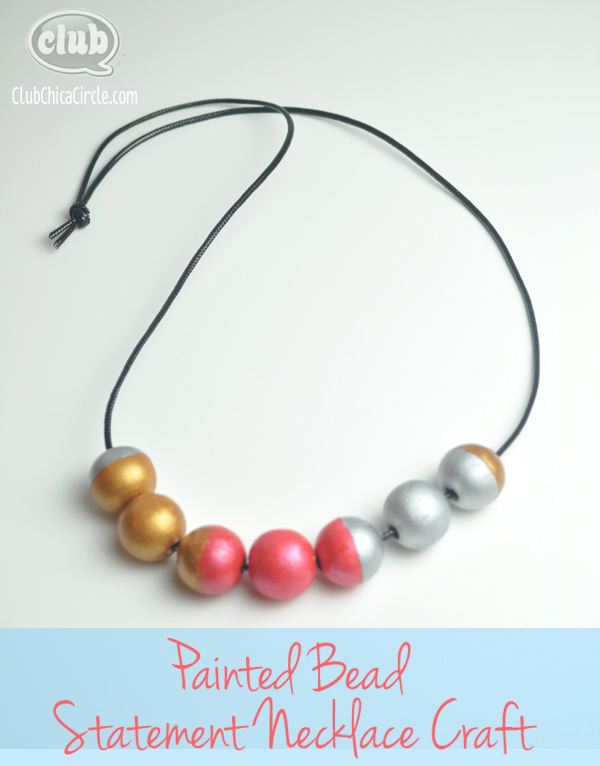 So easy and so pretty! Don't you think?
As I mentioned before, this would make a great homemade Mother's Day craft gift idea. But of course, as soon as I finished the necklace, my tween snatched it and claimed it as her own.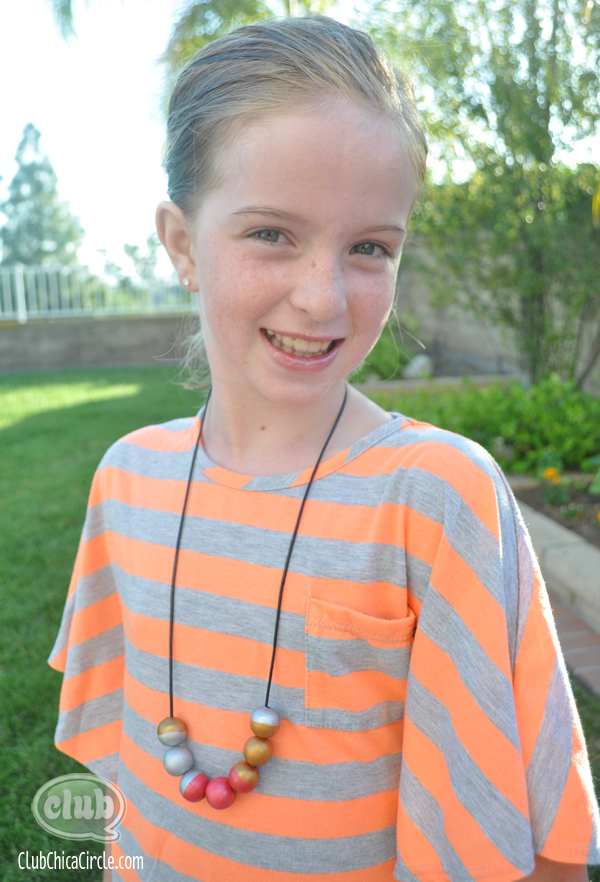 Good thing it was so easy to make! And she looked super cute in it. = )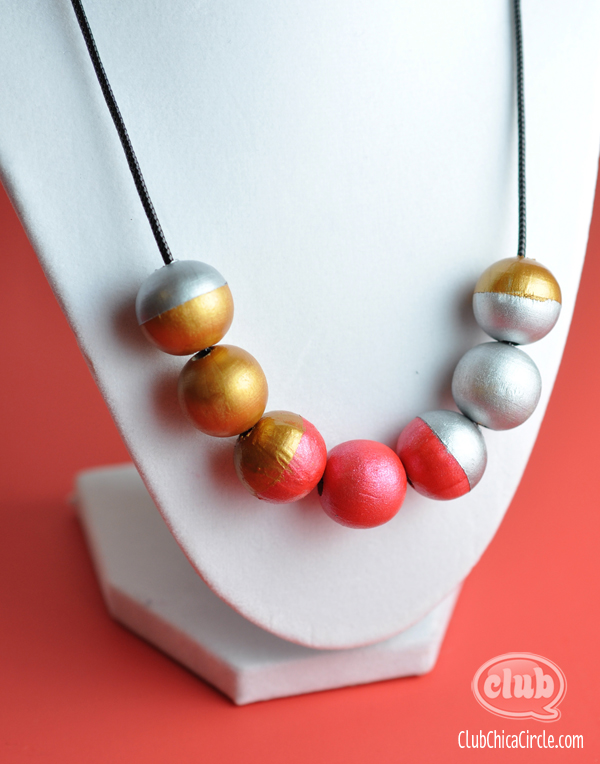 The DecoArt Dazzling Metallics Paints were so easy to work with. I love the metallic shine I got on the plain wooden beads, and the modern design.
Our crafty weekend didn't stop there. For fun, and in celebration of Earth Day, I made my girl a painted globe wooden bead necklace.
This time I used DecoArt Glamour Dust Glitter Paint. I used neon green and neon blue for the land and water, and blue cording.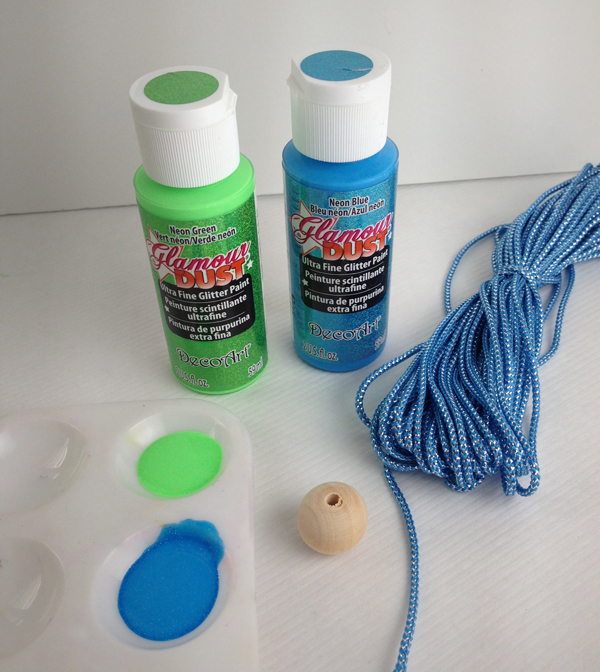 First I painted the whole bead neon green, and let dry, Then I added neon blue on top in a globe pattern for the water.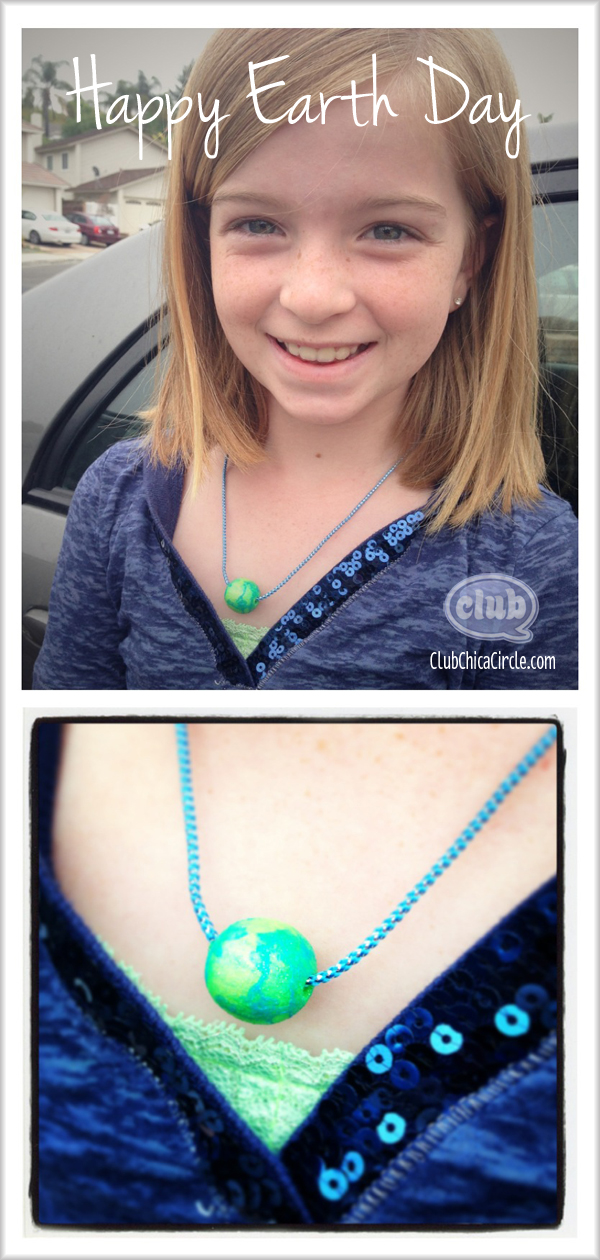 For a 20-minute craft, I think it turned out pretty cute!
Happy Earth Day, and Happy Crafting!
If you liked this post, and want more, you can subscribe to be on our mailing list here.
Feeling social? Follow ChicaCircle on Facebook or Twitter, and follow me on Pinterest or Instagram.